Self-proclaimed as "The Greatest Rock Band in the World," the high-octane Supersuckers have been keeping their audiences jumping for nearly a quarter of a century! Not quite as long as the Rolling Stones, but hey now … .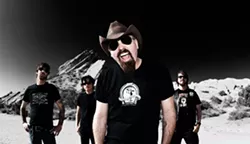 PHOTO COURTESY OF THE SUPERSUCKERS
JUMPIN' ROCK : The Supersuckers, self-proclaimed as the world's greatest rock band, play their high-octane music at SLO Brew on Dec. 20.
Here's a band that's recorded with Willie Nelson, Steve Earle, Eddie Vedder, and plenty of other famous great musicians, as well as backing up Willie Nelson for his song "Bloody Mary Morning" on Jay Leno's TV show.
"Our story is almost impossible to believe. This band is literally a human cartoon," reads the band's bio on Jambase. "We all grew up among the dead-ends and cactus needles of Tucson, Arizona, and have known each other since grade school. We graduated from the same high school together at the same time (a school immortalized in our song "Santa Rita High") and we chose to play in a band together because we liked to hang out together, not because we were great musicians or anything. I truly believe that a band is defined by their limitations, that what they can't (or won't) do is just as important as what they can do. I guess that, in this era of pre-fabricated, put-together-to-have-a-hit bands, we're kind of an aberration and I gotta tell ya that that makes us smile a little every day.
"We formed the band in 1988 and we were initially a five-piece called The Black Supersuckers (a name found in some quality 'adult literature' we had lying around in our impeccably clean band house!). … After firmly proving ourselves to be the best band in town we decided it was time to get out of Tucson and try our luck somewhere else. So we tossed a coin with heads as New Orleans and tails as Seattle. Tails it was, and in May of '89 we packed up and went north.
"We had no idea that Seattle was about to become 'Rock Mecca USA,' we just wanted to go somewhere where we could wear our leather jackets a little more often. It was exciting and encouraging to see all of the great bands there, doing their own thing and making some kick-ass, aggressive rock'n'roll that we could relate to, so we started recording immediately. After some classic 'creative differences' with our lead singer, we decided to try it as a four piece with yours truly ['Eddie Spaghetti'] as the singer (I was the only one who knew all the words) and The Supersuckers, as you may or may not know them today, were born."
So there you have it! Get ready for some of their trademark cowpunkabilly rock, featuring such set-list staples as "Born With a Tail," "Pretty Fucked Up," "Hungover Together," and "Non-Addictive Marijuana."
Don't forget your earplugs when the Supersuckers take the stage at SLO Brewing Co. on Thursday, Dec. 20 (8 p.m., all ages, $10 advance at Boo Boo Records and $12 at the door).
Playing songwriters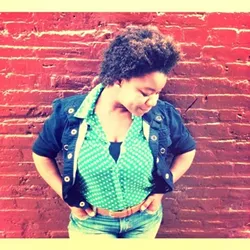 PHOTO COURTESY OF CHINA SIMMS
JAZZY TUNES : Singer-songwriter China Simms performs her original tunes at SLO Down Pub on Dec. 20, as part of the Songwriters at Play Showcase.
Thanks to promoter Steve Key and his trusty sidekick Bonnie Nelson, SLO County is a veritable hotbed of visiting and local singer-songwriter talent. No doubt the many live music fans who live outside the SLO city limits are especially pleased with the various venues for the incomparable Songwriters at Play showcases, both in North County and in South County.
The duo Modern Afternoon has played the Songwriters at Play Showcase a few times, but next up, their lead singer China Simms goes solo. She wowed the audience with her jazzy originals and covers ranging from Coldplay to classic Otis Redding, and she's ready to do it again. You can hear China Simms at SLO Down Pub (1200 E. Grand, Arroyo Grande) on Thursday, Dec. 20. The all-ages, 6:30 to 9:30 p.m. show also includes Dulcie Taylor, Gary Garrett, Ezra Henderson with Deborah Kirk, and Tim Pacheco with Cindy Myers.
The Ballistic Cats are known as a rock'n'roll band, but they'll play as a rockin' duo featuring guitarist Matthew White and bassist and lead singer Lissy Abraham. The Ballistic Cats Duo is the featured performer at the Songwriters at Play Showcase on Sunday, Dec. 23, from 1 to 4 p.m. at Sculpterra Winery (5015 Linne Road, Paso Robles). Spanky Baldwin fills in as guest host, and the lineup also includes Martin Paris, Dulcie Taylor, Mark Clogston, and Nashville's Carolyn Mescher.
These singer-songwriter showcases include one featured act and others playing four-song sets. All ages are welcome; there's no cover, but be sure to bring some cash for the tip jar!
Ireland meets San Luis Obispo
What's better than finding a four-leaf clover, or a pot o' gold at the end of the rainbow? The chance to hear incredible singing by the incredible Irish Tenors, that's what. Throw in the fine musicianship of the San Luis Obispo Symphony, and a huge sprinkling of holiday cheer, and you've got an unbeatable combination.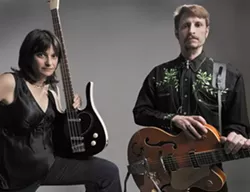 PHOTO COURTESY OF BALLISTIC CATS DUO
HERE, KITTY : Bassist Lissy Abraham and guitarist Matthew White are the Ballistic Cats Duo, performing at Sculpterra Winery at the Songwriters at Play Showcase on Dec. 23.
Get ready for the lyric Anthony Kearns, the romantic Finbar Wright, and the operatic Ronan Tynan performing with 30 members of the SLO Symphony. You'll hear plenty of your favorite traditional Christmas songs, along with classic Irish tunes and ballads.
It's not just their Irish charm that has endeared these amazing singers to audiences across the country and around the world: "The luck of the Irish may be legendary, but there's a lot to say of the skill of the Irish, as demonstrated by the Irish Tenors," writes one reviewer in the Washington Post.
With PBS specials broadcasting their artistry all over the globe, and a slew of best-selling CDs, it's no wonder the endearing Irish Tenors have a vast, dedicated following.
The Irish Tenors present their festive "Premiere Irish Holiday Celebration Tour" along with the SLO Symphony on Friday, Dec. 21, at 8 p.m. at the Performing Arts Center. Tickets range from $38 to $75, available at the PAC ticket office from noon to 6 p.m., or by calling 756-4TIX or logging on the calpolyarts.org. Better hurry, though; they're going fast!
Wine-flavored bluegrass?
California's a long way from the Appalachian Mountains, but we've got our own musical influences. One of those has got to be wine, right?
That's the idea behind the cleverly named Appellation Bluegrass Band (get it?), a musical ensemble that puts California chic into Appalachian hillbilly music.
"Start with beautiful high-lonesome harmonies celebrating murder, failed relationships, and rail-riding. Add the magical bluegrass instrument mix: banjo, guitar, mandolin, fiddle, and bass. Top it off with a twist of California: surfing, fast food, and hard times in paradise," according to the band's publicity materials.
"Hear how the wrong man got hanged, all the love affairs came out badly, lives were broken, daddy left home, and folks still feel fine."
Appellation Bluegrass Band plays at SLO Down Pub in Arroyo Grande on Wednesday, Dec. 26, from 7 to 9:30 p.m. Best of all for any wallets left flat after the holidays: it's free!
Give the wonderful gift of music
Still searching for the perfect present for a loved one? How about a gift that keeps on giving? One that includes camping with friends and family, a stunning oak woodland setting, warm summertime temperatures (ahhhh!), tasty food offerings, peace, love, dirt—oh, and an incredible array of live music performers from around the globe?
That would be none other than the Live Oak Music Festival, of course! Tickets are already on sale for next summer's most fun outdoor musical event, scheduled for Father's Day weekend in June. It's the 25th Live Oak, so it's sure to be even more special than usual. Twenty-five years of a fantastic, all volunteer-run musical extravaganza that's a major fundraiser for KCBX radio!
So far, the lineup includes "America's good-time blues ambassadors," Tom Ball and Kenny Sultan, who also performed at the very first Live Oak Music Festival back in 1988. Tahoe's Band of the Year, the Dead Winter Carpenters, has also been booked, thanks to their signature Americana roots-rock sound. But it's not all North American music: La Santa Cecilia will be pumping out a modern hybrid of Latin, world, and rock.
The Live Oak Music Festival happens at Live Oak Campground on Highway 154 near Lake Cachuma in Santa Barbara County. Tickets for all three days of camping and music are $119, from now until March 10. You can order yours online at liveoakfest.org. What a great gift to make someone very happy, now and six months from now!
And don't forget the kids—some of SLO County's finest young musicians grew up going to Live Oak. Who knows, that could be where Erin Inglish, Charlie Foppiano, and Molly Reeves—to name a few who spring to mind—first became inspired to make their living by playing, rather than working!
Support live music supporters!
We're so fortunate in SLO County to have a wide choice of affordable—or free!—live music performances just about every night of the week. That means there's really no excuse to sit home in lonely silence. Get on out and tap your toes along with all the talented players!
How about a shout-out of appreciation for one of our local heroes when it comes to supporting live music: Jaime Parker, owner of the Otter Rock Café on Morro Bay's waterfront, where you'll find plenty of free and fun tunes, a view of the lovely estuary and iconic rock, and a full bar and restaurant.
Jaime tells New Times she grew up around some great live music, including the Monterey Jazz Festival and the L.A. music scene: "We always had musicians around the house. My dad played bongos and my mom played tambourine, and I discovered that if I served everyone wine and food, and cleaned up after them, I could hang out around the music, too!"
That's pretty much what she's still doing, although for the last dozen years it's been at her own establishment. There's more than one local musician who puts food on the table and gas in the car thanks to Jaime's support over the years. Hear, hear!
Check out this live music mecca when the Paisanos bring classic rock and more on Saturday, Dec. 22, at 7:30 p.m. There's no cover charge at the Otter Rock.
More music …
Live music fans know about the SLO Brewing Co., but now it's time to focus attention on the youngest local brewery, Tap It Brewing Co. in San Luis Obispo (675 Clarion Court, near the airport). Tap It's cask party—when Cask It IPA will be tapped—features Bobby Santacruz and the Mystics on Thursday, Dec. 20. This is a fine funk band, a perfect accompaniment to some tasty brews.
L.A. singer-songwriter Ben Justus is known for his timeless, from-the-heart tunes. His albums, Without Reason and … Based on a True Story are available online at iTunes and cdbaby, but you can hear Ben Justus and American Dirt perform live on Thursday, Dec. 20, at Frog and Peach in downtown SLO.
Fans of singer-songwriters will also be happy to know that John Miller from Santa Cruz is intending to make San Luis Obispo a new musical home. This 23-year-old instrumentalist folk singer has been compared to Elliott Smith, Jeff Buckley, and Conor Oberst. He's in the area to promote his new recording, Beneath the Willow. You can hear John Miller at Linnaea's Café on Friday, Dec. 21, at 8 p.m.
Folks in the North County are counting their lucky stars that D'Anbino Vineyards and Cellars in downtown Paso Robles boasts a diverse live music lineup with a focus on blues and jazz. Next up is the Mojo Combo on Saturday, Dec. 22, at 8 p.m. ($10, or $5 for record club members). The Mojo Combo brings together a local businessman, a retired firefighter, a master mechanic, a Santa Maria business owner, a master welder/fabricator, and an acclaimed guitar designer, punching out progressive blues with plenty of swing.
As always around SLO County, opportunities abound for enjoying live music, so why not forget the holidays for awhile and get on out there!

Contributing writer Kathy Johnston is doing her best to fill in for Glen Starkey while he's on yet another vacation. Wish him well at gstarkey@newtimesslo.com.