Steel Pulse? Totally awesome! Lee "Scratch" Perry? Totally awesome! Pozo Saloon? Again, totally awesome!
This Wednesday, Aug. 27, Pozo Saloon hosts this Downtown Brew-organized concert with Steel Pulse and special guest Lee "Scratch" Perry during an evening show that will open with

PHOTO COURTESY OF LEE "SCRATCH" PERRY

OLD BUT NOT OUT : Even at 72 years old, Lee "Scratch" Perry is still a formidable force in reggae. See him when he opens for Steel Pulse (another legendary reggae act!) at Pozo Saloon on Aug. 27.
DJ sounds of Kephas and KatchiFiya, followed by Resination, Perry, and then Pulse. Advanced $30 tickets to this all-ages show are available at Boo Boo Records, Downtown Brew's Box Office, Lady Luck in Arroyo Grande, Cloud 9 in SLO, Up in Smoke in Santa Maria, vallitix.com, by phone 888-825-5484, or pay $33 the day of show at the gate
Steel Pulse burst on the scene in 1975, and while they've explored various styles over their long venerated career, the U.K.'s Grammy-winning reggae band has continued their commitment to "fighting injustice, educating the masses, and promoting positive messages through spiritually uplifting music," according to the band.
"We just can't ignore the politics, because every life and soul that's born on this earth is a political maneuver for someone, at some stage," explained David Hind on the band's Web site. "From a spiritual aspect, it's really an upliftment through facing reality—what's out there. We deal with positive spirits. It means putting aside the guns, the drugs, and all of the things that are ailments of society—especially the black communities right now."
Music isn't the only way they've fought injustice. They also filed a $1 million class action lawsuit against New York City's Taxi & Limousine Commission, alleging that cabbies refuse to pick up blacks and Rastafarians throughout the streets of New York. In 1993, at the request of the Clinton Administration, they became the first reggae band ever to perform during inaugural festivities.
Lee "Scratch" Perry said in his press materials, "I'm an artist, a musician, a magician, a writer, a singer; I'm everything. My name is Lee from the African jungle, originally from West Africa. I'm a man from somewhere else, but my origin is from Africa, straight to Jamaica through reincarnation; reborn in Jamaica."
Perry (born Rainford Hugh Perry, on March 20, 1936, in Kendal, Jamaica) is another Grammy-winning reggae and dub artist whose career is long and venerated. His musical career began in the late '50s as a record seller for Clement Coxsone Dodd's sound system. After that, he found a new home at Joe Gibbs' Wirl records, where he continued his recording career. After a falling out, Perry formed his own label, Upsetter, in 1968, and his first single, "People Funny Boy," directly insulted Gibbs and is notable for its innovative use of a sample (a crying baby) as well as the beat that would eventually be known as "reggae."
In addition to his own music, he became a noted producer for such artists as Bob Marley & the Wailers, Junior Byles, The Heptones, and Max Romeo. Perry now lives in Switzerland with his wife Mireille and two children, and just released a new record, proving he's old but not out.
Pozo strikes again with Robert Earl Keen
PHOTO COURTESY OF ROBERT EARL KEEN
KEEN ON KEEN : Witty Texas troubadour Robert Earl Keen comes to Pozo Saloon on Aug. 24.
I can't imagine a better place to see country maverick Robert Earl Keen than Pozo Saloon. Keen just seems like a back porch kind of guy who'd be fun to hang out with. His frequently humorous songs such as "Copenhagen" and "Merry Christmas to the Family" (a personal favorite) display a level of wit too often missing in contemporary country music.
This Sunday, Aug. 24, Pozo Saloon and KPYG 94.9FM present Robert Earl Keen with opening act Red Eye Junction, beginning at 2 p.m. (gates open at 1 p.m.). Presale tickets cost $29, available at Cheap Thrills in SLO, Aardvark Music in Paso Robles, or online at pozosaloon.com.
The Texas-based singer-songwriter attended Texas A&M University, where he began writing songs on his own and with his friend Lyle Lovett. Co-written "The Front Porch Song" appeared on both men's debut albums.
This should be an amazing show by one of the best songwriters around.
Tripper!
Downtown Brew and Numbskull present Reggie and the Full Effect with support Mc Chris, Leathermouth, Warship, and New Tomorrow this Wednesday, Aug. 27 at 7 p.m. The all-ages show costs $14 in advance or $15 at the door.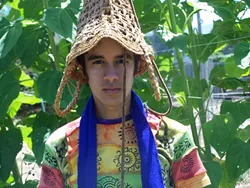 PHOTO COURTESY OF AUSTIN ATIYEH
NEW KID ON THE BLOCK : Up-and-coming Los Osos-based solo artist Austin Atiyeh plays Linnaea's CafÈ this Aug. 22
Reggie and the Full Effect is James Dewees' solo project. Dewees—when he was still playing with The Get Up Kids in the last-'90s—wrote several songs that he felt wouldn't fit with the band's style, and Reggie was born.
A real joker, Dewees recorded and released Reggie and the Full Effect's first album Greatest Hits 1984-1987 in 1998 on Second Nature Recordings. He plays nearly every instrument on the recordings, including bass, drums, and keyboards. Each of his albums also includes songs by alternate personas, acted out by Dewees in various styles.
More music…
The SLO Downtown Association and One Way Board Shop present Still Time at the Main Stage (the corner of Nipomo and Higuera) during Farmers' Market this Thursday, Aug. 21 from 7 to 8:30 p.m. The SLO band's debut recording Stream of Consciousness has already sold more than 1,500 in its first six months of release. If you like positive pop/folk/jazz, check out this free show.
PHOTO COURTESY OF BLACKCAT PRODUCTIONS
SMELL THE AIR : The world music sounds of Up In The Air will fill the Paso Robles City Park Bandstand on Aug. 22
Up-and-coming Los Osos-based solo artist Austin Atiyeh plays Linnaea's Cafe this Friday, Aug. 22 at 8 p.m. Atiyeh, who's performed with bands such as Sugarcult, Port O'Brien, and Life The Universe & Everything, will perform songs from his latest project, The Quiet, an alternative and experimental rock sound. "By the time I started this project, I had already been through several bands, and I was ready to start something that didn't rely so much on other people." The Quiet just released a new E.P. entitled Atomic Death of the Brisk Delusion, which can be downloaded for free at myspace.com/allisquiet. The Loveless Estate, Morgan Enos, and Enzo's Shadow will open the show.
The world music sounds of Up In The Air will fill the Paso Robles City Park Bandstand this Friday, Aug. 22, from 5:30 to 7:30 p.m. The band's family-friendly music covers a wide range of material and creates a danceable blend of pop, jazz, and rock influenced by Latin and African rhythms.
Texas-based husband-wife duo Tom Prasada-Rao and Cary Cooper, aka—The Dreamsicles, are award-winning songwriters and folk festival headliners. They'll make a rare stop on the Central Coast with a concert on Friday, Aug. 22, at 7 p.m. at Shepherd's Table in Grover Beach. Tickets cost $15, available in advance at brownpapertickets.com/event/36434. Special guest Nathan McEuen will open the show.
PHOTO BY GUS GUSTAFSON
SPANK THIS : Three Legged Dawg—featuring (left to right) Fred Rodriguez, Spanky, and Andy Bird—plays three shows at Finn's this week: Aug. 22-24.
City Nights Jazz presents Cathy Segal-Garcia—an L.A.-based jazz singer, recording artist, educator, and composer—who will joined the Mike Raynor Group on Friday, August 22 at the Inn at Morro Bay from 7:30 to 10:30 p.m. Segal-Garcia has taught clinics, given private lessons, and performed live in Australia, Argentina, throughout Europe, and Japan. She created The Vocal Workshop Network in 1997, hosting various clinicians, including herself, every month, sometimes several a month. If you love vocal jazz, you'll not want to miss this.
Stacked Stone Cellars is hosting another Matt's Music (237-0054) show this Friday, Aug. 22, when Marley's Ghost plays at 7 p.m. Marley's Ghost formed in the mid-'80s and is known for its instrumental virtuosity, ultra-tight four-part harmonies, and animated live performances. Featuring Dan Wheetman, Jon Wilcox, Mike Phelan, and Ed Littlefield, they're "a walking, talking encyclopedia of rhythm and roots, from bluegrass to bagpipes, folk ballad to sea chanteys, Nashville twang to Mardi Gras funk, Gospel rave to Celtic reel." Tickets cost $15, and a $12 dinner is available when the gates open at 6 p.m.
Peppino D'Agostino, voted "Best Acoustic Guitarist"†in the 2007 Guitar Player Magazine Reader's Choice Awards, returns to the Central Coast with two concerts: Friday, Aug. 22 at 7 p.m. at Coalesce Bookstore (772-2880), where he'll play solo; and on Saturday, Aug. 23, at 7 p.m. at Castoro†Cellars (238-0725) where he'll be joined by guest artist Terry Miller, a bassist currently involved with The Steve Miller Band and The Harry James Orchestra. Also Karl Perazzo, currently playing with the New Carlos Santana Band will be on hand. Tickets cost $22 available at the venues.
On Friday, Aug. 22, classical experimental guru Philip Glass will present an evening of chamber music at 8 p.m. at the Henry Miller Library in Big Sur. Wendy Sutter will join Glass in a program that includes the following three pieces: Etude No. 2 and Etude No. 10: Philip Glass, Piano; Songs and Poems for Solo Cello: Wendy Sutter, Cello; and The Orchard for Piano and Cello: Philip Glass, Piano and Wendy Sutter, Cello. Visit henrymiller.org/events.html for tickets and information.
PHOTO COURTESY OF HOT & COOL ORCHESTRA
HATRICK : The Hot and Cool Orchestra plays Aug. 23 at the Stone Soup Festival and later at the Wine Attic, and Aug. 24 at the Salisbury Vineyards summer concert series in Avila Beach.
I'm pretty sure Spanky has been on the music scene around here even longer than I have. I remember hearing his Grateful Dead-inspired band Skydogs back in the '80s. His newest endeavor is an acoustic trio playing mostly folk and bluegrass with a little gospel thrown in for good measure. "Fred Rodriguez plays guitar and mandolin, Andy Bird plays stand up bass with and without bow, and I play guitar and banjo," said Spanky. This weekend you can hear their band Three Legged Dawg at Finn's in Grover Beach on Friday and Saturday, Aug. 22 to 23, at 5:30 p.m., and Sunday, Aug. 24 at noon.
Honor Bound Heroes has a new album, No Regrets, and some shows to promote it: See them at 8:30 p.m. in Hoovers Live in Atascadero on Friday, Aug. 22 (with The Kilz, Wimpy Dicks, Crisis Point, and Bl?dlust; the cover's $3), and then at the Frog & Peach next Saturday, Aug. 30.
Ted Waterhouse wrote to tell me about his band: "Just back in California from their Mega International World Tour, the Hot and Cool Orchestra will be making a sweep of the Central Coast this weekend. Exploring a remarkably diverse variety of musical styles and influences from Gypsy jazz to Zydeco, funky blues, Latin, tangos and Western swing, tying it all together with their own fiddle and accordion driven sound." See them on Saturday, Aug. 23 from 1 until 2 p.m. at the Stone Soup Festival in Grover Beach, again that same evening from 6 until 9 p.m. at the Wine Attic in Paso Robles, and finally, Sunday, Aug. 24 from 1 until 4 p.m. for the Salisbury Vineyards summer concert series in Avila Beach.
PHOTO COURTESY OF IVAN ULZ
BRING THE KIDS! : Ivan Ulz, a 25-year veteran of the children's music scene, performs at the Atascadero Library on Aug. 27.
SLO County Band and Maestro Brass hit the Rotary Bandstand at the next Arroyo Grande Village Summer Concert Series show on Sunday, Aug. 24, at 1 p.m. Maestro Brass is a quintet with trumpets, French horn, trombone, and tuba. The SLO County Band, directed by Leonard Lutz, is celebrating its 134th birthday this year, making it one of the longest running bands in the nation. As an added bonus, three restored vintage tractors will be on display. †
Ivan Ulz, a 25-year veteran of the children's music scene, performs at the Atascadero Library on Wednesday, Aug. 27 at 10:30 a.m. for kids ages 3 and older.†His song "Fire Truck!" was called an "anthem" by The New York Times and became a hit around the country and the world when Scholastic released it as a Sing-And-Read book. Gather the kiddies and treat them to this free show!
Delta Spirit's recent live recording has been getting rave reviews, and now you can hear the band yourself when they play a free, 6 p.m. in-store show at Boo Boo Records on Wednesday, Aug. 27. They'll perform some songs, then hang out and chat with the public. Don't miss this great chance to see a rising new band.
CD Reviews
Various Artists—Como Now: The Voices Of Panola Co., Mississippi
Daptone Records has always prized the fiery, raw purism of its acts, whether it's the gritty funk of Sharon Jones or the electrifying instrumental jazz dynamics of the Budos Band. So while it may seem like a curve ball for them to release an album of gospel acappella recordings, one listen to the emotional and stirring renditions of these spirituals and you'll applaud the head honchos of Daptone for keeping an authentic form of American music within the public discourse. Folklorist Alan Lomax uncovered Como, Mississippi in the '50s as he documented the blues of Mississippi Fred McDowell and Otha Turner. Producer Michael Reilly returned two summers ago, and placed an ad in the local paper inviting gospel singers to record at Mount Mariah Church. With the area's best singers turning out—many of whom had passed at chances earlier in life for fame—what's documented is the varying aspects of gospel: the call and response, the sweet harmonies, and the wild, fervent pleas of salvation and redemption. This is an amazing documentation of gospel's transcendental powers.
Walkmen—You & Me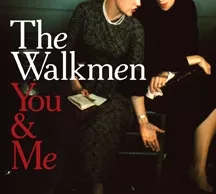 There's something infectious about The Walkmen's latest release You & Me, which is the calling card of any record of the year. You listen. You try to put a finger on what keeps drawing you back to it. Maybe it's Hamilton Leithauser's vocals. They shift between an impassionate wail and plaintive croon, riding the lyrical emotion like a ship unresisting the swelling tide. Or it's the simplistic yet clever recording techniques. On "Donde Esta La Playa," the bass comes at you through a muffling wall, becoming ominous and swimmy, while shimmering guitars and bright cymbals crash over its thick cavernous weight. "Canadian Girl" is as hazy as inebriated conversation inside a smoked-filled bar. Tempos shift between the walking waltz of "Red Moon" to the crescendo-climbing, roof blowing strain of "In The New Year," and while they're nothing incredibly new or exotic, The Walkmen stick every landing, showing technicality can still trump complexity.
—Malik Miko Thorne, of Boo Boo Records and KCBX's "Night Train."
---
Glen Starkey wears fancy pants or nothing at all. Request the number of his tailor at gstarkey@newtimesslo.com.