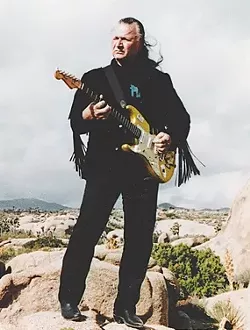 PHOTO COURTESY OF DICK DALE
FEEL DALE'S GALE : Surf guitar hero Dick Dale plays Downtown Brew on June 18, delivering an evening of his patented, instrumental surf rock.
There are monster guitarists and then there's Dick Dale, the proto-monster, a guy who plays so hard and so loud he had to have extra thick guitar strings manufactured to account for his aggressive style.

The "King of the Surf Guitar" single-handedly invented surf music in the '50s and began a series of standing-room-only weekend concerts at Balboa's famed Rendezvous Ballroom, where upwards of 4,000 screaming fans packed themselves in sardine-like.

Dale was also one of the first players of the Fender Stratocaster Electric Guitar. He met Leo Fender, who asked Dale to play his new creation, and the minute Dale picked up the guitar, Fender broke into uncontrolled laughter and disbelief because Dale, a lefty, played the right-handed guitar upside down and backwards, changing and transposing the chords to account for the upside-down strings.

After a long and storied career, Dale's playing fell out of favor, but in 1994 when Quentin Tarantino released Pulp Fiction and used Dale's instrumental "Misirlou" on the soundtrack, a whole new generation of fans discovered the sheer awesomeness that is Dick Dale.

Simply put, the man's a legend. See him on Thursday, June 18, at 7 p.m. in Downtown Brew. Tickets are $25 at Boo Boo's or ticketweb.com. You must be
21-and-older to attend.

And while we're talking about Downtown Brew, here's the rest of its week:

On Friday, June 19, they've got a quadruple header in store for you, when Truth & Salvage Company heads a rock'n'country show that also features Red Eye Junction, Cave Country, and the Christopher Hawley Rollers. And holy crap, this one's a bargain! Four bands for $6 presale or $8 at the door? No way! Way! This 7:30 p.m. show is all ages.

On Monday, June 22, indie rockers mewithoutYou and The Deer Hunter play an all ages, 7:30 p.m., $14 at the door concert.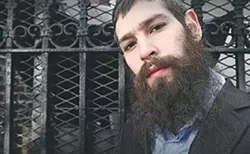 PHOTO BY DAN MANDELL
JEWISH REGGAE? : Yes, Jewish reggae, on June 21 at Pozo Saloon with NYC's Matisyahu.
A real haimisher mensch!
Maybe there's a whole underground Hasidic Jewish reggae scene I don't know about, or maybe
Matisyahu
is one of a kind. All I know for sure is this Grammy-nominated artist hits Pozo Saloon on
Sunday, June 21
, to promote his upcoming album
Light
(due Aug. 25).

Light
finds NYC resident Matisyahu presenting his one-of-a-kind voice in all sorts of diverse ways: reggae-soul stylings to dancehall, ska-inflected new wave, pop-rock and acoustic folk—all bringing messages of hope, peace, and understanding.
Lofty ideals, I know, but Matisyahu is no mere luftmensh. This is a fellow with plenty of saykhel!
He announced his presence in 2005 with "King Without a Crown," which reached No. 28 on the Billboard singles chart and No. 7 on the Modern Rock tally. His 2005 live album hit No.1 on the Heatseeker chart before 2006's
Youth
debuted at No. 4 on the Billboard 200. These were some zaftig tracks!
Matisyahu will be backed by
Dub Trio
, and local act
The Kicks
will open the 6 p.m. show.
Now gay ga zinta hate and buy some tickets at Boo Boo's, Cheap Thrills, Aardvarks Music, the Clark Center, online at pozosaloon.com, or by phone at 1-888-512-SHOW.
Concerts al fresco!
It's summertime, which means outdoor concerts are de rigueur. Here's what's happening in the fresh air this week:
Paso Robles's own
Rhythm Method
will rock the City Park on
Friday, June 19
, from 5:30 to 7:30 p.m. during the city's free summer concert season. The band plays a wide variety of classic rock'n'roll as well as today's modern hits.
On
Friday, June 19, The Mighty Croon Dogs
play the Concerts in the Plaza show in front of the SLO Mission from 5:30 to 7:30 p.m. Expect some good time rock'n'roll and a lot more.
PHOTO COURTESY OF THE BALD SPOTS
DOO WOP! : The kool kat kings of harmony vocals, aka The Bald Spots, play June 21 at Arroyo Grande's Rotary Bandstand.
Arroyo Grande Village Summer Concert Series continues at 1 p.m. on
Sunday, June 21
, at Arroyo Grande's Rotary Bandstand with vocal favorites
The Celebration Chorus
and
The Bald Spots
. The free community concert will feature an afternoon of doo-wop and barbershop music.
PHOTO COURTESY OF THE SLO COUNTY BAND
THE BAND THAT TIME FORGOT : The SLO County Band is so old that its first members had gills and primordial soup dripped off their instruments, but over its long and storied career, it kept adding newer, more evolved members. Hear this long-running ensemble on June 21 at Mitchell Park's bandstand.
The San Luis Obispo County Band
kicks off its new Old Fashioned Sunday Summer Concert Series on Father's Day,
Sunday, June 21
, in Mitchell Park in Downtown San Luis Obispo—the first of four free shows on the third Sunday of each month through September.
The Washboard Rhythm Kings
, performing '20s and '30s jazz, will be the featured guest for this opening concert, playing at 1 p.m. The County Band will play spirited marches, selected concert band pieces, and movie and show medleys beginning at 2.
Castoro Cellars in Templeton continues its Lazy Locals summer concert series on
Sunday, June 21
, with local fingerstyle guitarists
Martin Paris
and
Tim Pacheco
. Paris plays with his trio, introducing songs from his forthcoming acoustic guitar CD
Guitarist Off the Vine
. Pacheco will have special guest
Bob Liepman
, of Bob & Wendy, playing cello and mandicello. This free shows runs from 1 to 4 p.m.
PHOTO COURTESY OF THE WAYBACKS
WAY COOL : The Waybacks bring a modern sensibility to old time music, the perfect sounds for a Father's Day, on June 21 at Stack Stone Cellars.
Forget the necktie, the bottle of dime store Old Spice, or the three-pack of golf balls. What your dad really wants is to enjoy a Father's Day barbecue and concert by
The Waybacks
on
Sunday, June 21
, at 2 p.m. at Stacked Stone Cellars. Tickets are $20 a head, but kids, bring your dad and he gets in for free! Wines, ice cold beer, and water will be on sale as well.
Grover Beach hosts the Sizzlin' Summer Concert Series with
The Cinders Blues Band
playing on
Sunday, June 21
, from 3 to 6 p.m. at the Ramona Garden Park during the Farmers Market.
More music …
The Reggae City Band
plays on
Friday, June 19
, at the Frog and Peach at 9 p.m. They didn't really tell me much about themselves, but I'm guessing they play reggae and need a better promoter.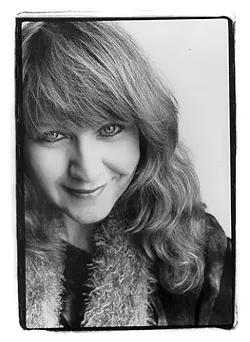 PHOTO COURTESY OF KACEY JONES
HEY THERE FUNNY GIRL : On June 21, Nashville-based humorist Kacey Jones will play songs from her new album Donald Trump's Hair at The Clubhouse.
Nashville's own
Kacey Jones
is in the midst of a two-week West Coast tour to support her newest album
Donald Trump's Hair
(a follow up to
Every Man I Love is Either Married, Gay or Dead … LIVE
), and will wrap her tour on
Sunday, June 21
, with a show at The Clubhouse. "I'm [also] performing live on KCBX at 3 p.m. on
Saturday, June 20
, to help promote the show," explained the musical humorist. "I'm looking forward to sharing some laughs with some fathers, sons, and daughters at The Clubhouse Sunday night." It starts at 7 p.m. and costs $10. Call 548-8500
for reservations.
Indie, art-rock band
Grand Lake
returns to town with a show at the Steynberg Gallery on
Monday, June 22
. They've just released a new cassette single/digital download called "Sanddusky Sunset," a follow-up to their debut EP
Nevermint
. "We're quite pleased with our new single, and very excited about its limited run of 100 cassettes," said frontman and former SLO Towner Caleb Nichols. "Each cassette comes with a digital download and a button. We'll only be selling these at shows for $5."
PHOTO COURTESY OF DEVIN WALLACE
DEVIN VS. TERMINATOR! : Devin Wallace plays Gather Wine Bar on June 23, where he'll debut his new song about our beleaguered governor.
Devin Wallace
wants to invite you to the Gather Wine Bar on Tuesday, June 23, at 8 pm to hear his new lament for our beleaguered governor. Entitled "Mr. Universe," it goes something like this: "Well look at his picture/ The strain shows in his face/ Not as sure of himself/ As he was in the gubernatorial race// Now he sits alone in a corner/ Up in his house in the hills/ Red stains on his fingers/ As he signs that bloody budget bill." Wallace will be accompanied by
Dan Lichti
on trumpet.
Tornado Rider
hits Frog and Peach on
Tuesday, June 23
. Fronted by Rushad Eggleston, "a cello-playing elf from the Land of Snee," the trio delivers "wild original rock."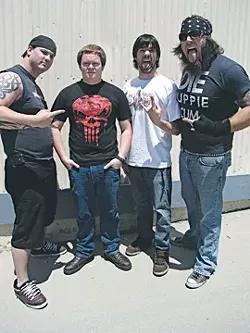 PHOTO COURTESY OF SOCIETY'S CHILD
THEY ROCK SO HARD! : Society's Child will rock your freakin' socks off on June 24 at Z Club.
They sound kind of like '80s rock when I checked their Myspace, but the best thing about
Society's Child
is their baditude! "Duuuuuuuude, Society's Child is playing at the Z Club on
Wednesday, June 24
, and we wanna invite YOU (yes, you) to come check out the show," wrote Danny "The MonsterBass" Foster. "Glen, just lemme know if you wanna or can roll out to the show and check us out and I'll comp you a ticket and put you on the list. Hell, I'll even point at you from the little stage. Yes, so that all the girls see you and make sure you get laid! Rock'n'fuck'n'roll, bro!" Thanks for the invite, Danny, but it'll take more than you pointing your finger to get me laid. Rock on!
Glen Starkey does not suffer douche bags lightly. Commiserate at gstarkey@newtimesslo.com.
CD Reviews
Rich Medina & Bobbito Present: The Connection Vol. One: Modern Explorations in Afro-Beat and Afro-Latin
Connoisseurs have no time for the mediocre. Enter two respected DJs, beat diggers, and tastemakers: Rich Medina and Bobbito Garcia. Whether hosting their eight-year-old Fela Kuti parties or the bi-coastal Fania Record tributes, these cats have digested warehouses full of vinyl so you don't have to. Here, at a full disc apiece, Medina's sizzling Afro-beat selection plays well with the simmering Latin choices of Bobbito. Consider this a one-two punch for your next pool party, barbecue, or any function that can be warmed up nicely with upbeat rhythms and world grooves. Putting much of their focus on underexposed, modern artists, and producers, both men have distilled their collection to these essential 24 cuts, with not a single filler track amongst them. Hands down, a perfectly curated glimpse into the record rooms of highly regarded DJs.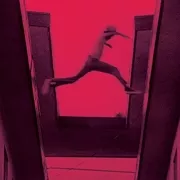 Mos Def—The Ecstatic
This is probably not the Mos Def you were waiting for. But then Dante Smith has always shaken expectation. Returning to his MC roots after a stint in Hollywood and after his forgettable 2006 album
True Magic
, Mos Def still has a penchant for busy beats. While he doesn't return to the funk rock Black Jack Johnson outfit you heard on
New Danger
, the opening track "Supermagic" spills forth a Turkish psych beat chopped up by Stones Throw producer Oh No, then bops over to "Auditorium," which recycles an Indian-tinged beat mined from Madlib's Beat Konducta in India series. But while these off-kilter productions may stumble those still looking for a sequel to his classic Black Star debut, give him a moment and Mos Def can still dazzle you with cerebral lyrics that combine his boyish charm with muscle-displaying boasts. And on "History" with the appearance of Talib Kweli, he gives you Black Star aficionados one to chew one.

—Malik Miko Thorne, of Boo Boo Records and mikovision.blogspot.com, where you'll find archived reviews and soundclips.