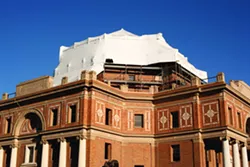 FILE PHOTO BY STEVE E. MILLER
FICKLE FEMA: After initially granting $26.3 million to Atascadero for restoration and repair of the historic City Hall (pictured), FEMA reversed course on July 5 and withdrew $2.7 million of that grant, citing a problematic conflict of interest.
Citing conflicts of interest between the city of Atascadero and its former redevelopment agency, the Federal Emergency Management Agency (FEMA) unexpectedly withdrew $2.7 million of temporary relocation funding from the city on July 5.
The decision caught Atascadero officials flat-footed, as FEMA had repeatedly assured the city that its relocation and repair funds were secure.
"I'm not pleased with the decision," said Atascadero Councilwoman Roberta Fonzi. "With FEMA in this case, it's almost like you shake hands, you think you're all set, and then they change the rules on you."
The city was given a $26.3 million FEMA grant for a variety of relocation and repair efforts following the 2003 San Simeon quake. Of that sum, about $2.65 million has been spent thus far to rent the former Creekside Lanes bowling alley, the current temporary City Hall.
That rental agreement was made between the City Council and its now-disbanded redevelopment agency—which shared the same five members—thus creating the objectionable conflict of interest. Since the RDA was shut down in late 2011, the city has been paying rent to a "successor agency" charged with closing out the RDA's commitments.
In a July 5 letter authored by FEMA Region IX Director Terrie Zuiderhoek, the agency sided with a March 2012 Office of Inspector General report. That report criticized the relationship between the council and the RDA, and suggested withdrawing funds from the city. FEMA had rejected the advisements of the report last December.
"It's very frustrating," said Atascadero City Manager Rachelle Rickard. "We made FEMA quite aware of the relationship between the council and the RDA. You follow their rules and process, you get the approval, and then eight years later, they come back and say, we were wrong, we need the money back."
Rickard said the city is planning to file an appeal with FEMA before the Sept. 3 deadline, but the process could take "quite a while" to advance through the tiers of bureaucracy.
She said that, hypothetically, the $2.7 million revocation would be "a very big hit" to the city's $16.8 million general fund and could have far-reaching consequences for city services.
"We definitely didn't want to get into the situation that we're in right now," Rickard said. "My hope for the future is that FEMA looks again and changes their mind."
Two officials at the California Emergency Management Agency—an intermediary between FEMA and Atascadero—said they were taken aback by FEMA's waffling and ultimate reversal.
Charles Rabamad, the assistant director for recovery at Cal EMA, said his agency had received no substantive analysis thus far justifying FEMA's decision, and that reversals in funding such as this are very rare.
"Unfortunately for Atascadero, once FEMA makes a final decision such as this, they tend to stick to their guns," Rabamad said. "The city may be able to prove FEMA wrong, but we don't know yet."
Michael Baldwin, a public assistance officer at Cal EMA who was the original recipient of Zuiderhoek's letter, agreed with the characterization that FEMA had pulled a rug out from under Atascadero.
"FEMA was saying that it was all good and, suddenly, it wasn't," Baldwin said. "I advised the Atascadero folks to speak with their congressional representatives—it helps to get more heft in Washington."
Rickard said that city officials had conversations "ad nauseum" with FEMA about the rental agreement back in 2004 and 2005. FEMA examined the agreement thoroughly with legal counsel at the regional and national levels before approving funding, she said.
According to Rickard, there was hardly any vacant space in the city back in 2004. Other spaces were inadequate, and the Creekside Lanes property was the most cost-effective strategy.
"Renting space from other places was not an option, because there just wasn't any," Rickard said.
The historic Atascadero City Hall—which was damaged in the earthquake—is scheduled to reopen on Aug. 20. Rickard said August is the last month the city will need to pay rent (around $30,000 per month) for the temporary building.
Contact Staff Writer Rhys Heyden at rheyden@newtimesslo.com.