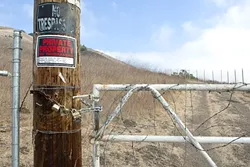 PHOTO BY STEVE E. MILLER
THIS LAND IS MY LAND: Landowner Rob McCarthy has fenced off this entrance to the Ontario Ridge trail off Cave Landing Road near Avila Beach, aggravating many hikers and sparking a multi-party land-use skirmish.
It doesn't matter who you ask; everyone agrees that the land is beautiful. The hilly patch of ground sandwiched between Avila Beach and Shell Beach boasts spectacular ocean views and a pleasant, tranquil quality.
You can see why someone would like to build a house there, and you can also see why people would enjoy the land as a nature preserve crisscrossed with hiking trails.
The problem is, different people want to do both of those things, with the same land, at the same time. If you take that conflict, throw in some barbed wire fences, and add competing government bureaucracies, you've got a recipe for a bitter land-use battle.
Welcome to Ontario Ridge in 2014.
As landowner Rob McCarthy sees it, he's trying to do right by everybody. McCarthy—who owns a house in Avila Beach and is the founder of Bakersfield-based software company Lightspeed Systems—completed his purchase of a 37-acre Ontario Ridge land parcel in 2012, intending to build his dream house on the empty lot.
McCarthy said he was aware that a hiking trail looped through his new property, but he was hopeful he could reach some kind of compromise with hikers and local government bodies that would shift the trail while still keeping it open.
After protracted negotiations with the California Coastal Commission, the San Luis Obispo County Department of Planning and Building, and the county parks department, McCarthy said he was unable to reach a workable solution.
Meanwhile, the county approved McCarthy's house project in July 2011, but that decision was subsequently appealed and rejected by the Coastal Commission. McCarthy is currently suing the commission over the rejection, and has a court date set for April 21, 2014.
In November 2013, McCarthy started to install several fence segments, closing off part of the Ontario Ridge trail and angering hikers.
"I'm not mad at the hikers for wanting to hike there," McCarthy said. "It's a beautiful hike, and I'd love to open it up, but I can't in good conscience have people going on a trail section on my property that I know is very dangerous. I've done the responsible thing."
The "trail section" McCarthy alludes to is a short, steep path from Cave Landing Road to the top of the ridge. Though the gradient is steep, roughly 20 to 30 percent, hikers have been climbing the trail for decades without incident, and McCarthy is the only figure in the land-use debate who says the trail is "dangerous."
"We have never told Mr. McCarthy that the trail is dangerous to hikers," said Kami Griffin, assistant director of the SLO County planning department. "It's a historical hiking trail that has been used for quite a while."
Corroborating that assessment, local real estate agent and photographer Cary Geihs said he's been hiking that specific trail since the mid-'80s. Geihs said the trail is absolutely safe and that he was very disappointed to see the fence go up.
Geihs was one of several hikers who contacted New Times about the trail closure to express displeasure.
"The parks department has never told McCarthy the trail is dangerous or that it needs to be shut down," said Shaun Cooper, a senior planner for the county parks department. "It could definitely be improved, but people have always used that direct route up the ridge."
Cooper and Griffin both said the county prefers to make trails that have a maximum 12 percent gradient, but that figure isn't absolute and can allow for flexibility and limitations with existing terrain.
In an interview with New Times and on his opinionated blog—SLO Leaks—McCarthy steadfastly maintained that the trail has only been used for a few years, that it's dangerous, that he would be liable for injuries on the trail, and that the public has no "prescriptive rights" to the trail.
New Times spoke with a variety of government officials, legal experts, and veteran hikers, and they almost universally disagreed with McCarthy's claims.
"That whole argument is a false one," said Tarren Collins, a local attorney, environmental activist, and hiker. "I've been doing this hike for over 12 years. It's not dangerous, he would not be liable, and I believe the public has acquired a prescriptive easement."
A "prescriptive easement" is legalese for public rights to private lands that are acquired through use. In California, this often takes the form of maximizing public access to the beach and coastal trails, even on private property, thanks to the legal authority of the Coastal Commission.
"If Rob wants to fight on the prescriptive rights issue, then it's going to be expensive and time-consuming—the real loser will be the public," said SLO County Supervisor Adam Hill, whose 3rd District encompasses Ontario Ridge. "I want that trail open and that ugly fence down, and I hope we can mediate this issue outside of court."
Whether or not the public has officially acquired a prescriptive right to the trail on McCarthy's property has yet to be determined.
According to Linda Locklin, the coastal access program manager for the Coastal Commission, the commission has been conducting a study to investigate that very question ever since March 2013.
Locklin said that she's received about 80 survey questionnaires thus far for the study, with a flurry of 40 coming in the few weeks since McCarthy's fences went up.
"If we find a strong likelihood that prescriptive rights do exist, we will forward that information on to the attorney general's office, and then it's up to them whether or not to file a lawsuit," Locklin said. "It's an extended process with many possible outcomes."
Collins added that—legally speaking—anyone who hikes on a trail assumes some risk and additionally falls under the legal tort of contributory negligence, which makes them responsible for their own actions. This concept makes it extremely unlikely that any hiker would prevail in a lawsuit for injury against the owner of the property they are hiking on.
With any action on prescriptive rights issues a long way off, the current battle is primarily over McCarthy's baseline legal right to fence off the trail and put up "no trespassing" signs.
According to Griffin, there are a few exemptions in SLO County's local coastal plan, and the fences and prohibitory signs that McCarthy has erected are both exempt from any permitting requirements—meaning they're perfectly legal in the county's eyes.
However, McCarthy's unpermitted fences and signs may be violations of the state's Coastal Act.
Dan Carl, the deputy director of the Coastal Commission's Central Coast District Office, told New Times that his office has determined McCarthy's signs and fences should require coastal permits.
Since his office disagrees with SLO County about the legality of McCarthy's fences and signs, Carl said lawyers from both sides have been trying to reach an agreement.
As New Times went to press on Jan. 29, Carl said the negotiations were not looking promising, and the issue was likely to be formally agendized and debated during the Coastal Commission's Feb. 12-13 meeting in Pismo Beach.
For now, the signs and fences remain, though some hikers have found alternate trails and ways to break in. It's an appropriately hostile impasse for a situation where the middle ground has been elusive.
Contact Staff Writer Rhys Heyden at rheyden@newtimesslo.com.