Betsy Kiser, facilitator for San Luis Obispo's Transient Task Force, recently walked the city's downtown streets pointing out some of her group's successes, and spelling out their strategies for battling SLO's chronic transient problem — namely, she says, that there are simply too many of the young transients.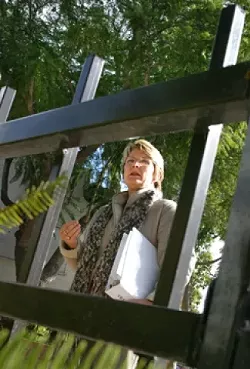 Photos by Christopher Gardner
GATED COMMUNITY : Good fences make good neighbors, and also keep transients from sitting here, in front of the Broad Street bathrooms across from Big Sky CafÈ. Betsy Kiser (pictured), facilitator for the Transient Task Force, says this is one of the group's most remarkable success stories.
# "It was disgusting,� Kiser says, brandishing a photo of what appears to be human excrement on the ground behind the Broad Street public bathrooms, scene of the task force's most formidable skirmish to date. The transients often hung out on the brick walls that framed a couple of modest raised planters, and they loitered in the tight space between the bathrooms and Cheap Thrills (now a furniture store). "They would drink back there,� she says, demurely avoiding mention of other, more "disgusting� activities.
 Now, the gardens in front of the bathrooms are hemmed by stunted metal fences that make sitting impossible. The bathroom doors are locked at night. A nearby pay phone has been removed (pay phones can equate to drug deals). Police cruise by more often. Kiser notes these changes with pride, but saves the best for last: The bathroom area and adjacent parking lot were serenaded with classical music, cranked up just loud enough to be annoying — at least to the pierced-lip, petulant transients who wandered into Kiser's crosshairs. (Thank the owners of Cheap Thrills for the sonic onslaught.)
 Not surprisingly, the transients moved on — maybe just across the street to the 7-Eleven, but moved on nonetheless. Which is exactly what Kiser and her crew have in mind: Keep the transients in transit. "If people will move from spot to spot,� she says, "no one owner or business is going to be affected.� And while small metal fences keep everyone from sitting by the flowers, at least the "Rainbow Kids,� as Kiser calls them, aren't congregating there.
 Kiser, who also acts as a liaison to the Friends of Prado Day Center, a nonprofit fundraising arm of the homeless shelter, draws a distinction between transients, "the selectively homeless who wander around town in their black clothes,� and the authentically homeless. "I think everyone has empathy for people who are homeless,� she says. "The city helps the homeless to elevate themselves. What we're looking at is not the transients, it's the behavior. We call it aberrant behavior — drinking, drugs.� And also panhandling, an aberrant behavior that has provoked the Transient Task Force to roll out its heavy artillery.
 Walking from Broad Street to another transient hotspot, Mission Plaza, Kiser frets aloud: "We do have an issue at Mission Plaza, a huge problem.� How huge? This huge: Not long ago Kiser herself was walking along the creek path near the new children's museum, on her way to a business meeting. It was there that a clueless transient hit up the wrong person: "One guy says to me: 'Can you spare a quarter?' And I said no. And he said, 'Fine, great.'� Here she mimics the man's voice, which apparently dripped with sarcasm. "It wasn't that it was aggressive,� she clarifies, "but on the way back, I went [the long way] around.�
 Kiser thought to herself: If she's taking the long way around to avoid surly, sarcastic transients, how many tourists are doing the same thing? How many are avoiding parks and downtown areas? And how is that affecting local businesses?
 At Mission Plaza, Kiser points to the historic adobe near another set of public bathrooms, with a trellised seating area that often attracts transients. For months that space and the surrounding grass have been closed, supposedly to reseed the lawn, even though the lawn is lush with healthy green grass. Kiser notes that the director of parks and recreation has the authority to close public spaces for "unsafe conditions,� which is what happened recently at Meadow Park after one area became infested with transients. According to Kiser, transients used to hang out at the flagpole near Mission Plaza, next to the Art Center, but the area was then closed off with caution tape due to unsafe conditions (roots are growing up through the bricks). The city's solution: remove the public seating area and the flagpole, a project soon to be completed.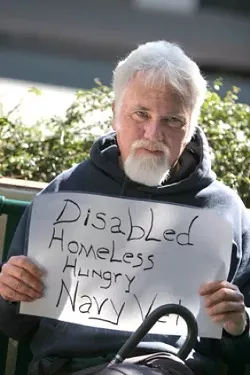 Photos by Christopher Gardner
BENCH TIME : Homeless Navy veteran Patrick Walker agrees aggressive panhandling is wrong. "I'm not a piece of furniture, I'd hate to be removed. It's a public bench on public property and I'm still a part of society. Many of us spilled blood to be on this bench.� The proposed ordinances target transients, but it's unclear how these new laws will affect the homeless population.
#Closing public parks to protect the public from encounters with transients is a snap compared to the struggle confronting the task force, which consists of city employees, representatives from the Downtown Association, and members of the SLO Chamber of Commerce. If there is a front line in downtown SLO, it can be found along the sidewalks of a few key thoroughfares: Marsh, Higuera, Monterey, and their connecting streets. To undertake this mission, the task force is asking the city to supply it with powerful new weapons — a package of proposed ordinances that will be considered by the city council on March 7.
 Today city police who deal with the transient population can apply a smattering of laws, among them prohibitions on urinating or defecating in public, unleashed dogs,
public drunkenness, possession of shopping carts, and hard-to-enforce anti-"aggressive� solicitation ordinances. The aggressive solicitation ordinances prohibit panhandlers from cornering or blocking would-be penny-droppers. Enforcement is difficult, since officers must either witness the hostile deeds, or receive a report from a citizen who's willing to find an officer and file a report.
   It is somewhat tricky to regulate the activity of transients without infringing on their constitutional rights of free speech. One measure proposed by the task force would impose a 60-minute time limit on the use of public benches. The idea, again, is to keep transients moving, but civil libertarians could well object, as they have when other cities implemented similar laws.
 The task force is also proposing a ban on all panhandling within eight feet of an entryway to a store or restaurant, and within 25 feet of an automatic teller machine. The exact distances are still under legal review, and Christine Dietrick, an assistant city attorney and member of the task force, is quick to add: "By no way are we moving to outlaw panhandling in the city.� Obviously, though, a law like that would make it very difficult to panhandle on downtown sidewalks. As Dietrick knows, many anti-panhandling ordinances around the country have been struck down by the courts. The National Coalition for the Homeless lists more than 25 such cases (many argued by the ACLU) on the organization's website.
 Says Dietrick: "These are parameters on civility and the way people should interact in public, and [they] don't address the free-speech issue.� Betsy Kiser agrees. "What we're trying to do,� she says, "is to keep out the behavior that keeps tourists from our streets.� ∆

Weapons of high frequency

The Mosquito is a small, annoying device that one shopkeeper in Barry, Wales, is using to repel disorderly teenagers from his storefront. The Mosquito, a speaker-like device mounted above the store's door, broadcasts a high-pitched sound that only kids can hear. Apparently children are more sensitive to high-pitched tones than adults.

 According to a story in the International Herald Tribune, the Mosquito can be "heard by most people younger than 20 and almost no one older than 30.â€? The inventor, Howard Stapleton, created the Mosquito after drawing on his own experience when as a child he visited a factory where his father worked. The young Stapleton could not stand the sound of the welding machines, but the unfazed adults at the factory could not hear the annoying pitch.Â

 Will the Mosquito land in SLO? Perhaps sometime in the future, but right now there's only one Mosquito bugging unruly youth, and that's in Wales.
Recent transient trouble
In the last few months, the San Luis Obispo Police Department has been busy with various transient-related incidents. Perhaps the most serious was a mid-afternoon altercation between two transients and a county employee. On January 26, David Siebert was beaten up by two transients, one brandishing a chain, the other a skateboard. Siebert credits his survival to the weaponless defense training he received while working as a park ranger.
Here are a few recent transient-related incidents:
December 24, 2005: A woman was attacked at 10 p.m. on the corner of Carmel and Marsh streets. The assailant, whom she described as a transient, stole her credit cards and purse.
January 21: Police arrested transient Michael Dale Arnold after he attempted to hit another man with his truck outside a homeless shelter. Arnold, 35, was arrested for suspicion of assault with a deadly weapon and brandishing a deadly weapon.
January 26: David Siebert was brutally attacked by two transients at 1:30 p.m. on the 500 Block of Higuera Street. Both transients, Charles Clark, 26, and Andrew Mitchell, 19, were caught and charged with felony assault with a deadly weapon.∆
Staff Writer John Peabody can be reached at
jpeabody@newtimesslocom.