ACTION POINT
Photo Courtesy Of Paramount Pictures
SMALL TOWN THEME PARK When a corporate amusement park moves in next door, D.C. (Johnny Knox) must save his own flailing but beloved theme park and his relationship with his daughter in Action Point.
What's it rated? R
Where's it showing? Stadium 10, Park, Galaxy
New
Johnny Knoxville stars as D.C., the crackpot owner of a low-rent, out-of-control amusement park where the rides are designed with minimum safety for maximum fun. Just as D.C.'s estranged teenage daughter, Boogie, comes to visit, a corporate mega-park opens nearby and jeopardizes the future of Action Point. To save his beloved theme park and his relationship with his daughter, D.C. and his loony crew of misfits risk everything to pull out all the stops. (85 min.)
—Paramount Pictures
ADRIFT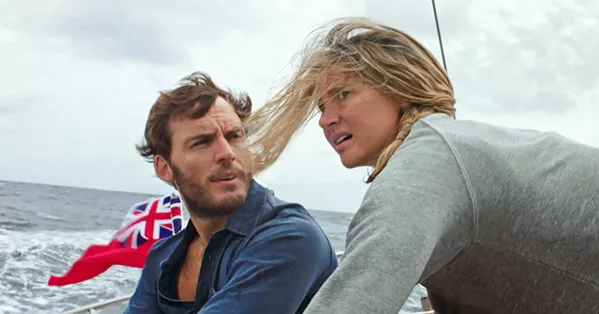 Photo Courtesy Of STXFilms
LOST AT SEA Based on real events, Adrift tells the true story of two sailors and lovers caught in one of the most catastrophic hurricanes in history.
What's it rated? PG-13
Where's it showing? Downtown Centre, Stadium 10, Park, Galaxy
New
Adrift is based on the inspiring true story of two sailors who set out to journey across the ocean from Tahiti to San Diego. Tami Oldham (Shailene Woodley) and Richard Sharp (Sam Claflin) couldn't anticipate they would be sailing directly into one of the most catastrophic hurricanes in recorded history. In the aftermath of the storm, Tami awakens to find Richard badly injured and their boat in ruins. With no hope for rescue, Tami must find the strength and determination to save herself and the only man she has ever loved. (120 min.)
—STXFilms
AVENGERS: INFINITY WAR
What's it rated? PG-13
What's it worth Matinee
Where's it showing? Downtown Centre, Stadium 10, Park, Galaxy
Pick
Anthony and Joe Russo (Captain America: Civil War and Captain America: The Winter Soldier) direct this new Avengers installment, with a screenplay by Christopher Markus and Stephen McFeely. The whole freaking universe is at stake, people, so every single character from the Marvel pantheon must join forces to fight the evil Thanos (Josh Brolin) before he wipes out half of everything.
Of course, including every single character can get pretty chaotic and leave for a lot of abbreviated storylines, and then there's the matter of excessiveness. Even comic book action adventure stories offer moments of rest and respite, but they come few and far between in this bombastic and overblown tale. It's everything you want in a comic book movie, but turned up to 11. Some will like that, others won't.
The film opens with Thor (Chris Hemsworth), Bruce Banner/Hulk (Mark Ruffalo), and Loki (Tom Hiddleston) overcome by Thanos, then it hands off to Dr. Stephen Strange (Benedict Cumberbatch), who enlists Tony Stark/Iron Man (Robert Downey Jr.) and Peter Parker/Spider-Man (Tom Holland) to save the universe. Banner has to round up Steve Rogers/Capt. America (Chris Evans). When they're attacked by Thanos' minions, Natasha Romanoff/Black Widow (Scarlett Johansson) has to show up and rescue them. Meanwhile the Guardians of the Galaxy (Dave Bautista, Zoe Saldana, and Chris Pratt) have to rescue Thor from outer space death. Various superheroes are trying to protect various "infinity stones" that Thanos is trying to acquire so he can kill off half the universe with a literal snap of his fingers. And soon James "Rhodey" Rhodes/War Machine (Don Cheadle), Vision (Paul Bettany), Wanda Maximoff/Scarlet Witch (Elizabeth Olsen), Sam Wilson/Falcon (Anthony Mackie), and Bucky Barnes/White Wolf (Sebastian Stan) all convene at T'Challa/Black Panther's (Chadwick Boseman) hidden kingdom of Wakanda for a final showdown with Thanos. It's exhausting! It's also pretty exhilarating! Its ending, however, is bullshit!
I suspect everyone who's a Marvel fan has already added to the film's $250 million opening weekend, but if you haven't and you plan on going, stop reading here because I'm going to spoil the ending right now: Thanos wins. That's right. He snaps his fingers and half the population of the universe dies, disintegrating into piles dust. Not just a bunch of randos, but our heroes too! Peter Parker, dead! Dr. Strange, dead! Most of the Guardians of the Galaxy, dead! Even Black Panther, dead! That's not how superhero movies are supposed to end, right?
This ending is lame. Most of these actors have multi-film contracts. Are we to assume, for instance, that the upcoming Guardians and Black Panther films—already in the works—are all going to be prequels? Plus there's an Avengers: Infinity War—Part II listed as in "post-production" on imdb.com with the killed-off characters listed in the cast. No, there's going to be some dumb trick that will somehow resurrect these characters, and that pisses me off, which is why I won't give this film full price. Don't play with me, Marvel! I'm not your toy! (149 min.)
—Glen Starkey
BOOK CLUB
Photo Courtesy Of Paramount Pictures
CHANGES A group of middle-aged ladies navigate their own romantic relationships while reading 50 Shades of Grey in Book Club.
What's it rated? PG-13
Where's it showing? Downtown Centre, Stadium 10, Park, Galaxy, Fair Oaks
Diane (Diane Keaton) is recently widowed after 40 years of marriage. Vivian (Jane Fonda) enjoys her men with no strings attached. Sharon (Candice Bergen) is still working through a decades-old divorce. Carol's (Mary Steenburgen) marriage is in a slump after 35 years. Four lifelong friends' lives are turned upside down to hilarious ends when their book club tackles the infamous Fifty Shades of Grey. From discovering new romance to rekindling old flames, they inspire each other to make their next chapter the best chapter. (104 min.)
—Paramount Pictures
BREAKING IN
What's it rated? PG-13
Where's it showing? Sunset Drive-In
Gabrielle Union stars as a woman who will stop at nothing to rescue her two children being held hostage in a house designed with impenetrable security. No trap, no trick, and especially no man inside can match a mother with a mission when she is determined on Breaking In. (88 min.)
—Universal Pictures
DEADPOOL 2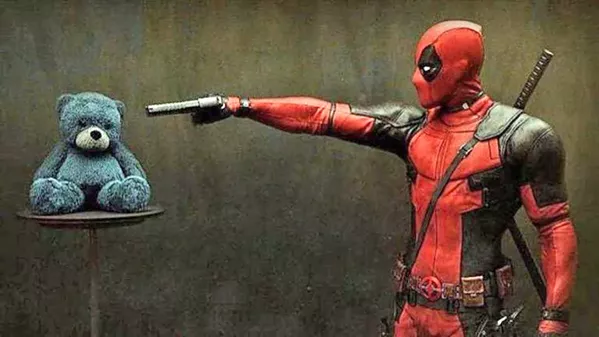 Photo Courtesy Of 20th Century Fox
NOT YOUR AVERAGE SUPERHERO Deadpool (Ryan Reynolds) must save a young boy from evil in Deadpool 2.
What's it rated? R
What's it worth? Full Price
Where's it showing? Downtown Centre, Stadium 10, Park, Galaxy, Sunset Drive-In
Pick
David Leitch (Atomic Blonde) directs this sequel about irreverent former mercenary-turned-mutant superhero Wade "Deadpool" Wilson (Ryan Reynolds), who this time around convenes a team of fellow mutants to protect a supernaturally-gifted young boy, Russell "Firefist" Collins (Julian Dennison), from the vengeful, time-traveling mutant Cable (Josh Brolin).
Color me surprised, but I actually think Deadpool 2 is better than its excellent predecessor! It's full of more zippy one-liners, more gleeful pop culture references, and more ridiculous over-the-top violence.
When the film opens, Deadpool is in a suicidal frame of mind thanks to the murder of his girlfriend Vanessa (Morena Baccarin), but seeing as how he's essentially un-killable, even five barrels of fuel oil won't do the trick. X-men team member Colossus (voiced by Stefan Kapicic) picks up the literal pieces, stuffs them in a sack, and hauls Deadpool back to the X-Mansion to await his recovery.
Made an X-Men trainee, Deadpool eventually joins Colossus, Negasonic Teenage Warhead (Brianna Hildebrand), and her chipper new girlfriend Yukio (Shioli Kutsuna) on an X-Men mission to try to stop Russell "Firefist" Collins from destroying the Headmaster (Eddie Marsan) and his torturous Mutant Re-education Center for young X-Men like Russell.
Being a "shoot first and sort it out later" kind of guy, Deadpool mucks it up and soon finds he and Russell are both incarcerated in the "Icebox," a high security prison for violent mutants. It's there that time Cable shows up to kill Russell, who in the future is responsible for Cable's family's death.
A fight ensues, and Deadpool and Cable tumble out of the Icebox, going their separate ways. Meanwhile, now that the Icebox has been compromised, the prisoners—including Russell—are being transported to a new prison by train. Can Deadpool and his best bud Weasel (T.J. Miller) assemble a team of superheroes to protect Russell from Cable's inevitable attack on the prison convoy, and will this team consist of misfit "heroes" such as Domino (Zazie Beetz), Vanisher (Brad Pitt in a great cameo), Zeitgeist (Bill Skarsgård), Bedlam (Terry Crews), Peter (Rob Delaney), and Shatterstar (Lewis Tan)? Yes and yes!
Reynolds was born to play this role. His delivery is spot on, and it has to be. Most the time he's acting under the Deadpool mask, and the rest of the time—save for one scene where he looks like himself—Reynolds is under hideous burn victim skin.
Wade's relationship with Ness, who he sees in cryptic visions at various times of immense stress, is what drives him to help Russell and try to be a better person. "Your heart's not in the right place," she tells him, leading him to continue to try to help Russell even though he often seems like a lost cause.
Cable, who turns out to not be the villain everyone expects, doesn't think Russell is worth saving, but this is a feel-good film where everyone can learn a valuable lesson, and since Cable has a time travel device ... well, even a hapless guy like Peter, who joined Deadpool's superhero team even though he admittedly doesn't have a superpower, has a chance at a second chance.
Deadpool 2 makes fun of itself, Superman, the X-Men, the Marvel Universe, Marvel's competitor DC Comics, Batman—you name it. No one and nothing is safe from skewering. Heck, even Barbra Streisand and Yentl get it right in the kisser. Ka-pow! I wouldn't have it any other way. (119 min.)
—Glen Starkey
FIRST REFORMED
What's it rated? R
Where's it showing? The Palm
New
Reverend Ernst Toller (Ethan Hawke) is a solitary, middle-aged parish pastor at a small Dutch Reform church in upstate New York on the cusp of celebrating its 250th anniversary. Once a stop on the Underground Railroad, the church is now a tourist attraction catering to a dwindling congregation, eclipsed by its nearby parent church, Abundant Life, with its state-of-the-art facilities and 5,000-strong flock. When a pregnant parishioner (Amanda Seyfried) asks Reverend Toller to counsel her husband, a radical environmentalist, the clergyman finds himself plunged into his own tormented past, and equally despairing future, until he finds redemption in an act of grandiose violence. (108 min.)
—A24
LIFE OF THE PARTY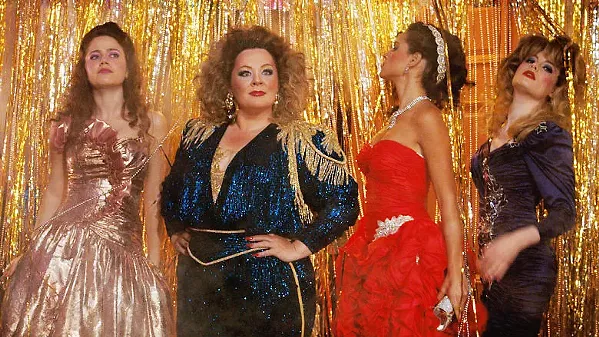 Photos Courtesy Of New Line Cinema
PARTY LIKE IT'S 1985 Deanna (Melissa McCarthy, center) has the senior year she never got, complete with ragers and hookups, when she returns to college after her husband leaves her for another woman.
What's it rated? PG-13
What's it worth? Rental
Where's it showing? Stadium 10, Galaxy
From writer/director Ben Falcone (Tammy, The Boss) and his co-writer/wife Melissa McCarthy (Ghostbusters, Bridesmaids) comes the summer comedy Life of the Party. When her husband, Dan (Matt Walsh, Brigsby Bear, Elf) suddenly dumps her, longtime dedicated housewife Deanna (McCarthy) turns regret into reset by going back to college ... landing in the same class and school as her daughter, Maddie (Molly Gordan, I Am Sam) who's not entirely sold on the idea. Plunging headlong into the campus experience, the increasingly outspoken Deanna—now Dee Rock—embraces freedom, fun and frat boys on her own terms, finding her true self in a senior year no one ever expected.
I've enjoyed Melissa McCarthy's work ever since she was in Gilmore Girls. That said, I didn't have super high hopes going into The Life of the Party. McCarthy's films have become a bit stale, not bad, but not great, and always leaning heavily on a particular brand of over the top, crude comedy. Don't get me wrong; I loved it in Bridesmaids, but a handful of films later it's started to get a bit stale.
The premise isn't terribly original. After her husband leaves her for another woman, Deanna, who dropped out of college when she got pregnant with their daughter, Maddie, decides to back to school to finally finish her degree ... at the same college her daughter is attending! Shenanigans ensue! Insert awkward mother-daughter walks of shame and 80s themed college parties with way too many shots of cheap tequila. This time around with a PG-13 rating, McCarthy, leaned on a sweeter, awkward brand of mom humor complete with dorky puff paint adorned sweaters and a woke sense of feminism. It was a refreshing change of pace.
Due to the PG-13 rating, you won't actually see any scenes of McCarthy banging the much younger Jack (Luke Benward, Field of Lost Shoes) Maddie's boyfriend Tyler's (Jimmy O. Yang, Patriot's Day) BFF. They do play that May-December relationship as Jack being in love with Deanna, rather than some weird MILF fetish, which is kind of sweet, I think?
Maya Rudolph (Bridesmaids) is hilarious as Deanna's ultra supportive smack-talking bestie who's always sneaking off to have sex with her husband in public places. Julie Bowen as the realtor, Marcie, who steals Deanna's husband, just comes off as a mean version of her type A mom character from Modern Family. Chris Parnell (Anchorman) is charming as Deanna's pun-cracking archaeology professor. Leonar (Heidi Gardner, Saturday Night Live) is perfect as Deanna's super creepy and weird roomie with an aversion to sunlight. Gillian Jacobs (Don't Think Twice) is Maddie's slightly older sorority sister who was stuck in a comma for eight years and is a minor celebrity on Twitter because of it. She's the first to take a shine to Deanna when they bond over a shared hatred of the mean girl in archaeology class. Gordan as Deanna's daughter is utterly bland and forgettable. McCarthy's character could have had no daughter and simply had a midlife crisis and chosen to go back to college and the film would have been about as funny for all the impact Gordan had on the story.
This film isn't Bridesmaids level great, nor is it worth spending $15 at the movie theater, but had I not already seen it I would perk up a little bit when it came to my local Redbox. (105 min.)
—Ryah Cooley
OVERBOARD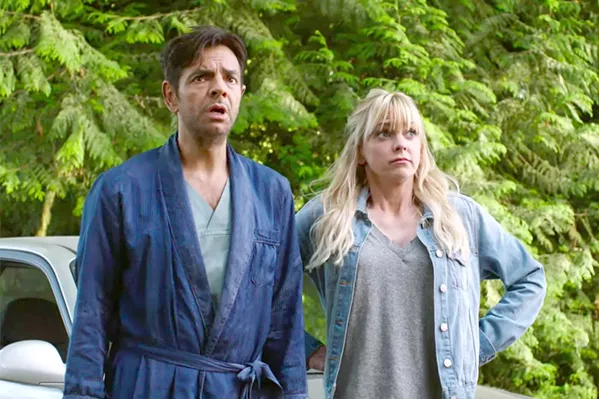 Photo Courtesy Of Pantelion Pictures
SURREAL After losing his memory, a wealthy playboy (Eugenio Derbez) is convinced he's a contractor married to his former cleaning lady (Anna Faris) in Overboard.
What's it rated?PG-13
What's it worth? Rental
Where's it showing? Stadium 10, Park
Director Rob Greenberg, best known for his television work (How I Met Your Mother, Scrubs), steers this role reversing remake/re-imagining of 1987's Overboard. After falling off his luxury yacht while partying too hard, wealthy playboy Leonardo (Eugenio Derbez, How to Be a Latin Lover) wakes up on the Oregon coast with amnesia. Upon recognizing his face on the news, Kate (Anna Faris, Mom), a single mother and carpet cleaner who was mistreated and unjustly fired by Leo, hatches a scheme—convince the amnesiac he's her husband.
Luckily for Kate, the only person searching for the missing heir is his sister, Magdalena (Cecilia Suarez). But she devises a plan of her own after finding him at the hospital. "Is this your brother?" One of the doctors asks her. "No, I've never seen this man before in my life." She replies and quickly leaves without Leo seeing her. With her brother out of the way, Magdalena is next in line to inherit their deathbed-ridden father's company.
With the rest of his family under the assumption he was eaten by sharks (yep), Leo is free for Kate to take. And she does. Leo knows right off the bat, as Goldie Hawn's character did in the original, that something isn't right. But without a single memory to turn to, Leo is stuck believing Kate's lie, which is backed up by fake documents and her knowledge of a Speedy Gonzales tattoo on his butt.
It took me a little while to get on board (get it?) with this Overboard. I know you're supposed to hate Leo in the beginning, but I found his obnoxiousness overbearing at times (he's a womanizing drunkard as opposed to Hawn's snobby socialite). But once that finally settles down, and Leo becomes more "accustomed" to his new, humble surroundings, the film gets funnier.
The hardest thing for Leo to believe at first, besides having to work for a living, is that he's a father. While the predictable, budding romance between Leo and Kate is fun, the real heart of this story lies with the kids. No matter how ludicrous the circumstances are, he slowly becomes the closest thing to a father figure Kate's three daughters have ever known. And as sappy and improbable as it is, the bond he forms with them won me over. There's one scene near the end that involves a bicycle (that's all I'll say) where I was close to crying. I kid you not; this moment has just as much, if not more, weight to it than anything in Avengers: Infinity War. Then again, the last five minutes of that are funnier than this entire film, so it's all relative. (112 min.)
—Caleb Wiseblood
POPE FRANCIS: A MAN OF HIS WORD
What's it rated? PG
Where's it showing? The Palm
Wim Wenders' new documentary, Pope Francis: A Man of His Word, is intended to be a personal journey with Pope Francis, rather than a biographical documentary about him. The pope's ideas and his message are central to this documentary, which sets out to present his work of reform and his answers to today's global questions. From his deep concern for the poor and wealth inequality, to his involvement in environmental issues and social justice, Pope Francis engages the audience face-to-face and calls for peace. (96 min.)
—Focus Features
RBG
Photo Courtesy Of Magnolia Pictures
NOTORIOUS The documentary RBG explores the life and career of U.S. Supreme Court Justice Ruth Bader Ginsburg.
What's it rated? PG
What's it worth? Full Price
Where's it showing? The Palm
Pick
RBG is a must-see documentary chronicling Supreme Court Justice Ruth Bader Ginsburg's improbable life and career, superbly highlighting her heroic litigation in the 1970s to overturn laws that discriminated by gender, her tenure on the Supreme Court that's been defined by her scathing dissents, and the ways in which she's inspired a new generation of women, becoming a cultural phenomenon at the ripe age of 85.
Beyond those highlights, RBG offers a poignant portrayal of Ginsburg as a person, her reserved and steely yet sweet temperament, and her genuinely beautiful marriage. Filmmakers Betsy West and Julie Cohen really capture Ginsburg's humanity through interviews with her, her friends, and family members, which add a valuable layer of depth to the documentary.
Ginsburg, a Brooklyn native, entered Harvard Law School in 1956 as one of nine women in a class of 500. She juggled her coursework with caring for both her baby and her husband, who had fallen ill with cancer (but ultimately survived). After graduating, she struggled to find law work as a female professional, despite being at the top of her class. Ginsburg eventually became a professor at Columbia University, where she pioneered a class on gender discrimination.
In the '70s, Ginsburg argued a series of discrimination cases before the U.S. Supreme Court. Here, West and Cohen manage to make what could have been a dry rundown of court cases compelling and dramatic. They tracked down the plaintiffs on these cases, who had faced gender-based discrimination ranging from unequal pay to unequal benefits as military service members. RBG weaves original audio from Ginsburg's oral arguments with commentary from Ginsburg and others to drive home the historical significance of those cases. Almost singlehandedly, Ginsburg changed the legal landscape for all women in the country.
RBG begins and ends with exploring her legacy, particularly among the newest generation of Americans. As the Supreme Court turned more and more conservative in the early 2000s, Ginsburg's dissenting opinions became her signature and drew attention from young progressives. At 85 years old today, her spunk and sharp intellect are widely adored. T-shirts labeled "Notorious RBG" have become a hit, and goofy web images with her face imprinted on various superheroes have gone viral on the Internet. You'd be hard pressed to find a more important living American icon than RBG, and this documentary proves it. (97 min.)
—Peter Johnson
THE RIDER
What's it rated? R
What's it worth? Full Price
Where's it showing? The Palm
Pick
Writer-director-producer Chloé Zhao recruits several first-time actors for this story about a young rising star cowboy on the rodeo circuit—Brady Blackburn (Brady Jandreau)—who suffers a near-fatal head injury; in fact, the story is based on Jandreau's real-life 2016 head injury he received while bronco riding. As he recovers, he struggles to understand where he fits in without his identity as a cowboy. Jandreau's real-life father, Tim Jandreau, stars as his film father, Wayne Blackburn, and his real-life sister, Lilly, stars as his film sister, Lilly Blackburn. The film also features real-life rodeo cowboys Cat Clifford and Lane Scott starring as themselves.
This poignant and elegiac meditation on identity is a real heartbreaker. Brady was a bronco rider and gifted horse trainer. In his rural South Dakota region, he was a star. Kids asked to take photos with him. He was a cowboy hero. His entire identity was wrapped up in cowboying, but after his terrible accident leaves him with a metal plate in his head, he's told he'll have to leave rodeo and horse training behind. So what's left for him? Who is he if not Brady Blackburn, bronco rider?
Zhoa's film takes its time telling Brady's story. It lingers on his stapled head wound, spends long moments framing Brady against the wide-open spaces of South Dakota, and lets us watch the cowboy employing his horse whispering touch on unbroken stallions. We also see Brady with his cowboy friends, drinking around a bonfire, wrestling in a living room, and cheering each other on at the rodeo. They're all living on the same Lakota reservation consumed by poverty but driven by a hyper masculine code of conduct—cowboy up! The pall lingering over every gathering is whether Brady will make it back, and as counterpoint to this question, we have Lane Scott, a former rodeo bull rider made paraplegic after a bull riding accident (though in real life Scott was injured in an auto accident).
Using non-actors to essentially play themselves is a huge risk—just ask Clint Eastwood about his floundering The 15:17 to Paris—but Zhoa coaxes remarkable performances out of them. Scott is indeed a paraplegic, and archival footage of him riding bulls and Brady riding broncos offers a tantalizing mix of reality and fiction. Likewise, Brady's real-life sister Lilly has an intellectual disability. This dose of realism packs an emotional wallop.
As for Jandreau, he's the heart of the film. His soulful performance, his quiet introspection, and his natural charisma make me certain we'll see this first-time actor in another role. This is hands down one of the most beautiful films I've seen this year. You can't help but mourn for Brady as he struggles to find something worth living for. (104 min.)
—Glen Starkey
SHOW DOGS
What's it rated?PG
Where's it showing? Stadium 10, Park, Galaxy
Show Dogs is a family comedy about the unlikely pairing of a human detective (Will Arnett) and his canine partner (voice of Chris "Ludacris" Bridges), who has to go undercover at the world's most exclusive dog show to solve his biggest case yet. (92 min.) ∆
—Global Road Entertainment
New Times movie reviews were compiled by Arts Editor Ryah Cooley and others. You can contact her at rcooley@newtimesslo.com.