CALL ME BY YOUR NAME
Photo Courtesy Of Sony Pictures Classics
THE FIRST TIME In Call Me By Your Name, love blooms in Italy when Oliver (Armie Hammer) comes to intern for Elio Perlman's (Timothée Chalamet) father.
What's it rated? R
Where's it showing? The Palm
New
It's the summer of 1983 in the north of Italy, and Elio Perlman (Timothée Chalamet), a precocious 17-year-old American-Italian, spends his days in his family's 17th century villa transcribing and playing classical music, reading, and flirting with his friend Marzia (Esther Garrel). Elio enjoys a close relationship with his father (Michael Stuhlbarg), an eminent professor specializing in Greco-Roman culture, and his mother, Annella (Amira Casar), a translator, who favor him with the fruits of high culture in a setting that overflows with natural delights. While Elio's sophistication and intellectual gifts suggest he is already a fully fledged adult, there is much that remains innocent and unformed about him, particularly about matters of the heart. One day, Oliver (Armie Hammer), a charming American scholar working on his doctorate, arrives as the annual summer intern tasked with helping Elio's father. Amid the sun-drenched splendor of the setting, Elio and Oliver discover the heady beauty of awakening desire over the course of a summer that will alter their lives forever. (130 min.)
—Sony Pictures Classics
THE COMMUTER
What's it rated? PG-13
Where's it showing? Stadium 10, Park, Galaxy, Sunset Drive-In
New
Photo Courtesy Of Universal Pictures
OFF TRACK A train ride to work goes awry when Michael (Liam Neeson) becomes involved in a criminal conspiracy in The Commuter.
Michael (Liam Neeson) is an insurance salesman on his daily commute home, which quickly becomes anything but routine. After being contacted by a mysterious stranger, Michael is forced to uncover the identity of a hidden passenger on his train before the last stop. As he works against the clock to solve the puzzle, he realizes a deadly plan is unfolding and he is unwittingly caught up in a criminal conspiracy. (105 min.)
—Lionsgate
COCO
What's it rated? PG
What's it worth? Full Price
Where's it showing? Stadium 10
Pick
Lee Unkrich and Adrian Molina co-direct this animated adventure-comedy written by the directors and Jason Katz and Matthew Aldrich, about Miguel (voiced by Anthony Gonzalez), an aspiring musician from a family in which music is banned. Miguel is swept into the Land of the Dead and meets his forebears in this film that explores the Mexican tradition of el Día de los Muertos, or the Day of the Dead.
Coco really is a love letter to the Mexican culture. I won't be one bit surprised if this wins Best Animated Feature at next year's Academy Awards. It deserves it! (109 min.)
—Glen Starkey
DARKEST HOUR
What's it rated? PG-13
What's it worth? Full Price
Where's it showing? The Palm, Galaxy
Pick
Darkest Hour drops viewers into one of the tensest, grimmest periods of World War II to illustrate how British Prime Minister Winston Churchill (Garry Oldman), orated Britain and its people out of surrendering to and into defiantly fighting Nazi Germany.
Essentially a biographical portrait of Churchill, Darkest Hour leans on a phenomenal performance by Oldman to captivate the audience and make us feel the immensity of Europe teetering on the edge of destruction.
Set in May of 1940, British Parliament has just ousted Neville Chamberlain as its Prime Minister as Hitler prepares to invade Belgium and Holland. Churchill is begrudgingly appointed as his successor, but fear and doubt still consumes the nation.
Despite the highest of stakes, Darkest Hour focuses on, at times with humor, on Churchill's blusterous and volatile personality. He's first seen lying in bed the morning of his appointment with a routine breakfast tray, including a tall glass of Scotch. Churchill loses his temper on his new secretary Elizabeth Laydon (an excellent Lily James), shouting her out of the room for not double-spacing his speech. Immediately, we see that Churchill is not a perfect man by any means. But we also see the power of his words.
Churchill assumes the helm with the message to the nation that accepting defeat isn't an option. But he faces resistance from many members of Parliament and even members of his own cabinet, who bicker with him to settle a peace treaty with Hitler, as millions of British soldiers' lives are on the line. It's Churchill's commitment to the principles of his country and disdain for the moral atrocities of Nazism that compel him to push back against the momentum of a surrender. That's what's thrilling about this movie: the emotional battle between the convenience of giving up versus the profound consequences of that concession.
Darkest Hour hits theaters at an appropriate time in history, when similar moral questions and human values are on the line. Churchill's bluster and bombastic oration did remind me of President Donald Trump's. But the push notification that arrived on my phone in the theater reporting Trump's tweet to North Korea of having a "working" nuclear button on his desk enlightened me to the fact that the intelligence, consciousness, and nuance of Churchill's rhetoric has no comparison to the current U.S. president. (125 minutes).
—Peter Johnson
THE DISASTER ARTIST
What's it rated? R
What's it worth? Full Price
Where's it showing? Downtown Centre
Pick
James Franco stars and directs this biopic about filmmaker Tommy Wiseau (James Franco), who in an acting class meets Greg Sestero (Dave Franco). The two form a friendship and head to Hollywood to make a film called The Room. The screenplay by Scott Neustadter and Michael H. Weber is based on the book The Disaster Artist: My Life Inside The Room, the Greatest Bad Movie Ever Made, by Greg Sestero and Tom Bissell.
James Franco has paid homage to Wiseau and his terrible movie, and in what can only be described as perverse irony, I bet The Disaster Artist ends up getting some Oscar nods. I'm sure Wiseau will feel like he deserves the credit. (103 min.)
—Glen Starkey
FERDINAND
What's it rated? PG
Where's it showing? Stadium 10
Ferdinand tells the story of a giant bull with a big heart. After being mistaken for a dangerous beast, Ferdinand (John Cena) is captured and torn from his home. Determined to return to his family, he rallies a misfit team on the ultimate adventure. (107 min.)
—Blue Sky Studio/20th Century Fox
THE GREATEST SHOWMAN
What's it rated? PG
What's it worth? Rental
Where's it showing? Downtown Centre, Stadium 10, Park, Fair Oaks, Galaxy
First-time director Michael Gracey helms The Greatest Showman, an original, straight-to-screen musical inspired by the life of P.T. Barnum (played here by Hugh Jackman) and the formation of the Barnum and Bailey Circus. The film never claims to be wholly factual and only uses the aspects of Barnum's life that fit into its desired rags-to-riches structure.
Overall, The Greatest Showman is a mixed bag full of flawed and fun moments alike. It's hard to tell how serious it takes itself at times, but the best parts are the unashamedly cheesy ones. And I really wish it embraced that cheesiness more—it could have been grater. (139 min.)
—Caleb Wiseblood
INSIDIOUS: THE LAST KEY
What's it rated? PG-13
Where's it showing? Park, Stadium 10, Galaxy
Adam Robitel helms the fourth entry of the Insidious series, with Insidious: Chapter 3 director Leigh Whannell providing the script, centering around parapsychologist Elise Rainier (Lin Shaye) and her continued voyage into the "further." (103 min.)
—Universal Pictures
I, TONYA
What's it rated? R
Where's it showing? Downtown Centre
See Split Screen.
JUMANJI: WELCOME TO THE JUNGLE
What's it rated? PG-13
What's it worth? Full Price
Where's it showing? Downtown Centre, Stadium 10, Sunset Drive In, Park, Galaxy
Pick
Sound the banging of drums signaling impending doom or the next level in a game. It's a familiar one, too, but instead of playing a board game, because who sits down to do that anymore, we revisit the twists of Jumanji (1995) as a video game. Director Jake Kasdan (Bad Teacher and Sex Tape) is calling the shots with this interpretation and of course putting his own comedic twist on the film.
With Jumanji: Welcome to the Jungle, we see an old game through new lenses. In present day, we have a group of four archetypal teenagers. You know, similar to The Breakfast Club you've got the nerd Spencer (Alex Wolff), his former best-friend-turned-jock Fridge (Ser'Darius Blain), a self-absorbed popular Bethany (Madison Iseman), and smart girl Martha (Morgan Turner) who's a little salty about her peers. The crew gets detention and winds up having to remove staples from magazines for the evening. Anyone else find that to be an unusual punishment? To top it off, they're doing it in an abandoned classroom filled with old-school memorabilia and random junk. That's where the unlikely group finds Jumanji (this time in video game form). They decide to ditch their task to play it. Once the game is plugged in and rebooting, the kids are sucked into the console, entering the Jumanji world. But there's a catch: They have assumed the bodies of their avatars.
This is where the fun really starts. Spencer turns into Dr. Smolder Bravestone (Dwayne Johnson). His weakness: He has none. Fridge turns into Franklin "Mouse" Finbar (Kevin Hart). You can only guess where the nickname comes from. Notorious hottie Bethany turns into the nerdy, male Professor "Shelly" Oberon (Jack Black), a cartographer, cryptographer, archaeologist, and paleontologist. Shy Martha turns into Ruby Roundhouse (Karen Gillan). She's a martial artist and dance fighter with very short and tight clothing. With their new personas, the group must learn to work together and trust one another so they can return the jewel known as the Jaguar's Eye to the jaguar statue.
This film does what many remakes fail to do, which is successfully entertain its audience. I wasn't quite sure how this would go walking into the theater. But these actors did a hilarious job delivering as prepubescent teenagers in way over their heads. Johnson and Hart bounce off each other perfectly—no I'm not tired of the height difference jokes; it worked out well here. Outlandish Black can hold his own in a scene, and newcomer Gillian hilariously portrays a geeky teenager. I was laughing nonstop throughout the film. (112 min.)
—Karen Garcia
LADY BIRD
What's it rated? R
What's it worth? Full Price
Where's it showing? Downtown Centre
Pick
Writer-director Greta Gerwig helms this coming of age story about high schooler Christine "Lady Bird" McPherson (Saoirse Ronan) over the 2002-03 school year in Sacramento, exploring her difficult relationship with her mother Marion (Laurie Metcalf) and others in her life. (93 min.)
—Glen Starkey
MOLLY'S GAME
What's it rated? R
What's it worth? Matinee
Where's it showing? Downtown Centre, Galaxy
Pick
Acclaimed playwright and screenwriter Aaron Sorkin (A Few Good Men, The Social Network, Moneyball, Steve Jobs) marks his directorial debut with this crime drama based on the true story of Molly Bloom (Jessica Chastain, The Tree of Life, Interstellar), the Olympic-class skier who ran one of the world's most exclusive high-stakes poker games. Her players included Hollywood royalty, sports stars, business titans, and, unbeknownst to her, the Russian mob. Bloom ran the game for a decade before being arrested in 2013.
Molly's Game won't disappoint Sorkin fans as its dialogue is just as clever and rapid-fire as any of his previous films. Sorkin detractors on the other hand can expect the same wordy, tell-don't-show approach they've come to disapprove of him for. I've always been somewhere in the middle (a Sorkin agnostic, if you will).
One thing I can say sincerely though is I've never been bored by a Sorkin film, and Molly's Game didn't break that streak. With a runtime just barely under 2 1/2 hours, the film flies by without a hitch. And some of the the best scenes are the most dialogue-heavy ones, which owes as much credit to the cast as Sorkin.
Chastain plays Bloom with the perfect amount of stoicism, and Idris Elba (Beasts of No Nation) is equally excellent as Charlie Jaffey, Bloom's lawyer. No matter how quippy the conversations between Bloom and Jaffey get, they never seem overly rehearsed as both Chastain and Elba deliver their lines naturally (as if they really are coming up with this stuff on the spot).
As for supporting players, Michael Cera (Superbad, Scott Pilgrim Vs. The World) stands out as Player X. Many of Bloom's poker players are addressed by name in the film, while Player X is only referred to as Player X. The character comes straight out of Bloom's memoir, which the film is based on. Bloom has never revealed who X is, but has confirmed that he's a famous Hollywood actor. This leaves a lot of room for speculation as various actors are known to have frequented Bloom's games, including Ben Affleck, Leonardo DiCaprio, Tobey Maguire, and others.
Cera is a solid addition to the ensemble, as are Kevin Costner, Chris O'Dowd, and Jeremy Strong. But the key performance is of course Chastain's. No matter how high the stakes get, Chastain is convincing as the calm, cool, and collected Bloom—it's a helluva poker face. (140 min.)
—Caleb Wiseblood
PITCH PERFECT 3
What's it rated? PG-13
Where's it showing? Galaxy
After the highs of winning the World Championships, the Bellas find themselves split apart and discovering there aren't job prospects for making music with your mouth. But when they get the chance to reunite for an overseas USO tour, this group of awesome nerds will come together to make some music, and some questionable decisions, one last time. (94 min.)
—Universal Pictures
PADDINGTON 2
What's it rated? PG
Where's it showing? Downtown Centre, Stadium 10, Park, Galaxy
New
While searching for the perfect present for his beloved Aunt Lucy's (Imelda Staunton) hundredth birthday, Paddington (Ben Whishaw) spots a unique pop-up book in Mr. Gruber's (Jim Broadbent) antique shop, and embarks upon a series of odd jobs to buy it. But when the book is stolen, it's up to Paddington and the Brown family to unmask the thief. (105 min.)
—Warner Bros. Pictures
THE POST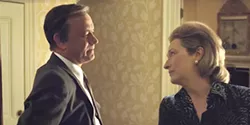 Photo Courtesy Of 20th Century Fox
GOVERNMENT SECRETS Washington Post Publisher Katharine Graham (Meryl Streep) and editor Ben Bradlee (Tom Hanks) put their jobs on the line in order to expose the truth in The Post.
What's it rated? PG-13
Where's it showing? Downtown Centre, Stadium 10, Bay, Park, Galaxy
New
Steven Spielberg directs Meryl Streep and Tom Hanks in The Post, a thrilling drama about the unlikely partnership between The Washington Post's Katharine Graham (Streep), the first female publisher of a major American newspaper, and editor Ben Bradlee (Hanks), as they race to catch up with The New York Times to expose a massive cover-up of government secrets that spanned three decades and four U.S. presidents. The two must overcome their differences as they risk their careers—and their very freedom—to help bring long-buried truths to light. (115 min.)
—20th Century Fox
PROUD MARY
What's it rated? R
Where's it showing? Park
New
Taraji P. Henson is Mary, a hit woman working for an organized crime family in Boston, whose life is completely turned around when she meets a young boy whose path she crosses when a professional hit goes bad. (89 min.)
—Screen Gems
THE SHAPE OF WATER
What's it rated? R
What's it worth? Full Price
Where's it showing? The Palm, Stadium 10
Pick
Elisa (Sally Hawkins) is a lonely mute who works as a janitor in a high-security government laboratory in 1962 Baltimore. For 10 years she's walked and cleaned the halls of the facility with her friend Zelda (Octavia Spencer), with Zelda doing all of the talking about her hardworking, yet lazy, husband. Men, am I right?
Every day Elisa sticks to her routine: take a shower, polish her shoes, make lunch as well as a meal for her neighbor and friend Giles (Richard Jenkins), and then catch the bus to work. While she can't say anything, her actions make up for the silence—she also communicates using sign language—and she's a thoughtful individual. She often spends her time scanning the TV Guide with Giles, a closeted gay man, and watching old films with elaborate tales of love, something both are yearning for.
Her life takes a turn when she and Zelda are called into a room to clean up a bloody mess created by "the asset" (Doug Jones), at least that's what the scientists and government officials are calling it. The asset is a scaled creature from South Africa that now resides in a water tank against its will. Elisa is drawn to the creature, maybe because she too is an outsider in the world that she lives in. She forms a bond with the creature that feels more like love than friendship. But her days of sharing hard-boiled eggs for lunch and listening to her vinyl record player are numbered; the very fate of the creature is on the line.
This movie reminds me of Creature From the Black Lagoon. That film was released in 1954 as a black and white 3-D motion picture. It's a semi-horror classic about a geology expedition in the Amazon that leads to the discovery of a skeletal, webbed-fingered creature. Writer and director Guillermo Del Toro's (Pan's Labyrinth, Hellboy, Pacific Rim) modern version of the classic doesn't need the 3-D effects. It's visually intriguing as an everyday woman finds her fairy tale—with some bloody scenes mixed in, of course.
The film also has Del Toro's signature, uniquely horrifying creatures, hence the asset with his scaly body and fish-like eyes. But while he's a bit scary to look at, he has the emotions and thoughts that any human would. That's what Elisa is drawn to, especially since they both can't talk. Elisa takes comfort in this creature because he can't see that she's different from other humans. It's a beautifully told film of finding some sort of compassion in an otherwise mundane world.
The movie also touches upon race and gender equality—or the disgusting lack of it, really, but then again this is the '60s.
What I loved about The Shape of Water is that it's very whimsical. It reminds me of Amelie, a simple individual living an extraordinary life without her knowledge. Hawkins does an amazing job of portraying this shy woman fierce enough to overstep boundaries for a noble cause. Don't get me wrong, this isn't just a love story, guys; there's also plenty of action and drama to keep you on your toes. I'll leave you with this: The end was a splashing twist that I wasn't predicting at all. (123 min.)
—Karen Garcia
STAR WARS: THE LAST JEDI
What's it rated? PG-13
What's it worth? Full Price
Where's it showing? Downtown Centre, Stadium 10, Park, Galaxy
Pick
In Star Wars: The Last Jedi, writer/director Rian Johnson (Looper, Brick) continues the Skywalker saga as the heroes of The Force Awakens join the galactic legends in an epic adventure that unlocks age-old mysteries of the Force and shocking revelations of the past.
What's interesting about the latest chapter in the saga is the connection that Rey (Daisy Ridley) is building with the force. While it's thought that Luke (Mark Hamil) is the last Jedi needed to save the Rebellion, let's be real: There are great forces of power within Rey and Kylo Ren (Adam Driver). Not to mention Finn, who is pretty handy with a light saber when needed. Rey seeks Luke not only for his help with the fight against the First Order, the next generation of the Empire, but also for his teachings. There is a strong sense of the force within her, she just doesn't know how to harness or understand it. That connection has brought a different kind of communication between her and Kylo Ren. Wherever the two are, they are able to communicate with one another and even see the other's surroundings. The line of communication opens up not only because they share feelings of angst, but also they are both caught between the light and dark sides. Rey doesn't know who her parents are or why they deserted her. Kylo Ren, the most emo of all characters, is tormented because he murdered his father, Han Solo. The Last Jedi continues the ongoing battle of good versus evil.
As much as I loved this film and will definitely be seeing it probably two more times in theaters, it dragged on. It could have gotten to the point a lot faster. But the film explodes with the best light saber battle I've seen in a while. The whole film just pops with harsh colors of red and black, filling the audience with the perils of being in the grasp of the New Order. With that said, I always feel a rush of giddiness with the opening credits running from bottom to top, in the familiar yellow font, and the theme song on full blast. I loved the screen time that Chewie (Yes, we're on a nickname bases, so I don't have to say Chewbacca) gets with the porgs. I need about 10 of those furry creatures, thank you very much.
Let's also take another moment to remember the late Carrie Fisher, the forever princess of the galaxy. There were many powerful scenes with Fisher that not only made me tear up, but I also felt that they alluded to her death. Leia was always the stronger natured character in the Star Wars franchise and she held onto that to the very end. The Rebel Alliance is nothing without its leader, but, alas, other characters will take the reins. I can't wait to see what's store for the next movie, and I can proudly say that I will always be rebel scum. (152 min.)
—Karen Garcia
THREE BILLBOARDS OUTSIDE EBBING, MISSOURI
What's it rated? R
What's it worth? Full Price
Where's it showing? Downtown Centre
Pick
Three Billboards Outside Ebbing, Missouri is one shape-shifter of a movie. Is it a comedy, tragedy, or quest for vengeance, redemption, and catharsis? Director/writer Martin McDonagh (The Guard) manages to convince you it's all of the above at different twists and turns in the story.
We're dropped late into the aftermath of mother Mildred Hayes' (Frances McDormand, Hail, Caesar!, Moonrise Kingdom) grief and pain. Months have gone by since her daughter Angela (Kathryn Newton) was viciously raped and murdered while walking home one night in their small town. Still, local law enforcement has made no arrests and doesn't even have any suspects. While driving down a forgotten road just outside Ebbing, Mildred gets and idea and proceeds to march into town and pay for three billboards in a row painted red with big black letters that say "Raped while dying," "And still no arrests?" and "How come, Chief Willoughby?"
The writing is impeccably sharp, with searing lines thrown in at the most emotionally potent moments, and yet, there are so many laugh-out-loud moments, too, in this film that deals rather heavily in anger and sorrow. The acting is superb, particularly performances from McDormand, who plays Mildred as hardened and determined to find justice, and Harrelson as the seemingly hick police chief creates so much nuance and depth for his character. And yet, Three Billboards Outside Ebbing, Missouri requires being OK with swallowing a hefty dose of imaginative realism. We're dealing with very real problems, but this is a world where the consequences for, say, throwing someone out a window or committing arson don't really line up with reality at all. (115 min.) Δ
—Ryah Cooley
New Times movie reviews were compiled by Arts Editor Ryah Cooley and others. You can contact her at rcooley@newtimesslo.com.