American Assassin
What's it rated? R
What's it worth? Matinee
Where's it showing? Sunset Drive-In
Pick
Directed by Michael Cuesta (L.I.E., Roadie, Kill the Messenger) and based on a character in Vince Flynn's spy series, this first film in what clearly hopes to become a franchise is the origin story for counterterrorism operative Mitch Rapp (Dylan O'Brien), who after witnessing the death of his fiancé, Katrina (Charlotte Vega), at the hands of terrorists, starts training to take out the cell that murdered her. (112 min.)
—Glen Starkey
Battle Of The Sexes

What's it rated? PG-13
What's it worth? Full Price
Where's it showing? Downtown Centre, Stadium 10, Galaxy
Pick
Battle of Sexes, the retelling of the 1973 sociopolitical tennis showdown between Billy Jean King (Emma Stone, La La Land) and Bobby Riggs (Steve Carrell, The Office), is by no means a cinematic masterpiece, but it is a well-executed and enjoyable portrayal of the true story of a match that became an iconic battlefront in the American feminist movement.
As the movie starts we're dropped into the chaotic life of King, who's regarded as the top women's player in the world. We see how she and the other female players face tremendous sexism from the male ringleaders of the tennis industry, always taking a back seat to the men's game and earning significantly less money. King's fiery nature is on display from the outset when she refuses to accept less money than the men in an upcoming tournament, and then she mobilizes all the female players to quit the Association of Tennis Professionals.
The women start their own tennis tour, with the help of World Tennis magazine's Gladys Heldman (a great Sarah Silverman), and begin to speak out strongly against gender discrimination. This all infuriates 55-year-old Riggs, a retired men's tennis icon played excellently by Carrell. In an obnoxiously jovial and condescending manner, he complains that women's tennis is just naturally inferior to men's tennis, and that the ladies are being unreasonable. Having just separated from his wife because of his gambling problem, Riggs starts calling up King and other players on the tour challenging them to a match, a "battle of the sexes."
King initially turns down his offer, but after Riggs easily defeats Margaret Smith, one of the top female players, King feels obligated to take him on. Stone plays a fantastic King throughout. The beginning-to-end tension between her unshakable conviction for respect and equality and society's unwillingness to shed chauvinistic views is really well depicted.
Not without its flaws, Battle of the Sexes is entertaining and definitely gives you insight into why this match snowballed into the national spectacle that it was. Not only that, but it's an interesting biography of King herself, her heroic ability to thrive under pressure as well as her grappling with her sexual identity behind the scenes.
My main issue with movie was that it spent a little too much time profiling Riggs, who really isn't sympathetic or that important and is a symbol of the sexism of the time. The film moves at a fast pace, which leaves you wanting more contexts for the events. But the pace also facilitates a nice, breezy viewing experience, and one that'll likely make repeated ones very enjoyable. (121 min.)
—Peter Johnson
Blade Runner 2049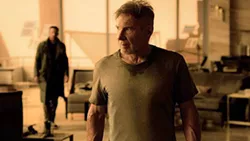 Photo Courtesy Of Warner Bros. Pictures
ON THE BRINK With society nearly in ruins, officer K (Ryan Gosling, left) looks to find answers by searching for Rick Deckard (Harrison Ford, right), a former LAPD blade runner who went missing 30 years ago in Blade Runner 2049.
What's it rated? R
Where's it showing? Downtown Centre, Stadium 10, Park, Galaxy
New
Thirty years after the events of the first film, a new blade runner, LAPD Officer K (Ryan Gosling), unearths a long-buried secret that has the potential to plunge what's left of society into chaos. K's discovery leads him on a quest to find Rick Deckard (Harrison Ford), a former LAPD blade runner who has been missing for 30 years. (164 min.)
—Warner Bros. Pictures
Flatliners
What's it rated? PG-13
Where's it showing? Downtown Centre, Park
In Flatliners, five medical students, hoping to gain insight into the mystery of what lies beyond the confines of life, embark on a daring and dangerous experiment. (108 min.)
—Columbia Pictures
The Hitman's Bodyguard
What's it rated? R
Where's it showing? Sunset Drive-In
The world's top protection agent (Ryan Reynolds) is called upon to guard the life of his mortal enemy, one of the world's most notorious hit men (Samuel L. Jackson). (111 min.)
—Summit Entertainment
IT
What's it rated? R
What's it worth? Matinee
Where's it showing? Downtown Centre, Stadium 10, Park, Galaxy
Pick
From director Andy Muschietti (Mama) comes the remake of the 1990 mini-series thriller IT, based on the hugely popular Stephen King novel of the same name, which has been terrifying readers for decades. When children begin to disappear in the town of Derry, Maine, a group of young kids are faced with their biggest fears when they square off against an evil clown named Pennywise (Bill Skarsgård) whose history of murder and violence dates back for centuries. (135 min.)
—Ryah Cooley
Kingsman: The Golden Circle
What's it rated? R
What's it worth? Streaming
Where's it showing? Downtown Centre, Stadium 10, Park, Galaxy
Matthew Vaughn returns to direct this sequel about Eggsy (Taron Egerton), a rough-around-the–edges street kid who in the first film (Kingsman: The Secret Service, 2014) was recruited into a super secret training program for British spies, after which he stopped a global threat posed by a tech genius. This time around, the spy organization's headquarters is destroyed and the world is held hostage by a drug lord (Julianna Moore), so the Brits team with an equally clandestine American spy organization called Statesman to save the world. Co-written by Vaughn and Jane Goldman, the film is based on the comic book series The Secret Service by Mark Millar and Dave Gibbons.
People read reviews to determine if they should see a film, so let's answer a few questions. Is it worth the price of admission to see Elton John do a flying karate kick in slow motion while smiling at the camera? I ask because for me, that was the film's highlight. The film also boasts two Pugs, one that gets blown up (sad face) but the other that's a puppy. Cuteness! Is that worth the price of admission? Do you miss Burt Reynolds? I ask because Pedro Pascal as an American spy, code name Whiskey, is doing a passable Reynolds impression.
Basically, this new Kingsman installment is more Austin Powers than James Bond. It's a ridiculous exercise in excess that can't seem to decide whether it's a serious film or a spoof, and instead it feels like both and neither.
To its credit, the film does have some semi-serious commentary on the War on Drugs. Poppy (Moore) tries to extort the American president (Bruce Greenwood) into legalizing drugs so she can come out of hiding. She taints her illegal drug supply with something that will eventually kill users in about three days, but she'll release the antidote if drugs are legalized. Hmm? See any holes in this scenario? The president sees it as a way to get rid of all drug users, but his Chief of Staff Fox (Emily Watson, slumming) reminds him that a lot of good people use drugs too, people's children, parents, friends ... and Chiefs of Staff!
With the president poised to let millions die, Eggsy and his new American friends are all that stand between a worldwide slaughter and saving the illegal drug trade's cliental. Yes, it's pretty morally confused. In between are a lot of loud fights, gun battles, car chases, and explosions. If that sounds like something you'd like to watch, have at it. I found it oppressive and dumb.
"Manners maketh man. Do you know what that means?" Colin Firth's character Harry Hart asks in both the original and this sequel. It's a question that should be directed to director/co-writer Vaughn, who's insulted his audience with this bombastic mess.
Yes, the film boasts an impressive cast, but it gives them nothing to do. Aside from Watson, it wastes the talents of Jeff Bridges and Halle Berry. Channing Tatum shows up for a scene and then is cryogenically frozen for half the film. Aside from Elton's slo-mo karate kick, the only other moment of joy is when Mark Strong as British agent Merlin breaks into John Denver's "Take Me Home, County Roads" to draw the bad guys in before he triggers a land mind. Is that worth the price of admission?
Personally, I could have waited to stream this one, but I'm not sure I wouldn't have turned it off before getting to those two small, miraculous moments amidst this silly mess. (141 min.)
—Glen Starkey
The Lego Ninjago Movie
What's it rated? PG
What's it worth? Rental
Where's it showing? Downtown Centre, Stadium 10, Park, Galaxy
The third installment of the Lego Movie franchise follows a group of ninja warriors led by Master Builder Lloyd (voiced by Dave Franco) as they defend Ninjago City from the evil warlord Garmadon (Justin Theroux). But when a new threat arises, the ninjas must join forces with Garmadon against a common enemy. To save the city, the team must learn to check their egos and pull together to unleash their inner powers.
The film opens with a news broadcast announcing a 95 percent chance of Garmadon attacking Ninjago City. The two anchors deliver the news nonchalantly as if it's a weather forecast, which leaves us to assume the threat is a daily norm. The citizens of Ninjago seem unaffected as they go about their day. They've put their complete confidence in six mysterious ninjas who have saved the city time and time again.
When Garmadon does attack, his weapon of choice is a giant cannon that shoots live sharks (and a few dolphins) at the city's inhabitants. While reloading, he notices a pedestrian with a balloon. He orders one of his goons to pop it.
Garmadon's behavior makes him seem like a character that a child would create, which is exactly what the filmmakers intended. Like the two previous films, the best parts of The Lego Ninjago Movie resemble things you might see kids acting out while playing with Legos. That conceit explains the shark cannon and other unadulterated, imaginative absurdities.
But unlike its predecessors, Ninjago loses most of its charm by the halfway point. Instead of a consistent flow of irreverent gags, Ninjago delivers all of its best jokes early on and the remainder feels like a snail race to the finish line. Having said that, Ninjago is far from irredeemable as there is enough silliness in that first half to warrant its existence. One bit that utilized the Wilhelm scream multiple times in a row made me crack up more than it should have.
The banter between Lloyd and Garmadon is especially good. The two have a comical Luke/ Vader relationship once Lloyd reveals that he's actually Garmadon's bastard son (which is not a spoiler if you've seen the trailers or the TV show). If Garmadon is Lloyd's Vader, then Master Wu (voiced by Jackie Chan) is his Ben Kenobi. Chan is great as the archetypal, wise, old mentor who only speaks in cryptic advice.
The other ninjas each have their own quirks but ultimately get lost in the scenery as the father figure/ son triangle between Lloyd, Garmadon, and Wu becomes the primary focus. The final result feels more like an extended Robot Chicken sketch (except for kids, of course) than a cohesive piece. Ninjago is the Godfather: Part III of the Lego franchise—it doesn't hold up to the first two but is still worth a rent. (90 min.)
—Caleb Wiseblood
The Mountain Between Us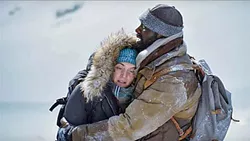 Photo Courtesy Of 20th Century Fox
SURVIVAL Two strangers must trust each other completely after their plane crashes in a remote area in The Mountain Between Us.
What's it rated? PG-13
Where's it showing? Stadium 10, Park, Galaxy
New
Stranded after a tragic plane crash, two strangers (Kate Winslet and Idris Elba) must forge a connection to survive the extreme elements of a remote snow covered mountain. When they realize help is not coming, they embark on a perilous journey across hundreds of miles of wilderness, pushing one another to endure and discovering strength they never knew possible. (100 min.)
—20th Century Fox
My Little Pony: The Movie
What's it rated? PG
Where's it showing? Stadium 10, Park, Galaxy
New
A dark force threatens Ponyville, and the Mane 6—Twilight Sparkle, Applejack, Rainbow Dash, Pinkie Pie, Fluttershy, and Rarity—embark on an unforgettable journey beyond Equestria where they meet new friends and exciting challenges on a quest to use the magic of friendship to save their home. (99 min.)
—Lionsgate
Neither Wolf nor Dog
What's it rated? NR
Where's it showing? The Palm
A white author is summoned by a Lakota Elder who asks him to write a book about his perspective. After a blundering false start, he is all but kidnapped and sucked into a road trip through the heart of the contemporary Native American landscape. (110 min.)
—Roaring Fire Films
A Question of Faith
What's it rated? PG
Where's it showing? Downtown Centre
Pastor David Newman (Richard T. Jones) is a loving husband and father, set to take over his dad's church while neglecting the promises he's made to his 12-year-old son, Eric (Caleb T. Thomas). Kate Hernandez (Jaci Velasquez) is a spiritually driven single parent and owner of a local restaurant. Her daughter Maria (Karen Valero) is a free-spirited teenager aspiring to be the first in her family to go to college. John Danielson (C. Thomas Howell) is the owner of a failing construction company who sees his daughter Michelle's (Amber Thompson) fledgling singing career as a way out of financial trouble. The lives of these strangers collide when two twists of fate strike back to back. (91 min.)
—Pure Flix Entertainment
Stronger
What's it rated? R
What's it worth? Full Price
Where's it showing? The Palm
Pick
Do you like movies based on real events, but find the whole "inspirational hero" narrative to be cheesy and overdone? If so, Stronger may be the movie for you.
Stronger is the true story of Jeff Bauman (Jake Gyllenhaal), a man who became famous after surviving the Boston Marathon bombing in 2013. He lost both of his legs in the explosion, and was able to give the FBI a description of the bomber. All of these factors led the American media to portray Jeff as a symbol of strength and victory, begging him for countless interviews and TV appearances.
What makes Stronger so different from other movies of its kind is the type of person Jeff is. To put it bluntly, the film portrays him as a deadbeat. He works at Costco and doesn't even appear to be good at it; he pines over his ex-girlfriend, Erin (Tatiana Maslany), yet was apparently lazy and unreliable when they were together; and he struggles with alcoholism, especially after the bombing. Most if not all of the hardships he faced prior to losing his legs were self-inflicted, making him a difficult protagonist to root for and sympathize with at times.
Jeff's personality isn't the only unglamorous aspect of the story that the movie doesn't shy away from showing. Squeamish folks may want to avoid this film, as it features images such as Jeff's recently exploded legs with the bone sticking out, and Jeff lying in a bathtub covered with his own feces after a night of heavy drinking. It also highlights some of the more intense emotional aspects, including Jeff's PTSD-like symptoms, and Erin getting into fights with Jeff's mom (Miranda Richardson) whenever they disagree on how best to deal with the overwhelming task of caring for the moody, uncooperative Jeff.
This film deserves massive amounts of respect not only for being a well-made, captivating movie, but also for its level of realism. Jeff is not put on a pedestal, nor are his flaws glossed over. The story is less about him being a hero and more about his own personal recovery, both in terms of moving on from the bombing and simply getting his life together in general. By the end of the film, the audience wants Jeff to be OK not because he overcame some great obstacle, but simply because we all know a guy like him.
I definitely recommend seeing Stronger, so long as you can handle all of the gross and bloody parts. As far as true story movies go, this one feels like one of the truest. (119 min.)
—Katrina Borges
Trafficked
What's it rated? R
Where's it showing? Galaxy
New
Inspired by real characters, three girls from America, Nigeria, and India are trafficked through an elaborate network and enslaved in a Texas brothel. Together, they attempt a daring escape to reclaim their freedom. (104 min.)
—Epic Pictures
Viceroy's House
What's it rated? NR
Where's it showing? The Palm
In India in 1947, Lord Mountbatten (Hugh Bonneville) is dispatched, along with his wife Edwina (Gillian Anderson), to New Delhi to oversee the country's transition from British rule to independence. Taking his place in the resplendent mansion known as the Viceroy's House, Mountbatten arrives hopeful for a peaceful transference of power. But ending centuries of colonial rule in a country divided by deep religious and cultural differences proves no easy undertaking, setting off a seismic struggle that threatens to tear India apart. (107 min.)
—Anguille Productions
Victoria and Abdul
Photo Courtesy Of Focus Features
ODD COUPLE Victoria and Abdul tells the true story of an unlikely friendship between a clerk from India and the Queen of England.
What's it rated? PG-13
Where's it showing? The Palm, Bay, Fair Oaks
New
The extraordinary true story of an unexpected friendship in the later years of Queen Victoria's (Academy Award winner Judi Dench) remarkable rule. When Abdul Karim (Ali Fazal), a young clerk, travels from India to participate in the Queen's Golden Jubilee, he is surprised to find favor with the Queen herself. As the Queen questions the constrictions of her long-held position, the two forge an unlikely and devoted alliance with a loyalty to one another that her household and inner circle all attempt to destroy. (112 min.)
—Focus Features
Year by the Sea
What's it rated? NR
Where's it showing? The Palm
New
After 30 years as a wife and mother, an empty nester retreats to Cape Cod rather than follow her relocated husband to Kansas. Intent to rediscover herself but plagued with guilt, she questions her decision until stumbling upon a spirited mentor. Supported by her literary agent and a host of locals, including a sexy fisherman, our heroine learns to embrace the ebb and flow of life. (114 min.) Δ
—Real Women Make Waves
New Times movie reviews were compiled by Arts Editor Ryah Cooley and others. You can contact her at rcooley@newtimesslo.com.