A BAD MOMS CHRISTMAS
What's it rated? R
Where's it showing? Downtown Centre, Park, Stadium 10, Galaxy
A Bad Moms Christmas follows our three under-appreciated and over-burdened women as they rebel against the challenges and expectations of the Super Bowl for moms: Christmas. And if creating a more perfect holiday for their families wasn't hard enough, they have to do all of that while hosting and entertaining their own mothers. By the end of the journey, our moms will redefine how to make the holidays special for all and discover a closer relationship with their mothers. (104 min.)
—STX Films
BLADE RUNNER 2049
What's it rated? R
What's it worth? Full Price
Where's it showing? Downtown Centre
Pick
Director Denis Villeneuve (Prisoners, Enemy, Sicario, Arrival) takes up the reins of Ridley Scott's 1982 sci-fi classic Blade Runner in this sequel set 30 years after the original's year—2019. A new blade runner, Officer K (Ryan Gosling), discovers a long-buried secret and sets out to find Rick Deckard (Harrison Ford), the blade runner from the original film.
The film's quiet dialog in conjunction with its industrial-strength soundtrack may make for difficult home viewing. This is one best seen in the theater. Fans of the original, don't miss it! For the rest of you, if you have even a passing interest, rent the original and get thee to a theater! It's worth it! (163 min.)
—Glen Starkey
DADDY'S HOME
What's it rated? PG-13
Where's it showing? Downtown Centre, Stadium 10, Park, Galaxy
Dusty (Mark Wahlberg) and Brad (Will Ferrell) have joined forces to provide their kids with the perfect Christmas. Their newfound partnership is put to the test when Dusty's old-school, macho dad (Mel Gibson) and Brad's ultra-affectionate and emotional dad (John Lithgow) arrive just in time to throw the holiday into complete chaos. (98 min.)
—Paramount Pictures
THE FLORIDA PROJECT
What's it rated? R
What's it worth? Full Price
Where's it showing? The Palm
Pick
Director Sean Baker (Tangerine, Starlet, Prince of Broadway) helms this film co-written with Chris Bergoch that follows the exploits of Moonee (Brooklyn Prince), a precocious 6-year-old who lives with her unemployable mother, Halley (Bria Vinaite), in a low-rent motel located near Disney World.
Set over the course of one summer, we watch Moonee and her friends Scooty (Christopher Rivera) and Jancey (Valeria Cotto) run wild around the touristy Florida strip, where they beg people for ice cream money, score free waffles from Scooty's mom Ashley (Mela Murder), and get themselves in trouble with their childish shenanigans.
This is slice-of-life cinéma vérité filmmaking—think a colorful candy-coated version of Truffaut's The 400 Blows—where the plot is secondary to the film's realism. In fact, the closest the film has to a plot is Halley's ongoing struggle to make the rent—she buys knock-off designer perfumes and up-sells them to tourists, for instance—and to keep Florida's Department of Children and Families (DFC) from taking Moonee away.
Bobby (Willem Dafoe) oversees the motel, called the Magic Castle, and he spends his days keeping its impoverished residents in line. It may be a low-rent motel, but Bobby takes its upkeep seriously. He also takes responsibility for its residents' children, watching over them with a fierce protectiveness, even though they make his job much harder. Bobby has deep sympathy for Moonee and Halley, and though Halley is a hot mess, he knows she cares deeply for her daughter.
Aside from Dafoe and Caleb Landry Jones, who plays Bobby's son, Jack, who sometimes comes and helps at the motel, most of these actors are unknowns or first-timers. That only adds to the realism, and Baker elicits some amazing performances from them. The film simply feels like a glimpse into real life and depicts childhood with an honesty rarely seen in American cinema. It's both joyous and heartbreaking.
This empathetic examination of American poverty doesn't depict characters that feel sorry for themselves. Halley is a defiant survivor, and Moonee is too young to know or care that they're poor. Instead, it humanizes its characters, offering viewers a peek into a segment of the population usually ignored (think Moonlight).
Steel yourself for the conclusion. It'll tear your heart into pieces. (111 min.)
—Glen Starkey
GOODBYE CHRISTOPHER ROBIN
What's it rated? PG-13
What's it worth? Matinee
Where's it showing? The Palm
Pick
From director Simon Curtis (My Week with Marilyn) comes a bittersweet glimpse into the relationship between author and playwright A. A. Milne (Domhnall Gleeson) and his son, Christopher (Will Tilston), whose stuffed animals inspired the characters of Milne's Winnie the Pooh stories.
Along with his mother, Daphne (Margot Robbie), and his nanny, Olive (Kelly Macdonald), Christopher gets swept up in Milne's international success. As the Pooh stories grow in popularity, Christopher becomes publicly recognizable as "the real Christopher Robin"—a title he quickly resents. As his parents parade him around the country to promote the Pooh books, Christopher begins to feel more like a show pony than a son.
At the beginning of the film, we spend some time with Milne and Daphne before Christopher is born. Milne, already a well-known playwright, is in the middle of an existential crisis. His daily life is interrupted by nightmarish flashbacks of trench warfare (Milne served in the British Army during World War I). He feels his literary work thus far has been unsubstantial and aches to write something antiwar, which Daphne (portrayed quite unsympathetically) calls a waste of time ("there will always be war").
The shell shock continues to haunt Milne after Christopher is born, so much so that the sound of a balloon popping provokes an anxiety attack. In one scene, Milne takes a walk with Christopher (age 5) into the woods and they come across a beehive (foreshadowing!). The sound of the bees buzzing makes Milne stop dead in his tracks. "Not here, not here," he says, as the buzzing morphs into gunfire.
But later, Milne takes his son back to the same beehive on purpose. "Where there are bees, there is honey. And where there's honey, there are bears," Milne says as he points at Christopher's teddy bear named Winnie (short for Winnipeg).
These woods were the inspiration for the fictional Hundred Acre Wood in Milne's stories of course. Through writing the Pooh stories, Milne is able to suppress his post-war demons—but at a cost. The more beloved the fictional Christopher Robin becomes, the more alienated the real Christopher feels from his parents and the rest of the world.
The biggest reason to see Goodbye Christopher Robin is Tilston's performance as Christopher, whose chemistry with Gleeson's Milne feels authentic and nuanced. Although their relationship is the heart of the film, I actually wish we could have seen more of the writing process behind the Pooh stories. I'd love to have seen more instances of what inspired Milne's characters. Sure, we get scenes with all the major players—Tigger, Piglet, Owl, etc. But what about the heffalumps and woozles? (107 min.)
—Caleb Wiseblood
JUSTICE LEAGUE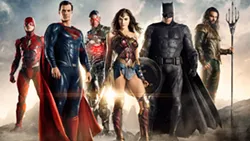 Photo Courtesy Of Warner Bros. Pictures
SUPER A group of superheroes led by Batman (Ben Affleck) and Wonder Woman (Gal Gadot) unite to defeat a common enemy in Justice League.
What's it rated? PG-13
Where's it showing? Downtown Centre, Stadium 10, Park, Galaxy
New
Fueled by his restored faith in humanity and inspired by Superman's (Henry Cavill) selfless act, Bruce Wayne (Ben Affleck) enlists the help of his newfound ally, Diana Prince (Gal Gadot), to face an even greater enemy. Together, Batman (Affleck) and Wonder Woman (Gadot) work quickly to find and recruit a team of metahumans to stand against this newly awakened threat. But despite the formation of this unprecedented league of heroes—Batman, Wonder Woman, Aquaman (Jason Momoa), Cyborg (Ray Fisher), and The Flash (Ezra Miller)—it may already be too late to save the planet from an assault of catastrophic proportions. (110 min.)
—Warner Bros. Pictures
LADY BIRD

Photo Courtesy Of A24
LIKE MOTHER In Lady Bird, a teen girl rebels against her mom, in spite of their similarities.
What's it rated? R
Where's it showing? The Palm
New
In Lady Bird, Greta Gerwig reveals herself to be a bold new cinematic voice with her directorial debut, excavating both the humor and pathos in the turbulent bond between a mother and her teenage daughter. Christine "Lady Bird" McPherson (Saoirse Ronan) fights against but is exactly like her wildly loving, deeply opinionated and strong-willed mom (Laurie Metcalf), a nurse working tirelessly to keep her family afloat after Lady Bird's father (Tracy Letts) loses his job. Set in Sacramento, California, in 2002, amid a rapidly shifting American economic landscape, Lady Bird is an affecting look at the relationships that shape us, the beliefs that define us, and the unmatched beauty of a place called home. (93 min.)
—A24
LET THERE BE LIGHT
What's it rated? PG-13
Where's it showing? Downtown Centre
For all his far-reaching fame, Sol Harkins (Kevin Sorbo), the world's most famous atheist, is a lonely soul and a lousy part-time dad. After a near-death experience challenges his simplest assumptions about this world, Sol finds his purpose and reimagines his life, in a film that will make you laugh and cry and want to stand up and cheer. (100 min.)
—Atlas Distribution
LOVING VINCENT
What's it rated? PG-13
What's it worth? Full Price
Where's it showing? The Palm
Pick
Writers-directors Dorota Kobiela and Hugh Welchman helm this story about impressionist painter Vincent Van Gogh (Robert Gulaczyk), exploring his complicated life and mysterious death. Shot with live actors, the film was then transformed into animation. A team of 115 painters working in Van Gogh's style painted each of the film's 65,000 individual frames. The results are a spectacular and mesmerizing achievement! This film is a glory to behold, with paintings coming to life before your eyes.
The story—written by the co-directors and Jacek Dehnel—takes place a couple years after Van Gogh's death. When an undelivered letter is discovered from Vincent Van Gogh to his brother Theo, Vincent's friend and frequent subject Postman Roulin (Chris O'Dowd) enlists his son Armand (Douglas Booth) to carry the letter to Paris and search for Theo, since the forwarded letter had already been returned "undeliverable." Armand sets out on the train, and soon his task turns into a mystery story as he tries to find Theo, and barring him, his widow or someone else who should appropriately receive what was perhaps Van Gogh's last epistle.
The film is certainly not the definitive version or Van Gogh's death—it raises questions but doesn't offer certain answers, just more conjecture—but it's entertaining, poignant, and visually arresting. See this one in the theater! (94 min.)
—Glen Starkey
MURDER ON THE ORIENT EXPRESS
What's it rated? PG-13
What's it worth? Rental
Where's it showing? Downtown Centre, Stadium 10, Fair Oaks, Bay, Park, Galaxy
Kenneth Branagh (Dead Again, Mary Shelley's Frankenstein, Thor, Jack Ryan: Shadow Recruit) directs himself as famed Belgium detective Hercule Poirot, who on a lavish train trip with 13 strangers must solve a murder that could only have been committed by one of his fellow travelers.
Written by Michael Green (Logan, Alien: Covenant, Blade Runner 2049) and based on the classic mystery novel by Agatha Christie, the film also features Daisy Ridley as Miss Mary Debenham, Leslie Odom Jr. as Dr. Arbuthnot, Manuel Garcia-Rulfo as Biniamino Marquez, Penélope Cruz as Pilar Estravados, Josh Gad as Hector MacQueen, Johnny Depp as Edward Ratchett, Derek Jacobi as Edward Henry Masterman, Sergei Polunin as Count Rudolph Andrenyi, Lucy Boynton as Countess Elena Andrenyi, Marwan Kenzari as Pierre Michel, Michelle Pfeiffer as Caroline Hubbard, Judi Dench as Princess Dragomiroff, Olivia Colman as Hildegarde Schmidt, and Willem Dafoe as Gerhard Hardman.
If right about now you're thinking, "Wow, that's a lot of characters to keep track of," you're correct. In a novel, a cast of this size is certainly doable, but in a two-hour film, it can be tough to keep track of who's who and what their relationships are. Worse still, one of the great joys of watching a murder mystery is playing armchair detective and trying to figure out whodunit. Well, good luck. Between the size of the cast and the lack of clues, it's hard to guess and even harder to care.
Of course, it's a beautiful looking film that opens in Jerusalem before moving on to Istanbul, and the train itself is a work of art. The costumes, the details, the steam engine moving through snow-covered mountains—all quite lovely.
Likewise, the acting is generally excellent. For his part, Branagh plays Poirot with relish. He's a man obsessed with symmetry, and that very obsessive-compulsiveness and his attention to the smallest details generates his detection skills. It's fun to see his blunt and judgmental behavior as he interacts with those he finds beneath him. Other standouts include Defoe as the Austrian scholar (or is he?), Cruz as the pious Spanish missionary, and Dench as the pretentious princess. As for Depp, he's sort of phoning in his John Dillinger impression.
If you're familiar with the story, that may work in your favor. If not, the grand reveal may seem like a cop-out, and it certainly will frustrate the armchair detectives who think they're solving the case. If you like period mystery dramas, this latest iteration of this oft told tale isn't terrible, but I didn't need to see it in the theater. (114 min.)
—Glen Starkey
ONLY THE BRAVE
What's it rated? PG-13
What's it worth? Full price
Where's it showing? Sunset Drive-In
Pick
Joseph Kosinski (TRON: Legacy, Oblivion, the upcoming sequel Top Gun: Maverick) directs this true story of the Granite Mountain Hotshots, elite firefighters who risk everything to save their community from the raging Yarnell Hill Fire in June 2013.
Talk about putting viewers through an emotional ringer! Only the Brave plays more like a war film, where the unbreakable bonds of brotherhood—bonds forged through impossibly difficult and dangerous work—are tested through hardship, the strain of personal lives, and a deep need to succeed.
When we first meet the Granite Mountain crew stationed outside Prescott, Arizona, they're working a fire but designated as second tier firefighters. They stay in the back, dig fire lines, and clean up after the "Hotshots," firefighters at the highest certification level who are allowed to engage the fire directly. Hotshots are often helicopter into the danger. They're considered the best of the best.
The Granite Mountain crew is headed by Eric Marsh (Josh Brolin), a veteran firefighter who desperately wants his crew to reach Hotshot certification, but they would be the first municipal crew in the nation to receive that elite status, which traditionally goes to state or federal firefighting units. Part of the film's tension is the crew's deep commitment to becoming Hotshots, aided in part by Duane Steinbrink (Jeff Bridges), the fire chief pushing to secure the crew an evaluation.
There's also tension between their long and dangerous work hours and their significant others. The film especially delves into Marsh and his horse trainer wife Amanda's (Jennifer Connelly) relationship; their deeply held personal secrets are slowly revealed.
Add in a new member of the Granite Mountain crew, a druggy burnout named Brendan McDonough (Miles Teller), who recently discovered he fathered a little girl and is looking for redemption, and it's easy to see why the film is so rife with emotionally explosive moments. Some of the guys on the crew, especially Christopher MacKenzie (Taylor Kitsch), are afraid McDonough will endanger the group.
After this setup, the film moves first to their evaluation and then to dramatic peak, as they join the fight against the Yarnell Hill Fire.
The film is aided by excellent performances, especially Connelly and Brolin. Both of their characters are survivors who have turned their lives around, and while they both were committed to being childless, as Amanda has gotten older, she wants to revisit that while Eric is still uncertain. It makes for some incendiary moments, and it doesn't help that Eric's emotions are often on edge. In fact, the acting all around is terrific, with Teller—who I don't always like—offering a raw performance as the drug addict who's finally got something to live for.
From what I know of wildfire crews, this film offers a realistic look at the training, the camaraderie, and the firefighting techniques used, and my hat's off to director Kosinski for amassing a technical team to create some really believable wildfire special effects. There are some amazing moments, such as a helicopter shot of a running elk streaking away from the fire.
Considering what's happened in Northern California, this film is hitting close to home. It takes a certain kind of person to commit their lives to such dangerous work. Whether law enforcement, military, or fire protection, these people are heroes. They're also real, imperfect people, but as this film shows, you don't have to be perfect to be brave. (133 min.)
—Glen Starkey
THE STAR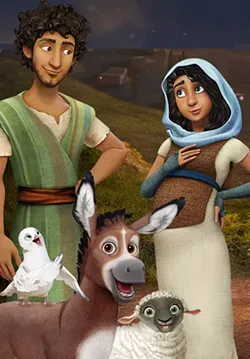 Photo Courtesy Of A24
HOLY NIGHT Explore a retelling of the first Christmas in the animated film The Star.
What's it rated? PG
Where's it showing? Downtown Centre, Stadium 10, Park, Galaxy
New
A small but brave donkey named Bo (Steven Yeun) yearns for a life beyond his daily grind at the village mill. One day he finds the courage to break free, and finally goes on the adventure of his dreams. On his journey, he teams up with Ruth (Aidy Bryant), a lovable sheep who has lost her flock, and Dave (Keegan-Michael Key), a dove with lofty aspirations. Along with three wisecracking camels and some eccentric stable animals, Bo and his new friends follow the star and become unlikely heroes in the greatest story ever told—the first Christmas. (86 min.)
—Sony Pictures Animation
THOR: RAGNAROK
What's it rated? PG-13
What's it worth? Full Price
Where's it showing? Sunset Drive-In, Downtown Centre, Park, Stadium 10, Galaxy
Pick
Taika Waititi (What We Do in the Shadows, Hunt for the Wilderpeople) directs Chris Hemsworth as Thor, the God of Thunder, who loses his hammer, is imprisoned on the other end of the universe, and finds himself pitted against his former ally The Hulk (Mark Ruffalo) in a gladiatorial battle. Meanwhile, Hela (Cate Blanchett), the Goddess of Death, is threatening to destroy Thor's home, Asgard, so he must escape and race against time to protect everything he holds dear.
The film also stars Tom Hiddleston as Thor's estranged brother Loki, Idris Elba as Heimdall, Jeff Goldblum as Grandmaster, Tessa Thompson as Valkyrie, Karl Urban as Skurge, Anthony Hopkins as Odin, and Benedict Cumberbatch as Doctor Strange.
Comic book movies are inherently silly and absurd, and nothing kills one quicker than over earnestness and taking itself too seriously. After the rousing success of the R-rated Deadpool and its self-deprecating humor, it seems like these films' producers have clued into the idea that comic book films should be fun and funny.
The producers of Thor: Ragnarok had the good sense to hire New Zealand Director Taika Waititi, who was responsible for the quirky indie gem Eagle vs Shark as well as some episodes of the brilliant TV series Flight of the Conchords. Last year Waititi hit a home run with the poignant, charming, and hilarious Hunt for the Wilderpeople, but as a director, Waititi was still a risk for taking over a big franchise film. Judging from the way he's handled this Thor installment, he'll be back.
This film is a riot! Thor may be the God of Thunder, but he also has some insecurities, and the heart of the film is about him finding the true source of his power and channeling it. If you've seen the theatrical trailer, you've already got a taste of the film's tone.
"I don't hang with The Avengers anymore. It all got too corporate," Thor laments, perfectly encapsulating how eager this film is to make fun of itself and the entire idea of a comic book franchise.
When Thor tries to gather a new team to save Asgard from Hela, Valkyrie asks, "This team of yours, it got a name?"
"Yeah," Thor replies, clearly trying to think up a name on the spot, "it's called the ... uh ... Revengers."
Yep, this is a comic book movie I can get behind. Plus, all the characters are entertaining as heck. You've got a giant green rage monster, a jaded last-of-her-kind Norse warrior, a naïve and somewhat bumbling thunder god, and his homicidal half-brother who all have to join forces to kill Thor and Loki's older sister, the Goddess of Death, who's bent on destroying their world. I'm not sure there's any way to play this other than for laughs.
Being a big, loud comic book movie, the film naturally has over-the-top special effects, amazing set-pieces, tons of action, and a ripping soundtrack—and all those elements are firing at high speed. When Led Zeppelin's "Immigrant Song" starts playing over a pitched battle, it's pretty much a perfect cinematic moment of high-level campiness. This is a cosmic adventure with a similar feel to the Guardians of the Galaxy franchise.
Between Blanchett as Hela and Goldblum as Grandmaster, you've got two really entertaining scenery chewing bad guys. Hemsworth's Thor has an everyman charm. If you were merely to delineate the plot, this film would sound pretty boring, but as a sustained joke about the preposterousness of the Marvel Universe, it's amazing! (130 min.)
—Glen Starkey
WONDER
Photo Courtesy Of Lionsgate
STAND OUT In Wonder, a young boy born with facial differences bravely starts public school for the first time.
What's it rated? PG
Where's it showing? Downtown Centre, Stadium 10, Park, Galaxy
New
Wonder tells the inspiring and heartwarming story of August Pullman (Jacob Tremblay). Born with facial differences that, up until now, have prevented him from going to a mainstream school, Auggie becomes the most unlikely of heroes when he enters the local fifth grade. As his family, his new classmates, and the larger community all struggle to find their compassion and acceptance, Auggie's extraordinary journey will unite them all and prove you can't blend in when you were born to stand out. (113 min.)
—Lionsgate
WONDERSTRUCK
What's it rated? PG
What's it worth? Matinee
Where's it showing? The Palm
Pick
Todd Haynes' most recent film, Wonderstruck, is the director's second foray in three years where the script is adapted from a novel (this one by Brian Selznick, who also wrote the screenplay). But that's largely where the similarities end. For instance, 2015's Carol, based on the 1952 romance novel, The Price of Salt by Patricia Highsmith, carries an R rating and involves the forbidden love surrounding two women.
I remember seeing Carol in theaters during its first run and spent the majority of my time softly sobbing into my popcorn while I watched its delicate, tragic romance unfold. And while the subject matter in Wonderstruck is a little more kid appropriate, its weight is reminiscent of Haynes' last film.
It's always a little reassuring for my fragile masculinity to see characters cry in a movie, especially if they are watching a movie in the movie (so meta). Wonderstruck has both and gave me free license to blubber along with the rest of the Sunday afternoon crowd (and we did, believe me).
The film, like the book, transports audiences to two separate time periods: 1927 and 1977, where we are introduced to two protagonists who appeared to have a combined age of roughly 22 years. These characters have similarities that go beyond their inability to hear (minor spoiler: both are deaf).
Indeed, the dominant motif in Wonderstruck is people seeking to be heard and understood, while also carrying a burden like the need to comprehend a complicated world shrouded in opacity.
We follow Ben (Oakes Fegley), a young boy from Gunflint, Minnesota, who recently lost his mother in a tragic car crash, and Rose (Millicent Simmonds), a girl born deaf in the 1920s to a wealthy, strict, and cruel father. This marks the debut of Simmonds, who is deaf in real life, and is even more remarkable considering she famously won over the production's director and also her fellow lead, Julianne Moore, with her audition tape.
Simmonds' performance alone is worth the price of admission, despite her character not uttering a single word.
Shooting a film involving two characters who cannot hear—and one that can't speak—comes with a whole slew of challenges, but Haynes navigates them deftly, employing an uncanny ability to show his audience the action without insulting its intelligence by constantly giving it freebies with dialogue-driven exposition.
And while this is an impressive feat in itself, it's Wonderstruck's sound design that really shines.
The film seamlessly blends between black and white (grain and all) 1920s New York City accompanied by classical music, to the acid-washed, color-drenched iteration 50 years later, paced by funk and soul tunes that give the trash-inundated metropolis a beating heart. Carter Burwell's score almost deserves its own article of praise, but we'll save that for another time (maybe around awards season).
One particular facet of the film's excellent use of soundscapes is how its director presents his protagonist's point of view. Haynes takes great care in showcasing a world of silence, with sound at best muted and far away. And while prolonged sequences of minimal dialogue, parental deaths, and runaway deaf children may not seem like the best recipe for a family outing, the 12-year-old in my group that Sunday watching the film was practically on the edge of her seat for its duration. (116 min.) Δ
—Spencer Cole
New Times movie reviews were compiled by Arts Editor Ryah Cooley and others. You can contact her at rcooley@newtimesslo.com.