A BAD MOMS CHRISTMAS
What's it rated? R
Where's it showing? Downtown Centre, Park, Stadium 10, Galaxy
A Bad Moms Christmas follows our three under-appreciated and over-burdened women as they rebel against the challenges and expectations of the Super Bowl for moms: Christmas. And if creating a more perfect holiday for their families wasn't hard enough, they have to do all of that while hosting and entertaining their own mothers. By the end of the journey, our moms will redefine how to make the holidays special for all and discover a closer relationship with their mothers. (104 min.)
—STX Films
BLADE RUNNER 2049
What's it rated? R
What's it worth? Full Price
Where's it showing? Downtown Centre, Stadium 10
Pick
Director Denis Villeneuve (Prisoners, Enemy, Sicario, Arrival) takes up the reins of Ridley Scott's 1982 sci-fi classic Blade Runner in this sequel set 30 years after the original's year—2019. A new blade runner, Officer K (Ryan Gosling), discovers a long-buried secret and sets out to find Rick Deckard (Harrison Ford), the blade runner from the original film.
The film's quiet dialog in conjunction with its industrial-strength soundtrack may make for difficult home viewing. This is one best seen in the theater. Fans of the original, don't miss it! For the rest of you, if you have even a passing interest, rent the original and get thee to a theater! It's worth it! (163 min.)
—Glen Starkey
DADDY'S HOME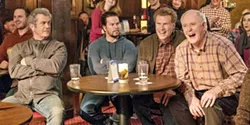 Photo Courtesy Of Paramount Pictures
WHO'S YOUR DADDY? In Daddy's Home 2, a dad and stepdad set aside their differences to give their kids the perfect Christmas, until their own dads show up.
What's it rated? PG-13
Where's it showing? Downtown Centre, Stadium 10, Park, Galaxy
New
Dusty (Mark Wahlberg) and Brad (Will Ferrell) have joined forces to provide their kids with the perfect Christmas. Their newfound partnership is put to the test when Dusty's old-school, macho dad (Mel Gibson) and Brad's ultra-affectionate and emotional dad (John Lithgow) arrive just in time to throw the holiday into complete chaos. (98 min.)
—Paramount Pictures
THE FLORIDA PROJECT
What's it rated? R
What's it worth? Full Price
Where's it showing? The Palm
Pick
Director Sean Baker (Tangerine, Starlet, Prince of Broadway) helms this film co-written with Chris Bergoch that follows the exploits of Moonee (Brooklyn Prince), a precocious 6-year-old who lives with her unemployable mother, Halley (Bria Vinaite), in a low-rent motel located near Disney World.
Set over the course of one summer, we watch Moonee and her friends Scooty (Christopher Rivera) and Jancey (Valeria Cotto) run wild around the touristy Florida strip, where they beg people for ice cream money, score free waffles from Scooty's mom Ashley (Mela Murder), and get themselves in trouble with their childish shenanigans.
This is slice-of-life cinéma vérité filmmaking—think a colorful candy-coated version of Truffaut's The 400 Blows—where the plot is secondary to the film's realism. In fact, the closest the film has to a plot is Halley's ongoing struggle to make the rent—she buys knock-off designer perfumes and up-sells them to tourists, for instance—and to keep Florida's Department of Children and Families (DFC) from taking Moonee away.
Bobby (Willem Dafoe) oversees the motel, called the Magic Castle, and he spends his days keeping its impoverished residents in line. It may be a low-rent motel, but Bobby takes its upkeep seriously. He also takes responsibility for its residents' children, watching over them with a fierce protectiveness, even though they make his job much harder. Bobby has deep sympathy for Moonee and Halley, and though Halley is a hot mess, he knows she cares deeply for her daughter.
Aside from Dafoe and Caleb Landry Jones, who plays Bobby's son, Jack, who sometimes comes and helps at the motel, most of these actors are unknowns or first-timers. That only adds to the realism, and Baker elicits some amazing performances from them. The film simply feels like a glimpse into real life and depicts childhood with an honesty rarely seen in American cinema. It's both joyous and heartbreaking.
This empathetic examination of American poverty doesn't depict characters that feel sorry for themselves. Halley is a defiant survivor, and Moonee is too young to know or care that they're poor. Instead, it humanizes its characters, offering viewers a peek into a segment of the population usually ignored (think Moonlight).
Steel yourself for the conclusion. It'll tear your heart into pieces. (111 min.)
—Glen Starkey
GEOSTORM
What's it rated? PG-13
Where's it showing? Galaxy
After an unprecedented series of natural disasters threatened the planet, the world's leaders came together to create an intricate network of satellites to control the global climate and keep everyone safe. But now, something has gone wrong: the system built to protect Earth is attacking it, and it becomes a race against the clock to uncover the real threat before a worldwide geostorm wipes out everything and everyone along with it. (110 min.)
—Warner Bros. Pictures
GOODBYE CHRISTOPHER ROBIN
What's it rated? PG-13
What's it worth? Matinee
Where's it showing? The Palm
Pick
From director Simon Curtis (My Week with Marilyn) comes a bittersweet glimpse into the relationship between author and playwright A. A. Milne (Domhnall Gleeson) and his son, Christopher (Will Tilston), whose stuffed animals inspired the characters of Milne's Winnie the Pooh stories.
Along with his mother, Daphne (Margot Robbie), and his nanny, Olive (Kelly Macdonald), Christopher gets swept up in Milne's international success. As the Pooh stories grow in popularity, Christopher becomes publicly recognizable as "the real Christopher Robin"—a title he quickly resents. As his parents parade him around the country to promote the Pooh books, Christopher begins to feel more like a show pony than a son.
At the beginning of the film, we spend some time with Milne and Daphne before Christopher is born. Milne, already a well-known playwright, is in the middle of an existential crisis. His daily life is interrupted by nightmarish flashbacks of trench warfare (Milne served in the British Army during World War I). He feels his literary work thus far has been unsubstantial and aches to write something antiwar, which Daphne (portrayed quite unsympathetically) calls a waste of time ("there will always be war").
The shell shock continues to haunt Milne after Christopher is born, so much so that the sound of a balloon popping provokes an anxiety attack. In one scene, Milne takes a walk with Christopher (age 5) into the woods and they come across a beehive (foreshadowing!). The sound of the bees buzzing makes Milne stop dead in his tracks. "Not here, not here," he says, as the buzzing morphs into gunfire.
But later, Milne takes his son back to the same beehive on purpose. "Where there are bees, there is honey. And where there's honey, there are bears," Milne says as he points at Christopher's teddy bear named Winnie (short for Winnipeg).
These woods were the inspiration for the fictional Hundred Acre Wood in Milne's stories of course. Through writing the Pooh stories, Milne is able to suppress his post-war demons—but at a cost. The more beloved the fictional Christopher Robin becomes, the more alienated the real Christopher feels from his parents and the rest of the world.
The biggest reason to see Goodbye Christopher Robin is Tilston's performance as Christopher, whose chemistry with Gleeson's Milne feels authentic and nuanced. Although their relationship is the heart of the film, I actually wish we could have seen more of the writing process behind the Pooh stories. I'd love to have seen more instances of what inspired Milne's characters. Sure, we get scenes with all the major players—Tigger, Piglet, Owl, etc. But what about the heffalumps and woozles? (107 min.)
—Caleb Wiseblood
JIGSAW
What's it rated? R
Where's it showing? Park, Stadium 10, Galaxy
After a series of murders bearing all the markings of the Jigsaw killer, law enforcement agents find themselves chasing the ghost of a man dead for more than a decade and embroiled in a new game that's only just begun. Is John Kramer (Tobin Bell) back from the dead to remind the world to be grateful for the gift of life? Or is this a trap set by a killer with designs of their own? (91 min.)
—Lionsgate
THE KILLING OF A SACRED DEER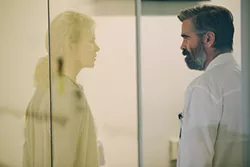 Photo Courtesy Of A24
REMEMBER A long forgotten transgression threatens to tear a family a part in The Killing of a Sacred Deer.
What's it rated? R
Where's it showing? Downtown Centre
New
Dr. Steven Murphy (Colin Farrell) is a renowned cardiovascular surgeon presiding over a spotless household with his ophthalmologist wife, Anna (Nicole Kidman), and their two exemplary children, 12-year-old Bob (Sunny Suljic) and 14-year-old Kim (Raffey Cassidy). Lurking at the margins of his idyllic suburban existence is Martin (Barry Keoghan), a fatherless teen who Steven has covertly taken under his wing. As Martin begins insinuating himself into the family's life in ever-more unsettling displays, the full scope of his intent becomes menacingly clear when he confronts Steven with a long-forgotten transgression that will shatter the Murphy family's domestic bliss. (119 min.)
—A24
LBJ
What's it rated? R
Where's it showing? Galaxy
Rob Reiner (This Is Spinal Tap, The Princess Bride, When Harry Met Sally, A Few Good Men) directs Woody Harrelson as President Lyndon Baines Johnson in this biopic that starts with his young days in West Texas through his time in the White House, where he pushed through the Civil Rights Act. (98 min.)
—Castle Rock Entertainment
LET THERE BE LIGHT
What's it rated? PG-13
Where's it showing? Downtown Centre
New
For all his far-reaching fame, Sol Harkins (Kevin Sorbo), the world's most famous atheist, is a lonely soul and a lousy part-time dad. After a near-death experience challenges his simplest assumptions about this world, Sol finds his purpose and reimagines his life, in a film that will make you laugh and cry and want to stand up and cheer. (100 min.)
—Atlas Distribution
LOVING VINCENT
What's it rated? PG-13
What's it worth? Full Price
Where's it showing? The Palm
Pick
Writers-directors Dorota Kobiela and Hugh Welchman helm this story about impressionist painter Vincent Van Gogh (Robert Gulaczyk), exploring his complicated life and mysterious death. Shot with live actors, the film was then transformed into animation. A team of 115 painters working in Van Gogh's style painted each of the film's 65,000 individual frames. The results are a spectacular and mesmerizing achievement! This film is a glory to behold, with paintings coming to life before your eyes.
The story—written by the co-directors and Jacek Dehnel—takes place a couple years after Van Gogh's death. When an undelivered letter is discovered from Vincent Van Gogh to his brother Theo, Vincent's friend and frequent subject Postman Roulin (Chris O'Dowd) enlists his son Armand (Douglas Booth) to carry the letter to Paris and search for Theo, since the forwarded letter had already been returned "undeliverable." Armand sets out on the train, and soon his task turns into a mystery story as he tries to find Theo, and barring him, his widow or someone else who should appropriately receive what was perhaps Van Gogh's last epistle.
The film is certainly not the definitive version or Van Gogh's death—it raises questions but doesn't offer certain answers, just more conjecture—but it's entertaining, poignant, and visually arresting. See this one in the theater! (94 min.)
—Glen Starkey
MURDER ON THE ORIENT EXPRESS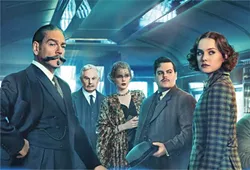 Photo Courtesy Of 20th Century Fox
WHO DONE IT? A group of strangers on a train must figure out who among them is the murderer in Murder on the Orient Express.
What's it rated? PG-13
Where's it showing? Downtown Centre, Stadium 10, Fair Oaks, Bay, Park, Galaxy
New
What starts out as a lavish train ride through Europe quickly unfolds into one of the most stylish, suspenseful, and thrilling mysteries ever told. From the classic novel by best-selling author Agatha Christie, Murder on the Orient Express tells the tale of 13 strangers stranded on a train, where everyone's a suspect. One man must race against time to solve the puzzle before the murderer strikes again. Kenneth Branagh directs and leads an all-star cast including Penélope Cruz, Willem Dafoe, Judi Dench, Johnny Depp, Michelle Pfeiffer, Daisy Ridley, and Josh Gad. (114 min.)
—20th Century Fox
ONLY THE BRAVE
What's it rated? PG-13
What's it worth? Full price
Where's it showing? Park, Stadium 10
Pick
Joseph Kosinski (TRON: Legacy, Oblivion, the upcoming sequel Top Gun: Maverick) directs this true story of the Granite Mountain Hotshots, elite firefighters who risk everything to save their community from the raging Yarnell Hill Fire in June 2013.
Talk about putting viewers through an emotional ringer! Only the Brave plays more like a war film, where the unbreakable bonds of brotherhood—bonds forged through impossibly difficult and dangerous work—are tested through hardship, the strain of personal lives, and a deep need to succeed.
When we first meet the Granite Mountain crew stationed outside Prescott, Arizona, they're working a fire but designated as second tier firefighters. They stay in the back, dig fire lines, and clean up after the "Hotshots," firefighters at the highest certification level who are allowed to engage the fire directly. Hotshots are often helicopter into the danger. They're considered the best of the best.
The Granite Mountain crew is headed by Eric Marsh (Josh Brolin), a veteran firefighter who desperately wants his crew to reach Hotshot certification, but they would be the first municipal crew in the nation to receive that elite status, which traditionally goes to state or federal firefighting units. Part of the film's tension is the crew's deep commitment to becoming Hotshots, aided in part by Duane Steinbrink (Jeff Bridges), the fire chief pushing to secure the crew an evaluation.
There's also tension between their long and dangerous work hours and their significant others. The film especially delves into Marsh and his horse trainer wife Amanda's (Jennifer Connelly) relationship; their deeply held personal secrets are slowly revealed.
Add in a new member of the Granite Mountain crew, a druggy burnout named Brendan McDonough (Miles Teller), who recently discovered he fathered a little girl and is looking for redemption, and it's easy to see why the film is so rife with emotionally explosive moments. Some of the guys on the crew, especially Christopher MacKenzie (Taylor Kitsch), are afraid McDonough will endanger the group.
After this setup, the film moves first to their evaluation and then to dramatic peak, as they join the fight against the Yarnell Hill Fire.
The film is aided by excellent performances, especially Connelly and Brolin. Both of their characters are survivors who have turned their lives around, and while they both were committed to being childless, as Amanda has gotten older, she wants to revisit that while Eric is still uncertain. It makes for some incendiary moments, and it doesn't help that Eric's emotions are often on edge. In fact, the acting all around is terrific, with Teller—who I don't always like—offering a raw performance as the drug addict who's finally got something to live for.
From what I know of wildfire crews, this film offers a realistic look at the training, the camaraderie, and the firefighting techniques used, and my hat's off to director Kosinski for amassing a technical team to create some really believable wildfire special effects. There are some amazing moments, such as a helicopter shot of a running elk streaking away from the fire.
Considering what's happened in Northern California, this film is hitting close to home. It takes a certain kind of person to commit their lives to such dangerous work. Whether law enforcement, military, or fire protection, these people are heroes. They're also real, imperfect people, but as this film shows, you don't have to be perfect to be brave. (133 min.)
—Glen Starkey
SAME KIND OF DIFFERENT AS ME
What's it rated? PG-13
Where's it showing? Downtown Centre
Same Kind of Different as Me is based on the inspiring true story of international art dealer Ron Hall (Greg Kinnear), who befriends a homeless man (Djimon Hounsou) in hopes of saving his struggling marriage to Debbie (Renée Zellweger), a woman whose dreams will lead all three of them on the most remarkable journey of their lives. (119 min.)
—Paramount Pictures
THANK YOU FOR YOUR SERVICE
What's it rated? R
Where's it showing? Park, Stadium 10
Thank You for Your Service follows a group of U.S. soldiers returning from Iraq who struggle to integrate back into family and civilian life, while living with the memory of a war that threatens to destroy them long after they've left the battlefield. (108 min.)
—Universal Studios
THOR: RAGNAROK
What's it rated? PG-13
Where's it showing? Sunset Drive-In, Downtown Centre, Park, Stadium 10, Galaxy
See Split Screen.
TYLER PERRY'S B00 2! A MADEA HALLOWEEN
What's it rated? PG-13
Where's it showing? Sunset Drive-In
Madea and the gang are back for this hilarious sequel. Madea (Tyler Perry), Bam (Cassi Davis), and Hattie (Patrice Lovely) venture to a haunted campground and the group must literally run for their lives when monsters, goblins and the bogeyman are unleashed.
—Lionsgate
WONDERSTRUCK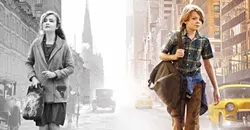 Photo Courtesy Of Amazon Studios
SURREAL In Wonderstruck, two children from different eras go after the thing they feel is missing from their lives.
What's it rated? PG
Where's it showing? The Palm
New
Based on Brian Selznick's critically acclaimed novel, Ben (Oakes Fegley) and Rose (Millicent Simmonds) are children from two different eras who secretly wish their lives were different. Ben longs for the father he has never known, while Rose dreams of a mysterious actress whose life she chronicles in a scrapbook. When Ben discovers a puzzling clue in his home and Rose reads an enticing headline in the newspaper, both children set out on quests to find what they are missing that unfold with mesmerizing symmetry. (117 min.) Δ
—Amazon Studios
New Times movie reviews were compiled by Arts Editor Ryah Cooley and others. You can contact her at rcooley@newtimesslo.com.