COCO
What's it rated? PG
What's it worth? Full Price
Where's it showing? Downtown Centre, Stadium 10, Stadium 10, Park, Galaxy
Pick
Lee Unkrich and Adrian Molina co-direct this animated adventure-comedy written by the directors and Jason Katz and Matthew Aldrich, about Miguel (voiced by Anthony Gonzalez), an aspiring musician from a family in which music is banned. Miguel is swept into the Land of the Dead meets his forebears, in this film that explores the Mexican tradition of el Día de los Muertos, or the Day of the Dead.
Coco really is a love letter to the Mexican culture. I won't be one bit surprised if this wins Best Animated Feature at next year's Academy Awards. It deserves it! (109 min.)
—Glen Starkey
DARKEST HOUR
What's it rated? PG-13
Where's it showing? The Palm
New
During the early days of World War II, with the fall of France imminent, Britain faces its darkest hour as the threat of invasion looms. As the seemingly unstoppable Nazi forces advance, and with the Allied army cornered on the beaches of Dunkirk, the fate of Western Europe hangs on the leadership of the newly appointed British Prime Minister Winston Churchill (Academy Award nominee Gary Oldman). While maneuvering his political rivals, he must confront the ultimate choice: negotiate with Hitler and save the British people at a terrible cost or rally the nation and fight on against incredible odds. Directed by Joe Wright, Darkest Hour is the dramatic and inspiring story of four weeks in 1940 during which Churchill's courage to lead changed the course of world history. (125 min.)
—Focus Features
THE DISASTER ARTIST
What's it rated? R
What's it worth? Full Price
Where's it showing? Downtown Centre
Pick
James Franco stars and directs this biopic about filmmaker Tommy Wiseau (James Franco), who in an acting class meets Greg Sestero (Dave Franco). The two form a friendship and head to Hollywood to make a film called The Room. The screenplay by Scott Neustadter and Michael H. Weber is based on the book The Disaster Artist: My Life Inside The Room, the Greatest Bad Movie Ever Made, by Greg Sestero and Tom Bissell.
The Disaster Artist is the story of an earnest, quirky dreamer—a real oddball but also a free spirit. It's about testing the limits of this dreamer's philosophy and can-do spirit. It's also about the limits of friendship, commitment to one's art, and the danger of mixing dreams with unlimited funding.
Greg Sestero is a 19-year-old pretty boy who wants to become an actor. Tommy Wiseau is a charismatic weirdo who's long on confidence but short on talent. He's a mystery to Greg, who wishes he had Tommy's fierce belief in himself.
The first third of the film develops their burgeoning friendship as they attempt to get a foothold in Hollywood. Tommy may be confident on the outside, but he's also emotionally needy, and he becomes possessive of Greg. When it becomes clear that Hollywood isn't interested in Tommy and only mildly interested in Greg, they hatch their plan to make their own movie, mysteriously financed by Tommy himself.
The Disaster Artist accentuates the mystery behind Tommy, who claims to be Greg's age (though he's clearly much older) and whose Eastern European accent he claims comes from his New Orleans upbringing. Tommy is a liar and deeply protective of his lies, telling Greg he's not allowed to talk about him to anyone.
It's all very strange, and though you might think watching a film about the making of a terrible film would also be terrible, it's in fact awesome! Tommy is deeply interesting, and though he's a talentless actor, director, writer, and producer, he committed to his "art." That's admirable.
According to IMDB, Wiseau was born on Oct. 3, 1955, in Poznan Poland, but who knows? Rumors said the money came from organized crime. All I know is that he and Sestero (born July 15, 1978, in Walnut Creek) are still friends and still act together. Sestero wrote a film that he and Wiseau starred in called Best F(r)iends, about a homeless man who befriends a mortician, and they go into business together, leading to paranoia. There's also a sequel. These guys are both committed dreamers, making it happen!
Aside from the humor, what I most enjoyed about The Disaster Artist was watching Tommy and Greg's friendship evolve, devolve, and evolve again. The Franco brothers do a great job slipping into these two characters, James especially, adopting Wiseau's affectations without it feeling like mere mimicry.
At the end of the film, after the credits begin, scenes from The Room and those same scene recreations from The Disaster Artist are played on split screen, so you can see them simultaneously. Wow. Just, wow! It's hard to believe The Room exists and still has a life out there.
James Franco has paid homage to Wiseau and his terrible movie, and in what can only be described as perverse irony, I bet The Disaster Artist ends up getting some Oscar nods. I'm sure Wiseau will feel like he deserves the credit. (103 min.)
—Glen Starkey
DOWNSIZING
What's it rated? R
Where's it showing? The Palm, Stadium 10, Park, Galaxy
New
When scientists discover how to shrink humans to 5 inches tall as a solution to over-population, Paul (Matt Damon) and his wife, Audrey (Kristen Wiig), decide to abandon their stressed lives in order to get small and move to a new downsized community—a choice that triggers life-changing adventures. (135 min.)
—Paramount Pictures
FATHER FIGURES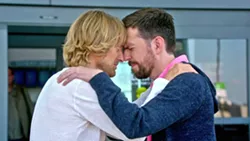 Photo Courtesy Of Warner Bros. Pictures
DADDY ISSUES In Father Figures, two brothers (Owen Wilson and Ed Helms) set out to find their real dad.
What's it rated? R
Where's it showing? Downtown Centre, Stadium 10, Park, Galaxy
New
Two brothers (Owen Wilson and Ed Helms) hit the road to find their long-lost dad after they learn that their mom (Glenn Close) has been lying to them about his death. Lawrence Sher directed this comedy. (113 min.)
—Warner Bros. Pictures
FERDINAND
What's it rated? PG
Where's it showing? Park, Stadium 10, Galaxy
Ferdinand tells the story of a giant bull with a big heart. After being mistaken for a dangerous beast, Ferdinand (John Cena) is captured and torn from his home. Determined to return to his family, he rallies a misfit team on the ultimate adventure. Set in Spain, Ferdinand proves you can't judge a bull by its cover. (107 min.)
—Blue Sky Studio/20th Century Fox
THE GREATEST SHOWMAN
What's it rated? PG
Where's it showing? Downtown Centre, Stadium 10, Park, Fair Oaks, Galaxy
New
Inspired by the imagination of P.T. Barnum, The Greatest Showman is an original musical that celebrates the birth of show business and tells of a visionary who rose from nothing to create a spectacle that became a worldwide sensation. (139 min.)
—20th Century Fox
IT'S A WONDERFUL LIFE
What's it rated? PG
Where's it showing? Stadium 10 (Shows Dec. 24 at 2 and 7 p.m.)
Watch the classic holiday film about George Bailey (James Stewart), the eternally in debt guiding force of a bank in the typical American small town of Bedford Falls. As the film opens, it's Christmas Eve, 1946, and George, who has long considered himself a failure, faces financial ruin and arrest and is seriously contemplating suicide. High above Bedford Falls, two celestial voices discuss Bailey's dilemma and decide to send down eternally bumbling angel Clarence Oddbody (Henry Travers), who after 200 years has yet to earn his wings, to help George out. (135 min.)
—Liberty Films
JUMANJI: WELCOME TO THE JUNGLE
What's it rated? PG-13
Where's it showing? Downtown Centre, Stadium 10, Sunset Drive In, Park, Galaxy
When four high-school kids discover an old video game console with a game they've never heard of, Jumanji, they are immediately drawn into the game's jungle setting, literally becoming the avatars they chose: gamer Spencer becomes a brawny adventurer (Dwayne Johnson); football jock Fridge loses (in his words) "the top 2 feet of his body" and becomes an Einstein (Kevin Hart); popular girl Bethany becomes a middle-aged male professor (Jack Black); and wallflower Martha becomes a badass warrior (Karen Gillan). What they discover is that you don't just play Jumanji—you must survive it. (112 min.)
—Columbia Pictures
LADY BIRD
What's it rated? R
What's it worth? Full Price
Where's it showing? The Palm (last showing Dec. 21)
Writer-director Greta Gerwig helms this coming of age story about high schooler Christine "Lady Bird" McPherson (Saoirse Ronan) over the 2002-03 school year in Sacramento, exploring her difficult relationship with her mother Marion (Laurie Metcalf) and others in her life. (93 min.)
—Glen Starkey
THE STAR
What's it rated? PG
Where's it showing? Sunset Drive-In
A small but brave donkey named Bo (Steven Yeun) yearns for a life beyond his daily grind at the village mill. One day he finds the courage to break free, and finally goes on the adventure of his dreams. On his journey, he teams up with Ruth (Aidy Bryant), a lovable sheep who has lost her flock, and Dave (Keegan-Michael Key), a dove with lofty aspirations. Along with three wisecracking camels and some eccentric stable animals, Bo and his new friends follow the star and become unlikely heroes in the greatest story ever told—the first Christmas. (86 min.)
—Sony Pictures Animation
STAR WARS: THE LAST JEDI
What's it rated? PG-13
Where's it showing? Downtown Centre, Bay, Stadium 10, Park, Galaxy
In Lucasfilm's Star Wars: The Last Jedi, the Skywalker saga continues as the heroes of The Force Awakens join the galactic legends in an epic adventure that unlocks age-old mysteries of the Force and shocking revelations of the past. (152 min.)
—Walt Disney Pictures
PITCH PERFECT 3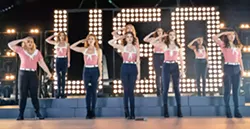 Photo Courtesy Of Universal Pictures
HARMONY In Pitch Perfect 3, the Bellas are back to sing together for an overseas USO tour.
What's it rated? PG-13
Where's it showing? Downtown Centre, Park, Galaxy
New
Now graduated from college and out in the real world where it takes more than a cappella to get by, the Bellas return in Pitch Perfect 3, the next chapter in the series. After the highs of winning the World Championships, the Bellas find themselves split apart and discovering there aren't job prospects for making music with your mouth. But when they get the chance to reunite for an overseas USO tour, this group of awesome nerds will come together to make some music, and some questionable decisions, one last time. (94 min.)
—Universal Pictures
THE SHAPE OF WATER
Photo Fox Searchlight Pictures
LIFE Government worker Elisa (Sally Hawkins) develops a strong connection with the subject of an experiment in The Shape of Water.
What's it rated? R
Where's it showing? The Palm, Stadium 10
New
From master storyteller Guillermo del Toro comes The Shape of Water, an otherworldly fairy tale, set against the backdrop of Cold War-era America circa 1962. In the hidden high-security government laboratory where she works, lonely Elisa (Sally Hawkins) is trapped in a life of isolation. Elisa's life is changed forever when she and co-worker Zelda (Octavia Spencer) discover a secret classified experiment. Rounding out the cast are Michael Shannon, Richard Jenkins, Doug Jones, and Michael Stuhlbarg. (119)
—Fox Searchlight Pictures
THREE BILLBOARDS OUTSIDE EBBING, MISSOURI
What's it rated? R
What's it worth? Full Price
Where's it showing? The Palm (last showing Dec. 21)
Pick
Three Billboards Outside Ebbing, Missouri is one shape-shifter of a movie. Is it a comedy, tragedy, or quest for vengeance, redemption, and catharsis? Director/writer Martin McDonagh (The Guard) manages to convince you it's all of the above at different twists and turns in the story.
We're dropped late into the aftermath of mother Mildred Hayes' (Frances McDormand, Hail, Caesar!, Moonrise Kingdom) grief and pain. Months have gone by since her daughter Angela (Kathryn Newton) was viciously raped and murdered while walking home one night in their small town. Still, local law enforcement has made no arrests and doesn't even have any suspects. While driving down a forgotten road just outside Ebbing, Mildred gets and idea and proceeds to march into town and pay for three billboards in a row painted red with big black letters that say "Raped while dying," "And still no arrests?" and "How come, Chief Willoughby?"
It's a move that instantly sets the town aflutter, leading the viewer down several storylines. There's police chief Bill Willoughby (Woody Harrelson, The Glass Castle, Nanking), who feels targeted by the billboards while he's simultaneously dealing with life-threatening cancer. And we can't forget Willoughby's ne'er-do-well deputy Jason Dixon (Sam Rockwell, Frost/Nixon, In The Soup), who has a history of allegedly torturing black people but somehow still has the trust of his boss. And there's the squirmy ad salesman Red (Caleb Landry Jones, Get Out, The Social Network), who surprisingly shows enough gumption to put the billboards up even though he gets flak being (we think) one of the few gay people in town. Meanwhile, the doe-eyed used car salesman James (Peter Dinklage, Game of Thrones) makes not so subtle passes at Mildred after she gives an interview on TV.
At home, not everyone is on board with Mildred's bold move. Her teen son, Robbie (Lucas Hedges, Manchester By The Sea), is thrown further into depression by the memories the billboards drag up of his sister. And things get downright violent between Mildred and her abusive ex-husband, Charlie (John Hawkes, Lincoln).
The writing is impeccably sharp, with searing lines thrown in at the most emotionally potent moments, and yet, there are so many laugh-out-loud moments, too, in this film that deals rather heavily in anger and sorrow. The acting is superb, particularly performances from McDormand, who plays Mildred as hardened and determined to find justice, and Harrelson as the seemingly hick police chief creates so much nuance and depth for his character. And yet, Three Billboards Outside Ebbing, Missouri requires being OK with swallowing a hefty dose of imaginative realism. We're dealing with very real problems, but this is a world where the consequences for, say, throwing someone out a window or committing arson don't really line up with reality at all. (115 min.) Δ
—Ryah Cooley
New Times movie reviews were compiled by Arts Editor Ryah Cooley and others. You can contact her at rcooley@newtimesslo.com.