Editor's note: Listings for Fair Oaks Theater were not available by press time. Please call (805) 489-2364 for shows and times.
AT ETERNITY'S GATE
What's it rated? PG-13
Where's it showing? Galaxy
New
Photo Courtesy Of Riverstone Pictures
THIS IS THE END Willem Defoe stars as Vincent Van Gogh in At Eternity's Gate, which chronicles the artist during his time in Arles and Auvers-sur-Oise, France.
Julian Schnabel (Basquiat, Before Night Falls, The Diving Bell and the Butterfly) directs this biopic chronicling Vincent Van Gogh (Willem Defoe) during his time in Arles and Auvers-sur-Oise, France. Rupert Friend stars as Vincent's brother, Theo; Oscar Isaac as fellow painter Paul Gauguin; and Mathieu Amalric as Vincent's physician and model, Dr. Paul Gachet. (110 min.)
—Glen Starkey
BOHEMIAN RHAPSODY
What's it rated? PG-13
What's it worth? Full price
Where's it showing? Downtown Centre, Galaxy, Park, Stadium 10
Pick
Bryan Singer (The Usual Suspects, X-Men, Superman Returns) directs this biopic about Freddie Mercury (Rami Malek) and Queen, chronicling the band's rise to super stardom, Mercury's solo career and AIDS diagnosis, and their triumphant reunion and spellbinding performance at the 1985 Live Aid concert.
The criticisms you've heard are all true: The film's chronology is inaccurate, it skips over or condenses much of Queen's history, its PG-13 rating sanitizes the story, and star Rami Malek's prosthetic overbite teeth are distracting. But none of that stops Bohemian Rhapsody from being an engaging, joyous, and highly entertaining film.
Set aside your picked nits and sit back and soak up this uplifting ride. Yes, the film is flawed. So was Freddie Mercury, but that didn't make him any less of a legendary rock star! (134 min.)
—Glen Starkey
CAN YOU EVER FORGIVE ME?
What's it rated? R
What's it worth? Full price
Where's it showing? The Palm
Pick
Marielle Heller (The Diary of a Teenage Girl) directs Melissa McCarthy as Lee Israel, an author in a career limbo who commits literary forgery in order to make ends meet. The film is an adaptation of Lee Israel's confessional autobiography, Can You Forgive Me?, released in 2008.
The film is centered on the true story of Israel, an author who experienced a peak in her career writing celebrity biographies but now finds herself in a slump. She hasn't had a writing gig in a while, and her agent, Marjorie (Jane Curtin), won't return her phone calls. To make matters worse, her beloved cat has fallen ill, she can't make payments on her dreary apartment, and her former partner, Elaine (Anna Deavere Smith), doesn't feel like picking her up anymore when she's down.
Part of her downfall is that she doesn't care about making appearances or mingling at parties to get her name out there. In the process of figuring out her next venture, an idea literally falls on her lap. While doing research, a letter written by jack-of-all-trades Fanny Brice (she was a comedian, actress, and singer) falls out of a book. Israel figures she could make a pretty penny on her find, but the local bookstore only hands over $75, saying it would be worth more if it were juicer. She finds that there is a lucrative market for this kind of memorabilia in bookstores, but the more interesting the letter, the more it's worth. Naturally, Israel uses her talent to embellish more than 400 letters from prominent figures.
I can't say the end is happy or sad. It feels like the limbo that the film started with, and it's left me wanting to learn more about Israel and what happened after her fabrication escapades. (106 min.)
—Karen Garcia
CREED II
What's it rated? PG-13
What's it worth? Full price
Where's it showing? Downtown Centre, Galaxy, Park, Stadium 10
Pick
Steven Caple Jr. (The Land) directs this sequel about boxer Adonis Creed (Michael B. Jordan), who, under trainer Rocky Balboa (Sylvester Stallone), takes on the son of Rocky's nemesis, Ivan Drago (Dolph Lundgren), Viktor Drago (Florian Munteanu).
Yes, this loose Rocky sequel is formulaic, but it's a helluva good formula! Adonis' complicated personal life and need to dig deep within himself to find the champion he can become is still a great story. Jordan is terrific in the role, demonstrating nuance, range, and complex emotion.
And, of course, it's great to see the old faces from the franchise—Stallone and Lundgren. Unlike triple Academy Award-winner Rocky (1976), Creed II probably isn't going to take home Best Picture, but it's a great popcorn movie. (117 min.)
—Glen Starkey
FANTASTIC BEASTS: THE CRIMES OF GRINDELWALD
Photo Courtesy Of Warner Bros.
DO YOU BELIEVE IN MAGIC? Tina Goldstein (Katherine Waterson, left) and Magizoologist Newt Scamander (Eddie Redmayne) team up to battle evil wizard Gellert Grindelwald.
What's it rated? PG-13
What's it worth? Matinee
Where's it showing? Downtown Centre, Galaxy, Park, Stadium 10
Pick
David Yates (Harry Potter and the Half-Blood Prince, The Legend of Tarzan) directs this J.K. Rowling screenplay, the second installment of the Fantastic Beasts series, about magizoologist Newt Scamander (Eddie Redmayne), who's enlisted by Albus Dumbledore (Jude Law) to recapture escaped evil wizard Gellert Grindelwald (Johnny Depp).
If you haven't seen or don't clearly remember the first Fantastic Beasts film, this one jumps in at a pretty steep learning curve, and would be—I imagine—both confusing and probably boring as Crimes of Grindelwald seems to assume its audience is up to speed.
It is decidedly my least favorite film in the Harry Potter universe, and in my opinion falls quite short of its predecessor Fantastic Beasts and Where to Find Them. However, would I see it in theaters despite all that? Heck yes! My own blood oath to Rowling's work requires it. Potterheads, I recommend you hit a matinee of this one. Casual fans have no reason to spend extra; just wait for it to be available at home. (134 min.)
—Anna Starkey
FREE SOLO
What's it rated? PG-13
What's it worth? Full Price
Where's it showing? The Palm
Pick
I don't think I've ever sweated so much in a movie theater in my life. Elizabeth Chai Vasarhelyi and Jimmy Chin helm this raw and gripping National Geographic documentary chronicling 33-year-old rock climber Alex Honnold's incredible 2017 ascent up the face of El Capitan, a 3,000-foot-tall rock formation in Yosemite, without protective gear—the first in human history to accomplish the feat. (100 min.)
—Peter Johnson
THE GREAT BUSTER
Photo Courtesy Of Cohen Media Group
COMIC GENIUS Writer-director Peter Bogdanovich helms The Great Buster, a biopic filmed with archival footage and contemporary interviews about Buster Keaton, screening exclusively at The Palm.
What's it rated? Not Rated
Where's it showing? The Palm
New
Writer-director Peter Bogdanovich (The Last Picture Show) helms this biopic about the comic genius Buster Keaton. It includes interviews with Bogdanovich, Mel Brooks, Dick Cavett, and other notables. (102 min.)
—Glen Starkey
GREEN BOOK
What's it rated? PG-13
What's it worth? Full price
Where's it showing? Downtown Centre, Galaxy, Bay Theatre
Pick
Co-writer Peter Farrelly (Dumb and Dumber, There's Something About Mary) directs this biopic about African-American pianist Don Shirley (Mahershala Ali), who hires working-class Italian-American bouncer Tony Lip (Viggo Mortensen) as his driver on a music tour of the 1960s American South. Though they're very different people, they develop a warm and enduring friendship.
This is one of those classic feel-good movies only a true cynic could reject. Both lead characters come out of the other side of the story improved. Ignorance drives racism and classism in equal measures, and Tony's culturally based racism crashes headlong into Don's elitist classism, forcing both of them to grow and expand their minds.
We see Tony's racism not only in his use of pejoratives such as "eggplant" to describe black people, but also in his actions. He's not the type to call a black person a name to his face or to physically assault one, but when his wife serves two black plumbers glasses of water after they finish a job at his apartment, Tony takes the glasses his wife left in the sink to wash and throws them in the trash.
Likewise, we witness Don's elitism in his inherent sense of superiority. When he's interviewing for drivers in his apartment (above Carnegie Hall, no less), he sits before his potential employee on an elevated throne. His imperial comport—head raised high, posture perfect—signals to those around him that he is regal and they're underlings.
Tony, in need of a job and with Christmas approaching, reluctantly agrees to work for Don, and along the way they learn to look past their initial judgments of one another and truly see the other's worth as a man. In fact, their very different interpretations of manhood also transform over the course of the story.
I couldn't help but grow to like them both, even though they couldn't be more different. I liked them even more at the ends of their respective character arcs.
The performances also help the film shine, and I wouldn't be at all surprised to see one or both men nominated for Best Actor. Mortensen has proven himself a chameleon, who in my book became a star under director David Cronenberg in A History of Violence and Eastern Promises. Appaloosa, The Road, Captain Fantastic—he's got an amazing range. He packed on a lot of weight to play Tony, a voracious eater with a thick accent. He's twice been nominated for a Best Actor Oscar. Maybe this is his year.
Ali's breakout performances was in 2016's Moonlight, for which he won Best Actor in a Supporting Role, but he's been amazing in The Place Beyond the Pines and Free State of Jones. You're really seeing two master actors at the top of their game, and they have a wonderful chemistry between them.
Tony's son, Nick Vallelonga, is one of the screenwriters, and in the closing credits you see photos of the real-life Tony and Don, who remained lifelong friends after the tour.
Of course, a lot of the film examines the Jim Crow South and the whole idea of "traveling while black." The film's title refers to a publication called The Negro Motorist Green Book, which gave black travelers lists of establishments—mainly restaurants and hotels—that would serve black clients. There were actually "sundowner towns" in the South where black people were subject to arrest if they were within city limits after sunset. What a sad time in American history, but thank God for films like this to remind us of our past. It only skims the surface of 1960s race problems, but more importantly, it tells a poignant and uplifting story that suggests we can do better. (130 min.)
—Glen Starkey
THE GRINCH
What's it rated? PG
What's it worth? Matinee
Where's it showing? Downtown Centre, Galaxy, Park, Stadium 10
Pick
Co-directors Yarrow Cheney (The Secret Life of Pets) and Scott Mosier helm this animated adaptation of the classic Dr. Seuss story, narrated by Pharrell Williams, about a grumpy curmudgeon, the Grinch (voiced by Benedict Cumberbatch), who plans to ruin Whoville's Christmas. Along the way, the Grinch encounters various inhabitants of the town including Cindy-Lou Who (Cameron Seely), her mother, Donna Who (Rashida Jones), and Mr. Bricklebaum (Kenan Thompson). (86 min.)
—Caleb Wiseblood
INSTANT FAMILY
What's it rated? PG-13
What's it worth? Full price
Where's it showing? Downtown Centre, Galaxy, Park, Stadium 10, Sunset Drive-In
See Split Screen.
MARIA BY CALLAS
Photo Courtesy Of Elephant Doc
THE VOICE Maria by Callas offers an intimate look at Greek-American opera great Maria Callas as told in her own words, screening exclusively at The Palm.
What's it rated? PG
Where's it showing? The Palm
New
Tom Volf directs this documentary biopic about the Greek-American opera singer Maria Callas, as told in her own words and through archival footage. (113 min.)
—Glen Starkey
THE POSSESSION OF HANNAH GRACE
What's it rated? R
What's it worth? Don't bother
Where's it showing? Park, Stadium 10
Diederik Van Rooijen directs this horror-thriller about police officer Megan Reed (Shay Mitchell), who, fresh out of a stay in rehab, is assigned to guard the city morgue. Once there, she begins to suspect that an evil entity has infested the cadaver of Hannah Grace (Kirby Johnson).
If you're wondering what a horror film is doing out during the holiday and Oscar season, wonder no further—it's a weird-timing dump meant to fool viewers into thinking there might be something special about this film rather than simply the should-have-been-straight-to-video piece of trash it is.
The film is as lifeless as the dead bodies populating the morgue and is filled with all the clichés you've come to expect from the possession genre. It's about as memorable as a ... yeah, I already forgot. (85 min.)
—Glen Starkey
RALPH BREAKS THE INTERNET: WRECK-IT RALPH 2
What's it rated? PG-13
What's it worth? Full price
Where's it showing? Downtown Centre, Galaxy, Park, Stadium 10, Sunset Drive-In
Pick
Co-directors Phil Johnson and Rich Moore (Wreck-It Ralph, Zootopia) helm this animated sequel in which Ralph (voiced by John C. Reilly) and Vanellope von Schweetz (voiced by Sarah Silverman) follow a Wi-Fi router in their home arcade, Litwak's Family Fun Center, to explore a strange new world: the internet.
Six years have passed since the events of Wreck-It Ralph, and Ralph and Vanellope are still best friends—close as "peanut butter and bacon," Ralph says at one point. When Vanellope's game, Sugar Rush, is in danger of being unplugged and scrapped for parts after its steering wheel breaks, the pair seek help in the world of the internet, a realm completely unknown to the duo and the other pixelated inhabitants of Litwak's arcade. Ralph and Vanellope start at eBay (or "eBoy" as Ralph continuously calls it), where a Sugar Rush steering wheel is up for auction. The wheel would save Vanellope's candy kingdom home from destruction, but will the pair be able to raise enough money to bid for the item in time?
This quest for funds takes Ralph and Vanellope to various websites where they encounter new characters including Shank (voiced by Gal Gadot), a racer from the racing game, Slaughter Race; J.P. Spamley (voiced by Bill Hader), a hilariously personified click-bait pop-up ad; and Yesss (voiced by Taraji P. Henson), a cyber trendsetter. Old characters are back as well, including Sgt. Tamora Jean Calhoun (voiced by Jane Lynch) and her husband Fix-It Felix Jr. (voiced by Jack McBrayer). One Instant Family-esque subplot of the film concerns the couple's adoption of the Sugar Rush racers into their home while their game is out of order.
What makes Ralph Breaks The Internet fun is its personification of the World Wide Web. It's the same kind of charm shared by animated peers Inside Out and Osmosis Jones—films that attribute human characteristics to emotions and blood cells (and Tylenol), respectively. The world of the internet is illustrated as a sprawling metropolis. The biggest websites and apps are represented as malls and skyscrapers, with Google being the tallest, of course. My favorite inclusion by far is Instagram, which appears as a fine art gallery. This is one to see in theaters, for sure. And make sure to stay for the mid-credits scene, especially if you're a Frozen fan! (112 min.)
—Caleb Wiseblood
ROBIN HOOD
What's it rated? PG-13
What's it worth? Stream it
Where's it showing? Galaxy, Stadium 10
Otto Bathurst directs this action-adventure about former Crusader-turned-rebel Robin of Loxley (Taron Edgerton) and his Moorish partner, Little John (Jamie Foxx), who take on the corrupt British crown. Can the Sheriff of Nottingham (Ben Mendelson) stop Robin, and can Marian (Eve Hewson) stop herself from falling in love?
File this new installation of the classic tale in the unnecessary and irrelevant bin. While some of the action sequences are spectacular, the film tries desperately to modernize the tale but only succeeds in making it incoherent and unintentionally funny. Don't let it rob you of your money and time. (116 min.)
—Glen Starkey
SCHINDLER'S LIST
Photo Courtesy Of Amblin Entertainment
LITTLE GIRL DOOMED Steven Spielberg's 1993 masterpiece Schindler's List returns to the big screen for its 25th anniversary.
What's it rated? R
What's it worth? Full price
Where's it showing? Galaxy, Park
New/Pick
Steven Spielberg's 1993 masterpiece returns to the big screen in time for its 25th anniversary. Liam Neeson stars as Oskar Schindler, a manufacturer in German-occupied Poland during World War II, who works tirelessly to save his Jewish workforce in the face of Nazi extermination.
Spielberg finds the tender human story within the abject horrors of the Holocaust in this breathtakingly filmed black and white picture, which also features star turns by Ben Kingsley as Schindler's Jewish worker, Itzhak Stern, and Ralph Fiennes in a chilling portrayal of Nazi leader Amon Goeth.
It's an emotional rollercoaster, and after I first saw it, I said, "This is the best film I never want to watch again." Now 25 years later, it still haunts, but I may be ready to see it once more on the big screen. It's an unforgettable experience. (195 min.)
—Glen Starkey
A STAR IS BORN
What's it rated? R
What's it worth? Full price
Where's it showing? Downtown Centre, Stadium 10
Pick
Co-writer, director, and co-star Bradley Cooper helms this remake of A Star Is Born (first released in 1937, and later remade in 1954 and 1976). In this iteration, Cooper stars as Jackson Maine, a famous musician whose star is waning as he discovers talented but insecure singer Ally (Lady Gaga). As Jack battles alcoholism and his own decline, he helps Ally find the strength to let her talent shine.
You'd think on the fourth retelling things would be getting stale, but Bradley Cooper takes a sweeping look at the rise and fall of stardom, the shallowness of the entertainment industry, creativity, substance abuse, family dynamics, and romance. (135 min.)
—Glen Starkey
SUSPIRIA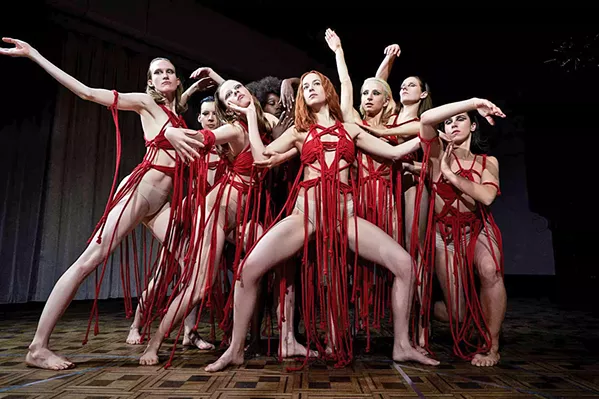 Photo Courtesy Of Frenesy Film Company
LAST CHANCE! The women of the Markos Dance Academy have a sinister secret of giving more than just their soul to dance, in Suspiria, which ends its run at the Palm Theater on Dec. 6.
What's it rated? R
What's it worth? Matinee
Where's it showing? Palm Theatre (ends 12/6)
Pick
Luca Guadagnino (Call My by Your Name) directs Dakota Johnson as Susie Bannion, a naïve girl who travels to Berlin to a prestigious dance studio only to unravel the deep secrets of female power within the halls. The film is a remake of the 1977 release directed by Dario Argento.
I would definitely put this film in the gore and thriller category, as it's less concerned with scenes that make the audience jump and more into mesmerizing dance routines and a surreal fairy tale atmosphere that makes your skin crawl.
The film is set on the heels of the German Autumn in 1977. In the midst of chaos over the hijacking of an airplane, Landshut, by four members of a revolutionist group Popular Front for the Liberation of Palestine (and other terror attacks), there is a dance studio in West Berlin that mirrors the mayhem outside its dance halls.
We meet a disturbed and stumbling Patricia (Chloë Grace Moretz), bursting her way into the psychiatric office of Dr. Josef Kiemperer (Tilda Swinton). Patricia was a dancer at the prestigious Markos Dance Academy but it alleged that she's suffered a meltdown. She tells Dr. Kiemperer that the dance academy is run by a coven of witches who are watching her every move. She hastily exists the doctor's office, leaving behind a satchel of journals in which she's divulged secrets about the "Three Mothers." After their fleeting encounter, Patricia goes missing, and Dr. Kiemperer begins to investigate what's happening at the academy. The mystery is very near to the doctor's heart because his wife, Anke, also a dancer at the studio, went missing years ago.
With Patricia M.I.A., Susie takes center stage. She's a simple girl from Ohio obsessed with the academy. The self-taught dancer executes a powerful, almost exorcist-like routine that summons Madame Blanc (Tilda Swinton), the academy's head instructor. Susie is automatically accepted into the academy and given room and board with the other girls in the dance troupe.
On Susie's first day in rehearsal, another dancer, Olga, has an outburst questioning Patricia's disappearance and the mysteriousness of the dance instructors. Olga quits the group but in an attempt to flee she ends up trapped in one of the dance studios lined with mirrors. Olga's part is now left open, and Susie is sheepishly quick to ask for an audition for the part. Madame Blanc instantly knows there's something different about Susie and lets her.
Susie's audition somehow leads to her internally ripping apart Olga (still trapped in the mirrored studio), who was in tandem with Susie's movements, leaving Olga's mangled body to be found by the instructors.
It's the start of Susie's evolution and discovery of who she really is and figuring out why she was drawn to the academy in the first place. It's also the start to the unraveling of the coven and what their plan for Susie is.
This remake is very different from the 1977 original, beginning with its main character, Susie. In Argento's film, Susie was running away from the academy's spiritual hysteria, but in the 2018 adaptation, Susie is almost embracing it.
There are a lot of dead-end references to what is happening in West Berlin at the time. I understand that it's setting the tone of the film, but there were way too many small interjections within the film's flow.
The dance sequences throughout the film are chilling, as most scenes don't have any background music. So, throughout a performance, you're hearing the force of body movements and heavy breathing that would be otherwise be masked by music.
That's the crux of the film—it evokes emotion through a heightened sense of sound, visual scenes of the high ceiling academy, and aggressive movements from the dancers.
Guadagnino's adaptation uses mundane, muted colors to cast a dark and mysterious atmosphere whereas in the original, Argento's sinister take had garish reds and bright colors.
The film could have executed the plot and demonic tone in maybe an hour and a half; it's just too long to really keep the audience captivated. If you're into a lot of blood and Tilda Swinton (in three roles) creeping you out with her slim witchy figure and beady eyes, you might be able to sit through this visually provoking film. (152 min.)
—Karen Garcia
WIDOWS
What's it rated? R
What's it worth? Full price
Where's it showing? The Palm, Stadium 10
Pick
Co-writer Steve McQueen (Hunger, Shame, 12 Years a Slave) directs this crime drama about Veronica (Viola Davis), Alice (Elizabeth Debicki), Linda (Michelle Rodriguez), and Belle (Cynthia Erivo), who must team up to pull off a heist after three of their husbands are killed on a botched job and a crime boss demands payment.
I love a good heist film, but Widows ups the ante with a twisty script co-penned by Gillian Flynn (Gone Girl, Sharp Objects), taking on the dynamics of romance, gender hierarchy, government corruption, racism, and more. It's tense, thrilling, and completely engrossing. (129 min.)
—Glen Starkey
THE WIFE
What's it rated? R
What's it worth? Full price
Where's it showing? Downtown Centre
Pick
Björn Runge (Daybreak, Mouth to Mouth, Happy End) directs Jane Anderson's (How to Make an American Quilt) screenplay based on Meg Wolitzer's novel about Joan Castleman (Glenn Close), wife of famed author Joe Castleman (Jonathan Pryce), who's awarded the Nobel Prize for Literature. During their trip to Stockholm to claim his prize, she begins to ruminate on her life choices.
The film's secret weapon is Close, whose riveting performance is worth the price of admission. It's also a wonderful meditation of the power of talent, and who is allowed to wield it. This lays bare the pain of domestic drama. (100 min.) Δ
—Glen Starkey
New Times movie reviews were compiled by Senior Staff Writer Glen Starkey and others. You can contact him at gstarkey@newtimesslo.com.