CALL ME BY YOUR NAME
What's it rated? R
Where's it showing? The Palm
It's the summer of 1983 in the north of Italy, and Elio Perlman (Timothée Chalamet), a precocious 17-year-old American-Italian, spends his days in his family's 17th century villa transcribing and playing classical music, reading, and flirting with his friend Marzia (Esther Garrel). Elio enjoys a close relationship with his father (Michael Stuhlbarg), an eminent professor specializing in Greco-Roman culture, and his mother, Annella (Amira Casar), a translator. One day, Oliver (Armie Hammer), a charming American scholar working on his doctorate, arrives as the annual summer intern tasked with helping Elio's father. Amid the sun-drenched splendor of the setting, Elio and Oliver discover the heady beauty of awakening desire over the course of a summer that will alter their lives forever. (130 min.)
—Sony Pictures Classics
COCO
What's it rated? PG
What's it worth? Full Price
Where's it showing? Park
Pick
Lee Unkrich and Adrian Molina co-direct this animated adventure-comedy written by the directors and Jason Katz and Matthew Aldrich, about Miguel (voiced by Anthony Gonzalez), an aspiring musician from a family in which music is banned. Miguel is swept into the Land of the Dead and meets his forebears in this film that explores the Mexican tradition of el Día de los Muertos, or the Day of the Dead.
Coco really is a love letter to the Mexican culture. I won't be one bit surprised if this wins Best Animated Feature at next year's Academy Awards. It deserves it! (109 min.)
—Glen Starkey
DARKEST HOUR
What's it rated? PG-13
What's it worth? Full Price
Where's it showing? The Palm, Bay
Pick
Darkest Hour drops viewers into one of the tensest, grimmest periods of World War II to illustrate how British Prime Minister Winston Churchill (Garry Oldman), orated Britain and its people out of surrendering to and into defiantly fighting Nazi Germany.
Essentially a biographical portrait of Churchill, Darkest Hour leans on a phenomenal performance by Oldman to captivate the audience and make us feel the immensity of Europe teetering on the edge of destruction.
Set in May of 1940, British Parliament has just ousted Neville Chamberlain as its Prime Minister as Hitler prepares to invade Belgium and Holland. Churchill is begrudgingly appointed as his successor, but fear and doubt still consumes the nation.
Churchill assumes the helm with the message to the nation that accepting defeat isn't an option. But he faces resistance from many members of Parliament and even members of his own cabinet, who bicker with him to settle a peace treaty with Hitler, as millions of British soldiers' lives are on the line. It's Churchill's commitment to the principles of his country and disdain for the moral atrocities of Nazism that compel him to push back against the momentum of a surrender. That's what's thrilling about this movie: the emotional battle between the convenience of giving up versus the profound consequences of that concession.
Darkest Hour hits theaters at an appropriate time in history, when similar moral questions and human values are on the line. Churchill's bluster and bombastic oration did remind me of President Donald Trump's. But the push notification that arrived on my phone in the theater reporting Trump's tweet to North Korea of having a "working" nuclear button on his desk enlightened me to the fact that the intelligence, consciousness, and nuance of Churchill's rhetoric has no comparison to the current U.S. president. (125 min.)
—Peter Johnson
DEN OF THIEVES
What's it rated? R
Where's it showing? Stadium 10
Every day, $120 million in cash is taken out of circulation and destroyed by the Los Angeles Branch of the Federal Reserve—unless a notorious, elite crew of bank robbers can pull off the ultimate heist and get to the money first ... right under the noses of LA's most feared division in law enforcement. (140 min.)
—STX Entertainment
THE GREATEST SHOWMAN
What's it rated? PG
What's it worth? Rental
Where's it showing? Downtown Centre, Stadium 10, Park, Galaxy
First-time director Michael Gracey helms The Greatest Showman, an original, straight-to-screen musical inspired by the life of P.T. Barnum (played here by Hugh Jackman) and the formation of the Barnum and Bailey Circus. The film never claims to be wholly factual and only uses the aspects of Barnum's life that fit into its desired rags-to-riches structure.
Overall, The Greatest Showman is a mixed bag full of flawed and fun moments alike. It's hard to tell how serious it takes itself at times, but the best parts are the unashamedly cheesy ones. And I really wish it embraced that cheesiness more—it could have been grater. (139 min.)
—Caleb Wiseblood
HOSTILES
What's it rated?R
Where's it showing?Downtown Centre, Stadium 10, Park, Galaxy
See Split Screen.
INSIDIOUS: THE LAST KEY
What's it rated? PG-13
Where's it showing? Sunset Drive-In
Adam Robitel helms the fourth entry of the Insidious series, with Insidious: Chapter 3 director Leigh Whannell providing the script, centering around parapsychologist Elise Rainier (Lin Shaye) and her continued voyage into the "further." (103 min.)
—Universal Pictures
I, TONYA
What's it rated? R
What's it worth? Full Price
Where's it showing? Downtown Centre
Pick
From director Craig Gillespie (Lars and the Real Girl, The Finest Hours) and writer Steven Rogers (P.S. I love You, Friday Night Lights) comes I, Tonya, based on unbelievable, but true events. This mock-u-mentary style film is a darkly comedic tale of American figure skater, Tonya Harding (Margot Robbie), and one of the most sensational scandals in sports history. Though Harding was the first American woman to complete a triple axel in competition, her legacy was forever defined by her association with an infamous, ill conceived, and even more poorly executed attack on fellow Olympic competitor Nancy Kerrigan (Caitlin Carver). The cast is rounded out with a mustachioed Sebastian Stan as Harding's impetuous ex-husband Jeff Gillooly and Allison Janney as her acid-tongued mother, LaVona Golden.
I, Tonya takes someone from popular culture we thought we had the measure of, and throws all of our ideas out the window. (119 min.)
—Ryah Cooley
JUMANJI: WELCOME TO THE JUNGLE
What's it rated? PG-13
What's it worth? Full Price
Where's it showing? Downtown Centre, Stadium 10, Park, Galaxy
Pick
With Jumanji: Welcome to the Jungle, we see an old game through new lenses. In present day, we have a group of four archetypal teenagers. You know, similar to The Breakfast Club. You've got the nerd Spencer (Alex Wolff), his former best friend turned jock Fridge (Ser' Darius Blain), a self-absorbed popular Bethany (Madison Iseman), and smart girl Martha (Morgan Turner) who's a little salty about her peers. The crew gets detention and winds up having to remove staples from magazines for the evening. Anyone else find that to be an unusual punishment? To top it off, they're doing it in an abandoned classroom filled with old school memorabilia and random junk. That's where the unlikely group finds Jumanji (this time in video game form). They decide to ditch their task to play it. Once the game is plugged in and rebooting, the kids are sucked into the console, entering into the Jumanji world. But there's a catch: They have assumed the bodies of their avatars.
This is where the fun really starts; Spencer turns into Dr. Smolder Bravestone (Dwayne Johnson). His weakness: he has none. Fridge turns into Franklin "Mouse" Finbar (Kevin Hart). You can only guess where the nickname comes from. Notorious hottie Bethany turns into the nerdy, male Professor "Shelly" Oberon (Jack Black), a cartographer, cryptographer, archaeologist, and paleontologist. Shy Martha turns into Ruby Roundhouse (Karen Gillan). She's a martial artist and dance fighter with very short and tight clothing. With their new personas, the group must learn to work together and trust one another so they can return the jewel known as the Jaguar's Eye to the jaguar statue.
This film does what many remakes fail to do, which is successfully entertain its audience. I wasn't quite sure how this would go walking into the theater. But these actors did a hilarious job delivering as prepubescent teenagers in way over their heads. I was laughing nonstop throughout the film. (112 min.)
—Karen Garcia
LADY BIRD
What's it rated? R
What's it worth? Full Price
Where's it showing? Downtown Centre
Pick
Writer-director Greta Gerwig helms this coming of age story about high schooler Christine "Lady Bird" McPherson (Saoirse Ronan) over the 2002-03 school year in Sacramento, exploring her difficult relationship with her mother Marion (Laurie Metcalf) and others in her life.
One of the things the film does well is capture what a weird time high school is. It's like a bubble of unreality. Insecurities rule the day, and in general, high school students have no idea that most of the popular kids have peaked and will grow up to be unhappy losers while the misfits inherit the earth, but as viewers we can see the writing on the wall. (93 min.)
—Glen Starkey
MAZE RUNNER: THE DEATH CURE
Photo Courtesy Of 20th Century Fox
A WAY OUT In Maze Runner: The Death Cure, Thomas (Dylan O'Brien, center) and his group of escaped Gladers must break into what may be the deadliest maze of all in order to find answers.
What's it rated?PG-13
Where's it showing?Downtown Centre, Sunset Drive-In, Stadium 10, Park, Galaxy
In the epic finale to the Maze Runner saga, Thomas (Dylan O'Brien) leads his group of escaped Gladers on their final and most dangerous mission yet. To save their friends, they must break into the legendary Last City, a WCKD-controlled labyrinth that may turn out to be the deadliest maze of all and get answers to the questions the Gladers have been asking since they first arrived in the maze. (114 min.)
—20th Century Fox
PHANTOM THREAD
Photo Courtesy Of Focus Features
BY DESIGN In Phantom Thread, women come in and out of renowned dressmaker Reynolds Woodcock's (Daniel Day-Lewis, right) life, until Alma (Vicky Krieps, left) comes along to fill the role of lover and muse.
What's it rated? R
What's it worth? Full Price
Where's it showing? The Palm, Stadium 10
Pick
Writer-director Paul Thomas Anderson (Boogie Nights, Magnolia, Punch-Drunk Love, There Will Be Blood, The Master, Inherent Vice) reteams with Daniel Day-Lewis in this story of dressmaker Reynolds Woodcock, who with his sister Cyril (Lesley Manville) runs the posh fashion business the House of Woodcock. Set in 1950s London, Woodcock's fastidious life is turned upside down by Alma (Vicky Krieps), a willful young woman who becomes his lover and muse.
All the worst human emotions are on display in Phantom Thread, a story about ego, jealousy, manipulation, hostility, and disappointment. Incongruently, it's also very funny.
Reynolds is a selfish, pompous, egoist who believes his artistry excuses his fastidiousness and demanding nature. It's his way or the highway. His sister Cyril understands this, and enables his overbearing and often cold nature to overrun his world.
He's a dressmaker to high society and to European royal families, and his work consumes him. As the film opens, we see the cruel way he dismisses his current muse, who no longer inspires his affections. It doesn't take him long for another to strike his fancy.
After Alma serves him breakfast at a country inn, he quickly sweeps her into his life. She's rustic, a bit clumsy, and prone to embarrassment, but in her he sees malleable clay ready to conform to his wishes. Reynolds' perfect world begins to fray, however, as Alma finds her voice and begins to exert her own ego.
Like many of Anderson's stories, Phantom Thread is about big personalities with compromised morals. That can make it difficult to find anyone to root for; however, Anderson's sumptuous filmmaking, attention to detail, and unflinching gaze at his complicated characters is as gorgeous and elevated as one of Reynolds' haute couture designs.
It also helps that the acting is truly amazing, and Anderson gives his players the space they need to develop their characters. Nothing feels rushed, which for some viewers may translate as a slow pace, but I was never bored.
Anderson is certainly one of those filmmakers critics adore because he's always delivering surprises, but some viewers tend to struggle with his films, and his Rotten Tomato scores usually reflect that. Critics have awarded Phantom Thread a 91 percent rating while viewers scored it at 73 percent. I have to admit, there's a late twist here that didn't quite ring true for me, but this film is too exquisitely made, too fascinating a character study, and too mesmerizingly well acted for me to be put off.
It also fits well within the pantheon of the current women's movement, taking a swipe at '50s London patriarchy and offering two leading ladies—Krieps and Manville—who depict characters every bit as complicated and charismatic as their male counterpart. What Reynolds does to Alma is nothing short of sexual exploitation and domination, but both Alma and Cyril find ways to assert themselves, demonstrating that the softer sex doesn't necessarily mean weaker.
Anderson has now been nominated for six Academy Awards, but he's never won. Maybe with this film and this year, that will change. (130 min.)
—Glen Starkey
PADDINGTON 2
What's it rated? PG
Where's it showing? Galaxy
While searching for the perfect present for his beloved Aunt Lucy's (Imelda Staunton) hundredth birthday, Paddington (Ben Whishaw) spots a unique pop-up book in Mr. Gruber's (Jim Broadbent) antique shop, and embarks upon a series of odd jobs to buy it. But when the book is stolen, it's up to Paddington and the Brown family to unmask the thief. (105 min.)
—Warner Bros. Pictures
THE POST
What's it rated? PG-13
What's it worth? Full Price
Where's it showing? Downtown Centre, Stadium 10, Park
Pick
Steven Spielberg (Jaws, The Color Purple, Schindler's List, Saving Private Ryan, Lincoln) directs this true story about Kay Graham (Meryl Streep), the first female newspaper publisher, and tenacious editor Ben Bradlee (Tom Hanks), who join forces to reveal a government cover-up spanning five presidencies. Written by Liz Hannah and Josh Singer, the film also stars Sarah Paulson as Tony Bradlee, Bob Odenkirk as Ben Bagdikian, Tracy Letts as Fritz Beebe, Bradley Whitford as Arthur Parsons, Bruce Greenwood as Robert McNamara, and Matthew Rhys as famed whistleblower Daniel Ellsberg.
Spielberg is a superlative director, not as showy as some, but great at building tension in the small moments and letting his actors carry the weight of scenes, and what amazing actors! Streep is a revelation, displaying Kay's internal struggle with the lightest of expressions, yet we know exactly what she's going through. Hanks plays Bradlee with the brash confidence of someone more committed to journalistic integrity than with keeping his job.
As far as The Post is concerned, I see Oscar wins on the horizon. This is great filmmaking! (116 min.)
—Glen Starkey
THE SHAPE OF WATER
What's it rated? R
What's it worth? Full Price
Where's it showing? The Palm, Fair Oaks, Park, Galaxy
Pick
Elisa (Sally Hawkins) is a lonely mute who works as a janitor in a high-security government laboratory in 1962 Baltimore. For 10 years she's walked and cleaned the halls of the facility with her friend Zelda (Octavia Spencer).
Every day Elisa sticks to her routine: take a shower, polish her shoes, make lunch as well as a meal for her neighbor and friend Giles (Richard Jenkins), and then catch the bus to work.
Her life takes a turn when she and Zelda are called into a room to clean up a bloody mess created by "the asset" (Doug Jones), at least that's what the scientists and government officials are calling it. The asset is a scaled creature from South Africa that now resides in a water tank against its will. Elisa is drawn to the creature, maybe because she too is an outsider in the world that she lives in. She forms a bond with the creature that feels more like love than friendship. But her days of sharing hard-boiled eggs for lunch and listening to her vinyl record player are numbered; the very fate of the creature is on the line.
Writer and director Guillermo Del Toro's (Pan's Labyrinth, Hellboy, Pacific Rim) latest offering is visually intriguing as an everyday woman finds her fairy tale—with some bloody scenes mixed in, of course. (123 min.)
—Karen Garcia
STAR WARS: THE LAST JEDI
What's it rated? PG-13
What's it worth? Full Price
Where's it showing? Galaxy
Pick
In Star Wars: The Last Jedi, writer/director Rian Johnson (Looper, Brick) continues the Skywalker saga as the heroes of The Force Awakens join the galactic legends in an epic adventure that unlocks age-old mysteries of the Force.
What's interesting about the latest chapter in the saga is the connection that Rey (Daisy Ridley) is building with the force. While it's thought that Luke (Mark Hamil) is the last Jedi needed to save the Rebellion, let's be real: There are great forces of power within Rey and Kylo Ren (Adam Driver). Rey seeks Luke not only for his help with the fight against the First Order, the next generation of the Empire, but also for his teachings. There is a strong sense of the Force within her, she just doesn't know how to harness or understand it. That connection has brought a different kind of communication between her and Kylo Ren. Wherever the two are, they are able to communicate with one another and even see the other's surroundings. (152 min.)
—Karen Garcia
THREE BILLBOARDS OUTSIDE EBBING, MISSOURI
What's it rated? R
What's it worth? Full Price
Where's it showing? Downtown Centre, Galaxy
Pick
Three Billboards Outside Ebbing, Missouri is one shape-shifter of a movie. Is it a comedy, tragedy, or quest for vengeance, redemption, and catharsis? Director/writer Martin McDonagh (The Guard) manages to convince you it's all of the above.
We're dropped late into the aftermath of mother Mildred Hayes' (Frances McDormand, Hail, Caesar!, Moonrise Kingdom) grief and pain. Months have gone by since her daughter Angela (Kathryn Newton) was viciously raped and murdered while walking home one night in their small town. Still, local law enforcement has made no arrests and doesn't even have any suspects. While driving down a forgotten road just outside Ebbing, Mildred gets and idea and proceeds to march into town and pay for three billboards in a row painted red with big black letters that say "Raped while dying," "And still no arrests?" and "How come, Chief Willoughby?"
The writing is impeccably sharp, with searing lines thrown in at the most emotionally potent moments, and yet, there are so many laugh-out-loud moments, too, in this film that deals rather heavily in anger and sorrow. The acting is superb, particularly performances from McDormand, who plays Mildred as hardened and determined to find justice, and Harrelson as the seemingly hick police chief creates so much nuance and depth for his character. And yet, Three Billboards Outside Ebbing, Missouri requires being OK with swallowing a hefty dose of imaginative realism. (115 min.)
—Ryah Cooley
12 STRONG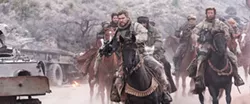 Photo Courtesy Of Warner Bros. Pictures
WAR In the aftermath of 9/11, Capt. Mitch Nelson (Chris Hemsworth, left) leads a U.S. Special Forces team into Afghanistan on a dangerous mission in 12 Strong.
What's it rated? PG
What's it worth? Matinee
Where's it showing? Downtown Centre, Stadium 10, Park, Galaxy
Pick
Producer Jerry Bruckheimer (Armageddon, Pearl Harbor, Black Hawk Down) is known for backing big, bombastic films, but director Nicolai Fuglsig's 12 Strong isn't quite as obnoxious as many of Bruckheimer's previous movies. Instead, this film adaptation of Doug Stanton's book, Horse Soldiers, about the true story of a Special Forces team that joins Afghanistan's Northern Alliance in the war against the Taliban, allows viewers to breathe a little between explosions.
In fact, it begins rather quietly by establishing the family lives of the various soldiers, especially Capt. Mitch Nelson (Chris Hemsworth) and his second in command Hal Spencer (Michael Shannon). They think their warrior days are behind them, but then 9/11 occurs, and suddenly they find their 12-man squad chosen to be the first American forces set loose in Afghanistan.
Their mission is to join up with local warlord Gen. Dostrum (Navid Negahban), a fierce warrior with a grudge against Taliban leader Mullah Razzan (Numan Acar). Their endeavor is complicated by the fact that the so-called Northern Alliance isn't much of an alliance, and Gen. Dostrum and his warlord counterparts are as likely to fight each other as their shared enemy the Taliban.
What 12 Strong depicts is one of the U.S.'s most amazing and unlikely military victories. The film's not interested in the larger ramifications of war. In fact, it barely touches on the psychological consequences of combat, and it's certainly not interested in the pros and cons of American neo-colonialism and "nation building." However, if you want to see some heroic Green Berets get some much-deserved payback for 9/11, strap in and take the ride. (130 min.)
—Glen Starkey
WINCHESTER
Photo Courtesy Of CBS Films
HAUNTED An heiress (Helen Mirren) builds a mansion to imprison vengeful ghosts in Winchester.
What's it rated? PG-13
Where's it showing? Downtown Centre, Stadium 10, Park, Galaxy
New
On an isolated stretch of land 50 miles outside of San Francisco sits the most haunted house in the world. Built by Sarah Winchester, (Helen Mirren) heiress to the Winchester fortune, it is a house that knows no end. Constructed in an incessant 24-hour-a-day, seven-day-a-week mania for decades, it stands seven stories tall and contains hundreds of rooms. To the outsider it looks like a monstrous monument to a disturbed woman's madness. But Sarah is not building for herself, for her niece (Sarah Snook), or for the troubled Doctor Eric Price (Jason Clarke) whom she has summoned to the house. She is building a prison, an asylum for hundreds of vengeful ghosts, and the most terrifying among them have a score to settle with the Winchesters. (99 min.) Δ
—CBS Films
New Times movie reviews were compiled by Arts Editor Ryah Cooley and others. You can contact her at rcooley@newtimesslo.com.