ALITA: BATTLE ANGEL
What's it rated? PG-13
What's it worth? Matinee
Where's it showing? Galaxy, Sunset Drive-In
Pick
Robert Rodriguez (El Mariachi, Spy Kids, Sin City, Planet Terror) directs Rosa Salazar as Alita, a half-human, half-advanced cyborg who finds vengeance for the people of the post-apocalyptic world, Iron City, while finding out about her past. The movie is a live-action film adaptation of Gunnm, the Japanese cyberpunk manga series by Yukito Kishiro, also known as Battle Angle Alita in its English translated versions.
Alita is filled with action sequences that make us all feel good about sticking it to the man, or literally slicing the bad guys in half, but the plot's delivery falls short. (122 min.)
—Karen Garcia
APOLLO 11
Photo Courtesy Of CNN Films
TRIGONOMETRY FOR THE WIN The new documentary, Apollo 11, transports viewers back to those heady days in 1969 when NASA sent men, including Buzz Aldrin (left), to the moon for the first time, screening exclusively at The Palm.
What's it rated? G
Where's it showing? The Palm
New
Todd Douglas Miller (Dinosaur 13) directs this documentary about the historic 1969 mission to land on the moon. Using archival footage and contemporary interviews, you'll witness Cmdr. Neil Armstrong and pilots Buzz Aldrin and Michael Collins on their amazing eight-day mission to the moon and back. (93 min.)
—Glen Starkey
BIRDS OF PASSAGE (PÁJAROS DE VERANO)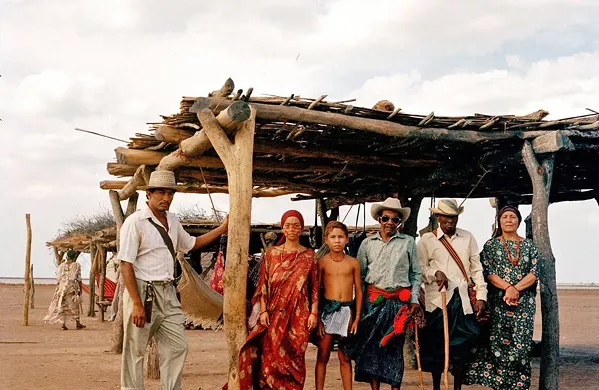 Photo Courtesy Of Snowglobe
BLOOD IS THICKER The epic crime drama, Birds of Passage (Pájaros de Verano), chronicles the rise and fall of an indigenous Wayuu family in the Colombian drug trade of the 1960s and '70s, screening exclusively at The Palm.
What's it rated? R
Where's it showing? The Palm
New
Cristina Gallego and Ciro Guerra co-direct this epic crime film about the Colombian drug trade of the '60s and '70s, concentrating on an indigenous Wayuu family's rise and fall as drug producers. (in Wayuu, Spanish, English, and Wiwa; 125 min.)
—Glen
BOHEMIAN RHAPSODY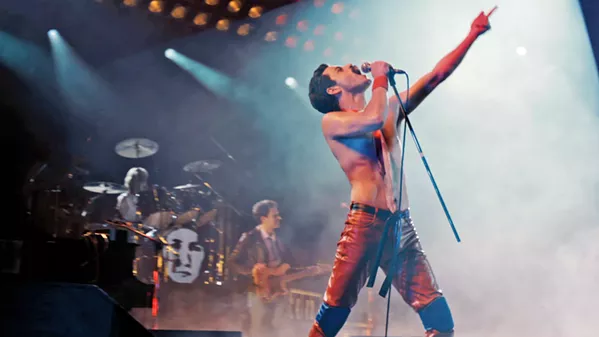 Photo Courtesy Of New Regency Pictures
HE WILL ROCK YOU Rami Malek turns in an electrifying performance as Queen frontman Freddie Mercury, in the engaging biopic, Bohemian Rhapsody.
What's it rated? PG-13
What's it worth? Full price
Where's it showing? Downtown Centre
Pick
Bryan Singer (The Usual Suspects, X-Men, Superman Returns) directs this biopic about Freddie Mercury (Rami Malek) and Queen, chronicling the band's rise to super stardom, Mercury's solo career and AIDS diagnosis, and their triumphant reunion and spellbinding performance at the 1985 Live Aid concert.
The film won four Academy Awards: Best Actor (Malek), Best Sound Mixing, Best Sound Editing, and Best Film Editing. (134 min.)
—Glen
CAPTAIN MARVEL
What's it rated? PG-13
What's it worth? Full price
Where's it showing? Bay, Downtown Center, Galaxy, Park, Stadium 10, Sunset Drive-In
Pick
Co-writers and directors Anna Boden and Ryan Fleck (Mississippi Grind) helm this new installation in the Marvel Universe. In 1995, former U.S. Air Force fighter pilot Carol Danvers (Brie Larson) becomes the superhero Captain Marvel, joining an intergalactic cohort called Starforce before returning home to discover Earth is caught in a war between two alien species.
The plot is a bit more complicated than what's above. The story opens when Vers, as Carol is known in the Kree capital planet of Hala, is training to become a Kree warrior. Her problem, as her training partner and team leader Yon-Rogg (Jude Law) tells her, is she can't control her emotions when she's in battle. Vers is a bit of hot mess. Women, right?
She suffers from nightmares involving another woman (Annette Bening), and she doesn't remember her past. Much of the film moves back and forth in time as Carol slowly pieces together her life before she became a Kree fighter and member of Starforce, which is at war with the Skrulls, shape-shifting aliens who can disguise themselves as anyone they come in contact with.
I don't want to give too much of the inventive plot away. Part of the film's fun is that viewers are as much in the dark about Carol's past and what's happening between the Kree and the Skrulls as she is. Suffice it to say, the story heats up when Carol eventually find herself back on Earth, where her arrival, crashing through the roof of a Blockbuster Video store and finding communication gear at a Radio Shack—yes, it's definitely 1995—draws the attention of the authorities, specifically Nick Fury (Samuel L. Jackson), an agent of a fledgling covert group called S.H.I.E.L.D.
Overall, it's an entertaining origin story of Captain Marvel as well as a rousing feminist saga as Carol discovers who she is and what she's capable of.
I wasn't sure how Brie Larson would be as Captain Marvel, but thankfully she approaches the role with humor. Gotta love an actress named after cheese, right? Superhero movies that take themselves too seriously are usually terrible, which is why Thor: The Dark World (2013) was a bit of a dud for me while Thor: Ragnarok (2017) was a blast. Superhero stories are inherently ridiculous, and when the stories and characters acknowledge that, even winkingly, they're more fun.
Vers comes off as irreverent and bordering on disrespectful of her superiors. As she learns more about her past, she begins to suspect she's been manipulated. She eventually locates her old pilot friend, Maria Rambeau (Lashana Lynch), now retired from the Air Force and living a quiet life with her daughter, Monica (Akira Akbar), who still remembers Auntie Carol from the old days. Vers makes a great role model for Monica, who also gets to see her mom get back into pilot action.
Jackson as Nick Fury has a lot of fun in his role and doesn't seem phased by the strong women around him, but the film's scene stealer is Goose, a big orange tabby.
With lots of great action sequences, solid special effects, and a classic tee-up for future sequels, Captain Marvel manages to entertain and inspire without resorting to didactic lecturing, but viewers will certainly be reminded of the old adage, "Don't judge a book by its cover." (124 min.)
—Glen
CAPTIVE STATE
What's it rated? PG-13
Where's it showing? Downtown Centre, Galaxy, Park, Stadium 10
See Split Screen.
CRUEL INTENTIONS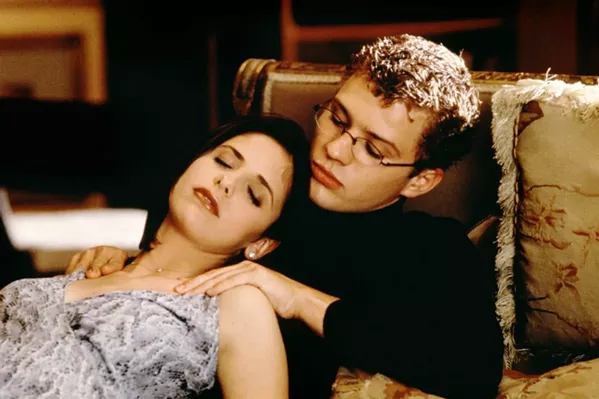 Photo Courtesy Of Columbia Pictures
SEDUCER Sebastian Valmont (Ryan Phillippe, right) competes with his step-sister, Kathryn Merteuil (Sarah Michelle Gellar, left), to deflower the virginal daughter of their elite Manhattan prep school's new headmaster, in Cruel Intentions, returning to theaters to celebrate its 20th anniversary.
What's it rated? R
Where's it showing? Downtown Centre
New
Returning to theaters on its 20th anniversary comes the teen favorite, Cruel Intentions. Writer-director Roger Kumble helms this 1999 drama based on Pierre Choderlos de Laclos's 1782 epistolary novel, Les Liaisons Dangereuses. In Kumble's version, two vicious step-siblings—Kathryn Merteuil (Sarah Michelle Gellar) and Sebastian Valmont (Ryan Phillippe)—compete to deflower Annette Hargrove (Reese Witherspoon), the virginal daughter their elite Manhattan prep school's new headmaster. (97 min.)
—Glen
EVERYBODY KNOWS
What's it rated? R
What's it worth? Matinee
Where's it showing? Galaxy, The Palm
Pick
Asghar Farhadi (The Salesman, A Separation) directs Penélope Cruz as Laura, a woman who returns to her hometown in Madrid to attend her sister's wedding, only to be led through a flurry of emotions when her daughter is kidnapped. This whirlwind drama is Iranian writer-director Farhadi's first film with a script in Spanish.
This film is less concerned with quickly getting to the dramatic point of the film and instead lets the audience really learn about the characters and their habitual routines. We have time to figure what role each character has in the story that's about to unfold.
After not visiting for years, Laura and her two children are returning to her roots in Madrid. She currently lives in Argentina with her husband, who suspiciously was not able to attend the family affair. We're instantly thrown into the scene of a very expressive and happy family that owns and runs a hotel where the festivities will take place. The camera first focuses largely on Laura's daughter, Irene (Carla Campra), a free-spirited young girl who flirts with a neighboring boy, Felipe (Sergio Castellanos).
We're also introduced to Paco (Javier Bardem), Laura's former love interest, who lives with his wife, Bea, on a vineyard that they work on the outskirts of town. The vineyard is the cause of an underlying rift between Paco and the family, as he purchased the land from Laura some years ago. He attends the wedding with his wife, but the repressed feelings between him and Laura are there.
One minute we're sucked into the laughter, music, and dance of the ceremonial festivities; the next we're on the edge of our seats as Laura has discovered her daughter was taken from her bedroom. Laura's first instinct is to ask Paco for help. The kidnappers are asking for a ransom and instruct the family to not alert the authorities or else they'll hurt Irene. Not only does Paco leave the police out of this, he suspiciously doesn't tell anyone outside of the family what's going on.
As the story thickens and as, in small-town fashion, everyone starts talking about the incident, the chatter turns to speculating that maybe the kidnapper is Laura's husband. The gossip also turns to questioning Paco's motive for being so heavily involved in the search for Irene.
Farhadi does a stellar job of lingering on these characters and pushing their emotions to the limit with the disappearance of a child. While I do appreciate the time Farhadi took to develop the story, I think it was a half-hour too long. It's smartly written, has an amazing cast, and leaves the audience to second-guess whodunit.
I will say there are many twists within the story that the audience doesn't really see coming, but in the end we all know. (133 min.; in Spanish, English, and Catalan).
—Karen
FIELD OF DREAMS
Photo Courtesy Of Gordon Company
IF YOU BUILD IT The 1989 family fantasy classic, Field of Dreams, starring Ray Liotta (left) as Shoeless Joe Jackson and Kevin Costner as Iowa corn farmer Ray Kinsella, screens at the Fremont Theater on March 27, for SLO Blues Baseball's movie night.
What's it rated? PG
What's it worth? Full price
Where's it showing? Wednesday, March 27, 7 p.m., in the Fremont Theater ($10 at Boo Boo's and fremontslo.com)
New/Pick
SLO Blues Baseball Movie Night presents director Phil Alden Robinson's 1989 family fantasy about Iowa corn farmer Ray Kinsella (Kevin Costner), who hears voices telling him to build a baseball diamond in his corn fields, and when he does, the infamous 1919 Chicago White Sox, led by Shoeless Joe Jackson (Ray Liotta), appear—the same players banned from baseball for throwing the 1919 World Series. (107 min.)
—Glen
FIVE FEET APART
What's it rated? PG-13
What's it worth? Rent it
Where's it showing? Downtown Centre, Galaxy, Park, Stadium 10
Justin Baldoni directs this romantic drama about two teenagers—Stella (Haley Lu Richardson) and Will (Cole Sprouse)—who both suffer from cystic fibrosis and fall in love in the hospital. Because of weakened immune systems and the danger of spreading germs, the title refers to a "6-foot rule" to avoid cross-infection.
Teens may enjoy this YA romance, but between the sick-teens-in-love clichés and mawkish tone, it does nothing to raise the subgenre. Richardson deserves praise for gamely selling this melodramatic pabulum, but most viewers will leave the theater with a shrug and a "meh." (116 min.)
—Glen
GLORIA BELL
Photo Courtesy Of Fabula
LOOKING FOR MR. GOOD DISCO Julianne Moore stars as a 50-something free spirit looking for love in LA's dance clubs, in Gloria Bell.
What's it rated? R
Where's it showing? Fair Oaks Stadium 10
New
Co-writer/director Sebastián Lelio (Disobedience, A Fantastic Woman) helms this dramedy-romance about 50-something free spirit Gloria Bell (Julianne Moore), who's looking for love in LA nightclubs. (102 min.)
—Glen
GREEN BOOK
What's it rated? PG-13
What's it worth? Full price
Where's it showing? Downtown Centre, Park, Stadium 10
Pick
Co-writer Peter Farrelly (Dumb and Dumber, There's Something About Mary) directs this biopic about African-American pianist Don Shirley (Mahershala Ali), who hires working-class Italian-American bouncer Tony Lip (Viggo Mortensen) as his driver on a music tour of the 1960s American South. Though they're very different people, they develop a warm and enduring friendship. This is one of those classic feel-good movies only a true cynic could reject. Both lead characters come out of the other side of the story improved.
The film won three Academy Awards: Best Picture, Best Supporting Actor (Ali), and Best Original Screenplay. (130 min.)
—Glen
HOW TO TRAIN YOUR DRAGON: THE HIDDEN WORLD
Photo Courtesy Of Dreamworks Animation
A WORTHY THREEQUEL Toothless the Night Fury dragon learns there are others of his kind, in the poignant and worthwhile How to Train Your Dragon: The Hidden World.
What's it rated? PG
What's it worth? Full price
Where's it showing? Downtown Centre, Galaxy, Park, Stadium 10
Pick
Writer-director Dean DeBlois (Lilo & Stitch) helms this third installment in the franchise about Hiccup (voiced by Jay Baruchel) and his Night Fury dragon, Toothless, who it turns out isn't the only Night Fury dragon after all. When Hiccup discovers there's a clandestine Dragon utopia, he and Toothless rush to find it before bad guy Grimmel (voiced by F. Murray Abraham) finds it first.
This closer to this trilogy hits the mark perfectly, continuing the series' visual delights and bringing the story to a satisfying conclusion. Sure, you can find a few nits to pick, but if you and your family liked the first two, this one's sure to please. (104 min.)
—Glen
A MADEA FAMILY FUNERAL
What's it rated? PG-13
What's it worth? Nothing
Where's it showing? Stadium 10
Writer-director and star Tyler Perry returns with another Madea film. This time around, Madea and her crew travel to rural Georgia where family secrets come to the surface as they plan an unexpected funeral.
Consider this dead horse well beaten. This is Perry's 11th in his cross-dressing saga about a wise but caustic matriarch and her hapless relatives who Madea has to berate into compliance. Predictable, contrived, and with nothing new left to say, A Madea Family Funeral is hopefully the series' final nail in its coffin. (102 min.)
—Glen
NO MANCHES FRIDA 2
What's it rated? Not rated
What's it worth? Stream it
Where's it showing? Park
Nacho G. Velilla directs this Spanish-language sequel about ex-con Zequi (Omar Chaparro), whose wedding day jitters threaten his upcoming marriage to Lucy (Martha Higareda).
If you need a little inconsequential lightweight fun, and you don't mind groan-inducing humor, this may do the trick. (102 min.)
—Glen
US
Photo Courtesy Of Monkeypaw Productions
TERRORIZED A family—including mother Adelaide (Lupita Nyong'o right), daughter Zora (Shahadi Wright Joseph, left), and son Jason (Evan Alex, bottom right)—is threatened by evil doppelgängers, in Us.
What's it rated? R
Where's it showing? Downtown Centre Galaxy, Park Stadium 10
New
Writer-director Jordan Peele (Get Out) helms this new horror thriller about a family—Father Gabe Wilson (Winston Duke), mother Adelaide (Lupita Nyong'o), daughter Zora (Shahadi Wright Joseph), and son Jason (Evan Alex)—terrorized by evil doppelgängers. (116 min.)
—Glen
THE WEDDING GUEST
Photo Courtesy Of India Take One Productions
MAN ON A MISSION Dev Patel stars as Jay, a mysterious British Muslim man journeying across Pakistan and India, in writer-director Michael Winterbottom's The Wedding Guest, screening exclusively at The Palm.
What's it rated? R
What's it worth? Full price
Where's it showing? The Palm
Pick
While the blockbuster Captain Marvel is setting box office records at multiplexes across the country with its action-packed tale of female empowerment, a much more realistic, potent, and important feminist saga is unfolding in Michael Winterbottom's exceptional new crime thriller, The Wedding Guest. It centers on Samira (Radhika Apte), a young Pakistani woman educated in the U.K. from age 12, who's now been taken back to Pakistan for her wedding arranged by her family.
Long before we see Samira, however, we're introduced to Jay, who's packing for a trip abroad. We see him arrive, take a cab to a car rental agency, drive, park, and rent another car, drive to a gun shop, buy two semi-automatic handguns, and drive to a hardware store and buy duct tape. Something's afoot, but Winterbottom keeps us in the dark.
Jay finally arrives at the upcoming wedding festivities and, through a child interpreter, he explains his distant relationship to the lucky couple and is welcomed in. It's a bit of a spoiler to reveal he's there to kidnap Samira, and suffice it to say, the event doesn't go without complications. What follows is Jay and Samira's trip across Pakistan and into India, where they're to meet Samira's Indian boyfriend (Jim Sarbh), who hired Jay to bring Samira to him.
Gritty realism permeates the film, and Patel delivers an intense and focused performance as Jay, a mysterious man we never really get to know. When the violence comes, it feels like it has real consequences. This isn't a slick James Bond or Jason Bourne thriller.
Apte is terrific as Samira, a woman raised in a misogynist and patriarchal culture that thinks of women as property. Her education in the U.K. has led to a rejection of her traditional role, and though she thought her boyfriend was the key to her escape from an arranged marriage, he turns out to be no more enlightened about her autonomy than her family. She's trapped in the virgin-whore dichotomy.
Through their intense adventure and close proximity, she and Jay find their complicated relationship becoming ever more complicated, but can she trust a man whose real name she doesn't know and who's willing to kidnap for money? How can she regain agency and reclaim her own life? That's the story's central question.
This is a visually arresting film with cinematography by Giles Nuttgens (Hell or High Water) and a potent score by Harry Escott (A Mighty Heart, Shame)—both of which give the movie an epic feel. I wasn't expecting the ending, and yet it was perfect. (97 min.)
—Glen
WONDER PARK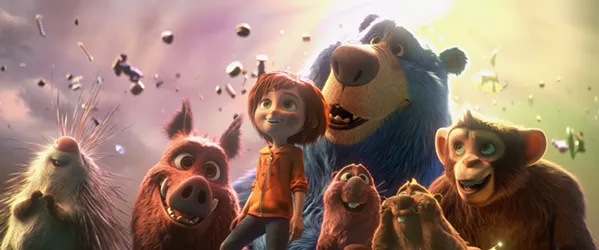 What's it rated? PG
What's it worth? Stream it
Where's it showing? Galaxy, Park, Stadium 10
In this animated family adventure, a 10-year-old girl named June (voiced by Sofia Mali as young June and Brianna Denski as older June) used her imagination to create a magnificent amusement park with her mother (voiced by Jennifer Garner). After her mother dies, and as she grows older, she loses her wildly imaginative creativity, until one day at math camp she stumbles upon the manifestation of her childhood fantasy. June learns that she must team up with the park's talking animals to save it from the chimpanzombies seeking to destroy it.
Colorful and distracting, Wonder Park will capture your kindergarten's attention for its run time, but you'll be checking your watch and wondering why they couldn't afford writers to craft an actual story. (85 min.) Δ
—Glen
New Times movie reviews are compiled by Senior Staff Writer Glen Starkey. Contact him at gstarkey@newtimesslo.com.