ANNIHILATION
What's it rated? R
What's it worth? Matinee
Where's it showing? Downtown Centre
Pick
Writer-director Alex Garland (Ex Machina) helms this story based on Jeff VanderMeer's novel about a team of soldiers who enter into a mysterious and expanding energy curtain, from which nothing has yet returned, including drones and other soldiers. Only one soldier, Kane (Oscar Isaac), returns, but he's badly injured and near death. His wife Lena (Natalie Portman), a biologist with a military background, agrees to go back, hoping to discover how to save Kane.
Riffing on sci-fi invasion films such as The Thing and Invasion of the Body Snatchers, Annihilation's premise is the idea of aliens sending a phenomenon that has the ability to rearrange the very cells of the target world, changing it from the inside out. The aliens don't need a massive invasion force; they need a kind of virus and the time to let it work.
Kane's been gone a full year when he suddenly shows up at home, startling Lena, who believed he was dead. He's behaving strangely, and then he suddenly falls ill. On the way to the ER, their ambulance is pulled over and Kane and Lena are whisked away by soldiers. When Lena wakes up on a secret military base set-up on the perimeter of what's been named "The Shimmer," she learns of an all-female team heading into the phenomenon led by Dr. Ventress (Jennifer Jason Leigh), a psychologist.
Lena agrees to join the team, which includes Anya Thorensen (Gina Rodriguez), Cass Sheppard (Tuva Novotny), and Josie Radek (Tessa Thompson). What they discover inside the ever-expanding phenomenon is a world transformed, with monstrous chimera-like creatures, such as a crocodile with shark teeth and a hideous bear-like creature with an exposed skull, that wander among strangely evolved flora.
This could easily be B-movie stuff, but Garland is more interested in the human emotions that drive this team of explorers, and they all have their secrets. Yes, there are moments of violence, gore, and horror, but this is a science-rich, thoughtfully constructed mind-bender of a story.
It's not as good as Ex Machina, and its conclusion doesn't live up to the film's fascinating first two-thirds, but it's deftly acted and slyly directed, and it does something that's become increasingly difficult: It's taken a genre overgrown by cliché and found a fresh approach. (115 min.)
—Glen Starkey
BLACK PANTHER
What's it rated? PG-13
What's it worth? Full price
Where's it showing? Downtown Centre, Park, Stadium 10, Galaxy
Pick
Co-writer/director Ryan Coogler (Creed) helms this story about T'Challa (Chadwick Boseman), a newly crowned king of the technologically advanced but isolationist country of Wakanda, who finds his new kinghood challenged by Erik Killmonger (Michael B. Jordan), a vengeful victim of T'Challa's father's past actions.
Every comic book hero needs a villain, and the obvious one here is white South African arms dealer Ulysses Klaue (Andy Serkis), who's working with Killmonger to steal vibranium, an alien metal that arrived as a meteorite and is responsible for the Wakandan technology. But that's only looking at the surface. Dig deeper into this Afro-centric and female-centric film and the real villain is colonialism and the African diaspora is caused that fuels competing ideologies within the larger black community.
Killmonger's father may have hailed from Wakanda, but Killmonger is a product of Oakland who as a kid had posters of rap group Public Enemy and African American political activist Huey Newton on his wall. T'Challa and his ancestors have always kept Wakanda safe by hiding it from the world. Killmonger wants to exploit Wakanda's technological power to start a worldwide revolution and upend the white power structure.
T'Challa surrounds himself with female warriors, who he treats as equals. Killmonger has adopted the patriarchy of his oppressors. This complexity of story and its focus on black heroes and an advanced but hidden black history upends the view that African is a continent devoid of its own history and only has a history as it entwines with European colonialism, which—if you were wondering—is what all the fuss is about. In that way, the film is truly groundbreaking.
It's certainly a beautiful looking film, with cinematography by Rachel Morrison who worked with Coogler on his excellent feature-length debut Fruitville Station (2013) as well as Mudbound (2017). Picking up on the colors of Africa—yellows, reds, greens, blacks, and purples—the film's palette and African iconography such as spears, masks, and stylized clothing—as well as Wakanda's own unique mix of tribal village and modern cityscape—makes for a visual feast that celebrates Africa but hints at what an African culture might have developed into without European interference.
Everything in the film is a constant reminder of European and Western patriarchy's corruption. In one funny moment that left the audience howling with laughter, CIA agent Everett K. Ross (Martin Freeman) surprises T'Challa's sister Shuri (Letitia Wright), a technology expert responsible for the many vibranium powered tools and weapons, who exclaims, "Don't scare me like that, colonizer!"
It's an empowering reimagining of African roots but also—remember—a fantasy. Ultimately, this is a super hero flick that refuses to stay in the genre's rut and that's interested in exploring complicated political and cultural ideas. Sure, other Marvel stories have looked at politics, from Iron Man and the arms trade to Captain America: Winter's Soldier and drones, PTSD, and warfare, but Black Panther goes deeper than any other Marvel storyline. I say, keep it coming. (134 min.)
—Glen Starkey
GAME NIGHT
What's it rated? R
What's it worth? Rental
Where's it showing? Stadium 10, Galaxy, Park
Co-directors John Francis Daley and Jonathan Goldstein (Vacation, 2015) helm this Mark Perez (The Country Bears, 2002; Accepted, 2006) black comedy script about a group of friends who meet regularly for game night, but this time around, they encounter a real crime and unwittingly believe it's a murder mystery they're supposed to solve.
Game Night starts with the flashback meet-cute of Max and his now-wife Annie (Rachel McAdams, at her most charming). They gather weekly with their best friends, married couple Kevin (Lamorne Morris) and Michelle (Kylie Bunbury), and single lothario Ryan (Billy Magnussen) and his revolving bimbo du jour.
You certainly don't have to see it on the big screen to appreciate it. If you're a big comedy fan, maybe it's worth it. The costars are great, especially Morris's Denzel Washington impression, but I'd feel a lot better about renting this film for $1.62 at Redbox. (100 min.)
—Glen Starkey
THE GREATEST SHOWMAN
What's it rated? PG
What's it worth? Rental
Where's it showing? Stadium 10
First-time director Michael Gracey helms The Greatest Showman, an original, straight-to-screen musical inspired by the life of P.T. Barnum (played here by Hugh Jackman) and the formation of the Barnum and Bailey Circus. The film never claims to be wholly factual and only uses the aspects of Barnum's life that fit into its desired rags-to-riches structure.
Overall, The Greatest Showman is a mixed bag full of flawed and fun moments alike. It's hard to tell how serious it takes itself at times, but the best parts are the unashamedly cheesy ones. And I really wish it embraced that cheesiness more—it could have been grater. (139 min.)
—Caleb Wiseblood
I CAN ONLY IMAGINE
What's it rated? PG
Where's it showing? Downtown Centre, Stadium 10, Park, Galaxy
New
The inspiring and unknown true story behind MercyMe's beloved, chart topping song that brings ultimate hope to so many is a gripping reminder of the power of true forgiveness. (110 min.)
—Lionsgate
ITZHAK
Photo Courtesy Of Greenwich Entertainment
THE MAN BEHIND THE MUSIC In Itzhak, filmmakers delve into the life of violin player Itzhak Perlman.
What's it rated? NR
Where's it showing? The Palm
New
From Schubert to Strauss, Bach to Brahms, Mozart to...Billy Joel, Itzhak Perlman's violin playing transcends mere performance to evoke the celebrations and struggles of real life; "praying with the violin," says renowned Tel Aviv violinmaker Amnon Weinstein. Alison Chernick's enchanting documentary looks beyond the sublime musician to see the polio survivor whose parents emigrated from Poland to Israel, and the young man who struggled to be taken seriously as a music student when schools saw only his disability. (80 min.)
—Greenwich Entertainment
THE LEISURE SEEKER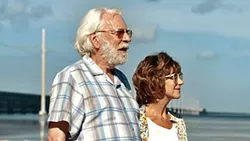 Photo Courtesy Of Sony Picures Classics
ROAD TRIP In The Leisure Seeker, a retired couple finds surprises with each other during a cross-country road trip.
What's it rated? R
Where's it showing? Downtown Centre
New
The film stars Academy Award-winner Helen Mirren and two-time Golden Globe-winner Donald Sutherland as a runaway couple going on an unforgettable journey in the faithful old RV they call The Leisure Seeker, travelling from Boston to The Ernest Hemingway Home in Key West. They recapture their passion for life and their love for each other on a road trip that provides revelation and surprise right up to the very end. (112 min.)
—Sony Pictures Classics
LIVES WELL LIVED
What's it rated? NR
What's it worth? Full Price
Where's it showing? The Palm
Pick
First-time director Sky Bergman helms this documentary that asks older people their secret to a happy and fulfilling life. Mixing one-on-one interviews, her subjects' personal photos and home movies, as well as archival footage of seminal events in their lives, Bergman uncovers wisdom collected from 40 subjects with 3,000 years of collective life experience.
This film is a monument to lives of dignity and honor, of self-sacrifice and generosity. We younger generations could do well by these lessons. I absolutely loved this film. (72 min.)
—Glen Starkey
MIDNIGHT SUN

What's it rated? PG-13
Where's it showing? Galaxy
New
Midnight Sun is a romantic tearjerker about 17-year-old Katie Price (Bella Thorne), sheltered at home since childhood with a rare genetic condition, a life-threatening sensitivity to sunlight. Having only her father Jack (Rob Riggle) for company, Katie's world opens up after dark when she ventures outside to play her guitar. One night, her dreams come true when she's noticed and asked out by her longtime crush Charlie (Patrick Schwarzenegger), whom she's secretly watched from her bedroom window for years. As they embark on nightly summer excursions, Katie's risk to sunlight grows and she's presented with the gut-wrenching dilemma of whether she can live a normal life with her newfound soul mate. (109 min.)
—Open Road Films
PACIFIC RIM UPRISING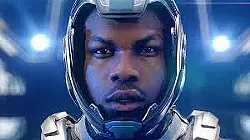 Photo Courtesy Of Universal Pictures
BRAVE NEW WORLD Jake Pentecost must help to save the world in Pacific Rim Uprising.
What's it rated? PG-13
Where's it showing? Downtown Centre, Stadium 10, Park, Galaxy
New
John Boyega (Star Wars: The Force Awakens) stars as the rebellious Jake Pentecost, a once-promising Jaeger pilot whose legendary father gave his life to secure humanity's victory against the monstrous "Kaiju." Jake has since abandoned his training only to become caught up in a criminal underworld. But when an even more unstoppable threat is unleashed to tear through our cities and bring the world to its knees, he is given one last chance to live up to his father's legacy by his estranged sister, Mako Mori (Rinko Kikuchi)—who is leading a brave new generation of pilots that have grown up in the shadow of war. (111 min.)
—Universal Pictures
PAUL, APOSTLE OF CHRIST
What's it rated?PG-13
Where's it showing? Downtown Centre, Stadium 10, Park, Galaxy
New
Paul, Apostle of Christ is the story of two men. Luke (Jim Caviezel), as a friend and physician, risks his life every time he ventures into the city of Rome to visit Paul (James Faulkner), who is held captive in the emperor's darkest, bleakest prison cell. Before Paul's death sentence can be enacted, Luke resolves to write another book, one that details the beginnings of "The Way" and the birth of what will come to be known as the church. But the emperor is determined to rid Rome of Christians, and does not flinch from executing them in the grisliest ways possible. Two men struggle against a determined emperor and the frailties of the human spirit in order to bequeath the Gospel of Jesus Christ to the world. (108 min.)
—Affirm Films
PETER RABBIT
What's it rated? PG
Where's it showing? Park, Galaxy
Peter Rabbit (James Corden), the mischievous and adventurous hero who has captivated generations of readers, now takes on the starring role of his own irreverent, contemporary comedy with attitude. In the film, Peter's feud with Mr. McGregor (Domhnall Gleeson) escalates to greater heights than ever before as they rival for the affections of the warm-hearted animal lover who lives next door (Rose Byrne). (100 min.)
—Columbia Pictures
READY PLAYER ONE
What's it rated? PG-13
Where's it showing? Sunset Drive-In, Park and Downtown Centre (Opens March 28)
New
In the year 2045, people can escape their harsh reality in the OASIS, an immersive virtual world where you can go anywhere, do anything, be anyone—the only limits are your own imagination. OASIS creator James Halliday left his immense fortune and control of the Oasis to the winner of a contest designed to find a worthy heir. When unlikely hero Wade Watts (Tye Sheridan) conquers the first challenge of the reality-bending treasure hunt, he and his friends, known as the High Five, are hurled into a fantastical universe of discovery and danger to save the OASIS and their world. (140 min.)
—Warner Bros. Pictures
RED SPARROW
What's it rated? R
What's it worth? Rent it
Where's it showing? Downtown Centre, Bay, Stadium 10
Francis Lawrence (Constantine, I Am Legend, Water for Elephants, The Hunger Games: Catching Fire) directs Justin Haythe's (The Clearing, Revolutionary Road, The Lone Ranger, The Cure for Wellness) script based on ex-spook Jason Matthews' book about ballerina Dominika Egorova (Jennifer Lawrence), who's recruited into the Russian "Sparrow School," which trains spies. The target of her first mission, CIA Agent Nate Nash (Joel Edgerton), turns out to be more complicated than she could have imagined.
Taking on a female James Bond-esque role seems to be a rite of passage for Hollywood leading ladies. Think Charlize Theron in Atomic Blonde (2017) or Angelina Jolie in Salt (2010), where they get to look sexy and kick ass. I guess it was Lawrence's turn.
Dominika Egorova is a prima ballerina with the famed Bolshoi ballet company, but an "accident" ends her career, imperiling her lifestyle: a comfortable apartment provided by the Bolshoi and medical treatments for her ailing mother Nina (Joely Richardson). Manipulated by her uncle Vanya (Matthias Schoenaerts), a Russian "security" official, to seduce a Russian oligarch in exchange for keeping her apartment and healthcare for her mother, Dominika is quickly swept up into Vanya's corrupt world and given a choice: become a sparrow or die.
It turns out Dominika is a natural at this spy stuff, referring to sparrow training as "slut school" and learning to manipulate those around her. However, watching a film about a person's corruption turns out to be a lot less fun than you'd think. Russia is depressing as hell, the collectivist state is power-mad and soulless, and whatever redeeming qualities Dominika started with disappear, leaving viewers with a protagonist who's hard to care about.
Worse still, Lawrence just feels flat in this performance. Who is Dominika? What motivates her? Is it simply survival? I don't know and I'm not sure Lawrence figured it out either. If her only motivation is helping her mother, is it worth selling your soul to the Russian state?
The whole film is shrouded in a somber, depressing veneer. It's joyless. James Bond films are fun because they know they're a ridiculous fantasy, but Red Sparrow doesn't know how to lighten up or even slyly wink at itself. At least Atomic Blonde had the good sense to dive headfirst into the neon and synthesizer glitz of its '80s milieu. Red Sparrow tastes like prison gruel, not entertainment.
We're supposed to be rooting for Dominika to find a way out of her mess and take her life back, but instead she digs more deeply into her corrupt world. Soon it feels like her life isn't worth saving—who would want to live a life of lies, torture, and mistrust? There's also a decided lack of chemistry between Lawrence and her costar Edgerton.
I know Lawrence has become a huge star with two big franchises (X-Men and The Hunger Games) under her belt, and I applaud her taking on roles in smaller (Joy) or experimental (Mother!) films, but she seems to shine brightest in roles where she's a vulnerable but independent woman (Winter's Bone and Silver Linings Playbook) who rises above her circumstances. In Red Sparrow, instead of rising above a corrupt world, Lawrence's Dominika simply becomes the most corrupt. (139 min.)
—Glen Starkey
7 DAYS IN ENTEBBE
What's it rated? PG-13
Where's it showing? Stadium 10
A gripping thriller inspired by the true events of the 1976 hijacking of an Air France flight en route from Tel Aviv to Paris, the film depicts the most daring rescue mission ever attempted. (106 min.)
—Focus Features
THE SHAPE OF WATER
What's it rated? R
What's it worth? Full Price
Where's it showing? The Palm
Pick
Elisa (Sally Hawkins) is a lonely mute who works as a janitor in a high-security government laboratory in 1962 Baltimore. For 10 years she's walked and cleaned the halls of the facility with her friend Zelda (Octavia Spencer).
Every day Elisa sticks to her routine: take a shower, polish her shoes, make lunch as well as a meal for her neighbor and friend Giles (Richard Jenkins), and then catch the bus to work.
Her life takes a turn when she and Zelda are called into a room to clean up a bloody mess created by "the asset" (Doug Jones), at least that's what the scientists and government officials are calling it. The asset is a scaled creature from South Africa that now resides in a water tank against its will. Elisa is drawn to the creature, maybe because she too is an outsider in the world that she lives in. She forms a bond with the creature that feels more like love than friendship. But her days of sharing hard-boiled eggs for lunch and listening to her vinyl record player are numbered; the very fate of the creature is on the line.
Writer and director Guillermo Del Toro's (Pan's Labyrinth, Hellboy, Pacific Rim) latest offering is visually intriguing as an everyday woman finds her fairy tale—with some bloody scenes mixed in, of course. (123 min.)
—Karen Garcia
SHERLOCK GNOMES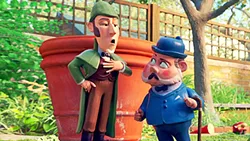 Photo Courtesy Of Paramount Pictures
JUST THE GNOME When gnomes start disappearing from gardens in London, there's only one man who can solve the case in Sherlock Gnomes.
What's it rated? PG
Where's it showing? Stadium 10, Park, Galaxy
New
When Gnomeo (James McAvoy) and Juliet (Emily Blunt) first arrive in the city with their friends and family, their biggest concern is getting their new garden ready for spring. However, they soon discover that someone is kidnapping garden gnomes all over London. When Gnomeo and Juliet return home to find that everyone in their garden is missing there's only one gnome to call— Sherlock Gnomes (Johnny Depp). (86 min.)
—Paramount Pictures
TOMB RAIDER
What's it rated?PG-13
Where's it showing? Stadium 10, Park, Galaxy, Sunset Drive-In
Lara Croft (Alicia Vikander) is the fiercely independent daughter of an eccentric adventurer, Lord Richard Croft (Dominic West), who vanished when she was scarcely a teen. Now a young woman of 21 without any real focus or purpose, Lara navigates the chaotic streets of trendy East London as a bike courier, barely making the rent, and takes college courses, rarely making it to class. Determined to forge her own path, she refuses to take the reins of her father's global empire just as staunchly as she rejects the idea that he's truly gone. Advised to face the facts and move forward after seven years without him, even Lara can't understand what drives her to finally solve the puzzle of his mysterious death.(122 min.)
—Warner Bros. Pictures
A WRINKLE IN TIME
What's it rated? PG
Where's it showing? Downtown Centre, Galaxy, Park, Fair Oaks
From Director Ava DuVernay (Selma) and screenwriter Jennifer Lee (Frozen, Zootopia), comes the film adaptation of the novel A Wrinkle in Time by Madeleine L'Engle. Meg Murry (Storm Reid, 12 Years a Slave) is a typical middle school student struggling with issues of self-worth who is desperate to fit in. As the daughter of two world-renowned physicists, she is intelligent and uniquely gifted, as is Meg's younger brother Charles Wallace (Deric McCabe, Stephanie), but she has yet to realize it for herself. Making matters even worse is the baffling disappearance of Mr. Murry (Chris Pine, Wonder Woman), which torments Meg and has left her mother (Gugu Mbatha-Raw, Beauty and the Beast) heartbroken. Charles Wallace introduces Meg and her fellow classmate Calvin (Levi Miller, Pan) to three celestial guides—Mrs. Which (Oprah Winfrey, The Immortal Life of Henrietta Lacks), Mrs. Whatsit (Reese Witherspoon, Wild) and Mrs. Who (Mindy Kaling, The Mindy Show)—who have journeyed to Earth to help search for their father, and together they set off on their formidable quest.
I was really, really excited for this film adaptation of A Wrinkle in Time. I grew up reading and loving the novel by L'Engle and the diverse, star studded cast (Winfrey, Kaling, Witherspoon, and company) headed up by badass lady director DuVernay sounded oh so promising. And yet ... I left the theater feeling very underwhelmed. I think two things are to blame here: the script and the interpretation on the source material. Sure, a book is a book and a movie is a movie, so some things get lost in translation, or added in or taken out. But the movie had a ton of boring, banal dialogue that definitely wasn't in the book and didn't do much to further the plot along. While writer Lee has had much success with kiddie films like Frozen and Zootopia, I don't think her approach worked well here for what is at its core, a coming of age story. And unlike young adult fantasy novels like say, Harry Potter and the Sorcerer's Stone, where you can imagine the world down to doorknobs on the castle, L'Engle writes with a much broader brush, forcing each reader to imagine the universe she creates a little differently.
That said, any director would need a strong aesthetic vision for this film and it's gorgeous and stunning to look at. However, it ends up feeling a bit more like an acid trip á la Alice in Wonderland than a sci-fi film where three kids and their alien-esque guides travel via a wrinkling of time and space known as tessering to try and combat a powerful evil and save Mr. Murry (Pine), who has been gone for four years due to an experiment gone wrong.
The book is fantastical, but definitely doesn't lend itself to an easy film adaptation. And diverse casting like this should be the norm in movies, I scratched my head a bit when it was revealed that Kaling's character was the Mrs. Who that could only quote others to get her message across, leaving Witherspoon with the most dialogue out of the trio, since Winfrey was in less scenes. Having a diverse cast is progress, but why did Witherspoon, the only white actress of the trio, get the most lines? I did, however, enjoy the standout performance of Reid as a struggling, angst-filled teen dealing with the unexplained absence of her dad. In one particularly moving scene, her younger brother Charles Wallace has been taken over by an evil force and she declares, "You should love me because I deserve to be loved!" It's a message that more young girls need to hear. While I wouldn't recommend forking over the cash to see it on the big screen, renting A Wrinkle in Time on a rainy day and curling up inside at home would make for a pleasant enough afternoon. (120 min.) Δ
—Ryah Cooley
New Times movie reviews were compiled by Arts Editor Ryah Cooley and others. You can contact her at rcooley@newtimesslo.com.