ANNIHILATION
What's it rated? R
What's it worth? Matinee
Where's it showing? Stadium 10
Pick
Writer-director Alex Garland (Ex Machina) helms this story based on Jeff VanderMeer's novel about a team of soldiers who enter into a mysterious and expanding energy curtain, from which nothing has yet returned, including drones and other soldiers. Only one soldier, Kane (Oscar Isaac), returns, but he's badly injured and near death. His wife, Lena (Natalie Portman), a biologist with a military background, agrees to go back in hoping to discover how to save Kane.
Yes, there are moments of violence, gore, and horror, but this is a science-rich, thoughtfully constructed mind-bender of a story. (115 min.)
—Glen Starkey
BLACK PANTHER
What's it rated? PG-13
What's it worth? Full Price
Where's it showing? Downtown Centre, Sunset Drive-In, Stadium 10, Galaxy, Park
Pick
Co-writer/director Ryan Coogler (Creed) helms this story about T'Challa (Chadwick Boseman), a newly crowned king of the technologically advanced but isolationist country of Wakanda, who finds his new kinghood challenged by Erik Killmonger (Michael B. Jordan), a vengeful victim of T'Challa's father's past actions.
It's an empowering reimagining of African roots but also—remember—a fantasy. Ultimately, this is a super hero flick that refuses to stay in the genre's rut and that's interested in exploring complicated political and cultural ideas. (134 min.)
—Glen Starkey
DARKEST HOUR
What's it rated? PG-13
What's it worth? Full Price
Where's it showing? Downtown Centre
Pick
Darkest Hour drops viewers into one of the tensest, grimmest periods of World War II to illustrate how British Prime Minister Winston Churchill (Garry Oldman), orated Britain and its people out of surrendering to and into defiantly fighting Nazi Germany.
It's Churchill's commitment to the principles of his country and disdain for the moral atrocities of Nazism that compel him to push back against the momentum of a surrender. That's what's thrilling about this movie: the emotional battle between the convenience of giving up versus the profound consequences of that concession. (125 min.)
—Peter Johnson
DEATH WISH
What's it rated? R
What's it worth? Rental
Where's it showing? Downtown Centre, Stadium 10, Park, Galaxy
Eli Roth (Cabin Fever, Hostel, The Green Inferno, Knock Knock) directs this script by Joe Carnahan (Smokin' Aces, The A-Team, The Grey) based on Brian Garfield's novel and 1974 Wendell Mayes-scripted film of the same name about family man Dr. Paul Kersey (Bruce Willis), a surgeon who turns vigilante after his family—wife Lucy (Elisabeth Shue) and college-age daughter Jordan (Camila Morrone)—are violently attacked in a home invasion robbery.
Willis is at his best playing a cocky and irreverent charmer, but here his Kersey is a downer. Revenge may be a dish best served cold but this feels like a reheated, lukewarm TV dinner. And of course this is simply bad timing. With gun violence in the news again, the film also feels tone deaf. (107 min.)
—Glen Starkey
A FANTASTIC WOMAN
What's it rated? R
Where's it showing? The Palm
New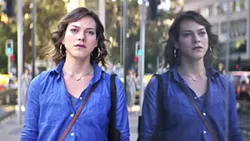 Photo Courtesy Of Sony Pictures Classics
UNCLEAR After a young woman's much older fiancé suddenly dies, his family and friends become suspicious in A Fantastic Woman.
Marina and Orlando are in love and planning for the future. Marina is a young waitress and aspiring singer. Orlando is 20 years older than her, and owns a printing company. After celebrating Marina's birthday one evening, Orlando falls seriously ill. Marina rushes him to the emergency room, but he passes away just after arriving at the hospital. Instead of being able to mourn her lover, suddenly Marina is treated with suspicion. (100 min)
—Sony Pictures Classics
GAME NIGHT
What's it rated?R
What's it worth? Rental
Where's it showing? Downtown Centre, Stadium 10, Galaxy, Park
Co-directors John Francis Daley and Jonathan Goldstein (Vacation, 2015) helm this Mark Perez (The Country Bears, 2002; Accepted, 2006) black comedy script about a group of friends who meet regularly for game night, but this time around, they encounter a real crime and unwittingly believe it's a murder mystery they're supposed to solve.
Game Night starts with the flashback meet-cute of Max and his now-wife Annie (Rachel McAdams, at her most charming). They gather weekly with their best friends, married couple Kevin (Lamorne Morris) and Michelle (Kylie Bunbury), and single lothario Ryan (Billy Magnussen) and his revolving bimbo du jour.
You certainly don't have to see it on the big screen to appreciate it. If you're a big comedy fan, maybe it's worth it. The costars are great, especially Morris's Denzel Washington impression, but I'd feel a lot better about renting this film for $1.62 at Redbox. (100 min.)
—Glen Starkey
THE GREATEST SHOWMAN
What's it rated? PG
What's it worth? Rental
Where's it showing? Stadium 10
First-time director Michael Gracey helms The Greatest Showman, an original, straight-to-screen musical inspired by the life of P.T. Barnum (played here by Hugh Jackman) and the formation of the Barnum and Bailey Circus. The film never claims to be wholly factual and only uses the aspects of Barnum's life that fit into its desired rags-to-riches structure.
Overall, The Greatest Showman is a mixed bag full of flawed and fun moments alike. It's hard to tell how serious it takes itself at times, but the best parts are the unashamedly cheesy ones. And I really wish it embraced that cheesiness more—it could have been grater. (139 min.)
—Caleb Wiseblood
GRINGO
What's it rated? R
Where's it showing? Stadium 10, Park
New
Combining dark comedy with dramatic intrigue, Gringo joyrides across the border into Mexico, where all is not as it seems for mild-mannered American businessman Harold Soyinka (David Oyelowo). Crossing the line from citizen to criminal, Harold tangles with duplicitous business partners, Mexican drug lords, international mercenaries, and the DEA. As he attempts to survive in one of the most dangerous places on earth, the question lingers: Is this ordinary man in way over his head, or is he two steps ahead? (110 min.)
—Amazon Studios
THE HURRICANE HEIST
What's it rated? PG-13
Where's it showing? Park, Galaxy
New
Under the threat of a hurricane, opportunistic criminals infiltrate a U.S. Mint facility to steal $600 million for the ultimate heist. When the hurricane blows up into a lethal Category 5 storm and their well-made plans go awry, they find themselves needing a vault code known only by one treasury agent (Maggie Grace), a need that turns murderous. (103 min.)
—Entertainment Studios Motion Pictures
JUMANJI: WELCOME TO THE JUNGLE
What's it rated? PG-13
What's it worth? Full Price
Where's it showing? Stadium 10
Pick
With Jumanji: Welcome to the Jungle, we see an old game through new lenses. In present day, we have a group of four archetypal teenagers. You know, similar to The Breakfast Club. You've got the nerd Spencer (Alex Wolff), his former best friend turned jock Fridge (Ser' Darius Blain), a self-absorbed popular Bethany (Madison Iseman), and smart girl Martha (Morgan Turner) who's a little salty about her peers. The crew gets detention and that's where the unlikely group finds Jumanji (this time in video game form). They decide to ditch their task to play it. Once the game is plugged in and rebooting, the kids are sucked into the console, entering into the Jumanji world. But there's a catch: They have assumed the bodies of their avatars.
This film does what many remakes fail to do, which is successfully entertain its audience. I wasn't quite sure how this would go walking into the theater. But these actors did a hilarious job delivering as prepubescent teenagers in way over their heads. I was laughing nonstop throughout the film. (112 min.)
—Karen Garcia
LIVES WELL LIVED
What's it rated? NR
What's it worth? Full Price
Where's it showing? The Palm
Pick
First-time director Sky Bergman helms this documentary that asks older people their secret to a happy and fulfilling life. Mixing one-on-one interviews, her subjects' personal photos and home movies, as well as archival footage of seminal events in their lives, Bergman uncovers wisdom collected from 40 subjects with 3,000 years of collective life experience.
This film is a monument to lives of dignity and honor, of self-sacrifice and generosity. We younger generations could do well by these lessons. I absolutely loved this film. (72 min.)
—Glen Starkey
PETER RABBIT
What's it rated?PG
Where's it showing? Park, Galaxy
Peter Rabbit (James Corden), the mischievous and adventurous hero who has captivated generations of readers, now takes on the starring role of his own irreverent, contemporary comedy with attitude. In the film, Peter's feud with Mr. McGregor (Domhnall Gleeson) escalates to greater heights than ever before as they rival for the affections of the warm-hearted animal lover who lives next door (Rose Byrne). (100 min.)
—Columbia Pictures
THE SHAPE OF WATER

What's it rated? R
What's it worth? Full Price
Where's it showing? The Palm
Pick
Elisa (Sally Hawkins) is a lonely mute who works as a janitor in a high-security government laboratory in 1962 Baltimore. For 10 years she's walked and cleaned the halls of the facility with her friend Zelda (Octavia Spencer).
Every day Elisa sticks to her routine: take a shower, polish her shoes, make lunch as well as a meal for her neighbor and friend Giles (Richard Jenkins), and then catch the bus to work.
Her life takes a turn when she and Zelda are called into a room to clean up a bloody mess created by "the asset" (Doug Jones), at least that's what the scientists and government officials are calling it. The asset is a scaled creature from South Africa that now resides in a water tank against its will. Elisa is drawn to the creature, maybe because she too is an outsider in the world that she lives in. She forms a bond with the creature that feels more like love than friendship. But her days of sharing hard-boiled eggs for lunch and listening to her vinyl record player are numbered; the very fate of the creature is on the line.
Writer and director Guillermo Del Toro's (Pan's Labyrinth, Hellboy, Pacific Rim) latest offering is visually intriguing as an everyday woman finds her fairy tale—with some bloody scenes mixed in, of course. (123 min.)
—Karen Garcia
THE STRANGERS: PREY AT NIGHT
What's it rated? R
Where's it showing? Stadium 10, Park, Galaxy
New
A family's road trip takes a dangerous turn when they arrive at a secluded mobile home park to stay with some relatives and find it mysteriously deserted. Under the cover of darkness, three masked psychopaths pay them a visit to test the family's every limit as they struggle to survive. (85 min.)
—Aviron Pictures
THOROUGHBREDS
What's it rated? R
Where's it showing? The Palm
New
Childhood friends Lily (Anya Taylor-Joy) and Amanda (Olivia Cooke) reconnect in suburban Connecticut after years of growing apart. Lily has turned into a polished, upper-class teenager, with a fancy boarding school on her transcript and a coveted internship on her resume; Amanda has developed a sharp wit and her own particular attitude, but all in the process of becoming a social outcast. Though they initially seem completely at odds, the pair bond over Lily's contempt for her oppressive stepfather, Mark (Paul Sparks), and as their friendship grows, they begin to bring out one another's most destructive tendencies. Their ambitions lead them to hire a local hustler, Tim (Anton Yelchin), and take matters into their own hands to set their lives straight. (90 min.)
—Focus Features
THREE BILLBOARDS OUTSIDE EBBING, MISSOURI
What's it rated? R
What's it worth? Full Price
Where's it showing? Downtown Centre
Pick
Three Billboards Outside Ebbing, Missouri is one shape-shifter of a movie. Is it a comedy, tragedy, or quest for vengeance, redemption, and catharsis? Director/writer Martin McDonagh (The Guard) manages to convince you it's all of the above.
We're dropped late into the aftermath of mother Mildred Hayes' (Frances McDormand, Hail, Caesar!, Moonrise Kingdom) grief and pain. Months have gone by since her daughter Angela (Kathryn Newton) was viciously raped and murdered while walking home one night in their small town. Still, local law enforcement has made no arrests and doesn't even have any suspects. While driving down a forgotten road just outside Ebbing, Mildred gets and idea and proceeds to march into town and pay for three billboards in a row painted red with big black letters that say "Raped while dying," "And still no arrests?" and "How come, Chief Willoughby?"
The writing is impeccably sharp, with searing lines thrown in at the most emotionally potent moments, and yet, there are so many laugh-out-loud moments, too, in this film that deals rather heavily in anger and sorrow. The acting is superb, particularly performances from McDormand, who plays Mildred as hardened and determined to find justice, and Harrelson as the seemingly hick police chief creates so much nuance and depth for his character. And yet, Three Billboards Outside Ebbing, Missouri requires being OK with swallowing a hefty dose of imaginative realism. (115 min.)
—Ryah Cooley
A WRINKLE IN TIME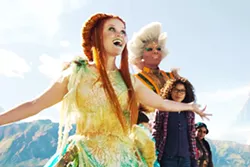 Photo Courtesy Of Walt Disney Pictures
ACROSS THE UNIVERSE In A Wrinkle in Time, a girl and her brother must travel across time and space to find their father, with the help of three celestial guides.
What's it rated? PG
Where's it showing? Downtown Centre, Sunset Drive-In, Fair Oaks, Bay, Galaxy, Park
New
Meg Murry (Storm Reid) is a typical middle school student struggling with issues of self-worth who is desperate to fit in. As the daughter of two world-renowned physicists, she is intelligent and uniquely gifted, as is Meg's younger brother Charles Wallace (Deric McCabe), but she has yet to realize it for herself. Making matters even worse is the baffling disappearance of Mr. Murry (Chris Pine), which torments Meg and has left her mother (Gugu Mbatha-Raw) heartbroken. Charles Wallace introduces Meg and her fellow classmate Calvin (Levi Miller) to three celestial guides—Mrs. Which (Oprah Winfrey), Mrs. Whatsit (Reese Witherspoon) and Mrs. Who (Mindy Kaling)—who have journeyed to Earth to help search for their father, and together they set off on their formidable quest. (120 min) Δ
—Walt Disney Pictures
New Times movie reviews were compiled by Arts Editor Ryah Cooley and others. You can contact her at rcooley@newtimesslo.com.