AVENGERS: INFINITY WAR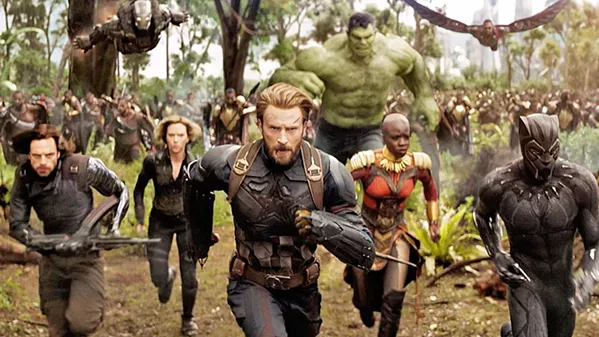 Photo Courtesy Of Walt Disney Pictures
SUPER HEROES The Avengers must sacrifice everything in order to defeat the evil Thanos in Avengers: Infinity War.
What's it rated? PG-13
Where's it showing? Downtown Centre, Stadium 10, Sunset Drive-In, Bay, Park, Galaxy
New
Avengers: Infinity War brings to the screen the ultimate, deadliest showdown of all time. The Avengers and their superhero allies must be willing to sacrifice all in an attempt to defeat the powerful Thanos before his blitz of devastation and ruin puts an end to the universe. (156 min.)
—Walt Disney Pictures
BLACK PANTHER
What's it rated? PG-13
What's it worth? Full price
Where's it showing? Galaxy
Pick
Co-writer/director Ryan Coogler (Creed) helms this story about T'Challa (Chadwick Boseman), a newly crowned king of the technologically advanced but isolationist country of Wakanda, who finds his new kinghood challenged by Erik Killmonger (Michael B. Jordan), a vengeful victim of T'Challa's father's past actions.
Every comic book hero needs a villain, and the obvious one here is white South African arms dealer Ulysses Klaue (Andy Serkis), who's working with Killmonger to steal vibranium, an alien metal that arrived as a meteorite and is responsible for the Wakandan technology. But that's only looking at the surface. Dig deeper into this Afro-centric and female-centric film and the real villain is colonialism and the African diaspora is caused that fuels competing ideologies within the larger black community.
It's an empowering reimagining of African roots but also—remember—a fantasy. Ultimately, this is a super hero flick that refuses to stay in the genre's rut and that's interested in exploring complicated political and cultural ideas. Sure, other Marvel stories have looked at politics, from Iron Man and the arms trade to Captain America: Winter's Soldier and drones, PTSD, and warfare, but Black Panther goes deeper than any other Marvel storyline. I say, keep it coming. (134 min.)
—Glen Starkey
BLOCKERS
What's it rated? R
Where's it showing? Park
When three parents stumble upon their daughters' pact to lose their virginity at prom, they launch a covert one-night operation to stop the teens from sealing the deal. Leslie Mann (The Other Woman, This Is 40), Ike Barinholtz (Neighbors, Suicide Squad), and John Cena (Trainwreck, Sisters) star in Blockers, the directorial debut of Kay Cannon (writer of the Pitch Perfect series). (102 min.)
—Universal Pictures
FINAL PORTRAIT
What's it rated? R
What's it worth? Matinee
Where's it showing? The Palm
Pick
Geoffrey Rush takes center stage in this 90-minute dive into the quirky relationship between American writer James Lord (Armie Hammer) and renowned artist Alberto Giacometti (Rush). Taking place largely in a drab, weathered Parisian art studio/apartment in 1964, Final Portrait is based on the book by Lord, A Giacometti Portrait, about his final encounter with the master before his death.
The screenplay was adapted and written by director, Stanley Tucci, who is better known for his work in front of the camera (The Hunger Games, Spotlight, Captain America) rather than behind it. Tucci takes no time in immersing audiences in 1960s Paris, immediately introducing them to Lord's character, who quickly takes over as the omniscient narrator.
Lord explains that he is a writer working abroad and, through his travels and interest in art, how he has developed a friendship with the famous Giacometti. The artist has asked him to pose for a portrait before he returns to America and with assurances that the process will only take "a few days."
The story spirals into its own little brand of chaos from there, with both artist and model battling depression, doubt, and the threat of failure. Tony Shalhoub plays Rush's on screen brother, Diego Giacometti, and delivers dynamic range for a character that in the hands of many would have been nothing more than an afterthought. His performance, along with Rush's standout portrayal of the famed artist, keep the film rolling, which otherwise would have most likely derailed after the second act.
While pacing is at times a problem in Final Portrait, Tucci's ability to scuttle his characters in and out of 1960s Paris is commendable. One scene in particular has Giacometti dragging Lord into a small cafe following a particularly unproductive day at the studio (there are many). The two waiters upon sighting Giacometti immediately bring him a plate of food as if they had been waiting for him all morning, along with two large goblets of wine, oh, and a double shot of espresso (by the way, where does one get said breakfast around here?).
On its own the scene is innocuous, even trivial, but employing it as a tool to signify the final act of an artist's life and the story about him, is one masterful stroke. (90 min.)
—Spencer Cole
I FEEL PRETTY
Photo Courtesy Of Stxfilms
A NEW ATTITUDE In I Feel Pretty, an accident causes a woman (Amy Schumer) to think she's a supermodel, which leads to her living her life in a more bold and fearless way.
What's it rated? PG-13
What's it worth? Matinee
Where's it showing? Downtown Centre, Stadium 10, Fair Oaks, Park, Galaxy
Pick
Co-writers-directors Abby Kohn and Marc Silverstein helm this story about insecure Renee Bennett (Amy Schumer), who after suffering a fall awakes to believe she's the world's most beautiful and capable woman.
Funny lady Amy Schumer (Trainwreck, Snatched) is back doing what she does best—bringing laughs through self-deprecating humor and physical comedy. While I Feel Pretty has a surprisingly dismal metascore on both IMDB and Rotten Tomatoes, I for one was laughing from beginning to end, and my fellow audience members seemed to feel the same.
Renee (Schumer) is a sad sack of a woman whose utter lack of self confidence keeps her from going after the things she really wants ... that is until a Soulcycle class gone wrong, resulting in a head injury that brings brimming self-confidence. When Renee looks in the mirror, she sees utter perfection looking back. Her new lease on life leads to a new dream job, a romantic prospect, and an "in" with her boss, a mouse voiced Avery LeClaire (Michelle Williams) who uses Renee's "every woman" appeal to launch a line of cosmetics to run in stores like Target and Kohl's, not their usual high-end markets.
Of course not everything in Renee's life is smooth sailing because of her new confidence. Her tried-and-true gal pals (Aidy Bryant and Busy Phillips) soon grow sick of her strive for stature and exclusivity, and Renee soon learns that even "pretty people" have problems.
While it's a bit ridiculous to say that Schumer is anything short of pretty—she is, in fact, a working Hollywood actress—she does fall outside of the typical starlet aesthetic and is a vocal advocate for inclusion and acceptance. She also isn't afraid to put it all out there for the sake of comedy, and she brings some seriously funny stuff to her character.
Soon after meeting Ethan (Rory Scovel), they venture into a bar with a bikini contest going on, and Renee jumps right in. She ties up her shirt, rolls up her shorts, and hops onstage with the group of toned and tiny contestants. It's hilarious, and Ethan is soon smitten with this bold and brazen chick.
The message being sold is that confidence is sexy, and I for one agree. While she still may not be perfect, confident Renee makes things happen, takes risks, and owns herself. Once she learns to love herself, head injury side effects or not, she can spend her time living a truly fulfilling life and give up on trying to attain perfection. (110 min.)
—Anna Starkey
ISLE OF DOGS
What's it rated? PG
What's it worth? Full Price
Where's it showing? The Palm, Stadium 10
Pick
Wes Anderson (Rushmore, The Royal Tenenbaums, The Life Aquatic with Steve Zissou, Fantastic Mr. Fox, Moonrise Kingdom) directs this stop-motion animated tale about Atari Kobayashi (Koyu Rankin), a young boy living in near-future dystopian Japan, who goes in search of his dog, Spots (Live Schreiber), which has been banished—as have all dogs—to Trash Island because of a dog flu outbreak.
Along the way, Atari receives help from other banished dogs, including Rex (Edward Norton), King (Bob Balaban), Duke (Jeff Goldblum), Boss (Bill Murray), and Chief (Bryan Cranston).
Meanwhile back in Megasaki City, dog-banisher and Mayor Kobayashi (Kunichi Nomura)—Atari's guardian—works to thwart Professor Watanabe (Akira Ito), who's developing a cure for the dog flu, so the Mayor can carry out his evil plan to exterminate all dogs.
I find stop-motion animation incredibly charming. By today's standards of computer-generated animation, it's decidedly quaint, but it reminds me of my childhood love for Ray Harryhausen's work in films like Jason and the Argonauts and Clash of the Titans. Recent films like the Claymation Wallace and Gromit films A Grand Day Out and The Wrong Trousers or Tim Burton films like The Nightmare Before Christmas and Corpse Bride—and let's not forget Charlie Kaufman's Anomalisa—are simply amazing. There's something whimsical and wonderful about the technique, and for an inherent quirky director like Wes Anderson, stop-motion allows him to fully divest from reality.
Talking dogs feels completely natural in Isle of Dogs, which explores the unique relationships between humans and dogs from the dogs' perspective. Chief, for instance, is a stray, and his pack members subtly and silently judge him for it. Nutmeg is a former show dog used to regular grooming and being fawned over, but like all the other dogs banished to Trash Island, she lost her elevated position and deals with it with a level of class that's hard not to admire.
This sort of anthropomorphization is human nature—we love to imagine our pets have an inner dialogue and love us the same way we love them. Anderson has a lot of fun exploring how dogs think of humans and each other.
Ultimately, this is a film about relationships, loyalty, honor, and ethics, which are pretty heavy topics, but first and foremost, this is a wonderful looking film. I absolutely loved it!
It helps that there's a great cast doing great voice work with some fun surprises. Courtney B. Vance's smooth voice as The Narrator provides necessary context, John Lennon's former wife Yoko Ono makes a vocal appearance as Assistant-Scientist Yoko Ono, and long-time Anderson collaborator Anjelica Huston is credited as voicing a character named Mute Poodle, meaning she has no lines. Greta Gerwig is terrific as earnest and idealistic exchange student Tracy Walker.
While the dogs all speak English, all the Japanese characters speak in Japanese, so we have Frances McDormand starring as Interpreter Nelson. You'll also hear the familiar voices of Harvey Keitel and F. Murray Abraham. Tilda Swinton is great as Oracle, a Pug who watches TV and repeats what she sees, leading the dogs around her to think she's a prognosticating mystic.
Even though the story centers on Atari and his search for Spots, this is really Chief's story. He's the character with the biggest arc, the one who has to learn about the sacred relationship between man and dog, who also has to learn he's good enough to deserve a mate like Nutmeg. The dogs are actually a lot more complex than most of the human characters, and it's Chief we're rooting for more than Atari.
The models, sets, and animation are so compelling that I felt fully immersed in the world Anderson and his team of filmmakers created. I know Anderson's sensibilities don't appeal to everyone. He's droll humor doesn't resonate for some, but if you've liked his previous films, you'll find Isle of Dogs a worthy entry into Anderson's oeuvre. (101 min.)
—Glen Starkey
LEAN ON PETE
Photo Courtesy Of A24
A BOY AND HIS HORSE After moving to a new town with his negligent father, Charley Thompson (Charlie Plummer) forms a special bond with a horse at the local racetrack in Lean On Pete.
What's it rated? R
Where's it showing? The Palm
New
Fifteen-year-old Charley Thompson (Charlie Plummer) arrives in Portland, Oregon, with his single father Ray (Travis Fimmel), both of them eager for a fresh start after a series of hard knocks. While Ray descends into personal turmoil, Charley finds acceptance and camaraderie at a local racetrack where he lands a job caring for an aging Quarter Horse named Lean On Pete. The horse's gruff owner Del Montgomery (Steve Buscemi) and his seasoned jockey Bonnie (Chloë Sevigny) help Charley fill the void of his father's absence—until he discovers that Pete is bound for slaughter, prompting him to take extreme measures to spare his new friend's life. Charley and Pete head out into the great unknown, embarking on an odyssey across the new American frontier in search of a loving aunt Charley hasn't seen in years. (121 min.)
—A24
MODERN LIFE IS RUBBISH
What's it rated? NR
Where's it showing? Galaxy
New
First brought together by a shared love of music, 10 years later Liam (Josh Whitehouse) and Natalie (Freya Mavor) have reached a breaking point. Opposites attract, but aren't necessarily working long-term. Liam, a struggling musician, cannot let go of his vinyl collection and refuses to adapt to a world of smartphones and instant downloads. Natalie has let go of her dream of designing album covers and has become a rising star at her advertising firm. As they make the difficult decision to separate, they start by splitting their prized music library, but the soundtrack that defined their relationship keeps pulling them back together. (105 min.)
—Serotonin Films
A QUIET PLACE
What's it rated?PG-13
What's it worth? Full Price
Where's it showing? Downtown Centre, Stadium 10, Park, Galaxy
Pick
Director and co-writer John Krasinski (Brief Interviews with Hideous Men, Promised Land, The Hollars) helms and stars in this horror story, co-written by Bryan Woods and Scott Beck, about the Abbott family—father Lee (Krasinski), pregnant mother Evelyn (Emily Blunt), and kids Beau (Cade Woodward), Marcus (Noah Jupe), and deaf daughter Regan (Millicent Simmonds)—who must live in utter silence to protect themselves from deadly creatures that hunt by sound.
While the synopsis may sound like standard-issue sci-fi horror, A Quiet Place is instead throat-clenchingly tense and a thoroughly thoughtful meditation on parenthood, family, and guilt.
Most recent horror movies have bored me due to a lack of scares, flat characters, or hackneyed writing and direction. A Quiet Place falls prey to none of that, and it offers a badass but open ending, which I found hopeful though my wife didn't—that's deft filmmaking in my book. (90 min.)
—Glen Starkey
RAMPAGE
What's it rated? PG-13
Where's it showing? Downtown Centre, Stadium 10, Park, Galaxy
Primatologist Davis Okoye (Johnson), a man who keeps people at a distance, shares an unshakable bond with George, the extraordinarily intelligent, silverback gorilla who has been in his care since birth. But a rogue genetic experiment gone awry mutates this gentle ape into a raging creature of enormous size. To make matters worse, it's soon discovered there are other similarly altered animals. As these newly created alpha predators tear across North America, destroying everything in their path, Okoye teams with a discredited genetic engineer to secure an antidote, fighting his way through an ever-changing battlefield. (115 min.)
—Warner Bros. Pictures
READY PLAYER ONE
What's it rated?PG-13
What's it worth? Full Price
Where's it showing? Downtown Centre, Park, Galaxy
Pick
Steven Spielberg directs this futuristic part live-action, part CGI story about James Halliday (Mark Rylance), the on-the-autism-spectrum creator of a virtual reality called OASIS (Ontologically Anthropocentric Sensory Immersive Simulation), who dies and challenges all users to play "Anorak's Quest" and find his hidden "keys" that will reveal his Easter Egg, with the winner getting control over OASIS.
Set in a dystopian 2044, life sucks for most people, so they spend their time in OASIS where they can live out their fantasies. Those playing the game and searching for the egg are called Gunters (egg hunters), but Nolan Sorrento (Ben Mendelsohn), the power-mad CEO of Innovative Online Industries (IOI) that manufactures the equipment to access the virtual world, also wants control of the OASIS, so he's enlisted a cadre of indentured players called Sixers (due to their six-digit identifications), to win the quest and hand over control to IOI.
Our hero is Wade Watts (Tye Sheridan), a teenage Gunter. Can he figure out the game and win control? Seeing as this is a Spielberg film, you already know the answer, but that doesn't stop the ride from being a lot of fun.
Teamwork and friendship is also important theme in this film. Wade and Helen have never met in real life, but they're best friends in OASIS. They have to learn to work with and trust Samantha and her avatar, and Sho (Philip Zhao) and Daito (Win Morisaki) eventually join them to form a team of five. To raise the stakes, we learn that Samantha's father died as an indentured player for Sorrento and IOI, so yes, there are real-world ramifications to the "game," and it's pure Spielberg for a bunch of kids to take on corrupt grownup powers and win. Go geeks! (140 min.)
—Glen Starkey
New Times movie reviews were compiled by Arts Editor Ryah Cooley and others. You can contact her at rcooley@newtimesslo.com.