ACRIMONY
What's it rated? R
Where's it showing? Stadium 10
A faithful wife (Taraji P. Henson) tired of standing by her devious husband (Lyriq Bent) is enraged when it becomes clear she has been betrayed. (120 min.)
—Lionsgate
BLACK PANTHER
What's it rated? PG-13
What's it worth? Full price
Where's it showing? Downtown Centre, Stadium 10, Galaxy
Pick
Co-writer/director Ryan Coogler (Creed) helms this story about T'Challa (Chadwick Boseman), a newly crowned king of the technologically advanced but isolationist country of Wakanda, who finds his new kinghood challenged by Erik Killmonger (Michael B. Jordan), a vengeful victim of T'Challa's father's past actions.
Every comic book hero needs a villain, and the obvious one here is white South African arms dealer Ulysses Klaue (Andy Serkis), who's working with Killmonger to steal vibranium, an alien metal that arrived as a meteorite and is responsible for the Wakandan technology. But that's only looking at the surface. Dig deeper into this Afro-centric and female-centric film and the real villain is colonialism and the African diaspora is caused that fuels competing ideologies within the larger black community.
It's an empowering reimagining of African roots but also—remember—a fantasy. Ultimately, this is a super hero flick that refuses to stay in the genre's rut and that's interested in exploring complicated political and cultural ideas. Sure, other Marvel stories have looked at politics, from Iron Man and the arms trade to Captain America: Winter's Soldier and drones, PTSD, and warfare, but Black Panther goes deeper than any other Marvel storyline. I say, keep it coming. (134 min.)
—Glen Starkey
BLOCKERS
Photo Courtesy Of Universal Pictures
DENIED In Blockers, a group of parents sets out to prevent their daughters from losing their virginity on prom night.
What's it rated? R
Where's it showing? Downtown Centre, Stadium 10, Park, Galaxy
New
When three parents stumble upon their daughters' pact to lose their virginity at prom, they launch a covert one-night operation to stop the teens from sealing the deal. Leslie Mann (The Other Woman, This Is 40), Ike Barinholtz (Neighbors, Suicide Squad) and John Cena (Trainwreck, Sisters) star in Blockers, the directorial debut of Kay Cannon (writer of the Pitch Perfect series). (102 min.)
—Universal Pictures
CHAPPAQUIDDICK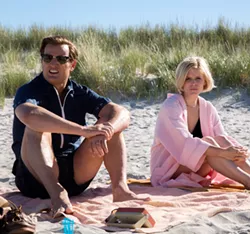 Photo Courtesy Of Entertainment Studios Motion Pictures
SCANDAL Chappaquiddick explores the events surrounding the drowning of a young woman (Kate Mara, right) after Ted Kennedy (Jason Clarke, left) drove his car off a bridge.
What's it rated? PG-13
Where's it showing? Downtown Centre, Stadium 10, Park, Galaxy
New
In the riveting suspense drama, Chappaquiddick, the scandal and mysterious events surrounding the tragic drowning of a young woman, as Ted Kennedy drove his car off the infamous bridge, are revealed in the new movie starring Jason Clarke as Ted Kennedy and Kate Mara as Mary Jo Kopechne. Not only did this event take the life of an aspiring political strategist and Kennedy insider, but also it ultimately changed the course of presidential history forever. (101 min.)
—Entertainment Studios Motion Pictures
GOD'S NOT DEAD: A LIGHT IN DARKNESS
What's it rated?PG
Where's it showing? Park
After a deadly fire rips through St. James Church, Hadleigh University leaders use the tragedy to push the congregation off campus, forcing the church to defend its rights and bringing together estranged brothers for a reunion that opens old wounds and forces them to address the issues that pulled them apart. (120 min.)
—Pure Flix Entertainment
I CAN ONLY IMAGINE
What's it rated? PG
Where's it showing? Downtown Centre, Stadium 10, Park, Galaxy
The inspiring and unknown true story behind MercyMe's beloved, chart-topping song that brings ultimate hope to so many is a gripping reminder of the power of true forgiveness. (110 min.)
—Lionsgate
LEANING INTO THE WIND: ANDY GOLDSWORTHY
What's it rated? PG
Where's it showing? The Palm
New
Leaning Into The Wind: Andy Goldsworthy is a vibrant journey through the diverse layers of artist Andy Goldsworthy's world. From urban Edinburgh and London to the South of France and New England, each environment he encounters becomes a fresh kaleidoscopic canvas for his art. A lushly visualized travelogue, Goldsworthy's work and Thomas Riedelsheimer's exquisite cinematography redefine landscape and inextricably tie human life to the natural world. (93 min.)
—Magnolia Pictures
THE LEISURE SEEKER
What's it rated? R
What's it worth? Streaming
Where's it showing? Downtown Centre, Galaxy, Fair Oaks
Writer-director Paolo Virzì (The First Beautiful Thing, Human Capital, Like Crazy) directs Helen Mirren and Donald Sutherland as an elderly couple who unbeknownst to their family take off on a misguided final adventure in their trusty old RV they call The Leisure Seeker. Based on Michael Zadoorian's novel, the story centers on John Spencer, a former literature teacher with Alzheimer's, and his devoted wife, Ella.
Two great actors, revered source material, and a director known for deftly crafted human stories—what could go wrong? In The Leisure Seeker, surprisingly a lot. Like a lot of effective novels, Zadoorian's story doesn't translate with the same nuance and depth to the big screen. John and Ella are a little too cookie cutter. He's in turns charming and erudite, albeit overly didactic and a little boring; she's exasperated one minute and desperately in love with John the next. He wakes up and thinks it's a different decade—that he's a young professor off to teach, or he's paranoid about some long lost boyfriend from Ella's youth. She's a doting wife one second and ready to leave him on the side of the road the next. All these pivots are too much even for Mirren and Sutherland to manage without an element of broad cartoonishness.
To its credit, the film has a couple beefy third act twists that can't be discussed without revealing too much of the plot, but suffice it to say, they bring a big bump in John and Ella's long relationship before finding a way to resolve the story that feels both inevitable and surprising ... if you haven't read the novel. (112 min.)
—Glen Starkey
LOVE, SIMON
What's it rated? PG-13
What's it worth? Full Price
Where's it showing? The Palm, Stadium 10
Pick
Greg Berlanti (Life as We Know It) directs this coming of age story about Simon Spier (Nick Robinson), a closeted gay teenager who must face his sexual identity.
At first, Love, Simon came across as boilerplate coming of age story with the slight twist of Simon being a closeted gay. It set up warm relationships with his friends Leah (Katherine Langford), Nick (Jorge Lendeborg Jr.), and Abby (Alexandra Shipp); parents Emily (Jennifer Garner) and Jack (Josh Duhamel); and sister Nora (Talitha Bateman). He's just a regular guy with a big secret who likes to gaze out his window at the hunky gardener next door and dream of being accepted for who he is. The only out gay boy at his high school is Ethan (Clark Moore), who unlike Simon is exaggeratedly effete but sharp-witted enough to rebuff his peers who dare mock him.
It's 2018, so of course part of the story must play out online with a school gossip and online confession site, on which Simon begins an email correspondence with another gay young man named "Blue." Simon takes on his own pseudonym, "Jacques," and the two get to know each other, though neither knows the other's true identity. Throughout the story, Simon wonders which of his classmates it is: Bram (Keiynan Lonsdale), the soccer player; Cal (Miles Heizer), the brooding loner; or Lyle (Joey Pollari), the hunky wallflower.
The story's antagonist is star thespian and royal douche bag Martin (Logan Miller), who by accident is able to screenshot some of Simon and Blue's emails and thus extort Simon into setting Martin up with Simon's gorgeous friend Abby, who naturally Simon's other friend Nick is already in love with.
Like John Hughes films such as Pretty in Pink, Some Kind of Wonderful, 16 Candles, and The Breakfast Club, Love, Simon gets right to the heart of what it means to be an awkward adolescent trying to find your place in the world. The screenplay by Isaac Aptaker and Elizabeth Berger, which is based on the YA novel Simon vs. The Homo Sapiens Agenda, delivers a big-hearted story that celebrates a changing culture that's trying to shake off its homophobic history. It's definitely worth a trip to the theater. (109 min.)
—Glen Starkey
THE MIRACLE SEASON
What's it rated?PG
Where's it showing? Stadium 10
New
Based on the inspiring true story of West High School girls' volleyball team. After the loss of the school's star player in an accident, the remaining team players must band together under the guidance of their tough-love coach in hope of winning the state championship. (90 min.)
—LD Entertainment
PACIFIC RIM UPRISING
What's it rated?PG-13
Where's it showing? Downtown Centre, Galaxy
John Boyega (Star Wars: The Force Awakens) stars as the rebellious Jake Pentecost, a once-promising Jaeger pilot whose legendary father gave his life to secure humanity's victory against the monstrous "Kaiju." Jake has since abandoned his training only to become caught up in a criminal underworld. But when an even more unstoppable threat is unleashed to tear through our cities and bring the world to its knees, he is given one last chance to live up to his father's legacy by his estranged sister, Mako Mori (Rinko Kikuchi)—who is leading a brave new generation of pilots that have grown up in the shadow of war. (111 min.)
—Universal Pictures
PAUL, APOSTLE OF CHRIST
What's it rated?PG-13
Where's it showing? Downtown Centre, Stadium 10, Park
Paul, Apostle of Christ is the story of two men. Luke (Jim Caviezel), as a friend and physician, risks his life every time he ventures into the city of Rome to visit Paul (James Faulkner), who is held captive in the emperor's darkest, bleakest prison cell. Before Paul's death sentence can be enacted, Luke resolves to write another book, one that details the beginnings of "The Way" and the birth of what will come to be known as the church. But the emperor is determined to rid Rome of Christians and does not flinch from executing them in the grisliest ways possible. Two men struggle against a determined emperor and the frailties of the human spirit in order to bequeath the Gospel of Jesus Christ to the world. (108 min.)
—Affirm Films
A QUIET PLACE
Photo Courtesy Of Paramount Pictures
SHH! A family's life is threated by creatures that hunt by sound in A Quiet Place.
What's it rated?PG-13
Where's it showing? Downtown Centre, Stadium 10, Park, Galaxy
New
In the modern horror thriller A Quiet Place, a family of four must navigate their lives in silence after mysterious creatures that hunt by sound threaten their survival. If they hear you, they hunt you. (90 min.)
—Paramount Pictures
READY PLAYER ONE
What's it rated? PG-13
What's it worth? Full Price
Where's it showing? Downtown Centre, Sunset Drive-In, Stadium 10, Bay, Park, Galaxy
Pick
Steven Spielberg directs this futuristic part live-action, part CGI story about James Halliday (Mark Rylance), the on-the-autism-spectrum creator of a virtual reality called OASIS (Ontologically Anthropocentric Sensory Immersive Simulation), who dies and challenges all users to play "Anorak's Quest" and find his hidden "keys" that will reveal his Easter Egg, with the winner getting control over OASIS.
Set in a dystopian 2044, life sucks for most people, so they spend their time in OASIS where they can live out their fantasies. Those playing the game and searching for the egg are called Gunters (egg hunters), but Nolan Sorrento (Ben Mendelsohn), the power-mad CEO of Innovative Online Industries (IOI) that manufactures the equipment to access the virtual world, also wants control of the OASIS, so he's enlisted a cadre of indentured players called Sixers (due to their six-digit identifications), to win the quest and hand over control to IOI.
Our hero is Wade Watts (Tye Sheridan), a teenage Gunter. Can he figure out the game and win control? Seeing as this is a Spielberg film, you already know the answer, but that doesn't stop the ride from being a lot of fun.
Based on Ernest Cline's novel, the story is an homage to '80s pop culture, which brings broad appeal. If you grew up in the '80s, you're going to love it, and so are your kids. The difference is your kids won't get all the references. The film also focuses on some very topical ideas, such as escapism and living your life online rather than in the real world.
The plot revolves around a trio of teenage protagonists. In addition to Wade and his online avatar Parzival, we have Samantha (Olivia Cooke) and her online version Art3Mis, and Helen (Lena Waithe) and her male avatar Aech (pronounced like the letter H). This little nod to gender fluidity and the cast's multiculturalism give the story a progressive and inclusive feeling. There's a place for everyone at this table.
In a nod to its video gaming inspiration, the story is set-up like a puzzle, where players have to figure out clues if they hope to find Halliday's keys. If that sounds little like déjà vu, you probably just watched Jumanji: Welcome to the Jungle. Ready Player One is less funny and much more earnest. It's about how geeks will inherit the earth, and Wade is the geekiest of them all. He's studied Halliday's life and his work, so when the clues are revealed, Wade has the smarts to figure them out.
Teamwork and friendship is also important. Wade and Helen have never met in real life, but they're best friends in OASIS. They have to learn to work with and trust Samantha and her avatar, and Sho (Philip Zhao) and Daito (Win Morisaki) eventually join them to form a team of five. To raise the stakes, we learn that Samantha's father died as an indentured player for Sorrento and IOI, so yes, there are real-world ramifications to the "game," and it's pure Spielberg for a bunch of kids to take on corrupt grownup powers and win. Go geeks! (140 min.)
—Glen Starkey
SHERLOCK GNOMES
What's it rated? PG
Where's it showing? Park, Galaxy
When Gnomeo (James McAvoy) and Juliet (Emily Blunt) first arrive in the city with their friends and family, their biggest concern is getting their new garden ready for spring. However, they soon discover that someone is kidnapping garden gnomes all over London. When Gnomeo and Juliet return home to find that everyone in their garden is missing there's only one gnome to call—Sherlock Gnomes (Johnny Depp). (86 min.)
—Paramount Pictures
TOMB RAIDER
What's it rated? PG-13
Where's it showing? Sunset Drive-In, Park, Galaxy
Lara Croft (Alicia Vikander) is the fiercely independent daughter of an eccentric adventurer, Lord Richard Croft (Dominic West), who vanished when she was scarcely a teen. Now a young woman of 21 without any real focus or purpose, Lara navigates the chaotic streets of trendy East London as a bike courier, barely making the rent, and takes college courses, rarely making it to class. Determined to forge her own path, she refuses to take the reins of her father's global empire just as staunchly as she rejects the idea that he's truly gone. Advised to face the facts and move forward after seven years without him, even Lara can't understand what drives her to finally solve the puzzle of his mysterious death.(122 min.)
—Warner Bros. Pictures
A WRINKLE IN TIME
What's it rated? PG
What's it worth? Rental
Where's it showing? Downtown Centre, Galaxy,
From Director Ava DuVernay (Selma) and screenwriter Jennifer Lee (Frozen, Zootopia), comes the film adaptation of the novel A Wrinkle in Time by Madeleine L'Engle. Meg Murry (Storm Reid, 12 Years a Slave) is a typical middle school student struggling with issues of self-worth who is desperate to fit in. As the daughter of two world-renowned physicists, she is intelligent and uniquely gifted, as is Meg's younger brother Charles Wallace (Deric McCabe, Stephanie), but she has yet to realize it for herself. Making matters even worse is the baffling disappearance of Mr. Murry (Chris Pine, Wonder Woman), which torments Meg and has left her mother (Gugu Mbatha-Raw, Beauty and the Beast) heartbroken. Charles Wallace introduces Meg and her fellow classmate Calvin (Levi Miller, Pan) to three celestial guides—Mrs. Which (Oprah Winfrey, The Immortal Life of Henrietta Lacks), Mrs. Whatsit (Reese Witherspoon, Wild) and Mrs. Who (Mindy Kaling, The Mindy Show)—who have journeyed to Earth to help search for their father, and together they set off on their formidable quest.
The book is fantastical, but definitely doesn't lend itself to an easy film adaptation. And diverse casting like this should be the norm in movies, I scratched my head a bit when it was revealed that Kaling's character was the Mrs. Who that could only quote others to get her message across, leaving Witherspoon with the most dialogue out of the trio, since Winfrey was in less scenes. Having a diverse cast is progress, but why did Witherspoon, the only white actress of the trio, get the most lines? I did, however, enjoy the standout performance of Reid as a struggling, angst-filled teen dealing with the unexplained absence of her dad. In one particularly moving scene, her younger brother Charles Wallace has been taken over by an evil force and she declares, "You should love me because I deserve to be loved!" It's a message that more young girls need to hear. While I wouldn't recommend forking over the cash to see it on the big screen, renting A Wrinkle in Time on a rainy day and curling up inside at home would make for a pleasant enough afternoon. (120 min.) Δ
—Ryah Cooley
New Times movie reviews were compiled by Arts Editor Ryah Cooley and others. You can contact her at rcooley@newtimesslo.com.