AVENGERS: INFINITY WAR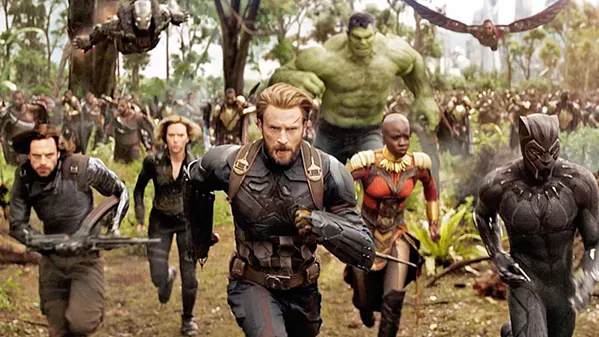 Photo Courtesy Of Walt Disney Pictures
SUPER HEROES The Avengers must sacrifice everything in order to defeat the evil Thanos in Avengers: Infinity War.
What's it rated? PG-13
What's it worth Matinee
Where's it showing? Downtown Centre, Sunset Drive-In, Bay, Park, Galaxy
Pick
Anthony and Joe Russo (Captain America: Civil War and Captain America: The Winter Soldier) direct this new Avengers installment, with a screenplay by Christopher Markus and Stephen McFeely. The whole freaking universe is at stake, people, so every single character from the Marvel pantheon must join forces to fight the evil Thanos (Josh Brolin) before he wipes out half of everything.
Of course, including every single character can get pretty chaotic and leave for a lot of abbreviated storylines, and then there's the matter of excessiveness. Even comic book action adventure stories offer moments of rest and respite, but they come few and far between in this bombastic and overblown tale. It's everything you want in a comic book movie, but turned up to 11. Some will like that, others won't.
The film opens with Thor (Chris Hemsworth), Bruce Banner/Hulk (Mark Ruffalo), and Loki (Tom Hiddleston) overcome by Thanos, then it hands off to Dr. Stephen Strange (Benedict Cumberbatch), who enlists Tony Stark/Iron Man (Robert Downey Jr.) and Peter Parker/Spider-Man (Tom Holland) to save the universe. Banner has to round up Steve Rogers/Capt. America (Chris Evans). When they're attacked by Thanos' minions, Natasha Romanoff/Black Widow (Scarlett Johansson) has to show up and rescue them. Meanwhile the Guardians of the Galaxy (Dave Bautista, Zoe Saldana, and Chris Pratt) have to rescue Thor from outer space death. Various superheroes are trying to protect various "infinity stones" that Thanos is trying to acquire so he can kill off half the universe with a literal snap of his fingers. And soon James "Rhodey" Rhodes/War Machine (Don Cheadle), Vision (Paul Bettany), Wanda Maximoff/Scarlet Witch (Elizabeth Olsen), Sam Wilson/Falcon (Anthony Mackie), and Bucky Barnes/White Wolf (Sebastian Stan) all convene at T'Challa/Black Panther's (Chadwick Boseman) hidden kingdom of Wakanda for a final showdown with Thanos. It's exhausting! It's also pretty exhilarating! Its ending, however, is bullshit!
I suspect everyone who's a Marvel fan has already added to the film's $250 million opening weekend, but if you haven't and you plan on going, stop reading here because I'm going to spoil the ending right now: Thanos wins. That's right. He snaps his fingers and half the population of the universe dies, disintegrating into piles dust. Not just a bunch of randos, but our heroes too! Peter Parker, dead! Dr. Strange, dead! Most of the Guardians of the Galaxy, dead! Even Black Panther, dead! That's not how superhero movies are supposed to end, right?
This ending is lame. Most of these actors have multi-film contracts. Are we to assume, for instance, that the upcoming Guardians and Black Panther films—already in the works—are all going to be prequels? Plus there's an Avengers: Infinity War—Part II listed as in "post-production" on imdb.com with the killed-off characters listed in the cast. No, there's going to be some dumb trick that will somehow resurrect these characters, and that pisses me off, which is why I won't give this film full price. Don't play with me, Marvel! I'm not your toy! (149 min.)
—Glen Starkey
BACK TO BURGUNDY
Photo Courtesy Of Music Box Films
SAVING THE VINEYARD In Back to Burgundy, three siblings reunite after the death of their father to pull the family vineyard out of debt and create a new blend.
What's it rated? NR
Where's it showing? The Palm
Three siblings reunite at their home in picturesque Burgundy to save the family vineyard in this tender tale of a new generation finding its own unique blend from acclaimed director Cédric Klapisch (L'Auberge Espagnole). Jean (Pio Marmaï), the black sheep of the family, unexpectedly returns home from a decade abroad to reconnect with his hospitalized father. He's welcomed by his strong-willed sister, Juliette (Ana Girardot), who took over the reins of the vineyard after their father fell ill, and Jeremie (François Civil), the youngest of the three who has recently married into one of the region's more prestigious wine families. Their father passes shortly after Jean's return, leaving them with the estate and a looming inheritance tax of half a million dollars. As four seasons and two harvests go by, Jean, Juliette, and Jeremie have to learn to reinvent their relationship and trust in each other as they work to preserve the land that ties them together. (113 min.)
—Music Box Films
BREAKING IN
Photo Courtesy Of Universal Pictures
DESPERATE In Breaking In, a mother (Gabrielle Union) must save her two children who are being held hostage.
What's it rated? PG-13
Where's it showing? Downtown Centre, Stadium 10, Galaxy, Park
New
Gabrielle Union stars as a woman who will stop at nothing to rescue her two children being held hostage in a house designed with impenetrable security. No trap, no trick and especially no man inside can match a mother with a mission when she is determined on Breaking In. (88 min.)
—Universal Pictures
I FEEL PRETTY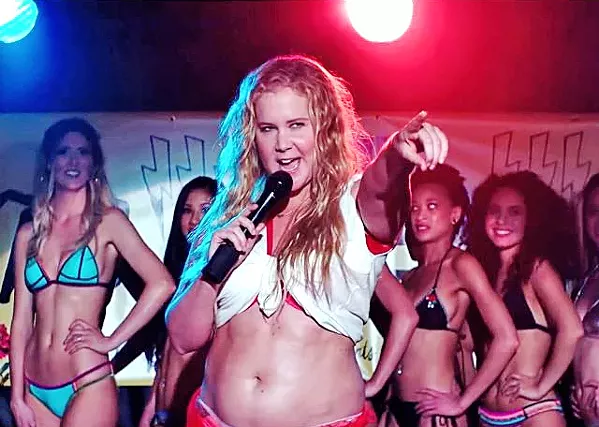 Photo Courtesy Of Stxfilms
ALTERED PERSPECTIVE In I Feel Pretty, an accident causes a woman (Amy Schumer, center) to think she's a super model, which leads to her living her life in a more bold and fearless way.
What's it rated? PG-13
What's it worth? Matinee
Where's it showing? Park, Galaxy
Pick
Co-writers-directors Abby Kohn and Marc Silverstein helm this story about insecure Renee Bennett (Amy Schumer), who after suffering a fall awakes to believe she's the world's most beautiful and capable woman.
Funny lady Amy Schumer (Trainwreck, Snatched) is back doing what she does best—bringing laughs through self-deprecating humor and physical comedy. While I Feel Pretty has a surprisingly dismal metascore on both IMDB and Rotten Tomatoes, I for one was laughing from beginning to end, and my fellow audience members seemed to feel the same.
Renee (Schumer) is a sad sack of a woman whose utter lack of self confidence keeps her from going after the things she really wants ... that is until a Soulcycle class gone wrong, resulting in a head injury that brings brimming self-confidence. When Renee looks in the mirror, she sees utter perfection looking back. Her new lease on life leads to a new dream job, a romantic prospect, and an "in" with her boss, a mouse voiced Avery LeClaire (Michelle Williams) who uses Renee's "every woman" appeal to launch a line of cosmetics to run in stores like Target and Kohl's, not their usual high-end markets.
Of course not everything in Renee's life is smooth sailing because of her new confidence. Her tried-and-true gal pals (Aidy Bryant and Busy Phillips) soon grow sick of her strive for stature and exclusivity, and Renee soon learns that even "pretty people" have problems.
While it's a bit ridiculous to say that Schumer is anything short of pretty—she is, in fact, a working Hollywood actress—she does fall outside of the typical starlet aesthetic and is a vocal advocate for inclusion and acceptance. She also isn't afraid to put it all out there for the sake of comedy, and she brings some seriously funny stuff to her character.
Soon after meeting Ethan (Rory Scovel), they venture into a bar with a bikini contest going on, and Renee jumps right in. She ties up her shirt, rolls up her shorts, and hops onstage with the group of toned and tiny contestants. It's hilarious, and Ethan is soon smitten with this bold and brazen chick.
The message being sold is that confidence is sexy, and I for one agree. While she still may not be perfect, confident Renee makes things happen, takes risks, and owns herself. Once she learns to love herself, head injury side effects or not, she can spend her time living a truly fulfilling life and give up on trying to attain perfection. (110 min.)
—Anna Starkey
ISLE OF DOGS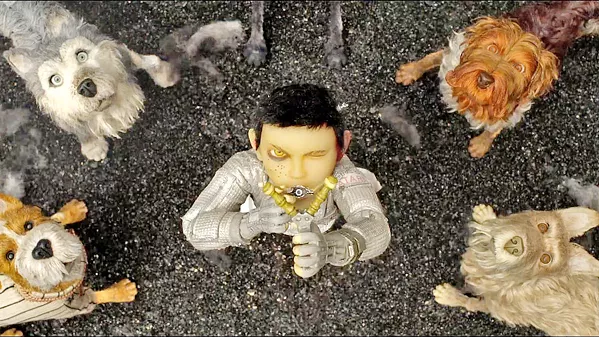 Photos Courtesy Of American Empirical Pictures
WHERE'S SPOTS? Young boy Atari Kobayashi (voiced by Koyu Rankin, center) travels to Trash Island to find his beloved Spots and receives help from some of the other dogs banished there.
What's it rated? PG
What's it worth? Full Price
Where's it showing? The Palm
Pick
Wes Anderson (Rushmore, The Royal Tenenbaums, The Life Aquatic with Steve Zissou, Fantastic Mr. Fox, Moonrise Kingdom) directs this stop-motion animated tale about Atari Kobayashi (Koyu Rankin), a young boy living in near-future dystopian Japan, who goes in search of his dog, Spots (Live Schreiber), which has been banished—as have all dogs—to Trash Island because of a dog flu outbreak.
Along the way, Atari receives help from other banished dogs, including Rex (Edward Norton), King (Bob Balaban), Duke (Jeff Goldblum), Boss (Bill Murray), and Chief (Bryan Cranston).
Meanwhile back in Megasaki City, dog-banisher and Mayor Kobayashi (Kunichi Nomura)—Atari's guardian—works to thwart Professor Watanabe (Akira Ito), who's developing a cure for the dog flu, so the Mayor can carry out his evil plan to exterminate all dogs.
Talking dogs feels completely natural in Isle of Dogs, which explores the unique relationships between humans and dogs from the dogs' perspective. Chief, for instance, is a stray, and his pack members subtly and silently judge him for it. Nutmeg is a former show dog used to regular grooming and being fawned over, but like all the other dogs banished to Trash Island, she lost her elevated position and deals with it with a level of class that's hard not to admire.
This sort of anthropomorphization is human nature—we love to imagine our pets have an inner dialogue and love us the same way we love them. Anderson has a lot of fun exploring how dogs think of humans and each other.
Ultimately, this is a film about relationships, loyalty, honor, and ethics, which are pretty heavy topics, but first and foremost, this is a wonderful looking film. I absolutely loved it!
It helps that there's a great cast doing great voice work with some fun surprises. Courtney B. Vance's smooth voice as The Narrator provides necessary context, John Lennon's former wife Yoko Ono makes a vocal appearance as Assistant-Scientist Yoko Ono, and long-time Anderson collaborator Anjelica Huston is credited as voicing a character named Mute Poodle, meaning she has no lines. Greta Gerwig is terrific as earnest and idealistic exchange student Tracy Walker.
Even though the story centers on Atari and his search for Spots, this is really Chief's story. He's the character with the biggest arc, the one who has to learn about the sacred relationship between man and dog, who also has to learn he's good enough to deserve a mate like Nutmeg. The dogs are actually a lot more complex than most of the human characters, and it's Chief we're rooting for more than Atari. (101 min.)
—Glen Starkey
LEAN ON PETE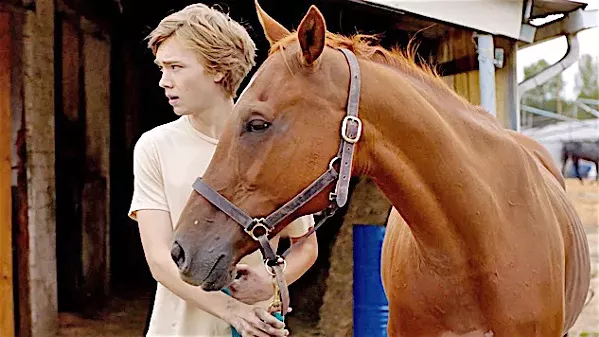 Photo Courtesy Of A24
A BOY AND HIS HORSE After moving to a new town with his negligent father, Charley Thompson (Charlie Plummer) forms a special bond with a horse at the local racetrack in Lean On Pete.
What's it rated? R
What's it worth? Full Price
Where's it showing? The Palm
Pick
Writer-director Andrew Haigh (45 Years) helms this story based on Willy Vlautin's novel about a teenager named Charlie (Charlie Plummer) who takes a summer job working for Del (Steve Buscemi), a horse trainer. When aging racehorse Lean on Pete is about to be sold, Charlie, who's grown close to the horse, steals him and takes off on a cross-country adventure.
This coming of age story wasn't what I expected from its trailer, and even the synopsis above doesn't accurately signal the dark story ahead. This is really about a kid who's forced to grow up too fast—a kid without a role model, stable family life, or opportunity.
Charlie's single dad, Ray (Travis Fimmel), is a womanizer. It's not that he's a bad father; he simply can't provide a normal life. Charlie's frequently left alone with no food in the house. We learn that he doesn't know his mother, who left Ray and Charlie when he was little. To his credit, Ray is doing his best for Charlie, though his best is far from enough.
While out for a run, Charlie happens upon a horserace track, where he meets washed up trainer Del, who gives him a job. The look of satisfaction on Charlie's face after his first payday is priceless. He's growing up and finding his own way. Del introduces him to female jockey, Bonnie (Chloë Sevigny), who warns Charlie not to get attached to the horses. They're there to race, and if they can't win, they'll be shipped to Mexico, where horse butchering is legal.
Despite it not meeting my expectations, this is an affecting film. The acting is incredible, especially from Plummer as Charlie, but Fimmel, Buscemi, Sevigny, and Zahn all turn in nuanced and engaging performances. It's also beautifully filmed, especially when Charlie hits the road across the wide-open plains and prairies of the Western U.S.
Even though the film is somber with some tough-to-watch moments, I found Charlie so engaging and likeable. He's just a kid and prone to kid mistakes, and even though he steals a horse, truck, and trailer, his motives are never less than noble. When he's forced to resort to behavior he abhors, his guilt about it is palpable. He's forced to create his own justice in an unjust world, and that's a burden no teenager should have to bear. He's taken an unforgettable journey, weathered hardship, and crossed ethical lines, but he never lost his soul. That's enough of a happy ending for me. (121 min.)
—Glen Starkey
LIFE OF THE PARTY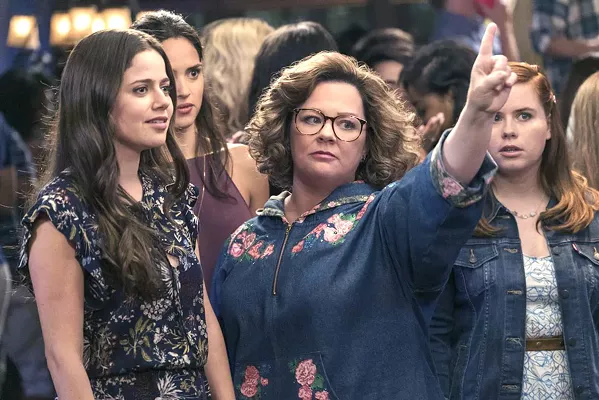 Photo Courtesy Of New Line Cinema
YOUR MOM GOES TO COLLEGE After devoted housewife Deanna (Melissa McCarthy, center) is left by her husband, she decides to go back to college and ends up at the same school as her daughter in Life of the Party.
What's it rated? PG-13
Where's it showing? Downtown Centre, Stadium 10, Galaxy, Park
New
When her husband suddenly dumps her, longtime dedicated housewife Deanna (Melissa McCarthy) turns regret into reset by going back to college ... landing in the same class and school as her daughter, who's not entirely sold on the idea. Plunging headlong into the campus experience, the increasingly outspoken Deanna (now Dee Rock) embraces freedom, fun, and frat boys on her own terms, finding her true self in a senior year no one ever expected. (105 min.)
—New Line Cinema
LIVES WELL LIVED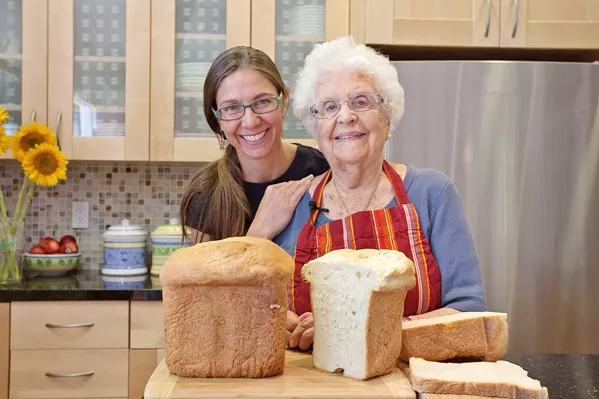 Photo Courtesy Of Sky Bergman
INSPIRATION! Documentarian Sky Bergman (left) was inspired by her grandmother, Evelyn Ricciuti, to make her film about the secret to a good life. Ricciuti lived to 103.
What's it rated? NR
What's it worth? Full Price
Where's it showing? The Palm
Pick
First-time director Sky Bergman helms this documentary that asks older people their secret to a happy and fulfilling life. Mixing one-on-one interviews, her subjects' personal photos and home movies, as well as archival footage of seminal events in their lives, Bergman uncovers wisdom collected from 40 subjects with 3,000 years of collective life experience.
This film is a monument to lives of dignity and honor, of self-sacrifice and generosity. We younger generations could do well by these lessons. I absolutely loved this film. (72 min.)
—Glen Starkey
OVERBOARD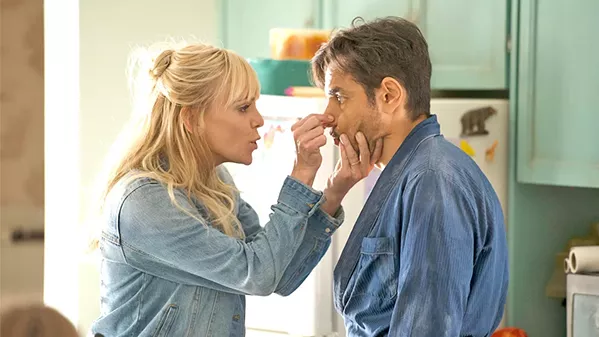 Photo Courtesy Of Pantelion Pictures
RESET After losing his memory, a wealthy playboy (Eugenio Derbez) is convinced he's a contractor married to his former cleaning lady (Anna Faris) in Overboard.
What's it rated? PG-13
What's it worth? Rental
Where's it showing? Downtown Centre, Galaxy, Park
Director Rob Greenberg, best known for his television work (How I Met Your Mother, Scrubs), steers this role reversing remake/re-imagining of 1987's Overboard. After falling off his luxury yacht while partying too hard, wealthy playboy Leonardo (Eugenio Derbez, How to Be a Latin Lover) wakes up on the Oregon coast with amnesia. Upon recognizing his face on the news, Kate (Anna Faris, Mom), a single mother and carpet cleaner who was mistreated and unjustly fired by Leo, hatches one of the wackiest schemes in the history of revenge—convince the amnesiac he's her husband.
Luckily for Kate, the only person searching for the missing heir is his sister, Magdalena (Cecilia Suarez). But she devises a plan of her own after finding him at the hospital. "Is this your brother?" One of the doctors asks her. "No, I've never seen this man before in my life." She replies and quickly leaves without Leo seeing her. With her brother out of the way, Magdalena is next in line to inherit their deathbed-ridden father's company.
With the rest of his family under the assumption he was eaten by sharks (yep), Leo is free for Kate to take. And she does. Leo knows right off the bat, as Goldie Hawn's character did in the original, that something isn't right. But without a single memory to turn to, Leo is stuck believing Kate's lie, which is backed up by fake documents and her knowledge of a Speedy Gonzales tattoo on his butt.
It took me a little while to get on board (get it?) with this Overboard. I know you're supposed to hate Leo in the beginning, but I found his obnoxiousness overbearing at times (he's a womanizing drunkard as opposed to Hawn's snobby socialite). But once that finally settles down, and Leo becomes more "accustomed" to his new, humble surroundings, the film gets funnier.
The hardest thing for Leo to believe at first, besides having to work for a living, is that he's a father. While the predictable, budding romance between Leo and Kate is fun, the real heart of this story lies with the kids. No matter how ludicrous the circumstances are, he slowly becomes the closest thing to a father figure Kate's three daughters have ever known. And as sappy and improbable as it is, the bond he forms with them won me over. There's one scene near the end that involves a bicycle (that's all I'll say) where I was close to crying. I kid you not, this moment has just as much, if not more, weight to it than anything in Avengers: Infinity War. Then again, the last five minutes of that are funnier than this entire film so it's all relative. (112 min.)
—Caleb Wiseblood
A QUIET PLACE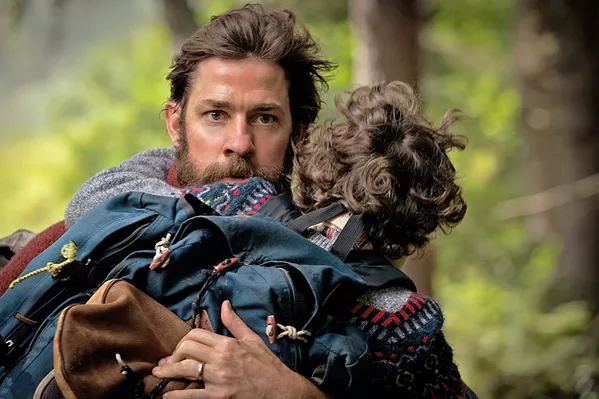 Photo Courtesy Of Paramount Pictures
DESPERATE Lee Abbott (John Krasinski, who also directs), will do anything to keep his children safe from horrific creatures that hunt by sound.
What's it rated?PG-13
What's it worth? Full Price
Where's it showing? Downtown Centre, Park, Galaxy
Pick
Director and co-writer John Krasinski (Brief Interviews with Hideous Men, Promised Land, The Hollars) helms and stars in this horror story, co-written by Bryan Woods and Scott Beck, about the Abbott family—father Lee (Krasinski), pregnant mother Evelyn (Emily Blunt), and kids Beau (Cade Woodward), Marcus (Noah Jupe), and deaf daughter Regan (Millicent Simmonds)—who must live in utter silence to protect themselves from deadly creatures that hunt by sound.
While the synopsis may sound like standard-issue sci-fi horror, A Quiet Place is instead throat-clenchingly tense and a thoroughly thoughtful meditation on parenthood, family, and guilt.
Most recent horror movies have bored me due to a lack of scares, flat characters, or hackneyed writing and direction. A Quiet Place falls prey to none of that, and it offers a badass but open ending, which I found hopeful though my wife didn't—that's deft filmmaking in my book. (90 min.)
—Glen Starkey
RAMPAGE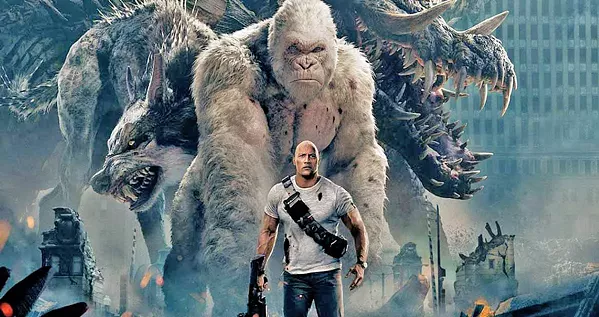 Photo Courtesy Of Warner Bros. Pictures
MUTANTS In Rampage, a genetic experiment gone awry leads to a gorilla turning into raging creature of enormous size.
What's it rated? PG-13
Where's it showing? Park
Primatologist Davis Okoye (Dwayne Johnson), a man who keeps people at a distance, shares an unshakable bond with George, the extraordinarily intelligent, silverback gorilla who has been in his care since birth. But a rogue genetic experiment gone awry mutates this gentle ape into a raging creature of enormous size. To make matters worse, it's soon discovered there are other similarly altered animals. As these newly created alpha predators tear across North America, destroying everything in their path, Okoye teams with a discredited genetic engineer to secure an antidote, fighting his way through an ever-changing battlefield. (115 min.)
—Warner Bros. Pictures
SUPER TROOPERS 2
Photo Courtesy Of Broken Lizard Industries
IMPOSTER Vermont Highway Patrolman Arcot 'Thorny' Ramathorn (Jay Chandrasekhar) impersonates a Canadian Mountie in an attempt to discredit his rivals.
What's it rated? R
What's it worth? Rental
Where's it showing? Park, Galaxy
Co-writer and director Jay Chandrasekhar helms this sequel to the 2001 comedy classic from the Broken Lizard comedy crew. This time around the Vermont State Troopers are tasked with establishing a Highway Patrol station in a disputed area between the U.S. and Canadian border.
Arcot 'Thorny' Ramathorn (Jay Chandrasekhar), MacIntyre 'Mac' Womack (Steve Lemme), Robert 'Rabbit' Roto (Erik Stolhanske), Carl Foster (Paul Soter), Rodney Farva (Kevin Heffernan), and their Capt. O'Hagan (Brian Cox) return, joined by Gov. Jessman (Lynda Carter), ex hockey star Guy Le Franc (Rob Lowe), French-Canadian cultural attaché Genevieve Aubois (Emmanuelle Chriqui), and Fred Savage starring as himself.
The Godfather II this ain't. Instead, it predictably suffers from sequel disease: more of the same turned up to 11, but devoid of the surprise of the first film.
When the film opens, the boys have lost their jobs with the local police department after having earlier lost their jobs as highway patrolmen. They're working at a construction site under foreman Farva, an insufferable tool who makes a lot of caulk (read: cock) jokes.
They're told by the governor that they can earn their patrol jobs back if they can successfully transition a Canadian town into an American one. The Canadians aren't too receptive, and things heat up after the team begins discovering caches of drugs, cell phones, and guns, which after the land trade-off between Canada and the U.S. will already be on U.S. soil—a nifty smuggling trick.
What follows is a lot of shenanigans between the troopers and their Mountie counterparts, as well as a search to discover the smugglers. Overall, it's pretty funny, though not quite as funny as the first and certainly not as original. Stay through the credits. The best bit happens at the very end.
If you love this sort of thing, go to the late show high on weed. If you like this sort of thing, try a matinee. Personally, I would have been happy renting this from Redbox in three months. (100 min.)
—Glen Starkey
A WRINKLE IN TIME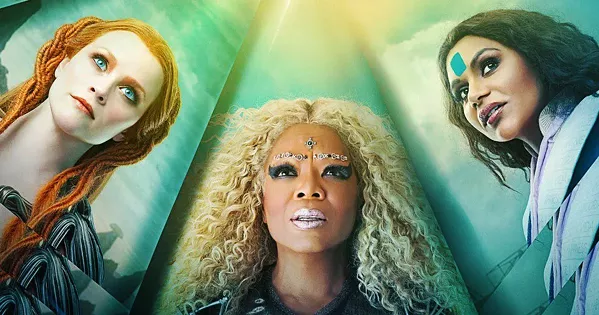 Photo Courtesy Of Walt Disney Pictures
WARRIORS Otherworldly guides Mrs. Whatsit (Reese Witherspoon), Mrs. Which (Oprah Winfrey) and Mrs. Who (Mindy Kaling) travel far through time and space to help two kids find their father in A Wrinkle in Time.
What's it rated? PG
What's it worth? Rental
Where's it showing? Galaxy
From Director Ava DuVernay (Selma) and screenwriter Jennifer Lee (Frozen, Zootopia), comes the film adaptation of the novel A Wrinkle in Time by Madeleine L'Engle. Meg Murry (Storm Reid, 12 Years a Slave) is a typical middle school student struggling with issues of self-worth who is desperate to fit in. As the daughter of two world-renowned physicists, she is intelligent and uniquely gifted, as is Meg's younger brother Charles Wallace (Deric McCabe, Stephanie), but she has yet to realize it for herself. Making matters even worse is the baffling disappearance of Mr. Murry (Chris Pine, Wonder Woman), which torments Meg and has left her mother (Gugu Mbatha-Raw, Beauty and the Beast) heartbroken. Charles Wallace introduces Meg and her fellow classmate Calvin (Levi Miller, Pan) to three celestial guides—Mrs. Which (Oprah Winfrey, The Immortal Life of Henrietta Lacks), Mrs. Whatsit (Reese Witherspoon, Wild) and Mrs. Who (Mindy Kaling, The Mindy Show)—who have journeyed to Earth to help search for their father, and together they set off on their formidable quest.
The book is fantastical, but definitely doesn't lend itself to an easy film adaptation. And diverse casting like this should be the norm in movies, I scratched my head a bit when it was revealed that Kaling's character was the Mrs. Who that could only quote others to get her message across, leaving Witherspoon with the most dialogue out of the trio, since Winfrey was in less scenes. Having a diverse cast is progress, but why did Witherspoon, the only white actress of the trio, get the most lines? I did, however, enjoy the standout performance of Reid as a struggling, angst-filled teen dealing with the unexplained absence of her dad. In one particularly moving scene, her younger brother Charles Wallace has been taken over by an evil force and she declares, "You should love me because I deserve to be loved!" It's a message that more young girls need to hear. While I wouldn't recommend forking over the cash to see it on the big screen, renting A Wrinkle in Time on a rainy day and curling up inside at home would make for a pleasant enough afternoon. (120 min.) Δ
—Ryah Cooley
New Times movie reviews were compiled by Arts Editor Ryah Cooley and others. You can contact her at rcooley@newtimesslo.com.