APOLLO 11
What's it rated? G
What's it worth? Full price
Where's it showing? Downtown Centre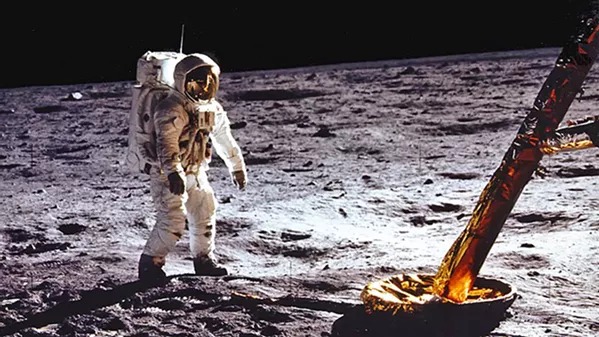 Photo Courtesy Of CNN Films
TO THE MOON AND BACK The new documentary Apollo 11 transports viewers back to 1969 when NASA sent men to the moon for the first time.
Pick
Todd Douglas Miller (Dinosaur 13) directs this documentary about the historic 1969 mission to land on the moon. Using archival footage, you'll witness Cmdr. Neil Armstrong and pilots Buzz Aldrin and Michael Collins on their amazing eight-day mission to the moon and back. (93 min.)
—Glen Starkey
ARETHA FRANKLIN: AMAZING GRACE
What's it rated? G
What's it worth? Full price
Where's it showing? The Palm
Pick
Alan Elliott and Sydney Pollack co-direct this documentary about soul singer Aretha Franklin with the choir at the New Bethel Baptist Church in Watts, Los Angeles, in January of 1972.
There are a lot of amazing elements to this documentary. The fact that Sydney Pollack (This Property Is Condemned, They Shoot Horses, Don't They?, Jeremiah Johnson, Three Days of the Condor, Tootsie, Out of Africa, The Firm) directed the 1972 filming and is now given co-direction credit 11 years after his death is pretty amazing. The fact that this footage languished for 47 years before seeing the light of day is pretty amazing. I should also mention it's a pretty rough edit, and there are a lot of moments where the camera operators struggle to get into focus.
None of that matters because the most amazing element of all is Aretha's voice. She was 29 years old, and she'd had a string of popular R&B hits such as "I Say a Little Prayer," "A Natural Woman," "Respect," Chain of Fools," "Think," "Do Right Woman—Do Right Man," and many more, but she decided to return to her gospel roots in performances filmed over two days. The concerts' live recordings yielded Amazing Grace, the best selling gospel album of all time.
Watching her work with Rev. James Cleveland, a great gospel singer in his own right, the incredible music director Alexander Hamilton, the Southern California Community Choir, and members of her own band is mind-blowing. The concerts had an improvised, organic feel to them, similar to the call and response gospel sounds of black churches all over America. The difference is Aretha's supple, nuanced, thrilling voice. It doesn't matter if you're religious or not, watching this film will fill you with the spirit.
The close-ups on Aretha's perspiring face, her eyes closed in solemn prayer, a serene Buddha-like glow of the divine all around her—you know you're witnessing a kind of magic, a kind of mass hysteria, a kind of miracle. It's also fun when the camera catches The Rolling Stones frontman Mick Jagger in the back of the room on the second night. Obviously word got out after the first night, and Jagger had to see for himself.
Everyone in that room hung on every note.
I watched the film the day before Easter, and it's all the church I need. Simply amazing! (89 min.)
—Glen
AVENGERS: ENDGAME
What's it rated? PG-13
What's it worth? Full price
Where's it showing? Downtown Centre, Fair Oaks, Galaxy, Park, Stadium 10, Sunset Drive-In
See Split Screen.
BREAKTHROUGH
What's it rated? PG
What's it worth? Matinee
Where's it showing? Galaxy, Park, Stadium 10
Pick
Photo Courtesy Of Fox 2000 Pictures
MIRACLE When her son, John (Marcel Ruiz), falls through lake ice and dies, Joyce (Chrissy Metz, center) prays for a miracle under the watchful eye of local pastor Jason Noble (Topher Grace), in Breakthrough.
Roxann Dawson directs this biographical drama about Guatemalan teenager John Smith (Marcel Ruiz), who in early 2015, while playing with friends, fell through the ice on Lake St. Louis, drowned, and was rescued by first responder Tommy Shine (Mike Colter), and CPR was performed for 27 minutes. On the brink of death and in a coma, John's religiously devout parents, Joyce (Chrissy Metz) and Brian (Josh Lucas), along with local pastor Jason Noble (Topher Grace), pray for the boy's recovery.
Essentially a sermon, the film will absolutely thrill the faithful, but unlike a lot of faith-based films, it also features a compelling true story and terrific performances that even non-Christians can enjoy. (116 min.)
—Glen
CAPTAIN MARVEL
What's it rated? PG-13
What's it worth? Full price
Where's it showing? Galaxy, Stadium 10
Pick
Co-writers and directors Anna Boden and Ryan Fleck (Mississippi Grind) helm this new installation in the Marvel Universe. In 1995, former U.S. Air Force fighter pilot Carol Danvers (Brie Larson) becomes the superhero Captain Marvel, joining an intergalactic cohort called Starforce before returning home to discover Earth is caught in a war between two alien species.
Lots of great action sequences, solid special effects, and with a classic tee-up for future sequels, Captain Marvel manages to entertain and inspire without resorting to didactic lecture, but viewers will certainly be reminded of the old adage, "Don't judge a book by its cover." (124 min.)
—Glen
THE CURSE OF LA LLORONA
What's it rated? R
What's it worth? Rent it
Where's it showing? Park, Stadium 10
First-time director Michael Chaves helms this horror thriller about a social worker Anna Tate-Garcia (Linda Cardellini) and her small children, Chris (Roman Christou) and Samantha (Jaynee-Lynne Kinchen), haunted by a supernatural entity. The evil spirit is none other than Mexican folklore's La Llorona (Marisol Ramirez), the ghost of a woman who drowned her children in a moment of blind rage. After multiple ghastly encounters, Anna enlists help from Father Perez (Tony Amendola) and occult specialist Rafael Olvera (Raymond Cruz) to stop the spirit from harming her family.
Although marketed as a standalone film, I was surprised to realize The Curse of La Llorona is part of The Conjuring Universe, basically the closest thing we have to a Marvel Cinematic Universe of horror movies. For those unfamiliar with the franchise, it started with 2013's The Conjuring, and each film since has been either a prequel, a sequel, a spin-off, or even all three simultaneously. The connection in this case is barely one at all however. Amendola reprises his Father Perez role from 2014's Annabelle, but that's about it (unless I missed any other Easter Eggs).
After Anna shows Perez the strange injuries on her arm, he's already confident in exactly who the culprit is. If there's one thing I really appreciate about The Curse of La Llorona, it does its best to not waste any time. I was expecting half of the movie boiling down to the children trying to convince their mother of La Llorona's existence, but nope! Anna sees the ghost herself pretty soon after the kids do, and that scene really works for me because it doesn't cut away quickly.
The nightmare doesn't end there though, as the apparition reappears throughout the week, always leaving strange burns and bruises on the wrists or arms of Anna and her children. The performances are solid, and I was genuinely scared a lot of the time, but for me, The Curse of La Llorona isn't as memorable as a lot of other recent horror movies. But in its defense, there's so much to compete with these days. We're basically living in the "Disney Renaissance" of horror films, and I for one hope it never ends. (93 min.)
—Caleb Wiseblood
DIANE
What's it rated? Not rated
What's it worth? Full price
Where's it showing? The Palm (ends 5/2)
Pick
Photo Courtesy Of Sight Unseen Pictures
LAST CHANCE Diane, an excellent drama starring Mary Kay Place, closes on May 2, at The Palm.
Kent Jones is taking a break from documentaries (Hitchcock/Truffaut and A Letter to Elia) to direct Mary Kay Place as Diane, a woman who is beginning to confront her past as the people in her present begin to fade away. She does this while trying to connect with her drug-addicted son.
While this may not be a documentary, Jones writes a script that allows the audience to follow in Diane's footsteps as if her story were nonfiction.
Diane is a do-gooder within her network of aging friends and family members—she herself looks to be in her 60s. She's constantly visiting people to check in, lend a hand, or deliver a casserole. When she's not doing that, she volunteers at a soup kitchen with her friends who are on the healthier side. Diane makes the long drive to visit her terminally ill cousin, Donna (Deirdre O'Connell), at the hospital and then later makes the trip to her son Brian's (Jake Lacey) house to drop off clean laundry as well as nag him to get clean again.
As the days continue on with Diane's acts of selfless service, it becomes clear that everything Diane does is to keep her in constant motion. If she's left alone with her thoughts, she's reminded of the decisions she's made in the past, good or bad. So, instead of facing her demons and helping herself, Diane helps others.
It doesn't help when everyone around her is a constant reminder that she, too, must come to terms with her life that is slowly nearing an end.
Place does an amazing job of unleashing the wrath of a person who has given in to resignation, only to be driven to rage. She's given in to her son's addiction until she can't manage that losing battle anymore. Diane also visits Donna in the hospital, but always seems to start an argument about the fact that she stole her cousin's boyfriend, leaving Brian behind for Donna to partially raise.
What's captivating about this film is the emotion portrayed by Place and the other actors. The audience doesn't need to be told exactly what's going on, as it's easily pieced together through Diane's conversations with her everyday encounters and emotional exchanges.
The film is not just about a woman coming to terms with what she's done in her life; it's also about dealing with loss and no longer being needed with age. Diane is thought-provoking and touches on themes that we can all relate to at any point in our adult lives. (95 min.)
—Karen Garcia
DUMBO
What's it rated? PG
What's it worth? Matinee
Where's it showing? Park
Pick
This remake of the Disney animated film centers on a struggling circus led by Max Medici (Danny DeVito), who hires former circus star but now wounded war veteran Holt Farrier (Colin Farrell) to take care of Dumbo, a small elephant with giant ears that make it a laughingstock. Holt's children, Milly (Nico Parker) and Joe (Finley Hobbins), discover little Dumbo can fly. Soon ruthless entrepreneur V. A. Vandevere (Michael Keaton) swoops in to make Dumbo a star with the help of French trapeze artist Colette Marchant (Eva Green).
Darn you, Dumbo, trying to tug on my heartstrings when all I want to do is nitpick about your imperfections (the movie's, not the elephant's!). It's hard to hold back tears when the song "Baby Mine" starts playing, as baby Dumbo extends his trunk to reach the barred window of his mother's cage. The separation of the titular elephant and his mother is at the heart of both the 1941 animated original and this live-action remake from appropriate director Tim Burton (Edward Scissorhands, Big Fish, Alice in Wonderland).
Unlike the original, however, this story centers on brand-new human characters rather than anthropomorphized animals. Timothy Q. Mouse still makes a fun cameo appearance, but his role as Dumbo's friend and protector gets transferred over to two human children, Milly and her brother, Joe. The siblings try to convince their father, circus worker Holt Farrier, that Dumbo has the ability to fly.
Of course, he scoffs at the fantastical notion, but can we really blame him? He is a dad in a Disney movie, after all. And as every good Disney parent knows, the first rule of parenting is: Never believe your children, especially when it comes to the supernatural. Second rule: Apologize to them later for not believing after the big "I told you so" moment.
It's a really mixed bag, but I still feel like it's worth seeing on the big screen. There's enough visual majesty to warrant a theater viewing, despite a thin screenplay. (112 min.)
—Caleb
THE INTRUDER
What's it rated? PG-13
Where's it showing? Downtown Centre, Galaxy, Park, Stadium 10
New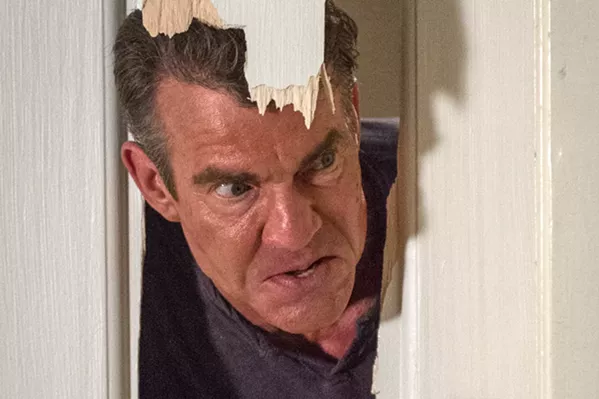 Photo Courtesy Of Screen Gems
HERE'S CHARLIE! Dennis Quaid stars as Charlie Peck, a man who sells his house to a new couple but then refuses to leave them and his former property alone, in The Intruder.
Deon Taylor (The Hustle, Chain Letter, Traffik) directs this thriller about a young couple—Annie (Meagan Good) and Scott Russell (Michael Ealy)—who buy a house with acreage from Charlie Peck (Dennis Quaid), only to discover he refuses to leave them and his former property alone. (102 min.)
—Glen
LONG SHOT
What's it rated? R
Where's it showing? Bay, Downtown Centre, Galaxy, Park, Stadium 10
New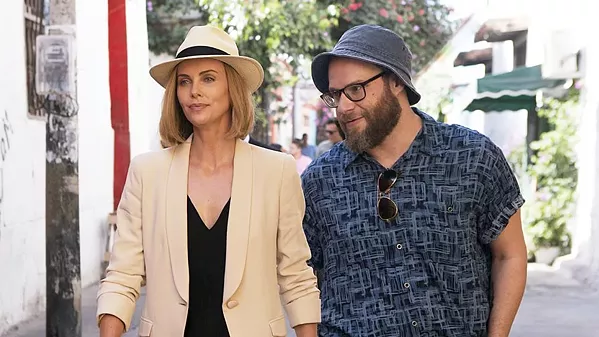 Photo Courtesy Of Denver And Delilah Productions
BEAUTY AND THE ... FLARSKY? Frumpy journalist Fred Flarsky (Seth Rogen, right), reunites with his first crush—beautiful, ambitious, but lonely presidential hopeful Charlotte Field (Charlize Theron)—who hires him as her speechwriter, in Long Shot.
Jonathan Levine (The Night Before, Warm Bodies, The Wackness) directs this rom-com about frumpy journalist Fred Flarsky (Seth Rogen), who reunites his first crush: beautiful, ambitious, but lonely presidential hopeful, Charlotte Field (Charlize Theron). Fred's down-to-earth charm leads Charlotte to hire him as her speechwriter. Sparks fly, but can this mismatched couple really make a go of it? (125 min.)
—Glen
MOMENTUM: UNDER THE INFLUENCE
What's it rated? Not rated
Where's it showing? Friday, May 3, in the Fremont Theater
New
Wine, Waves, and Beyond hosts its annual Surf Movie Night: Big Waves on the Big Screen on Friday, May 3, in the Fremont Theater (doors at 5:30 p.m., film at 6:30; $15 presale at my805tix.com or $20 at the door).
This year's featured film is director Taylor Steele's Momentum: Under the Influence (1992), featuring Kelly Slater, Ross Williams, Rob Machado, Shane Dorian, and Taylor Knox. (37 min.)
Momentum Generation legends will be in attendance, and the event also features live music from Shawn Clark and Ryan Delmore. Proceeds benefit StillFrothy.
—Glen
THE MUSTANG
What's it rated? R
What's it worth? Full price
Where's it showing? The Palm
PickCo-writer/director Laure de Clermont-Tonnerre helms this drama about violent convict Roman Coleman (Matthias Schoenaerts), who's given a shot at rehabilitation via a therapy program involving wild mustangs.
Twelve years ago, Roman left his domestic partner brain damaged in an attack. He's well aware of his shortcomings and doesn't believe he's fit for reintegration into society, but that changes when he's placed in a rehabilitation program run by Myles (Bruce Dern), a rancher who assigns prisoners a specific wild mustang to train.
Predictably, things don't go well initially, but soon, another inmate with a way with horses, Henry (Jason Mitchell ), helps Roman, who learns as much from his horse as the horse learns from him.
There are some unexpected twists in turns in this well-worn redemption genre, and terrific performances by Schoenaerts and Dern breathe fresh life into it. It also features an ending you won't see coming and won't soon forget. (96 min.)
—Glen
SHAZAM!
What's it rated? PG-13
What's it worth? Full price
Where's it showing? Downtown Centre, Stadium 10
Pick
Horror director David F. Sandberg (Lights Out, Annabelle: Creation) successfully steps out of his comfort zone to helm this superhero fantasy about 14-year-old foster kid Billy Batson (Asher Angel), who is chosen to inherit magical powers from a dying wizard (Djimon Hounsou). All Batson needs to do is say the magic word—the wizard's name, Shazam!—to transform into an adult superhero (Zachary Levi) with super strength, flight, and other abilities.
Still a kid at heart, the hero—or "champion" as the wizard refers to him—revels in his new powers, testing them out with his foster brother, Freddy (Jack Dylan Grazer), the first person Batson trusts with his secret. Meanwhile, the insidious Dr. Thaddeus Sivana (Mark Strong), a mad scientist who dedicated his life to finding the original Shazam, seeks to hunt down Batson in order to extract his powers and adopt them himself.
The film opens with an origin for Sivana, cleverly devised to mirror Batson's origin later; he's chosen by the same dying wizard as a child decades before. Unfortunately, Sivana fails the wizard's test when he is tempted by "the Seven Deadly Sins." The sins are literally represented as physical demonic monsters that play an intricate—and quite terrifying—role in Sivana's destiny.
It's a lot to take in, but wow. Believe the hype! The film's universal acclaim since its release is well deserved. Like Wonder Woman and Aquaman, Shazam! builds its own world and mythology while still retaining the features of a shared universe (there are plenty of references to other DC heroes throughout the film to make that point clear). Overall, Shazam! works on so many levels: an intriguing fantasy, a moving family drama, and a brilliant comedy. Drop whatever you're doing and go see it right—Shazam! (132 min.)
—Caleb
UGLYDOLLS
What's it rated? PG
Where's it showing? Downtown Centre, Galaxy, Park, Stadium 10
New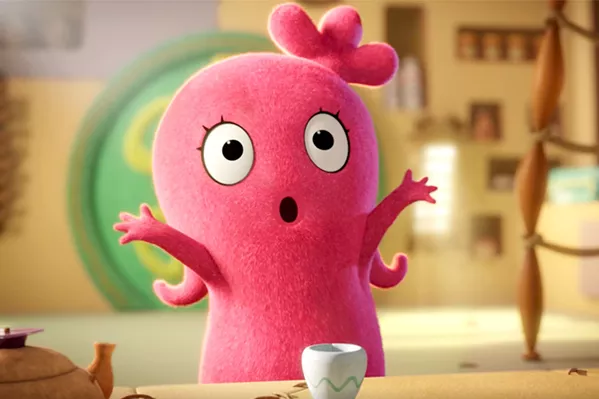 Photo Courtesy Of Stx Entertainment
BE YOURSELF Kelly Clarkson voices Moxy, a free-spirited doll who struggles with being different and her desire for affection and self-acceptance, in UglyDolls.
Kelly Asbury (Shrek 2, Gnomeo & Juliet) directs this animated adventure comedy about a group of free-spirited UglyDolls, who struggle with being different and their desire for affection and self-acceptance. (87 min.)
—Glen
WILD NIGHTS WITH EMILY
What's it rated? Not rated
Where's it showing? The Palm
New
Photo Courtesy Of P2 Films
HOPE IS THE THING WITH FEATHERS Molly Shannon stars as poet Emily Dickenson in Wild Nights with Emily, which explores her irreverent side and lifelong lesbian relationship.
Writer-director Madeleine Olnek (Codependent Lesbian Space Alien Seeks Same, The Foxy Merkins) helms this historical comedy about poet Emily Dickinson (Molly Shannon), her irreverent side, and her romantic relationship with sister-in-law Susan Dickinson (Susan Ziegler), dispelling the common understanding that she was an unloved recluse. (84 min.) Δ
—Glen
New Times movie reviews were compiled by Senior Staff Writer Glen Starkey. Contact him at gstarkey@newtimesslo.com.