AVENGERS: INFINITY WAR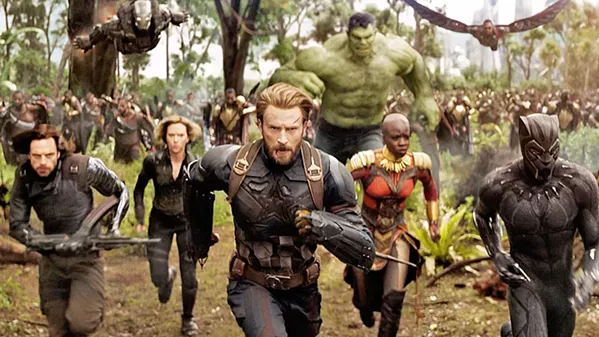 Photo Courtesy Of Walt Disney Pictures
SUPER HEROES The Avengers must sacrifice everything in order to defeat the evil Thanos in Avengers: Infinity War.
What's it rated? PG-13
What's it worth Matinee
Where's it showing? Downtown Centre, Stadium 10, Park, Galaxy
Pick
Anthony and Joe Russo (Captain America: Civil War and Captain America: The Winter Soldier) direct this new Avengers installment, with a screenplay by Christopher Markus and Stephen McFeely. The whole freaking universe is at stake, people, so every single character from the Marvel pantheon must join forces to fight the evil Thanos (Josh Brolin) before he wipes out half of everything.
Of course, including every single character can get pretty chaotic and leave for a lot of abbreviated storylines, and then there's the matter of excessiveness. Even comic book action adventure stories offer moments of rest and respite, but they come few and far between in this bombastic and overblown tale. It's everything you want in a comic book movie, but turned up to 11. Some will like that, others won't.
The film opens with Thor (Chris Hemsworth), Bruce Banner/Hulk (Mark Ruffalo), and Loki (Tom Hiddleston) overcome by Thanos, then it hands off to Dr. Stephen Strange (Benedict Cumberbatch), who enlists Tony Stark/Iron Man (Robert Downey Jr.) and Peter Parker/Spider-Man (Tom Holland) to save the universe. Banner has to round up Steve Rogers/Capt. America (Chris Evans). When they're attacked by Thanos' minions, Natasha Romanoff/Black Widow (Scarlett Johansson) has to show up and rescue them. Meanwhile the Guardians of the Galaxy (Dave Bautista, Zoe Saldana, and Chris Pratt) have to rescue Thor from outer space death. Various superheroes are trying to protect various "infinity stones" that Thanos is trying to acquire so he can kill off half the universe with a literal snap of his fingers. And soon James "Rhodey" Rhodes/War Machine (Don Cheadle), Vision (Paul Bettany), Wanda Maximoff/Scarlet Witch (Elizabeth Olsen), Sam Wilson/Falcon (Anthony Mackie), and Bucky Barnes/White Wolf (Sebastian Stan) all convene at T'Challa/Black Panther's (Chadwick Boseman) hidden kingdom of Wakanda for a final showdown with Thanos. It's exhausting! It's also pretty exhilarating! Its ending, however, is bullshit!
I suspect everyone who's a Marvel fan has already added to the film's $250 million opening weekend, but if you haven't and you plan on going, stop reading here because I'm going to spoil the ending right now: Thanos wins. That's right. He snaps his fingers and half the population of the universe dies, disintegrating into piles dust. Not just a bunch of randos, but our heroes too! Peter Parker, dead! Dr. Strange, dead! Most of the Guardians of the Galaxy, dead! Even Black Panther, dead! That's not how superhero movies are supposed to end, right?
This ending is lame. Most of these actors have multi-film contracts. Are we to assume, for instance, that the upcoming Guardians and Black Panther films—already in the works—are all going to be prequels? Plus there's an Avengers: Infinity War—Part II listed as in "post-production" on imdb.com with the killed-off characters listed in the cast. No, there's going to be some dumb trick that will somehow resurrect these characters, and that pisses me off, which is why I won't give this film full price. Don't play with me, Marvel! I'm not your toy! (149 min.)
—Glen Starkey
BOOK CLUB
What's it rated? PG-13
Where's it showing? Downtown Centre, Stadium 10, Fair Oaks, Park, Galaxy
Diane (Diane Keaton) is recently widowed after 40 years of marriage. Vivian (Jane Fonda) enjoys her men with no strings attached. Sharon (Candice Bergen) is still working through a decades-old divorce. Carol's (Mary Steenburgen) marriage is in a slump after 35 years. Four lifelong friends' lives are turned upside down to hilarious ends when their book club tackles the infamous Fifty Shades of Grey. From discovering new romance to rekindling old flames, they inspire each other to make their next chapter the best chapter. (104 min.)
—Paramount Pictures
BREAKING IN
What's it rated? PG-13
Where's it showing? Stadium 10
Gabrielle Union stars as a woman who will stop at nothing to rescue her two children being held hostage in a house designed with impenetrable security. No trap, no trick, and especially no man inside can match a mother with a mission when she is determined on Breaking In. (88 min.)
—Universal Pictures
ISLE OF DOGS
Photo Courtesy Of Fox Searchlight Pictures
SEE SPOTS? After an epidemic leads to the banishment of dogs, a boy goes in search of his beloved canine, Spots, in Isle of Dogs.
What's it rated? PG
What's it worth? Full Price
Where's it showing? The Palm
Pick
Wes Anderson (Rushmore, The Royal Tenenbaums, The Life Aquatic with Steve Zissou, Fantastic Mr. Fox, Moonrise Kingdom) directs this stop-motion animated tale about Atari Kobayashi (Koyu Rankin), a young boy living in near-future dystopian Japan, who goes in search of his dog, Spots (Live Schreiber), which has been banished—as have all dogs—to Trash Island because of a dog flu outbreak.
Along the way, Atari receives help from other banished dogs, including Rex (Edward Norton), King (Bob Balaban), Duke (Jeff Goldblum), Boss (Bill Murray), and Chief (Bryan Cranston).
Meanwhile back in Megasaki City, dog-banisher and Mayor Kobayashi (Kunichi Nomura)—Atari's guardian—works to thwart Professor Watanabe (Akira Ito), who's developing a cure for the dog flu, so the Mayor can carry out his evil plan to exterminate all dogs.
Talking dogs feels completely natural in Isle of Dogs, which explores the unique relationships between humans and dogs from the dogs' perspective. Chief, for instance, is a stray, and his pack members subtly and silently judge him for it. Nutmeg is a former show dog used to regular grooming and being fawned over, but like all the other dogs banished to Trash Island, she lost her elevated position and deals with it with a level of class that's hard not to admire.
This sort of anthropomorphization is human nature—we love to imagine our pets have an inner dialogue and love us the same way we love them. Anderson has a lot of fun exploring how dogs think of humans and each other.
Ultimately, this is a film about relationships, loyalty, honor, and ethics, which are pretty heavy topics, but first and foremost, this is a wonderful looking film. I absolutely loved it!
It helps that there's a great cast doing great voice work with some fun surprises. Courtney B. Vance's smooth voice as The Narrator provides necessary context, John Lennon's former wife Yoko Ono makes a vocal appearance as Assistant-Scientist Yoko Ono, and long-time Anderson collaborator Anjelica Huston is credited as voicing a character named Mute Poodle, meaning she has no lines. Greta Gerwig is terrific as earnest and idealistic exchange student Tracy Walker.
Even though the story centers on Atari and his search for Spots, this is really Chief's story. He's the character with the biggest arc, the one who has to learn about the sacred relationship between man and dog, who also has to learn he's good enough to deserve a mate like Nutmeg. The dogs are actually a lot more complex than most of the human characters, and it's Chief we're rooting for more than Atari. (101 min.)
—Glen Starkey
LIFE OF THE PARTY
What's it rated? PG-13
What's it worth? Rental
Where's it showing? Downtown Centre, Stadium 10, Galaxy
From writer/director Ben Falcone (Tammy, The Boss) and his co-writer/wife Melissa McCarthy (Ghostbusters, Bridesmaids) comes the summer comedy Life of the Party. When her husband, Dan (Matt Walsh, Brigsby Bear, Elf) suddenly dumps her, longtime dedicated housewife Deanna (McCarthy) turns regret into reset by going back to college ... landing in the same class and school as her daughter, Maddie (Molly Gordan, I Am Sam) who's not entirely sold on the idea. Plunging headlong into the campus experience, the increasingly outspoken Deanna—now Dee Rock—embraces freedom, fun and frat boys on her own terms, finding her true self in a senior year no one ever expected.
I've enjoyed Melissa McCarthy's work ever since she was in Gilmore Girls. That said, I didn't have super high hopes going into The Life of the Party. McCarthy's films have become a bit stale, not bad, but not great, and always leaning heavily on a particular brand of over the top, crude comedy. Don't get me wrong; I loved it in Bridesmaids, but a handful of films later it's started to get a bit stale.
The premise isn't terribly original. After her husband leaves her for another woman, Deanna, who dropped out of college when she got pregnant with their daughter, Maddie, decides to back to school to finally finish her degree ... at the same college her daughter is attending! Shenanigans ensue! Insert awkward mother-daughter walks of shame and 80s themed college parties with way too many shots of cheap tequila. This time around with a PG-13 rating, McCarthy, leaned on a sweeter, awkward brand of mom humor complete with dorky puff paint adorned sweaters and a woke sense of feminism. It was a refreshing change of pace.
Due to the PG-13 rating, you won't actually see any scenes of McCarthy banging the much younger Jack (Luke Benward, Field of Lost Shoes) Maddie's boyfriend Tyler's (Jimmy O. Yang, Patriot's Day) BFF. They do play that May-December relationship as Jack being in love with Deanna, rather than some weird MILF fetish, which is kind of sweet, I think?
Maya Rudolph (Bridesmaids) is hilarious as Deanna's ultra supportive smack-talking bestie who's always sneaking off to have sex with her husband in public places. Julie Bowen as the realtor, Marcie, who steals Deanna's husband, just comes off as a mean version of her type A mom character from Modern Family. Chris Parnell (Anchorman) is charming as Deanna's pun-cracking archaeology professor. Leonar (Heidi Gardner, Saturday Night Live) is perfect as Deanna's super creepy and weird roomie with an aversion to sunlight. Gillian Jacobs (Don't Think Twice) is Maddie's slightly older sorority sister who was stuck in a comma for eight years and is a minor celebrity on Twitter because of it. She's the first to take a shine to Deanna when they bond over a shared hatred of the mean girl in archaeology class. Gordan as Deanna's daughter is utterly bland and forgettable. McCarthy's character could have had no daughter and simply had a midlife crisis and chosen to go back to college and the film would have been about as funny for all the impact Gordan had on the story.
This film isn't Bridesmaids level great, nor is it worth spending $15 at the movie theater, but had I not already seen it I would perk up a little bit when it came to my local Redbox. (105 min.)
—Ryah Cooley
OVERBOARD
What's it rated?PG-13
What's it worth? Rental
Where's it showing? Stadium 10, Park
Director Rob Greenberg, best known for his television work (How I Met Your Mother, Scrubs), steers this role reversing remake/re-imagining of 1987's Overboard. After falling off his luxury yacht while partying too hard, wealthy playboy Leonardo (Eugenio Derbez, How to Be a Latin Lover) wakes up on the Oregon coast with amnesia. Upon recognizing his face on the news, Kate (Anna Faris, Mom), a single mother and carpet cleaner who was mistreated and unjustly fired by Leo, hatches a scheme—convince the amnesiac he's her husband.
Luckily for Kate, the only person searching for the missing heir is his sister, Magdalena (Cecilia Suarez). But she devises a plan of her own after finding him at the hospital. "Is this your brother?" One of the doctors asks her. "No, I've never seen this man before in my life." She replies and quickly leaves without Leo seeing her. With her brother out of the way, Magdalena is next in line to inherit their deathbed-ridden father's company.
With the rest of his family under the assumption he was eaten by sharks (yep), Leo is free for Kate to take. And she does. Leo knows right off the bat, as Goldie Hawn's character did in the original, that something isn't right. But without a single memory to turn to, Leo is stuck believing Kate's lie, which is backed up by fake documents and her knowledge of a Speedy Gonzales tattoo on his butt.
It took me a little while to get on board (get it?) with this Overboard. I know you're supposed to hate Leo in the beginning, but I found his obnoxiousness overbearing at times (he's a womanizing drunkard as opposed to Hawn's snobby socialite). But once that finally settles down, and Leo becomes more "accustomed" to his new, humble surroundings, the film gets funnier.
The hardest thing for Leo to believe at first, besides having to work for a living, is that he's a father. While the predictable, budding romance between Leo and Kate is fun, the real heart of this story lies with the kids. No matter how ludicrous the circumstances are, he slowly becomes the closest thing to a father figure Kate's three daughters have ever known. And as sappy and improbable as it is, the bond he forms with them won me over. There's one scene near the end that involves a bicycle (that's all I'll say) where I was close to crying. I kid you not; this moment has just as much, if not more, weight to it than anything in Avengers: Infinity War. Then again, the last five minutes of that are funnier than this entire film, so it's all relative. (112 min.)
—Caleb Wiseblood
POPE FRANCIS: A MAN OF HIS WORD
What's it rated? PG
Where's it showing? The Palm
Wim Wenders' new documentary, Pope Francis: A Man of His Word, is intended to be a personal journey with Pope Francis, rather than a biographical documentary about him. The pope's ideas and his message are central to this documentary, which sets out to present his work of reform and his answers to today's global questions. From his deep concern for the poor and wealth inequality, to his involvement in environmental issues and social justice, Pope Francis engages the audience face-to-face and calls for peace. (96 min.)
—Focus Features
RBG
Photo Courtesy Of Magnolia Pictures
NOTORIOUS The documentary RBG explores the life and career of U.S. Supreme Court Justice Ruth Bader Ginsburg.
What's it rated? PG
What's it worth? Full Price
Where's it showing? The Palm
Pick
RBG is a must-see documentary chronicling Supreme Court Justice Ruth Bader Ginsburg's improbable life and career, superbly highlighting her heroic litigation in the 1970s to overturn laws that discriminated by gender, her tenure on the Supreme Court that's been defined by her scathing dissents, and the ways in which she's inspired a new generation of women, becoming a cultural phenomenon at the ripe age of 85.
Beyond those highlights, RBG offers a poignant portrayal of Ginsburg as a person, her reserved and steely yet sweet temperament, and her genuinely beautiful marriage. Filmmakers Betsy West and Julie Cohen really capture Ginsburg's humanity through interviews with her, her friends, and family members, which add a valuable layer of depth to the documentary.
Ginsburg, a Brooklyn native, entered Harvard Law School in 1956 as one of nine women in a class of 500. She juggled her coursework with caring for both her baby and her husband, who had fallen ill with cancer (but ultimately survived). After graduating, she struggled to find law work as a female professional, despite being at the top of her class. Ginsburg eventually became a professor at Columbia University, where she pioneered a class on gender discrimination.
In the '70s, Ginsburg argued a series of discrimination cases before the U.S. Supreme Court. Here, West and Cohen manage to make what could have been a dry rundown of court cases compelling and dramatic. They tracked down the plaintiffs on these cases, who had faced gender-based discrimination ranging from unequal pay to unequal benefits as military service members. RBG weaves original audio from Ginsburg's oral arguments with commentary from Ginsburg and others to drive home the historical significance of those cases. Almost singlehandedly, Ginsburg changed the legal landscape for all women in the country.
RBG begins and ends with exploring her legacy, particularly among the newest generation of Americans. As the Supreme Court turned more and more conservative in the early 2000s, Ginsburg's dissenting opinions became her signature and drew attention from young progressives. At 85 years old today, her spunk and sharp intellect are widely adored. T-shirts labeled "Notorious RBG" have become a hit, and goofy web images with her face imprinted on various superheroes have gone viral on the Internet. You'd be hard pressed to find a more important living American icon than RBG, and this documentary proves it. (97 minutes)
—Peter Johnson
THE RIDER
Photo Courtesy Of Sony Pictures Classics
STARTING OVER After a tragic accident, a rodeo star tries to find a new sense of purpose in The Rider.
What's it rated? R
Where's it showing? The Palm
New
Based on a true story, The Rider stars breakout Brady Jandreau as Brady Blackburn, a once rising star of the rodeo circuit warned that his competition days are over after a tragic riding accident. Back home, Brady finds himself wondering what he has to live for when he can no longer do what gives him a sense of purpose: to ride and compete. In an attempt to regain control of his fate, Brady undertakes a search for a new identity and tries to redefine his idea of what it means to be a man in the heartland of America. (104 min.)
—Sony Pictures Classics
SHOW DOGS
What's it rated?PG
Where's it showing? Stadium 10, Park, Galaxy
Show Dogs is a family comedy about the unlikely pairing of a human detective (Will Arnett) and his canine partner (voice of Chris "Ludacris" Bridges), who has to go undercover at the world's most exclusive dog show to solve his biggest case yet. (92 min.)
—Global Road Entertainment
SOLO: A STAR WARS STORY
Photo Courtesy Of Walt Disney Studio
SHOOT FIRST Alden Ehreneich takes on the role of Han Solo in Solo: A Star Wars Story, which depicts Han's early relationships with Chewbacca and Lando Calrissian in the midst of a space adventure.
What's it rated? PG-13
Where's it showing? Bay, Downtown Centre, Stadium 10, Park, Galaxy
New
Board the Millennium Falcon and journey to a galaxy far, far away in Solo: A Star Wars Story, an all-new adventure with the most beloved scoundrel in the galaxy. Through a series of daring escapades deep within a dark and dangerous criminal underworld, Han Solo (Alden Ehrenreich) meets his mighty future copilot Chewbacca (Joonas Suotamo) and encounters the notorious gambler Lando Calrissian (Donald Glover), in a journey that will set the course of one of the Star Wars saga's most unlikely heroes. (143 min.)
—Walt Disney Pictures
SUPER TROOPERS 2
What's it rated?R
What's it worth? Rental
Where's it showing? Sunset Drive-In
Co-writer and director Jay Chandrasekhar helms this sequel to the 2001 comedy classic from the Broken Lizard comedy crew. This time around the Vermont State Troopers are tasked with establishing a Highway Patrol station in a disputed area between the U.S. and Canadian border.
Arcot 'Thorny' Ramathorn (Jay Chandrasekhar), MacIntyre 'Mac' Womack (Steve Lemme), Robert 'Rabbit' Roto (Erik Stolhanske), Carl Foster (Paul Soter), Rodney Farva (Kevin Heffernan), and their Capt. O'Hagan (Brian Cox) return, joined by Gov. Jessman (Lynda Carter), ex hockey star Guy Le Franc (Rob Lowe), French-Canadian cultural attaché Genevieve Aubois (Emmanuelle Chriqui), and Fred Savage starring as himself.
The Godfather II this ain't. Instead, it predictably suffers from sequel disease: more of the same turned up to 11, but devoid of the surprise of the first film.
What follows is a lot of shenanigans between the troopers and their Mountie counterparts, as well as a search to discover the smugglers. Overall, it's pretty funny, though not quite as funny as the first and certainly not as original. Stay through the credits. The best bit happens at the very end.
If you love this sort of thing, go to the late show high on weed. If you like this sort of thing, try a matinee. Personally, I would have been happy renting this from Redbox in three months. (100 min.)
—Glen Starkey
TULLY
Photo Courtesy Of Focus Features
HELP A mom (Charlize Theron, right) of three bonds with new night nanny (Mackenzie Davis) in Tully.
What's it rated?R
What's it worth? Full Price
Where's it showing? The Palm
Pick
Director Jason Reitman and screenwriter Diablo Cody (Juno, Young Adult) reteam for the third time with this story about Marlo (Charlize Theron), an overburdened mother whose difficult life is turned around with the arrival of night nanny Tully (Mackenzie Davis), a gift from Marlo's rich brother, Craig (Mark Duplass).
Reitman and Cody make good team. Juno remains one of my favorite films, and though I didn't think Young Adult was in the same league as the pair's first go-around, it was a remarkably frank look at stunted growth and narcissism. Tully takes a crack at motherhood, exploring the exhaustion is causes and the endless patience it requires.
Marlo herself questions her choices and yearns for her carefree youth, living in Brooklyn with what may have been an early lesbian love affair. That's the heart of this story: How does she reconcile her choices, get over her regrets, and learn to love her life? Tully is there to not only help her with her kids, but to help her with herself. It's a remarkably warm and poignant film. (99 min.) Δ
—Glen Starkey
New Times movie reviews were compiled by Arts Editor Ryah Cooley and others. You can contact her at rcooley@newtimesslo.com.