ADRIFT
Photo Courtesy Of Lakeshore Entertainment
SURVIVORS With no help in sight, Richard (Sam Clafin) and Tami (Shailene Woodley) must rescue themselves through ingenuity and sheer force of will.
What's it rated? PG-13
What's it worth? Rental
Where's it showing? Stadium 10, Park
Baltasar Kormákur (Contraband, 2 Guns, Everest) directs this true story of survival about Tami Oldham (Shailene Woodley) and Richard Sharp (Sam Clafin), two free-spirited lovers and avid sailors who set off to cross an ocean only to encounter a catastrophic hurricane that leaves their sailboat in ruins and Richard gravely injured. Can Tami find the will to save them?
Imagine if romance novelist Nicholas Sparks (The Notebook, The Choice, The Best of Me) decided to write a disaster-at-sea story and you'll have a pretty good idea about Adrift. It opens post disaster, as Tami awakens in the hold of a sailboat half submerged in water, a large cut on her head and badly bruised. She's frantically searching for her fiancé, Richard, but she also knows she has to pump out the water before her boat sinks.
From there, the film proceeds to flash back five months to when Tami meets Richard. The film repeatedly moves through time, cutting between their romance and her struggle to survive and help a severely injured Richard, who can do nothing to help Tami besides provide advice and emotional support.
The romance part of the film is pretty sappy, and the disaster part of the film is fairly harrowing, but compared to what I consider the gold standard of lost-at-sea films, Robert Redford's phenomenal All is Lost (2013), Adrift is just OK. There's plenty of drama, and Tami's struggle to survive and save Richard and herself is certainly potent, but the film relies too much on emotional manipulation. As a true story, it's an amazing tale of survival, but as a film, it's good but not great. What really saves the film is a raw, powerful, and committed performance by Woodley.
Director Kormákur knows his way around seafaring disaster—his The Deep (2012) is about a fisherman trying to survive after his boat capsizes off the coast of Iceland—but his CGI storm in Adrift isn't as impressive as the CGI of The Perfect Storm (2000).
It's all these little things that undermine Adrift: The romance feels too easy, even with the argument about whether the couple should accept $10,000 and two first-class return tickets from San Diego to Tahiti in exchanges for piloting the luxury sailboat to California for Richard's friends, a rich British couple; the CGI is good but not great, leading to distraction and pulling viewers out of the drama; and there's a twist near the end that won't be a surprise for those familiar with Tami's adventure, but that might seem like a gimmick or trick to those—like me—who were unfamiliar with her tale.
It's a film that's worth seeing, and if you're a fan of the genre, hit a matinee, but I think I would have been pleasantly surprised to rent this film at Redbox or even wait for it to show up on a streaming service. (120 min.)
—Glen Starkey
BOOK CLUB
What's it rated? PG-13
Where's it showing? Palm, Bay, Fair Oaks, Stadium 10, Galaxy
Diane (Diane Keaton) is recently widowed after 40 years of marriage. Vivian (Jane Fonda) enjoys her men with no strings attached. Sharon (Candice Bergen) is still working through a decades-old divorce. Carol's (Mary Steenburgen) marriage is in a slump after 35 years. Four lifelong friends' lives are turned upside down to hilarious ends when their book club tackles the infamous Fifty Shades of Grey. From discovering new romance to rekindling old flames, they inspire each other to make their next chapter the best chapter. (104 min.)
—Paramount Pictures
DEADPOOL 2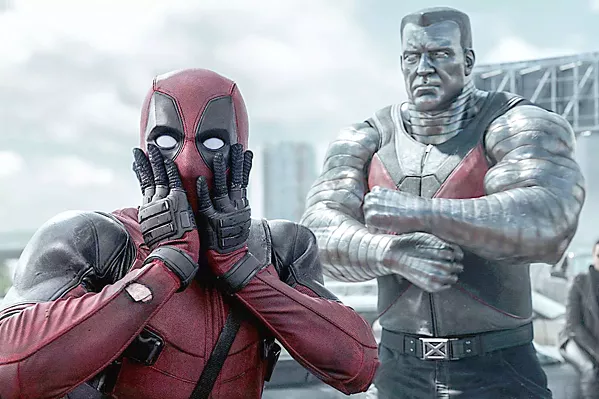 Photo Courtesy Of Twentieth Century Fox
OH MY! Irreverent Deadpool (Ryan Reynolds, left) and goody two-shoes Colossus (voiced by Stefan Kapicic) continue their love-hate relationship.
What's it rated? R
What's it worth? Full Price
Where's it showing? Downtown Centre, Stadium 10, Park, Galaxy
Pick
David Leitch (Atomic Blonde) directs this sequel about irreverent former mercenary-turned-mutant superhero Wade "Deadpool" Wilson (Ryan Reynolds), who this time around convenes a team of fellow mutants to protect a supernaturally-gifted young boy, Russell "Firefist" Collins (Julian Dennison), from the vengeful, time-traveling mutant Cable (Josh Brolin).
Deadpool 2 makes fun of itself, Superman, the X-Men, the Marvel Universe, Marvel's competitor DC Comics, Batman—you name it. No one and nothing is safe from skewering. Heck, even Barbra Streisand and Yentl get it right in the kisser. Ka-pow! I wouldn't have it any other way. (119 min.)
—Glen Starkey
DISOBEDIENCE
Photo Courtesy Of Bleecker Street
FORBIDDEN Two women (Rachel McAdams and Rachel Weisz) explore the boundaries of faith and their mutual attraction to one another in Disobedience.
What's it rated? R
Where's it showing? The Palm
New
From Sebastián Lelio, the director of the Academy Award-winning A Fantastic Woman, this film follows a woman as she returns to the community that shunned her decades earlier for an attraction to a childhood friend. Once back, their passions reignite as they explore the boundaries of faith and sexuality. Written by Lelio and Rebecca Lenkiewicz and based on Naomi Alderman's book, the film stars Rachel Weisz, Rachel McAdams, and Alessandro Nivola. (114 min.)
—Bleecker Street
HOTEL ARTEMIS

Photo Courtesy Of Global Road Entertainment
UNDERGROUND A nurse (Jodie Foster, right) runs a secret, members-only hospital for criminals in Hotel Artemis.
What's it rated? R
What's it worth? Matinee
Where's it showing? Downtown Centre, Stadium 10, Park, Galaxy
Pick
In this dystopian thriller set in Los Angeles in the year 2028, Jodie Foster (The Silence of the Lambs, Contact, Panic Room) plays The Nurse, who runs a secret, members-only hospital for criminals with the assistance of Everest, a bulky, intimidating orderly played by Dave Bautista (Guardians of the Galaxy, Spectre, Blade Runner: 2049). In anticipation of the biggest riot the city has ever faced, Nurse and Everest seem well prepared for the worst of circumstances, ready to attend to any and all needs of their niche clientele. But as the night progresses, their confidence wears thin, partly due to the impromptu arrival of the mysterious Wolf King (Jeff Goldblum, The Fly, Jurassic Park, Independence Day) the city's most powerful crime boss.
With a concept of this stature, it's hard to believe Hotel Artemis isn't a spin-off of an already ongoing franchise or based off of another property. The nicknames first-time director Drew Pearce (whose screenwriting credits include Iron Man 3 and Mission: Impossible-Rogue Nation) designates to each of his characters, for instance, sound like they were lifted straight from the pages of a graphic novel or the line-up of a Mortal Kombat-esque fighting game.
Nurse, Everest, and Wolf King aside, the rest of the ensemble is made up of the hospital's patients and referred to only by the names of which rooms they stay in (to keep their real identities anonymous amongs each other). Each room of the Artemis is themed (think Madonna Inn) and the trend seems to be vacation destinations. The guests include Waikiki (Sterling K. Brown, The People v. O.J. Simpson), a master thief, Acapulco (Charlie Day, It's Always Sunny in Philadelphia, Horrible Bosses, Pacific Rim), an illegal arms dealer, and Nice (Sofia Boutella, The Mummy, Atomic Blonde), a professional assassin. We don't really get backstories, but their collisions with each other throughout the night reveal enough about what makes them tick.
Although I'm giving Artemis a matinee, as it's definitely a lot of fun but far from perfect, I actually recommend seeing it late at night (if ever). It's destined to become a film many will discover on the Syfy channel at 2 a.m. on a weekday—the definition of achieving cult status nowadays. What Artemis succeeds at best is echoing those bombastically violent, futuristic satires of the late '80s, especially the ones from director Paul Verhoeven (RoboCop, Total Recall). It's a lost genre, minus the remakes, and I hope Artemis helps resurface it. (97 min.)
—Caleb Wiseblood
INCREDIBLES 2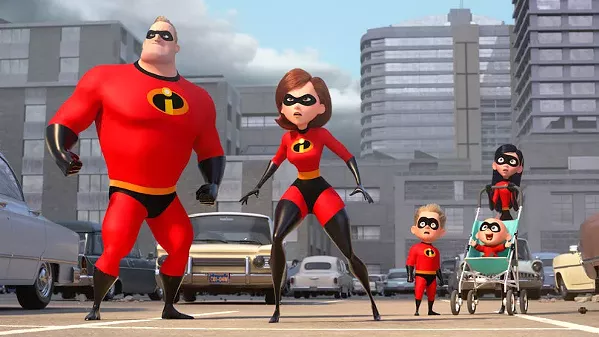 Photo Courtesy Of Disney/pixar
SUPER DUPER In Incredibles 2, everyone's favorite family of superheroes must work together with Frozone to defeat a new villain.
What's it rated? PG
Where's it showing? Downtown Centre, Sunset Drive-In, Stadium 10, Park, Galaxy
New
Everyone's favorite family of superheroes is back in Incredibles 2—but this time Helen (voice of Holly Hunter) is in the spotlight, leaving Bob (voice of Craig T. Nelson) at home with Violet (voice of Sarah Vowell) and Dash (voice of Huck Milner) to navigate the day-to-day heroics of "normal" life. It's a tough transition for everyone, made tougher by the fact that the family is still unaware of baby Jack-Jack's emerging superpowers. When a new villain hatches a brilliant and dangerous plot, the family and Frozone (voice of Samuel L. Jackson) must find a way to work together again. (118 min.)
—Disney/Pixar
MOUNTAIN
What's it rated? NR
Where's it showing? The Palm
New
From Tibet to Australia, Alaska to Norway, armed with drones, Go-Pros, and helicopters, director Jennifer Peedom has fashioned an astonishing symphony of mountaineers, ice climbers, free soloists, heliskiers, snowboarders, wingsuiters, and parachuting mountain bikers. Willem Dafoe provides a narration sampled from British mountaineer Robert Macfarlane's acclaimed memoir Mountains of the Mind, and a classical score from the Australian Chamber Orchestra accompanies this majestic cinematic experience. (74 min.)
—Greenwich Entertainment
OCEANS 8
What's it rated? PG-13
Where's it showing? Downtown Centre, Stadium 10, Park, Galaxy
Upon her release from prison, Debbie (Sandra Bullock), the estranged sister of legendary conman Danny Ocean, puts together a team of unstoppable crooks to pull off the heist of the century. Their goal is New York City's annual Met Gala and a necklace worth more than $150 million. (110 min.)
—Warner Bros. Pictures
ON CHESIL BEACH
What's it rated? R
What's it worth? Rental
Where's it showing? The Palm
From Director Dominic Cooke (The Hollow and Crimes) and writer Ian McEwan (Atonement) comes the drama On Chesil Beach, based on McEwan's best selling novel. The story centers on a young couple (Saiorse Ronan, Lady Bird, and Billy Howle, The Sense of an Ending) from drastically different backgrounds in the summer of 1962 in and around Oxford, England. Following the pair through their charming first stages of romance, audiences see the lovers through to their wedding night and the aftermath over the next several decades.
Guys, I'm just going to say it. This movie is a big, fat bummer. I love me a period piece, all things British, and even a good cathartic cry that comes with watching a real tearjerker of a movie. Be warned, there is no resolution or even a sense of emotional release for viewers of On Chesil Beach. If nothing else, it's an interesting character study in different kinds of love outside of the socially accepted norm, sexuality, past trauma, and our limitations as human beings to effectively communicate our wants and needs.
After a happenstance meeting, new graduates Florence (Ronan) and Edward (Howle) are smitten and inseparable, despite Florence coming from a family of means and Edward coming from a struggling middle-class family, with a mother who suffers from memory loss due to a tragic accident. Florence sweetly and persistently forms a relationship with Edward's mom anyway, through art. Meanwhile Edward adoringly watches Florence, an accomplished concert violinist practice with her quartet.
McEwan and Cooke only drop a handful of tiny breadcrumbs here and there to alert their audience to the tragedy that is to come, with most centering on Florence. We see Florence gently pushing Edward's hand off her thigh at the movie theater, while young couples all around them grope one another and make out. In another scene Florence's shoulders visibly tense up as her father places a hand on her back by way of greeting at the dinner table. A distraught Florence and her younger sister read a book aloud together that describes the physical logistics of sex between a man and a woman. And when a member of her quartet asks who Edward, Florence's fiancée at this point, is, she brushes him off and doesn't really answer.
If nothing else, On Chesil Beach makes a good case for people redefining love and life on their own terms, while acknowledging the sad truth that sometimes even love isn't enough to make things work. (110 min.)
—Ryah Cooley
RBG
What's it rated? PG
What's it worth? Full Price
Where's it showing? The Palm
Pick
RBG is a must-see documentary chronicling Supreme Court Justice Ruth Bader Ginsburg's improbable life and career, superbly highlighting her heroic litigation in the 1970s to overturn laws that discriminated by gender, her tenure on the Supreme Court that's been defined by her scathing dissents, and the ways in which she's inspired a new generation of women, becoming a cultural phenomenon at the ripe age of 85.
Beyond those highlights, RBG offers a poignant portrayal of Ginsburg as a person, her reserved and steely yet sweet temperament, and her genuinely beautiful marriage. Filmmakers Betsy West and Julie Cohen really capture Ginsburg's humanity through interviews with her, her friends, and family members, which add a valuable layer of depth to the documentary.
Ginsburg, a Brooklyn native, entered Harvard Law School in 1956 as one of nine women in a class of 500. She juggled her coursework with caring for both her baby and her husband, who had fallen ill with cancer (but ultimately survived). After graduating, she struggled to find law work as a female professional, despite being at the top of her class. Ginsburg eventually became a professor at Columbia University, where she pioneered a class on gender discrimination.
In the '70s, Ginsburg argued a series of discrimination cases before the U.S. Supreme Court. Here, West and Cohen manage to make what could have been a dry rundown of court cases compelling and dramatic. They tracked down the plaintiffs on these cases, who had faced gender-based discrimination ranging from unequal pay to unequal benefits as military service members. RBG weaves original audio from Ginsburg's oral arguments with commentary from Ginsburg and others to drive home the historical significance of those cases. Almost singlehandedly, Ginsburg changed the legal landscape for all women in the country.
RBG begins and ends with exploring her legacy, particularly among the newest generation of Americans. As the Supreme Court turned more and more conservative in the early 2000s, Ginsburg's dissenting opinions became her signature and drew attention from young progressives. At 85 years old today, her spunk and sharp intellect are widely adored. T-shirts labeled "Notorious RBG" have become a hit, and goofy web images with her face imprinted on various superheroes have gone viral on the Internet. You'd be hard pressed to find a more important living American icon than RBG, and this documentary proves it. (97 minutes)
—Peter Johnson
SOLO: A STAR WARS STORY
Photo Courtesy Of Walt Disney Studios
BILLY DEE? Donald Glover channels Billy Dee Williams in his role as notorious gambler Lando Calrissian, from whom Solo won the Millennium Falcon.
What's it rated? PG-13
What's it worth? Matinee
Where's it showing? Downtown Centre, Sunset Drive-In, Stadium 10, Park, Galaxy
Pick
Ron Howard (Splash, Cocoon, Backdraft, Apollo 13, A Beautiful Mind, The Da Vinci Code) directs this Han Solo (Alden Ehreneich) origin story, set long before the rebellion, which explores how the cocky pilot met both Chewbacca (Joonas Suotamo) and notorious gambler Lando Calrissian (Donald Glover). The film also stars Woody Harrelson as Tobias Beckett, a smuggler; Thandie Newton as Tobias' wife Val Beckett; Emilia Clarke as Qi'ra, Han's childhood friend; Paul Bettany as crime lord Dryden Vos; Jon Favreau as alien Rio Durant; and Linda Hunt as the voice of Lady Proxima.
Solo started with two different directors who were fired over "creative differences" before Howard took over, so there's a somewhat disjointed and uneven artistic vision here, but that doesn't stop the film from being a lot of fun.
We meet Han and Qi'ra living in a slum and dreaming of getting out. The opening set piece is a rousing chase and escape in which we see both Han's recklessness and bravado. Things don't quite go as planned, and Han ends up in the imperial army, where his wisecracking nature does him no favors, but that's also where he meets Tobias and Chewy, who team up for a big heist that leads to another big set piece, this one involving a cargo train.
There's plenty of action, lots of one-liners, and showdowns between the good guys and the bad guys, not to mention some double crosses and surprises.
In the same tradition of Episodes IV through VI, Solo offers up a classic space Western. It's not going to win any prizes for originality, but for Star Wars nerds, reverence for the series pays off here as we see the little bits of Han's backstory we've learned from the original films play out. I was wholly entertained.
Frankly, I wasn't sure about Ehreneich as Han. I grew up watching Harrison Ford and I couldn't imagine anyone else in the role. There is a passing resemblance between the young Ford and Ehreneich, but instead of doing an impersonation of Ford as Han, Ehreneich makes the character his own.
Glover, on the other hand, seems intent on channeling Billy Dee Williams as Lando Calrissian, but he does it so well, it's a treat to watch. Glover's star is certainly shining brightly right now. He was great as the host of Saturday Night Live a few weeks ago, and his music video for "This is America" has people talking.
These two characters are interesting enough and the actors have so much natural chemistry together that I would happily see another film with the pair. The story ends in a way that's begging for a sequel, and I'd love to see Lando and Han meet for another adventure.
Solo is basically a popcorn movie—uncomplicated, emotionally one note, and with little more than entertainment in mind. It's not the kind of film that sticks with you or challenges viewers in any way, but if you're looking for an engaging space romp, I think Solo delivers. Be warned, however; it's one of those rare films with a higher rottentomatoes.com critic rating (71 percent) than audience score (59 percent), so not everyone has liked the film as much a I have.
If you're the rare person who's new to the Star Wars franchise, you'd be better off starting here rather than the joyless Episode I: The Phantom Menace. Solo at least knows how to have fun. (145 min.)
—Glen Starkey
SUPERFLY
What's it rated? R
Where's it showing? Galaxy
NewSuperfly—the film that helped define a genre in its characters, look, sound, and feel—is reimagined with Director X, director of legendary music videos (Drake, Rihanna), introducing it to a new generation. The screenplay is by Alex Tse. (108 min.)
—Columbia Pictures
TAG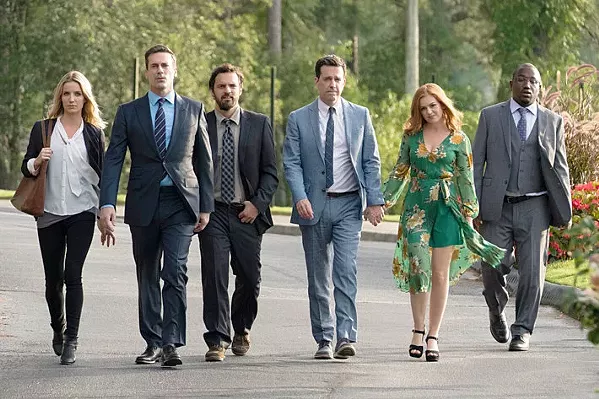 Photo Courtesy Of Warner Bros. Pictures
YOU'RE IT! In Tag a group of friends continues a lifelong game, at the expense of potentially ruining one of their own's wedding day.
What's it rated? R
Where's it showing? Downtown Centre, Stadium 10, Galaxy, Park
New
For one month every year, five highly competitive friends hit the ground running in a no-holds-barred game of tag they've been playing since the first grade—risking their necks, their jobs, and their relationships to take each other down with the battle cry, "You're it!" This year, the game coincides with the wedding of their only undefeated player, which should finally make him an easy target. But he knows they're coming ... and he's ready. (100 min.) Δ
—Warner Bros. Pictures
New Times movie reviews were compiled by Arts Editor Ryah Cooley and others. You can contact her at rcooley@newtimesslo.com.