ADRIFT
What's it rated? PG-13
What's it worth? Rental
Where's it showing? Stadium 10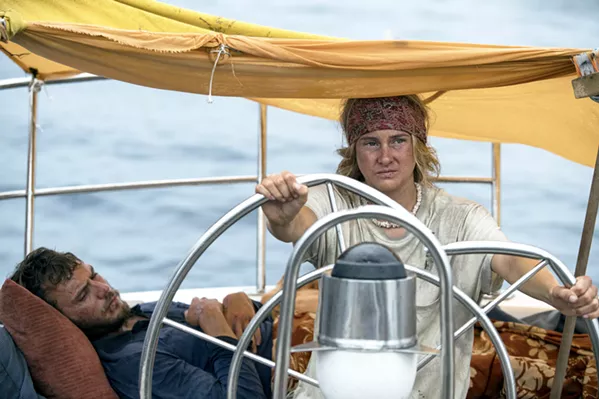 Photo Courtesy Of Lakeshore Entertainment
SURVIVORS With no help in sight, Richard (Sam Clafin) and Tami (Shailene Woodley) must rescue themselves through ingenuity and sheer force of will.
Baltasar Kormákur (Contraband, 2 Guns, Everest) directs this true story of survival about Tami Oldham (Shailene Woodley) and Richard Sharp (Sam Clafin), two free-spirited lovers and avid sailors who set off to cross an ocean only to encounter a catastrophic hurricane that leaves their sailboat in ruins and Richard gravely injured. Can Tami find the will to save them?
Imagine if romance novelist Nicholas Sparks (The Notebook, The Choice, The Best of Me) decided to write a disaster-at-sea story and you'll have a pretty good idea about Adrift. It opens post disaster, as Tami awakens in the hold of a sailboat half submerged in water, a large cut on her head and badly bruised. She's frantically searching for her fiancé, Richard, but she also knows she has to pump out the water before her boat sinks.
From there, the film proceeds to flash back five months to when Tami meets Richard. The film repeatedly moves through time, cutting between their romance and her struggle to survive and help a severely injured Richard, who can do nothing to help Tami besides provide advice and emotional support.
The romance part of the film is pretty sappy, and the disaster part of the film is fairly harrowing, but compared to what I consider the gold standard of lost-at-sea films, Robert Redford's phenomenal All is Lost (2013), Adrift is just OK. There's plenty of drama, and Tami's struggle to survive and save Richard and herself is certainly potent, but the film relies too much on emotional manipulation. As a true story, it's an amazing tale of survival, but as a film, it's good but not great. What really saves the film is a raw, powerful, and committed performance by Woodley.
Director Kormákur knows his way around seafaring disaster—his The Deep (2012) is about a fisherman trying to survive after his boat capsizes off the coast of Iceland—but his CGI storm in Adrift isn't as impressive as the CGI of The Perfect Storm (2000).
It's all these little things that undermine Adrift: The romance feels too easy, even with the argument about whether the couple should accept $10,000 and two first-class return tickets from San Diego to Tahiti in exchanges for piloting the luxury sailboat to California for Richard's friends, a rich British couple; the CGI is good but not great, leading to distraction and pulling viewers out of the drama; and there's a twist near the end that won't be a surprise for those familiar with Tami's adventure, but that might seem like a gimmick or trick to those—like me—who were unfamiliar with her tale.
It's a film that's worth seeing, and if you're a fan of the genre, hit a matinee, but I think I would have been pleasantly surprised to rent this film at Redbox or even wait for it to show up on a streaming service. (120 min.)
—Glen Starkey
DEADPOOL 2
What's it rated? R
What's it worth? Full Price
Where's it showing? Stadium 10, Galaxy
Pick
David Leitch (Atomic Blonde) directs this sequel about irreverent former mercenary-turned-mutant superhero Wade "Deadpool" Wilson (Ryan Reynolds), who this time around convenes a team of fellow mutants to protect a supernaturally-gifted young boy, Russell "Firefist" Collins (Julian Dennison), from the vengeful, time-traveling mutant Cable (Josh Brolin).
Deadpool 2 makes fun of itself, Superman, the X-Men, the Marvel Universe, Marvel's competitor DC Comics, Batman—you name it. No one and nothing is safe from skewering. Heck, even Barbra Streisand and Yentl get it right in the kisser. Ka-pow! I wouldn't have it any other way. (119 min.)
—Glen Starkey
DISOBEDIENCE
What's it rated? R
What's it worth? Rental
Where's it showing? The Palm
Photo Courtesy Of Bleecker Street
REPRESSED In Disobedience, two women (Rachel McAdams and Rachel Weisz) explore the boundaries of faith and their mutual attraction to one another.
Sebastián Lelio (A Fantastic Woman) directs and co-writes (with Rebecca Lenkiewicz, Colette) an emotional and stunning film, Disobedience, starring Rachel Weisz (My Cousin Rachel) as Ronit Krushka, a New York photographer who has been estranged from her family and the Orthodox Jewish community to which she previously belonged. She returns after she is suddenly notified of her father's death, and in doing so is reunited with her two best friends, Esti Kuperman (Rachel McAdams, Spotlight) and Dovid Kuperman (Alessandro Nivola, American Hustle) who are now married. Upon seeing Esti, a flood of past feelings come back to both of them.
Over the course of the movie, we watch as Ronit and Esti begin to re-establish their friendship, and rediscover their taboo love for each other, while Esti struggles through her marriage with Dovid, the judgement of her spying friends, and the entire community around them.
The way Ronit and Esti's relationship is depicted is extremely deep and resilient. It's beautiful, sensual, and yet hesitant and tentative. Its exploration of personal beliefs and social and familial responsibility, in contradiction with sexuality and absolute love, may be one of the most true to life displays you could hope to see on screen.
The objectification of gay women in the media is a widely recognized phenomenon, and in 2018 you'd expect that to begin to change. But if you're expecting a significant change out of this movie, you may be left feeling confused. While much of this film is a beautifully moving experience for the audience, there are also moments, which are stressful, underwhelming, and somewhat fetishistic—which only causes disappointment.
The movie does a wonderful job of showing the struggle of exploring sexuality within an Orthodox Jewish community, and the ostracizing and anger it can cause. It also explores the ideas of feminine roles within that community, including the covering of married women's natural hair, as well as traditions around sex, marriage, and having children.
However, all of this does not pay off in an effective or satisfying way, and the would-be emotional ending falls short and is quite confusing. The decisions made by the three main characters do not seem to follow what the rest of the movie has been setting up. That being said, the ending does wrap up the familial conflict of the movie in a touching way.
Disobedience is worth seeing for its exploration of religion and sexuality alone, but also for its very genuine and intense acting and its cinematic beauty. (114 min.)
—Delany Burk
HEREDITARY
What's it rated? R
What's it worth? Full Price
Where's it showing? Stadium 10, Park
Pick
Writer-director Ari Aster, in his feature-length debut, helms this supernatural horror story about Annie Graham (Toni Collette, About a Boy), who after her mother Ellen dies, begins noticing strange goings on while simultaneously examining her family's disturbing history.
Even though I've determined I can't be frightened by movies anymore, I still like to try, and I can say this about Hereditary: It's doing everything right! It's moody—a slow burn of tension and foreboding. When it resorts to sparingly used jump scares, they're very effective.
The acting is stupendous! Collette is fantastic, playing Annie as a woman on the brink of a meltdown, who internalizes so much that her raw emotions can't help but burst out uncontrollably. Likewise, Gabriel Byrne (Defense of the Realm) plays her husband Steve with a quiet resignation. He knows Annie's been through a lot and is often on edge, and he does his best to understand, but he's close to his own breaking point.
Kids can be eerily scary, and Milly Shapiro in her breakout role as 13-year-old daughter Charlie is perfectly cast. She plays a quirky child, odd-looking, off-putting, and in some non-specific way differently abled. Alex Wolff (A Birder's Guide to Everything) is her brooding older teenage brother Peter, who feels put-upon to include Charlie in his mostly awkward social life.
This nuclear family is bubbling over with secrets, and this supernatural story takes cues from Rosemary's Baby, The Omen, and The Exorcist—all worthy influences. My problem is I don't believe in the devil or the occult, so it's hard to become scared of those ideas, but I still really enjoyed the atmospherics, acting, and direction. Aster, who until now has only written and directed short films, has an auteur's vision. I'll definitely go out of my way to see his next film, and I highly recommend this one.
This really is fine filmmaking. Annie, an artist, creates miniatures that mirror her life. She uses the dioramas as a kind of journal or diary, chronicling everything around her. With her gallery breathing down her neck to see her progress before her next show, it just increases her stress.
I don't want to burden Aster with the label "Hitchcockian," but he's got some important foreshadowing going on (and a penchant for including Hitchcockesque tension-filled music—think raw-nerved composer Bernard Herrmann-lite). When Charlie is lightly rebuked by her teacher for not doing her assignment, a bird crashes into the classroom window. Charlie is later seen picking it up and mutilating it in a way that gains importance as the tale continues. In another scene, Peter's teacher is talking about a Greek tragedy and asking his students what would be more tragic: having free will and making the bad choices that lead to the tragedy, or not having free will, making the tragedy inevitable?
That's at the heart of this story: Is what befalls Annie and her family preordained? Aster moves the camera around Annie's miniatures, sometimes flawlessly shifting from them into the life-size rooms they're based on, and Aster also frequently uses tilt-shift camera tricks to make the real world look like a miniature. Is Annie no more able to control her destiny than the tiny figures she creates for her dioramas?
If you're like me, you won't be frightened by the film's supernatural elements, but you will be wowed by the skillful execution of a dread-filled tragedy. (127 min.)
—Glen Starkey
JURASSIC WORLD: FALLEN KINGDOM
What's it rated? PG-13
Where's it showing? Downtown Centre, Bay, Fair Oaks, Stadium 10, Park, Galaxy
Photo Courtesy Of Universal Pictures
NEARLY EXINCT In Jurassic World: Fallen Kingdom, Owen (Chris Pratt, pictured) and Claire (Bryce Dallas Howard) must save the island's remaining dinosaurs when a formerly dormant volcano threatens to erupt.
New
It's been three years since theme park and luxury resort Jurassic World was destroyed by dinosaurs out of containment. Isla Nublar now sits abandoned by humans while the surviving dinosaurs fend for themselves in the jungles. When the island's dormant volcano begins roaring to life, Owen (Chris Pratt) and Claire (Bryce Dallas Howard) mount a campaign to rescue the remaining dinosaurs from this extinction-level event. Owen is driven to find Blue, his lead raptor who's still missing out in the wild, and Claire has grown a respect for these creatures and now makes saving them her mission. Arriving on the unstable island as lava begins raining down, their expedition uncovers a conspiracy that could return our entire planet to a perilous order not seen since prehistoric times. (129 min.)
—Universal Pictures
MOUNTAIN
What's it rated? NR
Where's it showing? The Palm
From Tibet to Australia, Alaska to Norway, armed with drones, Go-Pros, and helicopters, director Jennifer Peedom has fashioned an astonishing symphony of mountaineers, ice climbers, free soloists, heliskiers, snowboarders, wingsuiters, and parachuting mountain bikers. Willem Dafoe provides a narration sampled from British mountaineer Robert Macfarlane's acclaimed memoir Mountains of the Mind, and a classical score from the Australian Chamber Orchestra accompanies this majestic cinematic experience. (74 min.)
—Greenwich Entertainment
OCEANS 8
What's it rated? PG-13
Where's it showing? Downtown Centre, Stadium 10, Park, Galaxy
Upon her release from prison, Debbie (Sandra Bullock), the estranged sister of legendary conman Danny Ocean, puts together a team of unstoppable crooks to pull off the heist of the century. Their goal is New York City's annual Met Gala and a necklace worth more than $150 million. (110 min.)
—Warner Bros. Pictures
RBG
What's it rated? PG
What's it worth? Full Price
Where's it showing? The Palm
Pick
RBG is a must-see documentary chronicling Supreme Court Justice Ruth Bader Ginsburg's improbable life and career, superbly highlighting her heroic litigation in the 1970s to overturn laws that discriminated by gender, her tenure on the Supreme Court that's been defined by her scathing dissents, and the ways in which she's inspired a new generation of women, becoming a cultural phenomenon at the ripe age of 85.
Beyond those highlights, RBG offers a poignant portrayal of Ginsburg as a person, her reserved and steely yet sweet temperament, and her genuinely beautiful marriage. Filmmakers Betsy West and Julie Cohen really capture Ginsburg's humanity through interviews with her, her friends, and family members, which add a valuable layer of depth to the documentary.
Ginsburg, a Brooklyn native, entered Harvard Law School in 1956 as one of nine women in a class of 500. She juggled her coursework with caring for both her baby and her husband, who had fallen ill with cancer (but ultimately survived). After graduating, she struggled to find law work as a female professional, despite being at the top of her class. Ginsburg eventually became a professor at Columbia University, where she pioneered a class on gender discrimination.
In the '70s, Ginsburg argued a series of discrimination cases before the U.S. Supreme Court. Here, West and Cohen manage to make what could have been a dry rundown of court cases compelling and dramatic. They tracked down the plaintiffs on these cases, who had faced gender-based discrimination ranging from unequal pay to unequal benefits as military service members. RBG weaves original audio from Ginsburg's oral arguments with commentary from Ginsburg and others to drive home the historical significance of those cases. Almost singlehandedly, Ginsburg changed the legal landscape for all women in the country.
RBG begins and ends with exploring her legacy, particularly among the newest generation of Americans. As the Supreme Court turned more and more conservative in the early 2000s, Ginsburg's dissenting opinions became her signature and drew attention from young progressives. At 85 years old today, her spunk and sharp intellect are widely adored. T-shirts labeled "Notorious RBG" have become a hit, and goofy web images with her face imprinted on various superheroes have gone viral on the Internet. You'd be hard pressed to find a more important living American icon than RBG, and this documentary proves it. (97 minutes)
—Peter Johnson
THE SEAGULL
What's it rated? PG-13
Where's it showing? The Palm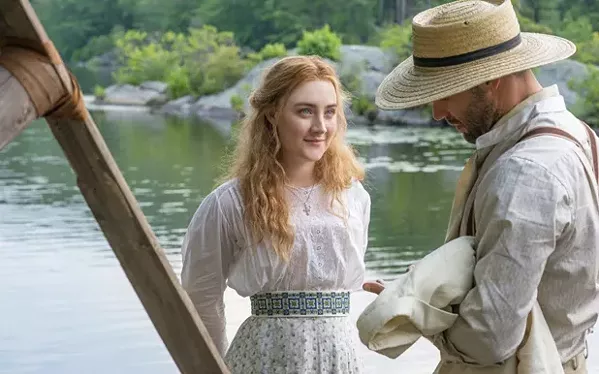 Photo Courtesy Of Sony Pictures Classics
CRAZY IN LOVE Everyone spends the summer hopelessly in love with people who are in love with someone else in The Seagull.
New
One summer at a lakeside Russian estate, friends and family gather for a weekend in the countryside. While everyone is caught up in passionately loving someone who loves somebody else, a tragicomedy unfolds about art, fame, human folly, and the eternal desire to live a purposeful life. Adapted by Tony-winning playwright Stephen Karam (The Humans) from Anton Chekhov's classic play and directed by Tony-winner Michael Mayer (Spring Awakening), The Seagull explores, with comedy and melancholy, the obsessive nature of love, the tangled relationships between parents and children, and the transcendent value and psychic toll of art. (98 min.)
—Sony Pictures Classics
SOLO: A STAR WARS STORY
What's it rated? PG-13
What's it worth? Matinee
Where's it showing? Downtown Centre, Sunset Drive-In, Stadium 10, Galaxy
Pick
Ron Howard (Splash, Cocoon, Backdraft, Apollo 13, A Beautiful Mind, The Da Vinci Code) directs this Han Solo (Alden Ehreneich) origin story, set long before the rebellion, which explores how the cocky pilot met both Chewbacca (Joonas Suotamo) and notorious gambler Lando Calrissian (Donald Glover). The film also stars Woody Harrelson as Tobias Beckett, a smuggler; Thandie Newton as Tobias' wife Val Beckett; Emilia Clarke as Qi'ra, Han's childhood friend; Paul Bettany as crime lord Dryden Vos; Jon Favreau as alien Rio Durant; and Linda Hunt as the voice of Lady Proxima.
Solo started with two different directors who were fired over "creative differences" before Howard took over, so there's a somewhat disjointed and uneven artistic vision here, but that doesn't stop the film from being a lot of fun.
We meet Han and Qi'ra living in a slum and dreaming of getting out. The opening set piece is a rousing chase and escape in which we see both Han's recklessness and bravado. Things don't quite go as planned, and Han ends up in the imperial army, where his wisecracking nature does him no favors, but that's also where he meets Tobias and Chewy, who team up for a big heist that leads to another big set piece, this one involving a cargo train.
There's plenty of action, lots of one-liners, and showdowns between the good guys and the bad guys, not to mention some double crosses and surprises.
In the same tradition of Episodes IV through VI, Solo offers up a classic space Western. It's not going to win any prizes for originality, but for Star Wars nerds, reverence for the series pays off here as we see the little bits of Han's backstory we've learned from the original films play out. I was wholly entertained.
Frankly, I wasn't sure about Ehreneich as Han. I grew up watching Harrison Ford and I couldn't imagine anyone else in the role. There is a passing resemblance between the young Ford and Ehreneich, but instead of doing an impersonation of Ford as Han, Ehreneich makes the character his own.
Glover, on the other hand, seems intent on channeling Billy Dee Williams as Lando Calrissian, but he does it so well, it's a treat to watch. Glover's star is certainly shining brightly right now. He was great as the host of Saturday Night Live a few weeks ago, and his music video for "This is America" has people talking.
These two characters are interesting enough and the actors have so much natural chemistry together that I would happily see another film with the pair. The story ends in a way that's begging for a sequel, and I'd love to see Lando and Han meet for another adventure.
Solo is basically a popcorn movie—uncomplicated, emotionally one note, and with little more than entertainment in mind. It's not the kind of film that sticks with you or challenges viewers in any way, but if you're looking for an engaging space romp, I think Solo delivers. Be warned, however; it's one of those rare films with a higher rottentomatoes.com critic rating (71 percent) than audience score (59 percent), so not everyone has liked the film as much a I have.
If you're the rare person who's new to the Star Wars franchise, you'd be better off starting here rather than the joyless Episode I: The Phantom Menace. Solo at least knows how to have fun. (145 min.)
—Glen Starkey
SUPERFLY
What's it rated? R
Where's it showing? Galaxy
Superfly—the film that helped define a genre in its characters, look, sound, and feel—is reimagined with Director X, director of legendary music videos (Drake, Rihanna), introducing it to a new generation. The screenplay is by Alex Tse. (108 min.)
—Columbia Pictures
TAG
What's it rated? R
Where's it showing? Downtown Centre, Galaxy, Park
For one month every year, five highly competitive friends hit the ground running in a no-holds-barred game of tag they've been playing since the first grade—risking their necks, their jobs, and their relationships to take each other down with the battle cry, "You're it!" This year, the game coincides with the wedding of their only undefeated player, which should finally make him an easy target. But he knows they're coming ... and he's ready. (100 min.) Δ
—Warner Bros. Pictures
New Times movie reviews were compiled by Arts Editor Ryah Cooley and others. You can contact her at rcooley@newtimesslo.com.