BOUNDARIES

Photo Courtesy Of Sony Pictures Classics
FAMILY Laura (Vera Farmiga) ends up driving her estranged, pot dealing dad (Christopher Plummer) along the California coast after he's kicked out of his retirement home in Boundaries.
What's it rated? R
What's it rated? Matinee
Where's it showing? The Palm
Pick

From director Shana Feste (Endless Love, and You're Not You), comes a humorous story of a dysfunctional, struggling family, reluctantly reunited. Vera Farmiga (Bates Motel) stars as Laura Jaconi, a middle class, single mother who has a strange relationship with everyone in her life.
Her misfit son, Henry (Lewis MacDougall, A Monster Calls). has serious social problems, not to mention the fact that he sketches each person he meets, as what he believes their bodies would look like naked. Laura's father, Jack (Christopher Plummer, All The Money In The World), is a drug dealer who has recently been forced to vacate his home in a senior community because of his illicit behavior. He uses Laura, Henry, and their forced family road trip to take him to live with his other daughter, Jojo (Kristen Schaal, The Boss), as a marijuana delivery service.
The movie has some laugh-out-loud moments especially in its depiction of these and other relationships. Laura's sister; her ex-husband, Leonard (Bobby Cannavale, Ant-Man And The Wasp); and Jack's friends and customers make for great comic relief, especially the first of Jack's friends, played by the always entertaining Christopher Lloyd (Back To The Future). However, the relationships are not very realistically depicted, especially the relationship between Laura and Henry. As Henry presents creepy character traits, he gets no appropriate reactions from Laura. She seems unconcerned and even somewhat charmed by his behavior. And when he begins assisting Jack in selling weed, she barely reacts.
Part of what makes the movie entertaining, despite its flaws, is the acting. While it is not exactly Oscar-worthy, the actors give the perfect level of emotion for a majority of the situations they are placed in. Laura's character has a number of interesting traits and character flaws that resurface time and time again, one being her chronic collection of animals. The other however is a bit more interesting. Laura tries to set boundaries with her father, after feeling neglected by Jack as a child. The first boundary is her refusal to take his calls. But as the movie goes on, it becomes clear how hard it is for her to maintain those boundaries.
Boundaries could fall under many different genre categories, but it fits together into a nicely assembled jigsaw puzzle. It explores many serious topics like absentee parents, marital and teenage social problems, and drugs. It is a wonderful, fun, and humorous—if somewhat unrealistic—road trip movie. (104 min.)
—Delany Burk
HOTEL TRANSLYVANIA 3: SUMMER VACATION
What's it rated? PG
Where's it showing? Downtown Centre, Stadium 10, Park, Galaxy
Join our favorite monster family as they embark on a vacation on a luxury monster cruise ship so Drac (voice of Adam Sandler) can take a summer vacation from providing everyone else's vacation at the hotel. It's smooth sailing for Drac's pack as the monsters indulge in all of the shipboard fun the cruise has to offer, from monster volleyball to exotic excursions, and catching up on their moon tans. But the dream vacation turns into a nightmare when Mavis (voice of Selena Gomez) realizes Drac has fallen for the mysterious captain of the ship, Ericka (voice of Kathryn Hahn), who hides a dangerous secret that could destroy all of monsterkind. (97 min.)
—Columbia Pictures/Sony Pictures Animation
THE FIRST PURGE
What's it rated? R
Where's it showing? Downtown Centre, Stadium 10, Park, Galaxy
Behind every tradition lies a revolution. Next Independence Day, witness the rise of our country's 12 hours of annual lawlessness. Welcome to the movement that began as a simple experiment: The First Purge. To push the crime rate below 1 percent for the rest of the year, the New Founding Fathers of America (NFFA) test a sociological theory that vents aggression for one night in one isolated community. But when the violence of oppressors meets the rage of the marginalized, the contagion will explode from the trial-city borders and spread across the nation. (112 min.)
—Universal Pictures
HEARTS BEAT LOUD
Photo Courtesy Of Gunpowder & Sky
HARMONY In Hearts Beat Loud, a father (Nick Offerman) and his daughter (Kiersey Clemons) form a band the summer before she leaves for college.
What's it rated? PG-13
What's it worth? Full Price
Where's it showing? The Palm
Pick

From writer/director Brett Haley (And Then I Go, The New Year) and writer Marc Basch (I'll See You In My Dreams) comes Hearts Beat Loud, a film about widower and aging Brooklyn hipster Frank (Nick Offerman, Parks and Recreation, The Hero) starting a band with his teenage daughter Sam (Kiersey Clemmons, Dope) just before she leaves home to attend college in California. When a song of theirs finds success online, it complicates Frank's attempts to let go of his dreams of stardom and allow his daughter to find her own path in life.
This heartwarming indie flick is exactly what you need this summer. Seriously, go to the theater now. I'll wait. Wasn't that lovely? From the acting of the star-studded cast Offerman, Blythe Danner (Husbands and Wives), Toni Collette (Little Miss Sunshine), and Ted Danson (The Good Place, Body Heat), to the musical performances (and references and soundtrack), and the use of imagery and subtle moments to tell a story, Hearts Beat Loud is a nuanced coming of age story—for both father and daughter.
After owning a record shop for 17 years, Frank, who is about to become an empty nester with his daughter Sam leaving for UCLA to study to become a doctor in the fall, feels that it's time for a change, but he's not sure what to do exactly. He also can't let go of the dream of making it big in music, back from the days when he and his late wife had a band together. So naturally when he and Sam produce a song that is pretty bitchin', he races to put it on Spotify without telling her. When their song does unexpectedly well, it puts Sam in a place of feeling like she has to choose between music and creativity and medicine and stability.
Offerman as Frank is simultaneously burnt out on the hardships of his life—losing his wife young, raising his daughter alone, caring for his senile mother, and trying to sell records for a living in the age of iTunes—and also unbelievably sweet as a loving, goofy father to Sam.
While Sam gets ready to leave the only home she's ever known, she also ends up falling in love with a girl, Rose (American Honey), a young artist she meets at a gallery. The beautiful thing is that the movie (and the other characters in it) doesn't make a big deal about Sam being a lesbian. Instead, it's presented simply as a young person falling in love for the first time, weeks before she has to move to the other side of the country. And Sam and Rose are both black, which the movie doesn't dwell on. Nor is it a thing that Frank is a white dad raising his black daughter, solo. It just is.
We also get standout performances from Danner as Frank's mom who is starting to forget who and where she is and shoplifts on the regular because of it; Collette as Frank's attractive, business savvy land lady; and Danson as his wise, yet high/tipsy bartender best friend.
Hearts Beat Loud is little pick me up that explores what it's like to be at a crossroads in life, no mater what age you are. (97 min.)
—Ryah Cooley
INCREDIBLES 2
What's it rated? PG
What's it worth? Matinee
Where's it showing? Downtown Centre, Stadium 10, Sunset Drive-In, Park, Galaxy
Pick

From Writer/Director Brad Bird (Ratatouille) comes the sequel Incredibles 2, 14 years after the original film premiered. Everyone's favorite family of superheroes is back in Incredibles 2—but this time Helen (voice of Holly Hunter) is in the spotlight, leaving Bob (voice of Craig T. Nelson) at home with Violet (voice of Sarah Vowell) and Dash (voice of Huck Milner) to navigate the day-to-day heroics of normal life. It's a tough transition for everyone, made tougher by the fact that the family is still unaware of baby Jack-Jack's emerging superpowers. When a new villain hatches a brilliant and dangerous plot, the family and Frozone (voice of Samuel L. Jackson) must find a way to work together again.
It's been more than a decade since the Incredibles first burst onto the scene and delighted audiences with its unique nostalgia drenched take on what was then just an emerging powerhouse genre in contemporary cinema And while the film may be a shade darker than the first iteration, this new installment delivers on just about everything it promises and should leave families entertained until the next chapter arrives in theaters (which hopefully comes sooner than a decade and a half).
I also wanted to take a minute to commend Bird's choice to leave cell phones out of the picture, allowing his film to flex its muscles without pocket-sized distractions. It truly speaks to the traditionalist bent of the series, which seems to draw from 1950s era super hero shows and comics, as much as even earlier, "Golden Age" science fiction classics. Bird gives audiences a glimpse of how his generation and those before him viewed the future, and while those dreams may be dated, they still come across as new, exciting, and utterly unique, and that's pretty incredible. (118 min.)
—Spencer Cole
JURASSIC WORLD: FALLEN KINGDOM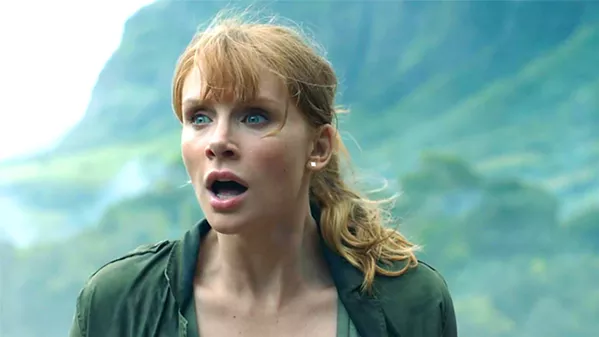 Photo Courtesy Of Amblin Entertainment
PAWN? Claire Dearing (Bryce Dallas Howard) is hired to mount a rescue mission to save dinosaurs on a volcanic island, but what's driving the rescue mission?
What's it rated? PG-13
What's it worth? Matinee
Where's it showing? Downtown Centre, Stadium 10, Park, Galaxy
Pick

J.A. Bayona (The Orphanage, The Impossible, A Monster Calls) directs this follow-up to Jurassic World (2015), which was about an island dinosaur park and a genetically modified hybrid dinosaur that goes on a killing spree and brings down the park. Three years later, the island has been abandoned and left to the dinosaurs, but then the island's dormant volcano rumbles to life, threatening to kill all the dinosaurs. Claire Dearing (Bruce Dallas Howard) and Owen Grady (Chris Pratt) mount a rescue mission, but do the powers that be have an ulterior motive to funding their attempt?
This is a big, fun, entertaining, summer popcorn movie that audiences will like but critics will condemn thanks to the law of diminishing returns. You can only throw the same thing at the screen so many times before it becomes surprise-free, and I'd say we're just about there, but if you're interested, see it on the big screen for full effect. (128 min.)
—Glen Starkey
OCEANS 8
What's it rated? PG-13
Where's it showing? Downtown Centre, Stadium 10, Bay, Park
Upon her release from prison, Debbie (Sandra Bullock), the estranged sister of legendary conman Danny Ocean, puts together a team of unstoppable crooks to pull off the heist of the century. Their goal is New York City's annual Met Gala and a necklace worth more than $150 million. (110 min.)
—Warner Bros. Pictures
RBG
What's it rated? PG
What's it worth? Full Price
Where's it showing? The Palm
Pick

RBG is a must-see documentary chronicling Supreme Court Justice Ruth Bader Ginsburg's improbable life and career, superbly highlighting her heroic litigation in the 1970s to overturn laws that discriminated by gender, her tenure on the Supreme Court that's been defined by her scathing dissents, and the ways in which she's inspired a new generation of women, becoming a cultural phenomenon at the ripe age of 85.
Beyond those highlights, RBG offers a poignant portrayal of Ginsburg as a person, her reserved and steely yet sweet temperament, and her genuinely beautiful marriage. Filmmakers Betsy West and Julie Cohen really capture Ginsburg's humanity through interviews with her, her friends, and family members, which add a valuable layer of depth to the documentary.
RBG begins and ends with exploring her legacy, particularly among the newest generation of Americans. As the Supreme Court turned more and more conservative in the early 2000s, Ginsburg's dissenting opinions became her signature and drew attention from young progressives. At 85 years old today, her spunk and sharp intellect are widely adored. T-shirts labeled "Notorious RBG" have become a hit, and goofy web images with her face imprinted on various superheroes have gone viral on the Internet. You'd be hard pressed to find a more important living American icon than RBG, and this documentary proves it. (97 min.)
—Peter Johnson
SICARIO: DAY OF THE SOLDADO
What's it rated? R
What's it worth? Rental
Where's it showing? Downtown Centre, Stadium 10, Park, Galaxy
In this sequel to Sicario (2015), CIA operative Matt Graver (Josh Brolin) reteams with Central American vigilante Alejandro Gillick (Benicio Del Toro) to take on the Mexican drug cartels when it becomes clear they're trafficking terrorists across the U.S. border. The pair kidnaps Isabel Reyes (Isabela Moner), a drug lord's 16-year-old daughter, hoping to incite war between rival cartels, but things go wrong, pitting Graver against Gillick. Italian director Stefano Sollima (A.C.A.B., Suburra) helms this screenplay by actor-writer-director-producer Taylor Sheridan (Sicario, Hell or High Water, Wind River).
Maybe I've been so wowed by Sheridan that my expectations are too high or maybe Sicario: Day of the Soldado is suffering from sequel slump, but this is a film that can wait for home viewing. (122 min.)
—Glen Starkey
SKYSCRAPER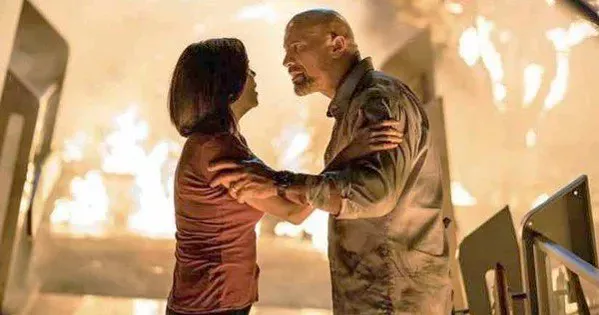 Photo Courtesy Of Universal Pictures
ON FIRE In Skyscraper, Will Ford (Dwayne Johnson) is framed for arson and must clear his name and rescue his family.
What's it rated? PG-13
Where's it showing? Downtown Centre, Stadium 10, Park, Galaxy
NewDwayne Johnson leads the cast of Skyscraper as former FBI Hostage Rescue Team leader and U.S. war veteran Will Ford, who now assesses security for skyscrapers. On assignment in China he finds the tallest, safest building in the world suddenly ablaze, and he's been framed for it. A wanted man on the run, Will must find those responsible, clear his name, and somehow rescue his family who is trapped inside the building ... above the fire line. (103 min.)
—Universal Pictures
SORRY TO BOTHER YOU
What's it rated? PG-13
Where's it showing? Downtown Centre
NewIn an alternate present-day version of Oakland, black telemarketer Cassius Green (Lakeith Stanfield) discovers a magical key to professional success that propels him into a macabre universe of "powercalling" that leads to material glory. But the upswing in Cassius' career raises serious red flags with his girlfriend, Detroit (Tessa Thompson), a performance artist and minimum-wage striver who's secretly part of a Banksy-style activist collective. As his friends and co-workers organize in protest of corporate oppression, Cassius falls under the spell of his company's cocaine-snorting CEO Steve Lift (Armie Hammer), who offers him a salary beyond his wildest dreams. (105 min.)
—Annapurna Pictures
THREE IDENTICAL STRANGERS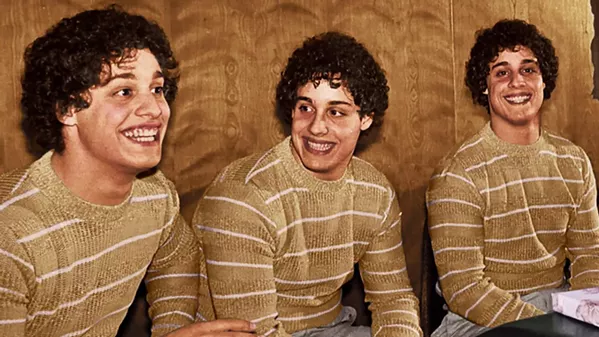 Photo Courtesy Of Neon
SEEING TRIPLE Documentary filmmakers explore the story of triplets who are separated at birth in Three Identical Strangers.
What's it rated? PG-13
Where's it showing? The Palm
NewThree strangers are reunited by astonishing coincidence after being born identical triplets, separated at birth, and adopted by three different families. Their jaw-dropping, feel-good story instantly becomes a global sensation complete with fame and celebrity. However, the fairy tale reunion sets in motion a series of events that unearth an unimaginable secret—a secret with radical repercussions for us all. (96 min.)
—Neon
WON'T YOU BE MY NEIGHBOR?
What's it rated? PG
What's it worth? Full Price
Where's it showing? The Palm
PickMorgan Neville (20 Feet From Stardom) helms this documentary biopic about beloved cardigan-clad children's TV host Fred Rogers.
It's easy to dismiss Fred Rogers as "just" a children's TV host, and a sappy, low-budget one at that, but this documentary reveals just how deeply he cared about children; how hard he worked at helping children through topical issues such as Robert Kennedy's assassination, divorce, and war; and how seriously he took his role as host of positive children's programming as foil to what he saw as bad role modeling and encouragement of humanity's baser instincts in other kids' programs.
This documentary mixes archival footage of his show both off screen and on; interviews with those who knew him and were part of his show such as his wife Joanne Rogers, and members of his cast such as Betty Aberlin (Lady Aberlin) and François Scarborough Clemmons; and particularly memorable guests such as Yo-Yo Ma and Koko the sign language gorilla. There's even some animation to help illustrate some of the narration about his life.
Though I watched Mr. Rogers' Neighborhood as a kid, I really don't remember much of it, perhaps because Rogers was never heavy-handed or didactic. His main message was love and acceptance. He wanted each child to know he or she was loved and capable of loving. He also wanted kids to know that whoever they are, that's good enough. It's about as close to Jesus's message as you can get, but ironically it was a message that led to backlash by—get this!—conservatives who argued Rogers created a generation of entitled brats. The "God Hates Fags" Westboro Baptist Church considered Rogers—an ordained minister, by the way—an enemy too. They actually protested Rogers' memorial service. As far as I'm concerned, that's a ringing endorsement! He's rankling the right hides, but it's hard to believe such a gentle, sweet, loving person could be so polarizing.
Maybe it was simple nostalgia or being warmed by his message, but this documentary had me choked up throughout. Seeing Mr. Rogers gaze with love into a learning disabled child's eyes, watching him invite African-American cast member François to soak his feet with him in a child's wading pool during a time when whites and blacks didn't swim together, or seeing Rogers channel the empathic tiger sock puppet Daniel just got me.
It's not like Rogers was without fault. When he learned that François was gay, that was something that needed hiding for fear it would undermine his program, but Rogers was right on race and right on inclusion of disabled children during a time before such kids were mainstreamed in public schools.
It's also amazing to see Rogers go before congress and argue for the worth of public television. It's now decades later, and our current president seems bent on dividing our country by race and stripping federal funding from the arts, NPR, and PBS. This documentary is a reminder that there was a tireless champion of tolerance and inclusivity. We could certainly use that again.
What makes the film even more poignant is its depiction of Rogers at his lowest. Looking at our culture today, it's clear his message didn't prevail. Still, his message was a worthy one and remains so today. Won't You Be My Neighbor? is a wonderful celebration of a wonderful man who touched countless lives and exemplified a life well lived. (94 min.) Δ
—Glen Starkey
New Times movie reviews were compiled by Arts Editor Ryah Cooley and others. You can contact her at rcooley@newtimesslo.com.