ANT-MAN AND THE WASP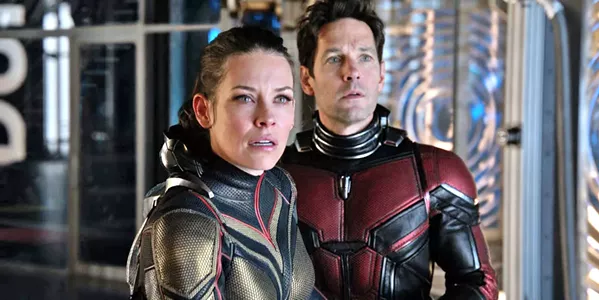 Photo Courtesy Of Walt Disney Pictures
HERO/LIFE BALANCE In Ant-Man and The Wasp, Scott (Paul Rudd, pictured right) struggles with being a father and a super hero.
What's it rated? PG-13
Where's it showing? Downtown Centre, Sunset Drive-In, Stadium 10, Park, Galaxy
New
From the Marvel Cinematic Universe comes a new chapter featuring heroes with the astonishing ability to shrink: Ant-Man and The Wasp. In the aftermath of Captain America: Civil War, Scott Lang (Paul Rudd) grapples with the consequences of his choices as both a superhero and a father. As he struggles to rebalance his home life with his responsibilities as Ant-Man, he's confronted by Hope van Dyne (Evangeline Lilly) and Dr. Hank Pym (Michael Douglas) with an urgent new mission. Scott must once again put on the suit and learn to fight alongside the Wasp as the team works together to uncover secrets from their past. (125 min.)
—Walt Disney Pictures
BOUNDARIES
What's it rated? R
Where's it showing? The Palm
New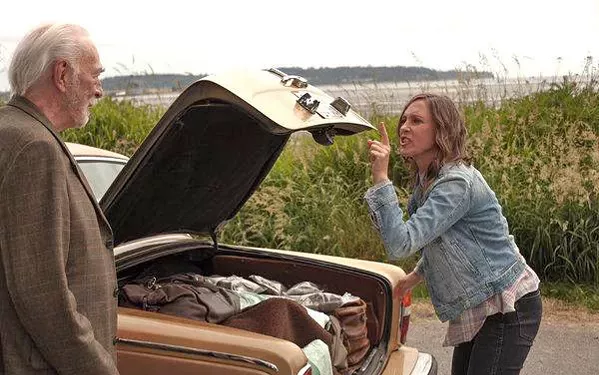 Photo Courtesy Of Sony Pictures Classics
FAMILY Laura (Vera Farmiga) ends up driving her estranged, pot dealing dad (Christopher Plummer) along the California coast after he's kicked out of his retirement home in Boundaries.
Laura (Vera Farmiga) is a single mother living in Seattle, who has a constant need to put others, including animals, before her. When her estranged, criminally minded father Jack (Christopher Plummer) is kicked out of his retirement home, Laura agrees to drive him down the coast to live with her sister, JoJo (Kristen Schaal), in Los Angeles. Along for the ride is her bright but troubled son, Henry (Lewis MacDougall), and an assortment of animal charity cases. Without telling Laura, Jack convinces Henry to help him sell off his copious supply of marijuana at every stop of their journey, resulting in unexpected reunions with old friends and family. (104 min.)
—Sony Pictures Classics
THE FIRST PURGE
What's it rated? R
Where's it showing? Downtown Centre, Park, Galaxy
Behind every tradition lies a revolution. Next Independence Day, witness the rise of our country's 12 hours of annual lawlessness. Welcome to the movement that began as a simple experiment: The First Purge. To push the crime rate below 1 percent for the rest of the year, the New Founding Fathers of America (NFFA) test a sociological theory that vents aggression for one night in one isolated community. But when the violence of oppressors meets the rage of the marginalized, the contagion will explode from the trial-city borders and spread across the nation. (112 min.)
—Universal Pictures
HEARTS BEAT LOUD
What's it rated? PG-13
What's it worth? Full Price
Where's it showing? The Palm
Pick
Photo Courtesy Of Gunpowder & Sky
HARMONY In Hearts Beat Loud, a father (Nick Offerman) and his daughter (Kiersey Clemons) form a band the summer before she leaves for college.
From writer/director Brett Haley (And Then I Go, The New Year) and writer Marc Basch (I'll See You In My Dreams) comes Hearts Beat Loud, a film about widower and aging Brooklyn hipster Frank (Nick Offerman, Parks and Recreation, The Hero) starting a band with his teenage daughter Sam (Kiersey Clemmons, Dope) just before she leaves home to attend college in California. When a song of theirs finds success online, it complicates Frank's attempts to let go of his dreams of stardom and allow his daughter to find her own path in life.
This heartwarming indie flick is exactly what you need this summer. Seriously, go to the theater now. I'll wait. Wasn't that lovely? From the acting of the star-studded cast Offerman, Blythe Danner (Husbands and Wives), Toni Collette (Little Miss Sunshine), and Ted Danson (The Good Place, Body Heat), to the musical performances (and references and soundtrack), and the use of imagery and subtle moments to tell a story, Hearts Beat Loud is a nuanced coming of age story—for both father and daughter.
After owning a record shop for 17 years, Frank, who is about to become an empty nester with his daughter Sam leaving for UCLA to study to become a doctor in the fall, feels that it's time for a change, but he's not sure what to do exactly. He also can't let go of the dream of making it big in music, back from the days when he and his late wife had a band together. So naturally when he and Sam produce a song that is pretty bitchin', he races to put it on Spotify without telling her. When their song does unexpectedly well, it puts Sam in a place of feeling like she has to choose between music and creativity and medicine and stability.
Offerman as Frank is simultaneously burnt out on the hardships of his life—losing his wife young, raising his daughter alone, caring for his senile mother, and trying to sell records for a living in the age of iTunes—and also unbelievably sweet as a loving, goofy father to Sam.
While Sam gets ready to leave the only home she's ever known, she also ends up falling in love with a girl, Rose (American Honey), a young artist she meets at a gallery. The beautiful thing is that the movie (and the other characters in it) doesn't make a big deal about Sam being a lesbian. Instead, it's presented simply as a young person falling in love for the first time, weeks before she has to move to the other side of the country. And Sam and Rose are both black, which the movie doesn't dwell on. Nor is it a thing that Frank is a white dad raising his black daughter, solo. It just is.
We also get standout performances from Danner as Frank's mom who is starting to forget who and where she is and shoplifts on the regular because of it; Collette as Frank's attractive, business savvy land lady; and Danson as his wise, yet high/tipsy bartender best friend.
Hearts Beat Loud is little pick me up that explores what it's like to be at a crossroads in life, no mater what age you are. (97 min.)
—Ryah Cooley
INCREDIBLES 2
What's it rated? PG
What's it worth? Matinee
Where's it showing? Downtown Centre, Sunset Drive-In, Park, Galaxy
Pick
From Writer/Director Brad Bird (Ratatouille) comes the sequel Incredibles 2, 14 years after the original film premiered. Everyone's favorite family of superheroes is back in Incredibles 2—but this time Helen (voice of Holly Hunter) is in the spotlight, leaving Bob (voice of Craig T. Nelson) at home with Violet (voice of Sarah Vowell) and Dash (voice of Huck Milner) to navigate the day-to-day heroics of normal life. It's a tough transition for everyone, made tougher by the fact that the family is still unaware of baby Jack-Jack's emerging superpowers. When a new villain hatches a brilliant and dangerous plot, the family and Frozone (voice of Samuel L. Jackson) must find a way to work together again.
Photo Courtesy Of Disney/pixar
SUPER BABY As baby Jack-Jack's powers begin to emerge, it's clear he's on the gifted end of the super spectrum, possessing multiple powers and abilities.
It's been more than a decade since the Incredibles first burst onto the scene and delighted audiences with its unique nostalgia drenched take on what was then just an emerging powerhouse genre in contemporary cinema. That's more than a decade of Avenging, Dark Knightin', Deadpooling, and world-saving that the crime fighting family and the world missed out on during their absence. Hell, when the movie premiered Tobey Maguire was still Spiderman. Yes, there have been five Spiderman movies since the first Incredbles came out. I still have trouble believing that even though I just wrote it. Which is why I was all the more impressed with Bird's follow-up for his super-powered family. It should be commended how he and the animation team at Disney's Pixar managed to be true to the original without kowtowing to modern trends. And while the film may be a shade darker than the first iteration, this new installment delivers on just about everything it promises and should leave families entertained until the next chapter arrives in theaters (which hopefully comes sooner than a decade and a half).
The new super villain that the Incredibles (well, mainly Helen) are up against this time is the Screen Slaver, a nemesis who uses our enslavement to technology to hypnotize his victims using any screen around. In this state, the Screen Slaver can get anyone to do his evil bidding and they won't even remember it later. At the same time, the Screen Slaver is very anti-technology and thinks people are overly dependent on it at the expense of actually living life, which seems a bit ironic.
I would have liked to have seen a deeper exploration of gender roles, but kind of get that doing so would have made the movie even longer (and at 118 minutes this one is asking a lot of its younger audiences, even with multiple action scenes and an endless array of power displays). The film is certainly not without its missteps, specifically in how it handles Frozone's wife, Honey (voice of Kimberly Adair Clark), who we only hear nagging her husband, we never see her. She really does just feel like a recycled gag from 2004's Incredibles. How hard would it have been to design a character and give her some meaningful screen time besides reducing her to some cheap foil for Jackson's Frozone to briefly interact with?
As for the villain reveal of the Screen Slaver, it's not going to come as a shock to seasoned moviegoers but may catch a few distracted parents, and especially kids, off guard. That being said, I have to hand it to Bird for how he packages an action sequence and his apparent skill at pairing together super powers for battles like a sommelier with fine wine. The folks over at Marvel Studios could learn a lot from these films in terms of crafting fight scenes that, although almost always formulaic, can still be delivered in ways that make them feel fresh. Bird proves that multiple times throughout Incredibles 2 (just watch Elastigirl interact with her bike and try to tell me that's not some cool out-of-the-box thinking for a chase scene involving a human being essentially made of indestructible rubber). I also wanted to take a minute to commend Bird's choice to leave cell phones out of the picture, allowing his film to flex its muscles without pocket-sized distractions. It truly speaks to the traditionalist bent of the series, which seems to draw from 1950s era super hero shows and comics, as much as even earlier, "Golden Age" science fiction classics. Bird gives audiences a glimpse of how his generation and those before him viewed the future, and while those dreams may be dated, they still come across as new, exciting, and utterly unique, and that's pretty incredible. (118 min.)
—Spencer Cole
JURASSIC WORLD: FALLEN KINGDOM
What's it rated? PG-13
What's it worth? Matinee
Where's it showing? Downtown Centre, Bay, Fair Oaks, Park, Galaxy
Pick
J.A. Bayona (The Orphanage, The Impossible, A Monster Calls) directs this follow up to Jurassic World (2015), which was about an island dinosaur park and a genetically modified hybrid dinosaur that goes on a killing spree and brings down the park. Three years later, the island has been abandoned and left to the dinosaurs, but then the island's dormant volcano rumbles to life, threatening to kill all the dinosaurs. Claire Dearing (Bruce Dallas Howard) and Owen Grady (Chris Pratt) mount a rescue mission, but do the powers that be have an ulterior motive to funding their attempt?
This is a big, fun, entertaining, summer popcorn movie that audiences will like but critics will condemn thanks to the law of diminishing returns. You can only throw the same thing at the screen so many times before it becomes surprise-free, and I'd say we're just about there, but if you're interested, see it on the big screen for full effect. (128 min.)
—Glen Starkey
OCEANS 8
What's it rated? PG-13
Where's it showing? Park, Galaxy
Upon her release from prison, Debbie (Sandra Bullock), the estranged sister of legendary conman Danny Ocean, puts together a team of unstoppable crooks to pull off the heist of the century. Their goal is New York City's annual Met Gala and a necklace worth more than $150 million. (110 min.)
—Warner Bros. Pictures
RBG
What's it rated? PG
What's it worth? Full Price
Where's it showing? The Palm
Pick
Photo Courtesy Of Magnolia Pictures
NOTORIOUS The documentary RBG explores the life and career of U.S. Supreme Court Justice Ruth Bader Ginsburg.
RBG is a must-see documentary chronicling Supreme Court Justice Ruth Bader Ginsburg's improbable life and career, superbly highlighting her heroic litigation in the 1970s to overturn laws that discriminated by gender, her tenure on the Supreme Court that's been defined by her scathing dissents, and the ways in which she's inspired a new generation of women, becoming a cultural phenomenon at the ripe age of 85.
Beyond those highlights, RBG offers a poignant portrayal of Ginsburg as a person, her reserved and steely yet sweet temperament, and her genuinely beautiful marriage. Filmmakers Betsy West and Julie Cohen really capture Ginsburg's humanity through interviews with her, her friends, and family members, which add a valuable layer of depth to the documentary.
Ginsburg, a Brooklyn native, entered Harvard Law School in 1956 as one of nine women in a class of 500. She juggled her coursework with caring for both her baby and her husband, who had fallen ill with cancer (but ultimately survived). After graduating, she struggled to find law work as a female professional, despite being at the top of her class. Ginsburg eventually became a professor at Columbia University, where she pioneered a class on gender discrimination.
In the '70s, Ginsburg argued a series of discrimination cases before the U.S. Supreme Court. Here, West and Cohen manage to make what could have been a dry rundown of court cases compelling and dramatic. They tracked down the plaintiffs on these cases, who had faced gender-based discrimination ranging from unequal pay to unequal benefits as military service members. RBG weaves original audio from Ginsburg's oral arguments with commentary from Ginsburg and others to drive home the historical significance of those cases. Almost singlehandedly, Ginsburg changed the legal landscape for all women in the country.
RBG begins and ends with exploring her legacy, particularly among the newest generation of Americans. As the Supreme Court turned more and more conservative in the early 2000s, Ginsburg's dissenting opinions became her signature and drew attention from young progressives. At 85 years old today, her spunk and sharp intellect are widely adored. T-shirts labeled "Notorious RBG" have become a hit, and goofy web images with her face imprinted on various superheroes have gone viral on the Internet. You'd be hard pressed to find a more important living American icon than RBG, and this documentary proves it. (97 min.)
—Peter Johnson
SICARIO: DAY OF THE SOLDADO
What's it rated? R
What's it worth? Rental
Where's it showing? Downtown Centre, Park, Galaxy
In this sequel to Sicario (2015), CIA operative Matt Graver (Josh Brolin) reteams with Central American vigilante Alejandro Gillick (Benicio Del Toro) to take on the Mexican drug cartels when it becomes clear they're trafficking terrorists across the U.S. border. The pair kidnaps Isabel Reyes (Isabela Moner), a drug lord's 16-year-old daughter, hoping to incite war between rival cartels, but things go wrong, pitting Graver against Gillick. Italian director Stefano Sollima (A.C.A.B., Suburra) helms this screenplay by actor-writer-director-producer Taylor Sheridan (Sicario, Hell or High Water, Wind River).
Photo Courtesy Of Columbia Pictures
HOSTAGE In Sicario: Day of the Soldado, a kingpin's daughter becomes a bargaining chip in the midst of the drug war.
First, I have to say I think Taylor Sheridan is one of the best screenwriters of machismo cinema. Most people see male strength as dumb and uncomplicated, but in Sheridan's hands, it's a nuanced, often contradictory thing with a complex moral underpinning. There's always a code of conduct coursing beneath the bravado, and his characters always have deftly written internal struggles. He's been acting since the mid-'90s, but Sicario was his first screenplay brought to the big screen, and each one since, from 2016's Hell or Highwater to 2017's brilliant and underrated Wind River have thoroughly engaged me. I also recently watched the pilot for his new TV series Yellowstone, with Kevin Costner, and it's great. Now that I'm done gushing about Sheridan, here's the criticism: Sicario: Day of the Soldado doesn't measure up to the rest of his oeuvre.
The story contains many of the same earmarks of the original—a grim and violent tone, an examination of the complicated morality of fighting entities as evil and remorseless as drug cartels, and the dirty trickster-ism wielded to get results. Unfortunately, the screenplay feels rushed, lacking nuance and a satisfactory ending. In the final act, I was thinking, "How's he going to write his way out of this one?" The answer is he isn't. The ending feels lazy and more interested in teeing up a sequel than resolution.
Likewise, the original's direction by Denis Villeneuve (Prisoners, Enemy, Arrival, Blade Runner 2049) was soulful and introspective, while Sollima's direction on this sequel feels competent but unable to overcome the script's deficiencies
Both Brolin and Del Toro do excellent work, and there's a solid supporting cast, but Matthew Modine as Secretary of Defense James Riley and Catherine Keener as Graver's CIA supervisor Cynthia Foards are given fairly one-dimensional characters and can't seem to do enough to flesh them out.
Maybe I've been so wowed by Sheridan that my expectations are too high or maybe Sicario: Day of the Soldado is suffering from sequel slump, but this is a film that can wait for home viewing. Rest assured, however, I'll be giving Sheridan another chance. Even his substandard work in Sicario: Day of the Soldado is much better than most of what Hollywood puts out. (122 min.)
—Glen Starkey
TAG
What's it rated? R
Where's it showing? Galaxy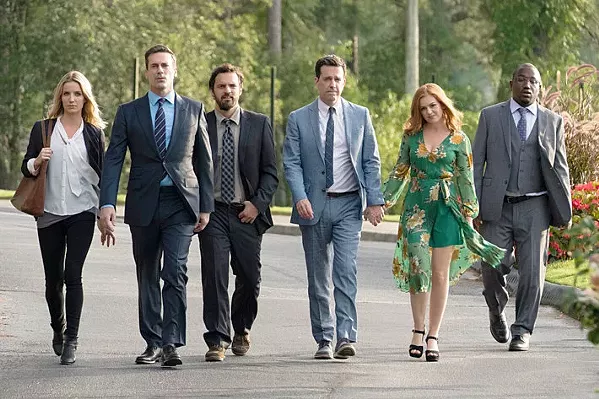 Photo Courtesy Of Warner Bros. Pictures
YOU'RE IT! In Tag a group of friends continues a lifelong game, at the expense of potentially ruining one of their own's wedding day.
For one month every year, five highly competitive friends hit the ground running in a no-holds-barred game of tag they've been playing since the first grade—risking their necks, their jobs, and their relationships to take each other down with the battle cry, "You're it!" This year, the game coincides with the wedding of their only undefeated player, which should finally make him an easy target. But he knows they're coming ... and he's ready. (100 min.)
—Warner Bros. Pictures
UNCLE DREW
What's it rated? PG-13
Where's it showing? Downtown, Park, Galaxy
After draining his life savings to enter a team in the Rucker Classic street ball tournament in Harlem, Dax (LilRel Howery) is dealt a series of unfortunate setbacks, including losing his team to his longtime rival (Nick Kroll). Desperate to win the tournament and the cash prize, Dax stumbles upon the man, the myth, the legend Uncle Drew (NBA All-Star Kyrie Irving) and convinces him to return to the court one more time. The two men embark on a road trip to round up Drew's old basketball squad (Shaquille O'Neal, Chris Webber, Reggie Miller, Nate Robinson, and Lisa Leslie) and prove that a group of septuagenarians can still win the big one. (103 min.) ∆
—Lionsgate
New Times movie reviews were compiled by Arts Editor Ryah Cooley and others. You can contact her at rcooley@newtimesslo.com.