Photo Courtesy Of Walt Disney Pictures
HERO/LIFE BALANCE In Ant-Man and The Wasp, Scott (Paul Rudd, pictured right) struggles with being a father and a super hero.
ANT-MAN AND THE WASP
What's it rated? PG-13
What's it rated? Matinee
Where's it showing? Downtown Centre
Pick
Peyton Reed (Bring It On, Yes Man, Ant-Man) directs this next entry into the Marvel universe set after the events of Captain America: Civil War. Paul Rudd returns as Scott Lang and his superhero alter ego Ant-Man. As Scott struggles to balance his crime fighting and home life, he's once again called-on by Dr. Hank Pym (Michael Douglas) to join forces with Scott's one-time love interest (and Pym's daughter) Hope Van Dyne/The Wasp (Evangeline Lilly) to deal with a new threat, Ghost (Hannah John-Kamen).
This is definitely the sort of story you don't want to think too hard about because it's silly and absurd. But when the fists are flying or the cars are racing, moving from super small size to super big, it's best to disappear into the moment and go with it. (118 min.)
—Glen Starkey
CHRISTOPHER ROBIN
What's it rated? PG
Where's it showing? Downtown Centre, Bay, Fair Oaks, Galaxy, Park
New
In the heartwarming live action adventure, Christopher Robin, the young boy who loved embarking on adventures in the Hundred Acre Wood with a band of spirited and loveable stuffed animals, has grown up and lost his way. Now it is up to his childhood friends to venture into our world and help Christopher Robin (Ewan McGregor) remember the loving and playful boy who is still inside. (120 min.)
—Walt Disney Pictures
Photo Courtesy Of 20th Century Fox
SUPER NATURAL In The Darkest Minds, a group of teens with strange abilities rebels after the government detains them.
THE DARKEST MINDS
What's it rated? PG-13
Where's it showing? Stadium 10, Park, Galaxy
New
When teens mysteriously develop powerful new abilities, they are declared a threat by the government and detained. Sixteen-year-old Ruby (Amandla Stenberg), one of the most powerful young people anyone has encountered, escapes her camp and joins a group of runaway teens seeking safe haven. Soon this newfound family realizes that, in a world in which the adults in power have betrayed them, running is not enough and they must wage a resistance, using their collective power to take back control of their future. (105 min.)
—20th Century Fox
DEATH OF A NATION
What's it rated? PG-13
Where's it showing? Stadium 10, Park
New
Not since 1860 have the Democrats so fanatically refused to accept the result of a free election. That year, their target was Lincoln. They smeared him. They went to war to defeat him. In the end, they assassinated him. Now the target of the Democrats is President Trump and his supporters. The Left calls them racists, white supremacists, and fascists. These charges are used to justify driving Trump from office and discrediting the right "by any means necessary." Can we come together and save America for the second time? (109 min.)
—Quality Flix
Photo Courtesy Of A24
IS IT OVER YET? Kayla (Elsie Fisher) finishes off the last week of her painfully awkward middle school career in Eighth Grade.
EIGHTH GRADE
What's it rated? R
Where's it showing? Downtown Centre, Stadium 10
New
Thirteen-year-old Kayla (Elsie Fisher) endures the tidal wave of contemporary suburban adolescence as she makes her way through the last week of middle school—the end of her thus far disastrous eighth grade year before she begins high school. (94 min.)
—A24
THE EQUALIZER 2
What's it rated? R
What's it worth? Matinee
Where's it showing? Sunset Drive-In, Stadium 10, Park, Galaxy
Pick
Director Antoine Fuqua (Training Day, Shooter, The Magnificent Seven 2016) returns to helm this sequel written by Richard Wenk (The Mechanic 2011, The Expendables 2, Jack Reacher: Never Go Back) that's based on the TV series by Michael Sloan and Richard Lindheim. Denzel Washington stars as vigilante Robert McCall, an unassuming man—and retired CIA black ops master—who metes out justice whenever he sees someone being exploited or oppressed. When he learns his old friend Susan Plummer (Melissa Leo) has been murdered, he's determined to find out who did it and why, and bring them to account.
The film leaves open the possibility of yet another installment, and since the whole premise is based on a TV show and there's never any shortage of bad guys out to exploit the vulnerable, more may be on the way, but the law of diminishing returns is already at play in this sequel. If you've never seen Washington and Fuqua's first collaboration, Training Day, definitely watch it. It's Fuqua's best film and one of Washington's rare appearances as a bad guy. The Equalizer 2 doesn't hold a candle to it, but as a summer action flick, this one's better than most. (121 min.)
—Glen Starkey
HOTEL TRANSLYVANIA 3: SUMMER VACATION
What's it rated? PG
Where's it showing? Stadium 10, Park
Join our favorite monster family as they embark on a vacation on a luxury monster cruise ship so Drac (voice of Adam Sandler) can take a summer vacation from providing everyone else's vacation at the hotel. It's smooth sailing for Drac's pack as the monsters indulge in all of the shipboard fun the cruise has to offer, from monster volleyball to exotic excursions, and catching up on their moon tans. But the dream vacation turns into a nightmare when Mavis (voice of Selena Gomez) realizes Drac has fallen for the mysterious captain of the ship, Ericka (voice of Kathryn Hahn), who hides a dangerous secret that could destroy all of monsterkind. (97 min.)
—Columbia Pictures/Sony Pictures Animation
INCREDIBLES 2
What's it rated? PG
What's it worth? Matinee
Where's it showing? Stadium 10
Pick
From writer/director Brad Bird (Ratatouille) comes the sequel Incredibles 2, 14 years after the original film premiered. Everyone's favorite family of superheroes is back in Incredibles 2—but this time Helen (voice of Holly Hunter) is in the spotlight, leaving Bob (voice of Craig T. Nelson) at home with Violet (voice of Sarah Vowell) and Dash (voice of Huck Milner) to navigate the day-to-day heroics of normal life. It's a tough transition for everyone, made tougher by the fact that the family is still unaware of baby Jack-Jack's emerging superpowers. When a new villain hatches a brilliant and dangerous plot, the family and Frozone (voice of Samuel L. Jackson) must find a way to work together again.
It's been more than a decade since the Incredibles first burst onto the scene and delighted audiences with its unique nostalgia drenched take on what was then just an emerging powerhouse genre in contemporary cinema And while the film may be a shade darker than the first iteration, this new installment delivers on just about everything it promises and should leave families entertained until the next chapter arrives in theaters (which hopefully comes sooner than a decade and a half).
I also wanted to take a minute to commend Bird's choice to leave cellphones out of the picture, allowing his film to flex its muscles without pocket-sized distractions. It truly speaks to the traditionalist bent of the series, which seems to draw from 1950s era super hero shows and comics, as much as even earlier, "Golden Age" science fiction classics. Bird gives audiences a glimpse of how his generation and those before him viewed the future, and while those dreams may be dated, they still come across as new, exciting, and utterly unique, and that's pretty incredible. (118 min.)
—Spencer Cole
Photo Courtesy Of Universal Pictures
HOW CAN I RESIST YOU? In Mama Mia! Here We Go Again, Sophie (Amanda Seyfried, center) finds out more about her mother's past, while she is pregnant herself.
MAMA MIA! HERE WE GO AGAIN
What's it rated? R
What's it worth? Matinee
Where's it showing? Downtown Centre, Stadium 10, Park
Pick
Ol Parker (Now is Good, The Best Exotic Marigold Hotel) directs returning and new cast members in the sequel to the popular 2008 ABBA-centric musical-turned-movie Mamma Mia! In the first film, Sophie (Amanda Seyfried) is a bride-to-be who invites three of her mother, Donna's (Meryl Streep) old flames to her wedding in an attempt to discover who her real father is. The sequel switches off between a time before and after the original film, focusing on both Sophie's new life attempting to carry on her late mother's hotel business and her mother Donna's young life around the time of her pregnancy.
Most of Sophie's scenes are marked by her mother's absence, whose presence is missed just as much by the audience as by the characters. She is in the process of planning a grand opening party for the remodeled Greek hotel her mother began, but of course, the party plans go slightly awry. Her mother's friends Rosie (Julie Walters) and Tanya (Christine Baranski) visit for emotional support, and consistently provide the wittiest lines in the entire film.
Lily James plays the young version of Donna, and does so beautifully while a bit unrealistically. Few of Streep's mannerisms and only traces of her energy are adopted by James, making it hard to fully believe her as a young Donna. Despite this slight disconnect, James still proves a charismatic and free-spirited character who is easy to root for. Watching her meet Sophie's three potential dads is amusing and often more lighthearted than the present-day scenes.
Though the musical numbers are lively, they feel overproduced and a bit sanitized. The songs don't fit the scenes as snugly as they did in the original, bringing up the question of how many storylines can (or should) be developed from the music of one 1970s Swedish pop group. There was something especially disappointing about reused songs from the first film. These recycled tracks were some of the best in the sequel, but still fell short of their original performances.
Unfortunately, Mama Mia! Here We Go Again! does not re-create the original electricity of the first film, but rather provides a subtle warning for yet another largely nostalgia-driven, profit-seeking sequel. However, just because the film is unable to fully recapture the original magic does not mean it misses all the marks.
Even while the shortcomings are easily recognizable, this musical film still offers a fun watch and a worthy trip down memory lane for viewers. If you are a fan of the first, I wouldn't discourage you from attending a local screening sporting some denim and a boa. However, I also wouldn't advise you to walk in expecting to fall in love all over again. (114 min.)
—Ashley Ladin
MISSION: IMPOSSIBLE-FALLOUT
What's it rated? PG-13
What's it worth? Full Price
Where's it showing? Downtown Centre, Sunset Drive-In, Stadium 10, Park
Pick
Writer-director Christopher McQuarrie (The Way of the Gun, Jack Reacher, Mission: Impossible—Rogue Nation) helms this action-packed sixth installment of the Mission: Impossible franchise, starring Tom Cruise as super spy Ethan Hunt. The new film ties together narratives and characters from earlier films, including IMF (Impossible Mission Force) team members Luther Stickell (Ving Rhames) and Benji Dunn (Simon Pegg), Hunt's Rogue Nation love interest and fellow spy Ilsa Faust (Rebecca Ferguson), and Hunt's ex-wife Julia Meade (Michelle Monaghan) from Mission: Impossible III.
The first thing you need to know is this franchise, based on the TV show of the same name and first rebooted in 1996 with director Brian De Palma at the helm, is it's the 20th highest grossing film series of all time, racking in $2.8 billion worldwide. It's remained relevant by employing amazing directors, including action master John Woo, Hollywood wunderkind J.J. Abrams, and Brad Bird, who's better known for animation (The Iron Giant, Ratatouille, The Incredibles) but also directed Tomorrowland.
It also has a winning star in Cruise, who strikes me as a weirdo off-screen but is an amazing actor and action star on-screen. As Hunt, he brings the right mix of confidence and vulnerability to the role. In this go-around, one of the big themes is Hunt's moral code. He's supposed to be a remorseless operative employing utilitarianism in his decision-making process; in other words, complete the action that will have the best outcome for the most people. But Hunt can't sacrifice the one for the many. He's a killer with a heart.
After breaking action-film tradition by opening with a dream sequence about ex-wife Julia instead of the usual big action set-piece, we watch as Hunt and his team work to intercept black market plutonium, but when faced with Luther's death or retrieving the nuclear bomb supplies, he picks Luther, meaning it's Hunt's fault that the plutonium might make its way into the hands of Rogue Nation villain Solomon Lane (Sean Harris).
Hunt's choice also leads CIA handler Erica Sloan (Angela Bassett) to force Hunt and his team to work with CIA "Special Activities Operator" (read hit man) August Walker (Henry Cavill), who's definitely not a team player. What follows is a series of flashy IMF operations complete with their patented rubber mask disguises and false narrative tricks, as well as a series of amazing action sequences.
The film manages to conjure up emotional elements as well, since Hunt must protect both Julia and Ilsa, and prove to the powers-that-be, that saving both the one and the many is the real job of the IMF. It also culminates in the mother of all action finales. If you like this series, Fallout is a worthy successor. (147 min.)
—Glen Starkey
SORRY TO BOTHER YOU
What's it rated? PG-13
What's it worth? Matinee
Where's it showing? The Palm
Pick
A newcomer to big productions, Boots Riley directs Lakeith Stanfield (Get Out, Atlanta) as Cassius Green, a black man who picks up a telemarketing job while trying to make ends meet in an alternative present-day Oakland. Green promptly learns that he can make exponentially more sales by using his "white voice" over the phone, which quickly helps him rise up in the company and discover harrowing truths about big business.
Green is a relatable character—tired with his life of perceived mediocrity, he struggles to find meaning and desires to move up in the world. In the beginning of his telemarketing career, he befriends a protest-hungry coworker Squeeze (Steven Yeun), who rallies the whole office together in an attempt to unionize. However, once Green shows promise and is promoted to power caller, the telemarketing A-team that is almost stuff of legend, he stops fighting the power and starts to become it.
This isn't a film for casual moviegoers who are just looking for a way to pass the time before dinner. It's conceptual, whacky, and challenges the viewers' perceptions of the world both inside and outside the screen. However, if you're hungry for original satire and don't mind sticking with a film through some disturbing turns, Sorry to Bother You is a worthy choice. (105 min.)
—Ashley Ladin
Photo Courtesy Of Lionsgate
REBOUND In The Spy Who Dumped Me, Audrey (Mila Kunis), along with her best friend Morgan (Kate McKinnon) is thrown into an international conspiracy when her ex-boyfriend turns out to be a spy.
THE SPY WHO DUMPED ME
What's it rated? R
Where's it showing? Downtown Centre, Stadium 10, Park
New
Audrey (Mila Kunis) and Morgan (Kate McKinnon), two 30-year-old best friends in Los Angeles, are thrust unexpectedly into an international conspiracy when Audrey's ex-boyfriend (Justin Theroux) shows up at their apartment with a team of deadly assassins on his trail. Surprising even themselves, the duo jump into action, on the run throughout Europe from assassins and a suspicious-but-charming British agent, as they hatch a plan to save the world. (116 min.)
—Lionsgate
TEEN TITANS GO TO THE MOVIES
What's it rated? PG
What' it worth? Full Price
Where's it showing? Downtown Centre, Stadium 10, Park
Pick
In a world where every superhero, no matter how obscure or unpopular, gets their own feature length film (sound familiar?), the Teen Titans, made up of Robin (voiced by Scott Menville), Starfire (Hynden Walch), Cyborg (Khary Payton), Raven (Tara Strong), and Beast Boy (Greg Cipes), question their apparent exclusion from the docket. Dismissed merely as a ragtag band of sidekicks rather than actual heroes, the group fights to prove their worth and hopefully the chance at a big Hollywood movie.
There's bigger fish to fry soon enough though, in the form of Slade (Will Arnett), a masked villain heck-bent on global domination. But Robin, who craves stardom the most out of the group, views Slade's arrival as an opportune moment. This could be the archenemy that finally boosts the Titans' status from zeros to heroes. After all, even the best heroes are only as good as their villains, right?
In lieu of the massive identity crisis the DC live action films have been suffering from (minus Wonder Woman), it's refreshing to see an animated adaptation of those same beloved characters thriving on the other side of the spectrum. Where Justice League—a bland, riskless Marvel wannabe full of glaring tonal shifts—failed, Teen Titans Go! To The Movies soars! Both films revolve around a team of heroes, but only one is clearly aware of its intentions from the get-go. Conceptual consistency aside, Titans is just flat-out funny, and I'd probably still recommend it regardless of cohesion. And when I say funny, I don't mean light chuckle funny; I mean tears of laughter funny.
Justified by its overabundance of meta humor, commenting on both its source material and the superhero film industry at large, I'm happy to proclaim Titans as this year's The Lego Batman Movie with John the Baptist level enthusiasm. Despite my Full Price approval however, I think it's fair to say those who wait for the small screen won't be missing out on too much (unless you're like me and couldn't possibly wait that long). On the other hand, there are certain nuances unique to a theatrical viewing. Audible commentary from the audience, for example, gave my screening an extra melodramatic kick. One child, who stopped to take a breather after running laps around the theater, boldly reacted to one of Slade's lines. "You're nothing but a joke!" the villain tells Robin. The young sprinter instantly came to Robin's defense. "No, Slade. YOU are the joke!" (92 min.)
—Caleb Wiseblood
THREE IDENTICAL STRANGERS
What's it rated? PG-13
What's it worth? Full Price
Where's it showing? The Palm
Pick
In this truth-is-stranger-than-fiction documentary directed by Tim Wardle, in 1980, three 19-year-old strangers discover they're identical triplets separated at birth. Their unlikely reunion leads to notoriety, but as they learn more about the circumstances of their separation, questions arise involving ethics and human nature.
Bobby Shafran heads off to community college and is surprised that everyone he meets greets him like an old friend, smiling, waving, asking him how his summer was. People keep calling him Eddy, and he soon discovers that he's got a doppelganger. A friend of Eddy's puts the two on the phone together, and they discover they're both adopted and both have the same birthday. In short order, Bobby's reunited with his brother, believing they were twins.
The feel-good story becomes even harder to believe after Bobby and Eddy's story winds up in the news, and then a third brother, David, comes forward. The three are instant celebrities. They wind up on talk shows, in papers and magazines, and people marvel at how similar they are even though different families raised them. Their speech patterns, mannerisms, even their preferred cigarettes are eerily similar. Even more important, they're delighted to reunite—long-lost brothers together again.
If that were the whole story, that'd be amazing and worthy of a documentary in and of itself, but as the brothers—and their respective parents—look deeper into the circumstances of their separation, things take a dark turn. Spoiler! The triplets were part of a larger experiment about nature versus nurture, an experiment that has serious ethical flaws.
The researchers and subjects were all Jewish, and the subjects all came from the same New York-based Jewish adoption agency. "Nazi shit" is how one of the brothers describes these so-called experiments. There's been a fair amount of research on the effects of adoption itself, and books like Primal Wound talk about some of the psychological ramification of being separated from a mother at an early age. As an adoptee myself, I'd much rather be placed with a family that wants a child than left with a mother that doesn't, but I'm pretty sure these various separated twins would have rather been adopted together than placed in different homes. To me, that's the real tragedy of Three Identical Strangers. (96 min.)
—Glen Starkey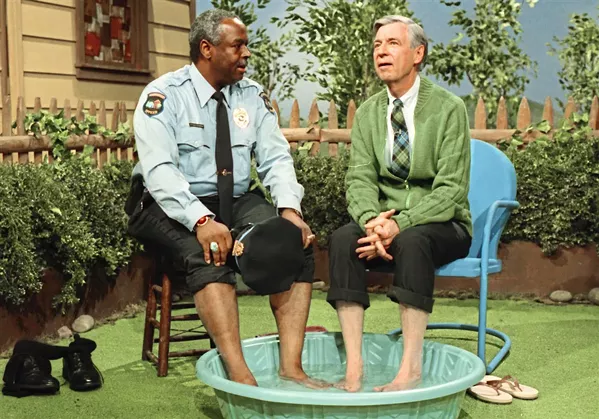 Photo Courtesy Of Tremolo Productions
FORWARD THINKER François Scarborough Clemmons (left) and Fred Rogers share a pool of water at a time when whites and blacks didn't swim together.
WON'T YOU BE MY NEIGHBOR?
What's it rated? PG
What's it worth? Full Price
Where's it showing? The Palm
Pick
Morgan Neville (20 Feet From Stardom) helms this documentary biopic about beloved cardigan-clad children's TV host Fred Rogers.
It's easy to dismiss Fred Rogers as "just" a children's TV host, and a sappy, low-budget one at that, but this documentary reveals just how deeply he cared about children; how hard he worked at helping children through topical issues such as Robert Kennedy's assassination, divorce, and war; and how seriously he took his role as host of positive children's programming as foil to what he saw as bad role modeling and encouragement of humanity's baser instincts in other kids' programs.
What makes the film even more poignant is its depiction of Rogers at his lowest. Looking at our culture today, it's clear his message didn't prevail. Still, his message was a worthy one and remains so today. Won't You Be My Neighbor? is a wonderful celebration of a wonderful man who touched countless lives and exemplified a life well lived. (94 min.) Δ
—Glen Starkey
New Times movie reviews were compiled by Arts Writer Ryah Cooley and others. You can contact her at rcooley@newtimesslo.com.