Photo Courtesy Of Global Road Entertainment
SEE BOT RUN Shy outsider Miles (Alex Neustaedter) discovers and forms a bond with a top-secret robotic dog, in A.X.L.
A.X.L.
What's it rated? PG
Where's it showing? Park
New
In his feature-length debut, writer-director Oliver Daly helms this family-friendly sci-fi adventure about Miles (Alex Neustaedter), who discovers a top secret robotic dog named A.X.L., which stands for Attack, Exploration, Logistics. Miles is a shy outsider, but after he and A.X.L. bond thanks to the "dog's" owner-pairing function, Miles and a new friend, Sara (Becky G), must protect A.X.L. from the scientists who created it and want to use it for evil purposes. (100 min.)
—Glen Starkey
ANT-MAN AND THE WASP
What's it rated? PG-13
What's it rated? Matinee
Where's it showing? Galaxy
Pick
Peyton Reed (Bring It On, Yes Man, Ant-Man) directs this next entry into the Marvel universe set after the events of Captain America: Civil War. Paul Rudd returns as Scott Lang and his superhero alter ego Ant-Man. As Scott struggles to balance his crime fighting and home life, he's once again called-on by Dr. Hank Pym (Michael Douglas) to join forces with Scott's one-time love interest (and Pym's daughter) Hope Van Dyne/The Wasp (Evangeline Lilly) to deal with a new threat, Ghost (Hannah John-Kamen). (118 min.)
—Glen Starkey
BLACKKKLANSMAN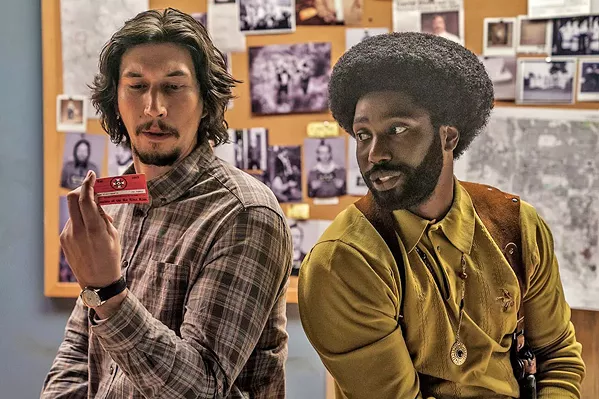 Photo Courtesy Of 40 Acres & A Mule Filmworks
UNDERCOVER BROTHER Flip Zimmerman (Adam Driver, left) and Ron Stallworth (John David Washington) star in auteur Spike Lee's BlackKklansman, about a black police officer and his white counterpart who infiltrate the local KKK chapter.
What's it rated? R
What's it worth? Full price
Where's it showing? The Palm, Stadium 10
Pick
Spike Lee (Do the Right Thing, Malcolm X, Summer of Sam, Inside Man) directs this comedic crime biography about Ron Stallworth (John David Washington), a black rookie police office in Colorado who, with the help of a white undercover counterpart (Adam Driver), becomes a member of the local Ku Klux Klan chapter.
What starts like a comedic spoof of a '70s Blaxploitation flick ends with a real-world visceral gut punch in this affecting new film by Spike Lee. It's his most lucid and potent comment on U.S. race relations since Do the Right Thing and doesn't let its (most likely and largely) white liberal audience off the hook. If the film's message is anything, it's that culturally we've progressed very little since the film's 1970s milieu.
Ron Stallworth is a former army brat, college educated, and a believer in the system. He's always dreamed of becoming a policeman, and when he sees the Cold Springs, CO police department advertising for new officers, specifically minority officers, he applies.
Stallworth's counterparts are local black college students, angered by their second-class citizen status and mistreatment by the police. When black activist Kwame Ture, formerly known as the Black Panther Stokely Carmichael, comes to speak, Stallworth is sent undercover to monitor the local black power movement. There he meets Patrice (Laura Harrier), president of the Black Student Union. What follows is Stallworth's awakening, which leads him to attempt to infiltrate the KKK, first by phone, speaking to local chapter president Walter Breachway (Ryan Eggold).
To "play" Stallworth's racist persona, he enlists white officer Flip Zimmerman, who's ethnically Jewish, though he doesn't think of himself as a Jew. Undercover in the KKK, Flip feels the full force of the Klan's anti-Semitism, leading to his own kind of awakening.
The Klansmen—Felix (Jasper Pääkkönen), Ivanhoe (Paul Walter Hauser), and Felix' wife Connie (Ashlie Atkinson)—are portrayed as uneducated, paranoid hatemongers. Later Stallworth contacts national KKK Grand Wizard David Duke (an excellent Topher Grace), who's portrayed as huckster in a cheap three-piece suit. To spice things up and remind us that the lines between good and evil are never clearly drawn, Stallworth also has to deal with racist officers in his midst, in particular Master Patrolman Andy Landers (Frederick Weller).
An engaging, well crafted, nuanced film, BlackKklansman offers lots of food for thought as it continually reminds us of similarities between the '70s and today. It's bitter medicine to swallow, but swallow it we must.
It would be easy to accuse this film of not knowing what it wants to be. There's the thriller tension of undercover work, the comic biting humor of a spoof, the real political commentary of current politics—but instead of being disjointed, I'd describe the film as a deftly combined mash-up. It's all those things, and it does all of them with spot-on competence and lucidity.
All those various genres and tones are the set-up for the finale. While you're laughing at the comedy and feeling smug that the racists will get their just deserts, Lee is teeing you up for the mother of all wake-up calls, and I heard audience members stifling tears and gasps. If at the end you feel guilty for laughing along with the film, I'd say that's exactly what Lee intended. Yes, Lee is preaching to the choir, but he's also telling the choir we need to do more than just feel the feels and talk the talk—racism remains a real, insidious, thoroughly entrenched problem in America, as recent events in Charlottesville and Ferguson attest. It's not enough to simply feel outraged; it's time for political action. This is absolutely a film that captures our troubling zeitgeist. (135 min.)
—Glen Starkey
CHRISTOPHER ROBIN
What's it rated? PG
What's it worth? Matinee
Where's it showing? Downtown Centre, Fair Oaks, Galaxy, Park
Pick
From director Marc Forster (Monster's Ball, Finding Neverland, Stranger Than Fiction, The Kite Runner) comes this live-action adaptation of A.A. Milne's Winnie-the-Pooh characters that poses this question: What happens to Christopher Robin after he grows up? After decades of separation, everyone's favorite Pooh bear makes a trek from the mythical Hundred Acre Wood into the real world to find out what's become of his old, lost friend.
In a nutshell, it's Winnie-the-Pooh meets Hook. In fact, the two films' protagonists and their arcs are virtually identical. The adult Christopher (Ewan McGregor, Moulin Rouge!, Big Fish) is an overworked father who alienates himself from his wife (Hayley Atwell, Captain America: The First Avenger, Agent Carter) and daughter (Bronte Carmichael) by spending too much time at the office. In the same way Hook's adult Peter Pan had to return to Neverland to rediscover his long-lost inner child, so must Christopher to the Hundred Acre Wood. (120 min.)
—Caleb Wiseblood
CRAZY RICH ASIANS
What's it rated? PG-13
What's it worth? Matinee
Where's it showing? Bay, Downtown Centre, Galaxy, Park, Stadium 10
Pick
Jon M. Chu directs this rom-com based on Kevin Kwan's best selling novel about native New Yorker and Chinese economics professor Rachel Chu (Constance Wu), who travels to Singapore to meet her boyfriend, Nick Young's (Henry Golding), ridiculously wealthy family. Once there, Rachel realizes Nick's the most eligible bachelor in Asia, and all the single women are out to undermine her.
While it doesn't stray far from the usual rom-com antics, the glitz and gaudy world of Singapore's oldest and richest families adds just the right amount of zip and pop to this fun and fancy flick.
Rachel is a cute and cunning New Yorker whose hunky boyfriend has managed to hide his family's massive wealth. When he talks her into a trip to Singapore for his best friend's wedding, Rachel gets clued in to the depth of his pockets by their swanky suite on the plane. That is only the beginning, and when the scope of the Young empire comes into focus, Rachel soon feels like a fish out of water. While she has friends she can trust such as her quirky college roommate Peik Lin Goh (Awkwafina) and Nick's cousin, Astrid (Gemma Chan), it soon becomes clear she has more enemies than she does allies, including the matriarch of the family, Eleanor (Michelle Yeoh).
Not all of her haters are as up-front as Nick's mother, and while she has been included on many of the bride's pre-wedding adventures, it doesn't take long for the claws to come out from jealous single women who feel much more entitled to Nick's tender love and affection.
Crazy Rich Asians is a feast for the eyes. From over-the-top outfits and incredibly elaborate homes and parties, the audience is swept up in the ride as the world of Singapore and its richest families unfolds. These people are in each other's business in every single way, and Eleanor is bound and determined to keep Nick away from Rachel and get him back home for good.
Awkwafina is especially fun as Peik Lin Goh, her out-of-the-box zaniness only compounded by her weird larger-than-life family. With side stories and drama galore, this film manages to stay fun from beginning to end. While this type of film can be unoriginal at times, Crazy Rich Asians delivers on all fronts and manages to avoid the rom-com rut a lot of films fall into. While it may warrant a second watch at home, get to the theater to really feel the glitz and glamour this visual spectacular offers. (120 min.)
—Anna Starkey
DEATH OF A NATION
What's it rated? PG-13
Where's it showing? Galaxy
Not since 1860 have the Democrats so fanatically refused to accept the result of a free election. That year, their target was Lincoln. They smeared him. They went to war to defeat him. In the end, they assassinated him. Now the target of the Democrats is President Trump and his supporters. The Left calls them racists, white supremacists, and fascists. These charges are used to justify driving Trump from office and discrediting the right "by any means necessary." Can we come together and save America for the second time? (109 min.)
—Quality Flix
THE EQUALIZER 2
What's it rated? R
What's it worth? Matinee
Where's it showing? Stadium 10
Pick
Director Antoine Fuqua (Training Day, Shooter, The Magnificent Seven 2016) returns to helm this sequel written by Richard Wenk (The Mechanic 2011, The Expendables 2, Jack Reacher: Never Go Back) that's based on the TV series by Michael Sloan and Richard Lindheim. Denzel Washington stars as vigilante Robert McCall, an unassuming man—and retired CIA black ops master—who metes out justice whenever he sees someone being exploited or oppressed. When he learns his old friend Susan Plummer (Melissa Leo) has been murdered, he's determined to find out who did it and why, and bring them to account. (121 min.)
—Glen Starkey
THE HAPPYTIME MURDERS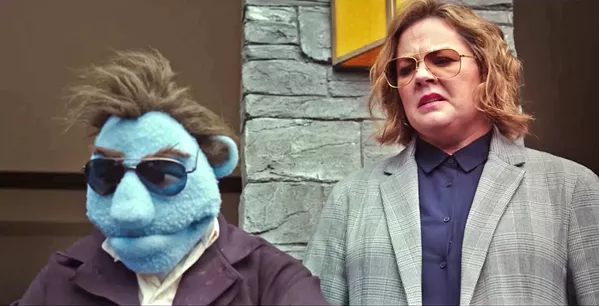 Photo Courtesy Of Black Bear Pictures
SPILLED STUFFING In a world where puppets and humans warily coexist, private detective Connie Edwards (Melissa McCarthy) tries to find out who's killing puppets, in The Happytime Murders.
What's it rated? R
Where's it showing? Downtown Centre, Galaxy, Park, Stadium 10
New
Brian Henson directs this Muppet spoof set in a world where humans and puppets coexist, though puppets are thought of as second-class citizens. When the cast of a popular 1980s puppet TV series is murdered one after another, disgraced former LAPD detective Connie Edwards (Melissa McCarthy), now a private eye, takes on the case. (91 min.)
—Glen Starkey
HOTEL TRANSLYVANIA 3: SUMMER VACATION
What's it rated? PG
What's it worth? Rent it
Where's it showing? Sunset Drive-In
Join our favorite monster family as they embark on a vacation on a luxury monster cruise ship so Drac (voice of Adam Sandler) can take a summer vacation from providing everyone else's vacation at the hotel. It's smooth sailing for Drac's pack as the monsters indulge in all of the shipboard fun the cruise has to offer, from monster volleyball to exotic excursions, and catching up on their moon tans. But the dream vacation turns into a nightmare when Mavis (voice of Selena Gomez) realizes Drac has fallen for the mysterious captain of the ship, Ericka (voice of Kathryn Hahn), who hides a dangerous secret that could destroy all of monsterkind. (97 min.)
—Columbia Pictures/Sony Pictures Animation
INCREDIBLES 2
What's it rated? PG
What's it worth? Matinee
Where's it showing? Stadium 10
Pick
From writer/director Brad Bird (Ratatouille) comes the sequel Incredibles 2, 14 years after the original film premiered. Everyone's favorite family of superheroes is back in Incredibles 2—but this time Helen (voice of Holly Hunter) is in the spotlight, leaving Bob (voice of Craig T. Nelson) at home with Violet (voice of Sarah Vowell) and Dash (voice of Huck Milner) to navigate the day-to-day heroics of normal life. It's a tough transition for everyone, made tougher by the fact that the family is still unaware of baby Jack-Jack's emerging superpowers. When a new villain hatches a brilliant and dangerous plot, the family and Frozone (voice of Samuel L. Jackson) must find a way to work together again. (118 min.)
—Spencer Cole
LEAVE NO TRACE
What's it rated? R
What's it worth? Rent it
Where's it showing? The Palm
From director Debra Granik (Down to the Bone, Winter's Bone, Stray Dog) comes a heartbreaking story of a homeless father and daughter struggling to find their place in the world, while the public tries to change them and wall them in.
Thomasin McKenzie (The Hobbit: Battle of the Five Armies) plays Tom, a teenage girl living in the woods with her father, Will, played by Ben Foster (Hell or High Water, Alpha Dog). They're comfortable where they are, staying hidden from the public and only going into town to get medicine from a veterans' medical center to sell to other people in a camp nearby. They live comfortably and enjoy living in the woods rather than in a home.
One day a hiker spots Tom and calls the police, resulting in both Tom and Will being brought in and evaluated before eventually finding a place for both of them to live on a farm. Will struggles with working there due to the helicopters triggering his posttraumatic stress disorder, and when he decides to leave, Tom begins to question why they must continue to live off the grid.
The movie is moving in its depiction of the somewhat undocumented topics of veteran and familial homelessness, and PTSD causing alienation. The acting is wonderful and amazingly emotional, down to Tom's chin quivering when she begins to cry, while Will's silence and exhaustion speak to his alienation from others—and his PTSD—very well.
However, the movie is repetitive. Will is stuck in a rut and unwilling to change, even for Tom. Each time the two move or camp somewhere else, it doesn't work out and something goes wrong. The behaviors and character traits that you think are going to change, or seem to be changing, don't develop in a positive way and instead deteriorate, and while this is accurate to the struggles shown in the film, it doesn't make for a happy ending or a feel-good movie.
Leave No Trace is stressful and will have you on the edge of your seat, as one bad thing after another befalls the pair. Each comforting or encouraging scene is followed up by a sad or anxious one. And Tom must adapt and become more of an adult than she should have to at such a young age.
The movie is sad but beautiful and accurate; it's worth seeing in order to explore the truth about homelessness and PTSD, and it's a very bittersweet depiction of a family struggle.
—Delany Burk
MAMA MIA! HERE WE GO AGAIN
What's it rated? R
What's it worth? Matinee
Where's it showing? Stadium 10
Pick
Ol Parker (Now is Good, The Best Exotic Marigold Hotel) directs returning and new cast members in the sequel to the popular 2008 ABBA-centric musical-turned-movie Mamma Mia! In the first film, Sophie (Amanda Seyfried) is a bride-to-be who invites three of her mother, Donna's (Meryl Streep) old flames to her wedding in an attempt to discover who her real father is. The sequel switches off between a time before and after the original film, focusing on both Sophie's new life attempting to carry on her late mother's hotel business and her mother's young life around the time of her pregnancy. (114 min.)
—Ashley Ladin
THE MEG
What's it rated? PG-13
What's it worth? Stream it
Where's it showing? Downtown Centre, Galaxy, Park, Stadium 10, Sunset Drive-In
Jon Turteltaub (Phenomenon, Instinct, National Treasure) directs Jason Statham as former Naval Captain Jonas Taylor, whose career and marriage were destroyed after he abandoned part of his crew during a failed exploration of the Mariana Trench in what he claimed was an attack by a 70-foot shark. Five years later, when a sub crew is stranded in what may be an attack by the supposedly long-extinct 70-foot Carcharodon Megalodon, Taylor is recruited to attempt a rescue.
Man, did I want this to be good. Action hero Jason Statham (The Transporter, The Italian Job, Crank) is a badass, Rainn Wilson (The Office, Juno, The Rocker) is usually hilarious, and who doesn't love a humongous shark? Sadly, The Meg is a steaming pile of chum.
Wilson plays Jack Morris, the moneyman behind Mana One, a research center trying to prove that under a freezing cloud of hydrogen sulfide at the bottom of the Mariana Trench lies an even deeper unexplored world. Soon his submersible crew—Taylor's ex-wife Lori (Jessica McNamee), Toshi (Masi Oka), and The Wall (Ólafur Darri Ólafsson)—are stranded six-miles below, so after encouragement by head researcher Dr. Minway Zhang (Winston Chao) but against the advice of team physician Dr. Heller (Robert Taylor), Morris travels to Thailand to recruit Jonas Taylor, who now spends his days drunk on beer while simultaneously retaining his amazing six-pack abs.
Taylor agrees to attempt the rescue after he learns his ex-wife Lori is on board, but he almost immediately falls for Zhang's daughter Suyin (Bingbing Li). Long story short, his rescue opens a hole in the hydrogen sulfide cloud, and up swims a shark so big it can bite a whale in half.
What's not to like, right? Well, first of all, the film's minor attempts at humor fall flat. If this film had approached its story with the sort of campy hilarity of, say, Piranha 3D (2010), it might have been salvaged. Instead, it plays it straight, and another movie—2010's Deep Blue Sea with Thomas Jane—already told a similar story better.
Then there's the CGI shark, which looks really sinister but seems to be of inconsistent size, probably because different teams of CGI programmers were working on different scenes. I'll take the old rubber shark from Jaws (1975) any day over this series of ones and zeros. The Meg has none of the menace and psychological terror of a film like Open Water (2003) or The Shallows (2016), and none of the fun of Sharknado (2013).
And don't even get me started about the science. Wouldn't a giant shark species thought to be extinct for 2 million years but trapped in total darkness at the bottom of the sea evolve into a sightless creature?
A good shark movie should make you afraid to go in the ocean and play on your irrational fears. The Meg just makes me afraid to go back to the multiplex, at least until we get closer to Oscar season. (113 min.)
—Glen Starkey
MILE 22
What's it rated? R
What's it worth? Stream it
Where's it showing? Downtown Centre, Galaxy, Park, Stadium 10
Peter Berg (Friday Night Lights, The Kingdom, Lone Survivor, Deepwater Horizon, Patriots Day) helms this action thriller about James Silva (Mark Wahlberg), an elite CIA operative tasked with extracting Li Noor (Indonesian action star Iko Uwais), an asset with vital information, through 22 miles of hostile territory.
Berg and Wahlberg have teamed successfully before. Lone Survivor was terrific, Patriots Day was emotionally potent, and Deepwater Horizon was solid entertainment. Hence, despite what sounded like a hackneyed plot, I had hope that this fourth collaboration would yield some better-than-average action. I was wrong. Mile 22 takes a tired, eternally rehashed storyline and tries to spruce itself up with a lead character whose backstory and apparent ADD supposedly makes him interesting. Instead, Silva is just an unlikeable asshole.
The film's opening set piece finds Silva and his mixed-race and mixed-gender (and largely forgettable) team infiltrating an FSB (think modern KGB) safe house filled with Russian spies running a secret operation in the U.S. After initial success, the operation goes sideways and a lot of people—mostly Russian spies—get killed.
Fast forward to Silva and his team operating out of an embassy in an unnamed Southeast Asian country. They're tasked with finding a batch of toxic material that can be weaponized. Their first operation to retrieve the material is unsuccessful.
Local policeman and apparent whistleblower Li Noor (Uwais) shows up at the embassy with a hard drive that has the material's location, but he demands to be put on a plane to the U.S. before he's willing to release the hard drive's code, and to add to the pressure, the hard drive is set to erase itself if not opened. What follows is Silva's team trying to confirm Noor's identity while the embassy negotiates with local authorities, who demand Noor's return.
Iko Uwais is a terrific martial artist (see The Raid: Redemption and The Raid 2), and his prowess is on display here, in particular when two "healthcare" workers in the embassy try to assassinate him while he's handcuffed. Much of the other action takes place outside the embassy as Silva and his team try to get Noor to the plane, while aided by Bishop (John Malkovich), who remotely guides Silva and his team via high-tech surveillance systems.
There are a few mildly successful attempts to add some emotional potency to the proceedings. Longtime Silva team members such as Sam Snow (Ronda Rousey) are imperiled in surprising ways. Silva's right-hand (wo)man Alice Kerr (Lauren Cohan) has a side story about her daughter and estranged husband (played by director Peter Berg). There are also some twists and turns, crosses and double-crosses. Mostly, however, this this is loud, obnoxious mayhem.
Mile 22 also feels false. Berg and Wahlberg's other films were based on real events, and while they may have been accentuated and dramatized beyond reality, there was a level of plausibility that isn't apparent here. Yes, this film is better than most straight-to-video fare, but only because it has better actors, director, and budget. Story-wise, Mile 22 is a clunker. (95 min.)
—Glen Starkey
MISSION: IMPOSSIBLE-FALLOUT
What's it rated? PG-13
What's it worth? Full Price
Where's it showing? Downtown Centre, Galaxy, Park, Stadium 10
Pick
Writer-director Christopher McQuarrie (The Way of the Gun, Jack Reacher, Mission: Impossible—Rogue Nation) helms this action-packed sixth installment of the Mission: Impossible franchise, starring Tom Cruise as super spy Ethan Hunt. The new film ties together narratives and characters from earlier films, including IMF (Impossible Mission Force) team members Luther Stickell (Ving Rhames) and Benji Dunn (Simon Pegg), Hunt's Rogue Nation love interest and fellow spy Ilsa Faust (Rebecca Ferguson), and Hunt's ex-wife Julia Meade (Michelle Monaghan) from Mission: Impossible III.
In addition to a series of amazing action sequences the film manages to conjure up emotional elements as well, since Hunt must protect both Julia and Ilsa and prove to the powers-that-be, that saving both the one and the many is the real job of the IMF. It also culminates in the mother of all action finales. If you like this series, Fallout is a worthy successor. (147 min.)
—Glen Starkey
PUZZLE
Photo Courtesy Of Big Beach Films
DREAMER Taken-for-granted suburban mom Agnes (Kelly Macdonald) discovers a love for solving jigsaw puzzles, leading to personal fulfillment she couldn't have imagined, in Puzzle, screening exclusively at The Palm.
What's it rated? R
Where's it showing? The Palm
New
Marc Turtletaub (Gods Behaving Badly) directs this story about taken-for-granted suburban mom Agnes (Kelly Macdonald), who discovers a love for solving jigsaw puzzles, leading to personal fulfillment she couldn't have imagined. The film also stars Irrfan Khan as Robert, who becomes Agnes puzzle partner. (103 min.)
—Glen Starkey
SLENDER MAN
What's it rated? PG-13
What's it worth? Nothing
Where's it showing? Galaxy, Park
Sylvain White (Stomp the Yard, The Losers) directs this horror story about a tall, thin creature (created by writer Victor Surge) that haunts and steals children. (93 min.)
—Glen Starkey
THE SPY WHO DUMPED ME
Photo Courtesy Of Lionsgate
BEGINNERS Besties Audrey (Mila Kunis) and Morgan (Kate McKinnon) are thrust into the spy world and discover they have an affinity for espionage.
What's it rated? R
What' it worth? Rent it
Where's it showing? Stadium 10
Co-writer and director Susanna Fogel (Life Partners, Chasing Life TV series) helms action-comedy spy spoof about 30-year-old besties Audrey (Mila Kunis) and Morgan (Kate McKinnon) who find themselves thrown into the world of international espionage after Audrey's ex-boyfriend Drew (Justin Theroux) shows up, revealing that he's a spy with assassins on his trail. The pair of women throws themselves headfirst into the adventure, which soon takes them to exotic European locales, where they encounter charismatic-but-suspicious British agent Sebastian Henshaw (Sam Heughan).
With a female director and two female leads in a usually male-centric genre, I had high hopes that The Spy Who Dumped Me might offer a sly, satirical take on the macho spy movie. Instead, the film focused more on slapstick and vagina jokes than poking fun at a film type that's usually absurdist, infantile, misogynistic fantasy.
That's not to say The Spy wasn't fun. McKinnon—who does most of the comedic heavy lifting—and Kunis seem to be having a good time as two fish-out-of-water average gals who relish diving headfirst into adventure. As a summer popcorn comedy it fills the bill, but the premise seems somewhat wasted on this lowbrow joke fest. (116 min.)
—Glen Starkey
THE VISITOR
Photo Courtesy Of Groundswell Productions
TAKE TWO LIVE Film buffs Jim Dee and Bob Whiteford will screen and discuss writer-director Tom McCarthy's 2007 film The Visitor, about a college professor (Richard Jenkins, pictured) who returns to New York and discovers a young couple living in his apartment, on Aug. 26 at The Palm Theatre.
What's it rated? PG-13
What's it worth? Full price
Where's it showing? Sunday, Aug. 26, 12:30 p.m., in The Palm
New/Pick
Film buffs Jim Dee and Bob Whiteford will screen and discuss writer-director Tom McCarthy's 2007 film The Visitor, about college professor Walter Vale (Richard Jenkins) who returns to New York and discovers a young couple—Tarek (Haaz Sleiman) and Zainab (Danai Gurira)—living in his apartment. At first Walter's upset, but soon he discovers the young, undocumented immigrant couple open his life to new ideas in unexpected ways. (104 min.)
—Glen Starkey
YELLOW SUBMARINE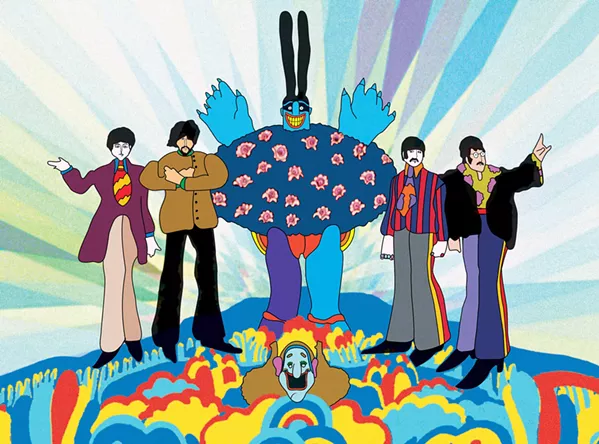 Photo Courtesy Of Apple Corps
FIGHT THE BLUE MEANIES The Beatles classic 1968 animated adventure comedy Yellow Submarine screens exclusively at The Palm this week.
What's it rated? G
What's it worth? Full price
Where's it showing? The Palm
New/Pick
George Dunning directs this 1968 animated adventure comedy about Pepperland, a music-loving undersea paradise protected by Sgt. Pepper's Lonely Hearts Club Band. When it's attacked by the music-hating Blue Meanies, Pepperland's Lord Mayor (voiced by Dick Emery) sends aging sailor Old Fred (voiced by Lance Percival) to Liverpool—in the Yellow Submarine, natch—to fetch The Beatles to help. The charming film features songs such as "Yellow Submarine," "Eleanor Rigby," "Lucy in the Sky with Diamonds," and many more. (87 min.) Δ
—Glen Starkey
New Times movie reviews were compiled by Senior Staff Writer Glen Starkey and others. You can contact him at gstarkey@newtimesslo.com.