American Assassin
What's it rated? R
What's it worth? Matinee
Where's it showing? Stadium 10, Park, Galaxy
Pick
Directed by Michael Cuesta (L.I.E., Roadie, Kill the Messenger) and based on a character in Vince Flynn's spy series, this first film in what clearly hopes to become a franchise is the origin story for counterterrorism operative Mitch Rapp (Dylan O'Brien), who after witnessing the death of his fiancé, Katrina (Charlotte Vega), at the hands of terrorists, starts training to take out the cell that murdered her.
We discover that Mitch's activities are being tracked by CIA handler Irene Kennedy (Sanaa Lathan), who sees in Mitch a potential operative who's willing to go beyond protocol to accomplish his mission. After Mitch gains access to a cell that no other CIA agent has been able to, Kennedy recruits Mitch and sends him to train with counterterrorism expert Stan Hurley (Michael Keaton), who puts Mitch and other recruits through their paces as he gears up for a mission involving a loose nuclear bomb.
Like the Jason Bourne series and the rebooted Bond franchise, this film aims to up the spy game ante with more action, cleverer spy craft, and more exotic locales. It doesn't quite top those two series, but this is a serviceable action flick with some potential, especially if O'Brien can grow into the role as Mitch. O'Brien's a little wimpy and doesn't quite have the same charisma and believability as Daniel Craig or Matt Damon. What the film does have, however, is Michael Keaton, who's fantastic as the tough-as-nails Hurley. Keaton's role is a juicy one and he sinks his teeth deep into it ... as one point literally. I won't spoil it, but it's a harrowing scene!
Both Rapp and Hurley are after Ghost (Taylor Kitsch), another of Hurley's trainees who's gone rogue. Ghost seems to be one step ahead of their every move, and the film delivers plenty of bloody action, from hand-to-hand combat, shootouts, and chases. Yes, compared to Bourne and Bond, the plot's a little thin, but it's still a lot of fun for action film fans.
There's also plenty of intrigue and double and triple crosses to keep you guessing, and like any good spy film, there's a femme fatale in the form of Persian agent Annika (Shiva Negar).
If you're an action fan and enjoy the spy genre as much as I do, you'll find this is worth the price of a matinee. If not, wait for a rental or streaming. As much potential as the series has, this first entry isn't quite in the sweet spot. (112 min.)
—Glen Starkey
American Made
What's it rated? R
Where's it showing? Downtown Centre, Stadium 10, Park, Galaxy
New
Barry Seal (Tom Cruise), a TWA pilot, is recruited by the CIA to provide reconnaissance on the burgeoning communist threat in Central America and soon finds himself in charge of one of the biggest covert CIA operations in the history of the United States that spawned the birth of the Medellin cartel and eventually almost brought down the Reagan White House with the Iran Contra scandal. (115 min.)
—Universal Pictures
Battle of the Sexes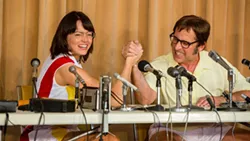 Photo Courtesy Of Fox Searchlight Pictures
EQUALITY In the historical film, Battle of the Sexes, two tennis pros battle it out in their sport on the court and off in the midst of the fight for equality between men and women.
What's it rated? PG-13
Where's it showing? Downtown Centre, Stadium 10
New
In the wake of the sexual revolution and the rise of the women's movement, the 1973 tennis match between women's world No. 1 Billie Jean King (Emma Stone) and ex-men's-champ and serial hustler Bobby Riggs (Steve Carell) was billed as the Battle of the Sexes and became one of the most watched televised sports events of all time, reaching 90 million viewers around the world. As the rivalry between King and Riggs kicked into high gear, off-court each was fighting more personal and complex battles. Together, Billie and Bobby served up a cultural spectacle that resonated far beyond the tennis court, sparking discussions in bedrooms and boardrooms that continue to reverberate today. (121 min.)
—Fox Searchlight Pictures
Brad's Status
What's it rated? R
Where's it showing? Galaxy
New
When Brad Sloan (Ben Stiller) accompanies his college-bound son to the East Coast, the visit triggers a crisis of confidence in Brad's Status, writer and director Mike White's bittersweet comedy. Brad has a satisfying career and a comfortable life in suburban Sacramento where he lives with his sweet-natured wife, Melanie (Jenna Fischer), and their musical prodigy son, Troy (Austin Abrams), but it's not quite what he imagined during his college glory days. Showing Troy around Boston, where Brad went to university, he can't help comparing his life with those of his four best college friends: a Hollywood big shot (White), a hedge fund founder (Luke Wilson), a tech entrepreneur (Jemaine Clement), and a political pundit and bestselling author (Michael Sheen). As he imagines their wealthy, glamorous lives, he wonders if this is all he will ever amount to. (101 min.)
—Amazon Studios
Close Encounters of the Third Kind
What's it rated? PG
Where's it showing? Fair Oaks
Catch a viewing of the 1977 movie, Close Encounters of the Third Kind, on its 40th anniversary. After an encounter with UFOs, a line worker feels undeniably drawn to an isolated area in the wilderness where something spectacular is about to happen. (137 min.)
—Sony Pictures
Flatliners
Photo Courtesy Of Columbia Pictures
THE EDGE In Flatliners, a group of med students experiment with death.
What's it rated? PG-13
Where's it showing? Downtown Centre
New
In Flatliners, five medical students, hoping to gain insight into the mystery of what lies beyond the confines of life, embark on a daring and dangerous experiment. By stopping their hearts for short periods of time, each triggers a near-death experience. As the investigation becomes more and more perilous, they are forced to confront the sins of their pasts, as well as contend with the paranormal consequences of trespassing to the other side. (108 min.)
—Columbia Pictures
Friend Request
What's it rated? R
Where's it showing? Downtown Centre, Park
Laura (Alycia Debnam-Carey), a popular college girl, is very active on social media and shares almost everything in her life with her 800-plus friends on Facebook. However, after accepting a friend request from an unknown girl named Marina, Laura becomes obsessed with Marina's profile, and soon her friends begin to die violently one by one. (92 min.)
—Entertainment Studio Motions Pictures
The Hitman's Bodyguard
What's it rated? R
Where's it showing? Sunset Drive-In
The world's top protection agent (Ryan Reynolds) is called upon to guard the life of his mortal enemy, one of the world's most notorious hit men (Samuel L. Jackson). (111 min.)
—Summit Entertainment
Home Again
What's it rated? PG-13
What's it up? Matinee
Where's it showing? Stadium 10, Park, Galaxy
Pick
Reese Witherspoon stars as Alice Kinney, a recently separated single mom and interior designer relocating from New York to her late legendary filmmaker father's estate in Hollywood, in the somewhat entertaining and interesting, but ultimately ungrounded and directionless rom-com that is Home Again.
After 15 years of marriage, Alice decides to jump ship from her preoccupied music executive husband, Austen (Michael Sheen), and moves with her two young girls to Los Angeles. The story picks up with Alice sobbing in her childhood bathroom on her 40th birthday, interrupted by her kids Isabel and Rosie (Lola Flanery and Eden Grace) who have their first day of school in LA.
Simultaneously, we meet a trio of aspiring filmmaker white dudes (unrelated to Alice) in their mid-20s: Harry (Pico Alexander), George (Jon Rudnitsky), and Teddy (Nat Wolff). A director, writer, and actor, respectively, they're scrapping and crawling to get one of their scripts picked up by a production company.
Alice goes out drinking on her birthday night and makes acquaintances with the three youngsters at a bar, taking Harry back to the house for a sloppy make-out. It turns out all three of the guys crashed at Alice's house, and the next morning they realize she's the daughter of John Kinney, a filmmaker they all respect. Alice's mom (Candice Bergen) comes over and takes to the trio, convincing Alice to let them stay in their guesthouse while they try to get their movie picked up.
At its very core, Home Again is about two things: the often-absurd chase to achieve the Hollywood dream, and the struggle of an extremely privileged white woman to find herself and her confidence amid a failing marriage. While this premise likely doomed the movie from being good from the start, for some reason I found myself pretty engaged and entertained by it. The characters are funny and thought-out and have good chemistry. If you're from LA or have spent time there, you'll recognize the culture and appreciate the portrayal and satire. Home Again gets off to a good start before it kind of deteriorates into wishy-washy ridiculousness by the end. But I still thought the overall performances were kind of charming and original. (97 min.)
—Peter Johnson
IT
What's it rated? R
What's it worth? Matinee
Where's it showing? Downtown Centre, Stadium 10, Park, Galaxy
Pick
From director Andy Muschietti (Mama) comes the remake of the 1990 mini-series thriller IT, based on the hugely popular Stephen King novel of the same name, which has been terrifying readers for decades. When children begin to disappear in the town of Derry, Maine, a group of young kids are faced with their biggest fears when they square off against an evil clown named Pennywise (Bill Skarsgård) whose history of murder and violence dates back for centuries.
So here's the rundown: King's horrific clown monster Pennywise, who dwells in the sewers, is portrayed by Skarsgård (Allegiant, Atomic Blonde) this time around—in the original, it was Tim Curry (Kinsey, The Rocky Horror Picture Show)—and is the source of a fleet of missing children in the town of Derry, Maine. Everyone in the town seems pretty nonchalant about this, except for the children, who as the clown's chosen victims are understandably terrified.
Bill's (Jaeden Lieberher of The Book of Henry) little brother Georgie (Jackson Robert Scott) is the first kid to vanish in the film's opening sequence, leaving Bill desperate to find answers. Rounding out Bill's crew of misfit friends looking to uncover the truth is the hilarious, smac- talking Richie (Finn Wolfhard of Stranger Things fame), new kid Ben (Jeremy Ray Taylor), germaphobe Eddie (Jack Dylan Grazer), the slacking-on-his bat-mitzvah-studying Stanley (Wyatt Oleff), the homeschooled kid Mike (Chosen Jacobs), and Beverly (Sophia Lillis)—the token girl of the group with a swirl of rumors surrounding her.
The thing about IT is that it's a movie that a 12-year-old would find scary, but it's done extremely well. Honestly, the scariest parts of the film have nothing to do with the murderous clown and everything to do with the very real shit these kids are dealing with. Bill has zero empathy or support from his parents over the loss of his brother; Beverly is dealing with her ultra creepy, lecherous dad (nothing super graphic is shown, but it's blatantly implied that he's molesting her); Mike is the only homeschooled and black kid in town who lost his parents in a house fire; and everyone is getting the shit kicked out of them by the town bully Henry (Nicholas Hamilton), who apparently has a lot of rage built up inside because his dad is a hard-ass cop. In one scene we see Henry take a knife and attempt to carve his name into Ben's stomach. It's all kinds of messed up.
Like Split Screen columnist Glen Starkey would (and did) say, IT works best as a coming of age story about facing your fears even when you feel vulnerable, rather than a straight up, jumping-out-of-your-seat scary movie. That is, provided you're a grown-up who has long gotten over your clown issues. Despite the majority of the cast being under 18, these young actors all deliver stellar performances. In particular, I'm excited to see where Lieberher, Wolfhard, and Lillis' careers go as they all grow up and continue to hone their craft. Oh, and to the jerk that left a red balloon in the hallway outside the theater room, your gesture was not appreciated. If you're looking strictly to be scared out of your mind, then I'd say this movie isn't worth a full priced ticket, better to go for a matinee. (135 min.)
—Ryah Cooley
Leap!
What's it rated? PG
Where's it showing? Galaxy
In this animated film, 11-year-old orphan, Félicie (Elle Fanning) has one dream—to go to Paris and become a dancer. Her best friend Victor (Nat Wolff), an imaginative but exhausting boy with a passion for creating, has a dream of his own—to become a famous inventor. In a leap of faith, Victor and Félicie leave their orphanage in pursuit of their passions. (86 min.)
—The Weinstein Company
The Lego Ninjago Movie
What's it rated? PG
What's it worth? Rental
Where's it showing? Downtown Centre, Stadium 10, Park, Galaxy
The third installment of the Lego Movie franchise follows a group of ninja warriors led by Master Builder Lloyd (voiced by Dave Franco) as they defend Ninjago City from the evil warlord Garmadon (Justin Theroux). But when a new threat arises, the ninjas must join forces with Garmadon against a common enemy. To save the city, the team must learn to check their egos and pull together to unleash their inner powers.
The film opens with a news broadcast announcing a 95 percent chance of Garmadon attacking Ninjago City. The two anchors deliver the news nonchalantly as if it's a weather forecast, which leaves us to assume the threat is a daily norm. The citizens of Ninjago seem unaffected as they go about their day. They've put their complete confidence in six mysterious ninjas who have saved the city time and time again.
When Garmadon does attack, his weapon of choice is a giant cannon that shoots live sharks (and a few dolphins) at the city's inhabitants. While reloading, he notices a pedestrian with a balloon. He orders one of his goons to pop it.
Garmadon's behavior makes him seem like a character that a child would create, which is exactly what the filmmakers intended. Like the two previous films, the best parts of The Lego Ninjago Movie resemble things you might see kids acting out while playing with Legos. That conceit explains the shark cannon and other unadulterated, imaginative absurdities.
But unlike its predecessors, Ninjago loses most of its charm by the halfway point. Instead of a consistent flow of irreverent gags, Ninjago delivers all of its best jokes early on and the remainder feels like a snail race to the finish line. Having said that, Ninjago is far from irredeemable as there is enough silliness in that first half to warrant its existence. One bit that utilized the Wilhelm scream multiple times in a row made me crack up more than it should have.
The banter between Lloyd and Garmadon is especially good. The two have a comical Luke/ Vader relationship once Lloyd reveals that he's actually Garmadon's bastard son (which is not a spoiler if you've seen the trailers or the TV show). If Garmadon is Lloyd's Vader, then Master Wu (voiced by Jackie Chan) is his Ben Kenobi. Chan is great as the archetypal, wise, old mentor who only speaks in cryptic advice.
The other ninjas each have their own quirks but ultimately get lost in the scenery as the father figure/ son triangle between Lloyd, Garmadon, and Wu becomes the primary focus. The final result feels more like an extended Robot Chicken sketch (except for kids, of course) than a cohesive piece. Ninjago is the Godfather: Part III of the Lego franchise—it doesn't hold up to the first two but is still worth a rent. (90 min.)
—Caleb Wiseblood
Mother!
What's it rated? R
What's it worth? Matinee
Where's it showing? Stadium 10
Pick
Darren Aronofsky (Pi, Requiem for a Dream, The Fountain The Wrestler, Noah) directs this psychological thriller about a couple, played by Jennifer Lawrence and Javier Bardem, whose quiet country life is upended by unwanted guests.
Don't come to Mother! looking for a standard issue horror mystery. Aronofsky's new film doesn't care about your expectations. Instead, it's there to get your wheels turning as you try to figure out what it all means and how all the pieces fit together.
First of all, the film takes place in a single location: a rambling two story country house surrounded by fields and trees. There's literally nothing else around. The characters are nameless—no names are ever uttered, and in the credits Lawrence's character is "Mother" and Bardem's is "Him." The first uninvited guest to arrive is "Man" (Ed Harris), followed by Man's wife "Woman" (Michelle Pfeiffer). Later, their acrimonious sons, "Younger Brother" (Brian Gleeson) and "Oldest Son" (Domhnall Gleeson), show up.
We learn that Bardem's character is a published poet who's unfortunately blocked. The secluded setting is supposed to give him the space to create again. When the "guests" begin to arrive, he thrives off them, inviting them in, while Lawrence's character doesn't understand why he wants these strangers in their house, which she has been lovingly restoring room by room. From there, increasingly strange things happen—the house seems to have a life of its own, more uninvited "guests" arrive and further disturb and abuse the household.
It's an uncomfortable film, drenched in tension and dread, and as soon as I left the theater I turned to my wife and said, "I have a couple theories." The film is like a puzzle to solve, an unpleasant puzzle.
I'm still not sure what it all means, but one of my theories is the house is a metaphor for the mind, and that Bardem's character is the ego, Lawrence is the moralizing super-ego, and all the various guests are the id, and their need for sex, sustenance, and bodily function. Of course, the story may simply be a metaphor for creativity, with Lawrence's character the muse, showing how creation is also an act of destruction. Each new creative endeavor requires struggle. To complicate it all, there are some Biblical elements—a Cain and Abel story, a messiah story.
Aronofsky is good at making puzzlers, and I'm not sure viewers are supposed to understand every element. It's a film that takes risks and is sure to divide audiences. Many will hate it because it doesn't offer the escapist fare some go to the theater for. It's not exactly entertaining in a "sit back and enjoy the ride" kind of way. Instead it will have you scratching your head, wondering what Aronofsky's up to.
A lot of his films are like that. His first feature, Pi, was about a paranoid mathematician searching for a number that explains nature's universal patterns. Requiem for a Dream followed four drug addicts whose chemically induced utopias disintegrate as their addictions deepened. The Fountain was a sci-fi love story through time. His most accessible film was The Wrestler, about an aging professional trying to create a life outside of the ring. Black Swan was about the insanity-inducing pressure of professional ballet. Noah, Aronofsky's last feature, was a deeply alternative take on the Biblical flood story.
If you're going to an Aronofsky film and expect Hollywood business as usual, you'll be disappointed. This film is weird. (121 min.)
—Glen Starkey
Neither Wolf Nor Dog
What's it rated? NR
Where's it showing? The Palm
A white author is summoned by a Lakota Elder who asks him to write a book about his perspective. After a blundering false start, he is all but kidnapped and sucked into a road trip through the heart of the contemporary Native American landscape. (110 min.)
—Roaring Fire Films
A Question of Faith
What's it rated? PG
Where's it showing? Downtown Centre
New
Pastor David Newman (Richard T. Jones) is a loving husband and father, set to take over his dad's church while neglecting the promises he's made to his 12-year-old son, Eric (Caleb T. Thomas). Kate Hernandez (Jaci Velasquez) is a spiritually driven single parent and owner of a local restaurant. Her daughter, Maria (Karen Valero), is a free-spirited teenager aspiring to be the first in her family to go to college. John Danielson (C. Thomas Howell) is the owner of a failing construction company who sees his daughter Michelle's (Amber Thompson) fledgling singing career as a way out of financial trouble. The lives of these strangers collide when two twists of fate strike back to back. (91 min.)
—Pure Flix Entertainment
Rebel in the Rye
What's it rated? PG-13
What's it worth? Streaming
Where's it showing? The Palm (Last showing Sept. 29), Galaxy
Director Danny Strong (The Butler, Recount) presents this dramatic biopic about renowned author and recluse J.D. Salinger (Nicholas Hoult). Following the path to Catcher in the Rye's publication, the movie isn't subtle in drawing connections between Salinger and Holden Caulfield — but the result doesn't turn out to be that flattering.
After wandering the New York bar scene as a smart-mouthed college dropout, young Salinger decides to go back to school and pursue creative writing at Columbia. With some tough love from wisecracking mentor Whit Burnett (Kevin Spacey), Salinger works his way up the short story ladder to his dreams of publication. But WWII's arrival cuts that pursuit short.
Salinger goes off to storm Normandy with stories of the sardonic Holden in his pockets, but returns home with PTSD and zero desire to keep writing. After a bit of angsty soul searching—and a sitar-accompanied dive into Buddhism—Salinger puts himself into his work and publishes Catcher in the Rye. Yet the newfound fame has unintended consequences.
Rebel in the Rye leans hard on Salinger's name recognition to pull the story through. Maybe that's to be expected—the film's demographic is obviously Catcher in the Rye fans. But Rebel does little to prove Salinger's writing cred besides having every other character constantly rant about his exceptional talent. Sure, we all know Catcher in the Rye will eventually get published. But for a movie about a book, there's an ironic, tiring lack of "show, not tell."
Spacey's whiskey-fueled rants are great and Salinger himself is a complicated man worth analyzing. But the movie wants you to root for a caustic, egotistical Salinger without giving many reasons why he's earned it. Rebel in the Rye constantly tries to make a parallel between Salinger and Holden, and I guess it ends up succeeding: both are sarcastic, angry, and often one-dimensional.
Rebel in the Rye's wit and banter is entertaining overall. But perhaps—much like Catcher's own critics would suggest—it's best appreciated in small, sassy doses. (109 min.)
— Sinéad Schouten
Stronger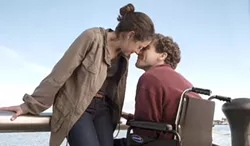 Photo Courtesy Lionsgate And Roadside Attractions
SURVIVOR Filmmakers tell the true story of Jeff Bauman (Jake Gyllenhaal), a hero from the Boston Marathon Bombing, in Stronger.
What's it rated? R
Where's it showing? The Palm, Stadium 10
New
Stronger is the inspirational and heroic true-life story of Jeff Bauman (Jake Gyllenhaal), the man whose iconic photo from the 2013 Boston Marathon bombing captured the hearts of the world. The film is based on Bauman's New York Times bestselling book, co-authored with Bret Witter. (119 min.)
—Lionsgate and Roadside Attractions
Viceroy's House
What's it rated? NR
Where's it showing? The Palm
In India in 1947, Lord Mountbatten (Hugh Bonneville) is dispatched, along with his wife Edwina (Gillian Anderson), to New Delhi to oversee the country's transition from British rule to independence. Taking his place in the resplendent mansion known as the Viceroy's House, Mountbatten arrives hopeful for a peaceful transference of power. But ending centuries of colonial rule in a country divided by deep religious and cultural differences proves no easy undertaking, setting off a seismic struggle that threatens to tear India apart. (107 min.)
—Anguille Productions
Wind River
What's it rated? R
Where's it showing? Stadium 10
Wind River is a chilling thriller that follows a rookie FBI agent (Elizabeth Olsen) who teams up with a local game tracker with deep community ties and a haunted past (Jeremy Renner) to investigate the murder of a local girl on a remote Native American reservation in the hopes of solving her mysterious death. (111 min.) Δ
—The Weinstein Company
New Times movie reviews were compiled by Arts Editor Ryah Cooley and others. You can contact her at rcooley@newtimesslo.com.