Editor's note: Listings for Galaxy Theatres of Atascadero (805-466-8437) were not available.
ALPHA
What's it rated? PG-13
What's it rated? Rent it
Where's it showing? Park
Albert Hughes (Menace II Society, From Hell, The Book of Eli) helms this adventure story set 20,000 years ago in the last Ice Age, about a young man named Keda (Kodi Smit-McPhee), who, after a steppe bison hunting expedition with his clan goes awry, finds himself alone and struggling to survive. After he encounters a lone wolf, he begins to forge the bond that will develop canines into man's best friend.
This mostly charming fantasy adventure that imagines the first human-canine partnership will definitely appeal to adolescents but is saccharine sweet and too sappy overall. (96 min.)
—Glen Starkey
ARRANGIARSI: PIZZA AND THE ART OF LIVING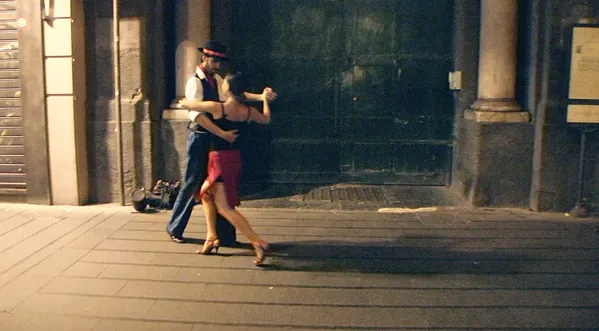 Photo Courtesy Of Matteo Troncone
STREET TANGO Arrangiarsi: Pizza and the Art of Living takes viewers on a journey to discover the secret of classic Neapolitan pizza and living a simple life, screening on Sept. 8 at the Palm Theatre.
What's it rated? Not rated
What's it worth? Full price
Where's it showing? Saturday, Sept. 8, at The Palm (4:15 p.m.; $12 at eventbrite.com)
New/pick
Bay Area filmmaker Matteo Troncone helms this documentary about the pizza of Naples, Italy, but it's really about much more—the history of Italy, how to survive poverty, and most importantly how to enjoy life free from the rat race.
As the film opens, Troncone's life is in shambles. His girlfriend broke up with him over email, the budding actor just learned he wasn't chosen for the biggest role of his career, and he's suddenly homeless, living in a 1985 VW van. Working up the Big Sur coast at Esalen Institute, he's handed a free ticket to Italy, so he decides to visit Naples, home of his father's poorer side of the family. There, he learns about "arrangiarsi," the art of arranging yourself in whatever circumstances you find yourself in.
Over the course of the documentary, Troncone interviews makers of traditional Neapolitan pizza as well as the producers of the ingredients—tomato growers, wheat farmers and flour millers, buffalo ranchers, and mozzarella makers. He hears theories about why Naples pizza is the best—Mt. Vesuvius soil and the lava flowing deep under Naples' ancient city, the vibrancy of the people and their culture, even the water, which he actually takes samples of, brings home to San Francisco, and has tested. It's got high mineral content, FYI.
It's a real foodie film, but it's also about Naples itself, its history, its people, how it was treated post-reunification of Northern and Southern Italy. There're politics, the mafia, and how street musicians and artists see the city. This is a film in love with Naples and determined to make you love it too.
It's also about Troncone's personal journey, not just to Italy but through life, the choices he makes to free himself from "the wheel," as he describes the 9-to-5 grind. He shows us the Neapolitan way of arranging oneself, but he can't always follow the sage advice he's found. He runs out of money, his wallet is stolen, his camera breaks down. All his talk of making lemonade when life hands you lemons sometimes goes to the wayside. It's a slice of honest, real life. It's also a reminder that life can get messy no matter how hard you try to arrange it otherwise.
This is a very low-budget film mainly shot on handheld camcorder. It's somewhat disjointed, moving through time, back and forth from Italy to the U.S., and along various plot paths. The film's chaos in some way mirrors the chaos of life in Naples, a giant metropolis that isn't managed effectively, that suffers from crime, but whose people embrace the chaos, both feeding it and feeding off of it. The film proves one thing is certain: Even without money, talent and tenacity is enough to make a quality film. La vita è bella! Ciao! (91 min.; arrangiarsifilm.com)
—Glen Starkey
BLACKKKLANSMAN
What's it rated? R
What's it worth? Full price
Where's it showing? The Palm, Stadium 10
Pick
Spike Lee (Do the Right Thing, Malcolm X, Summer of Sam, Inside Man) directs this comedic crime biography about Ron Stallworth (John David Washington), a black rookie police office in Colorado who, with the help of a white undercover counterpart (Adam Driver), becomes a member of the local Ku Klux Klan chapter.
What starts like a comedic spoof of a '70s Blaxploitation flick ends with a real-world visceral gut punch in this affecting new film by Spike Lee. It's his most lucid and potent comment on U.S. race relations since Do the Right Thing and doesn't let its (most likely and largely) white liberal audience off the hook.(135 min.)
—Glen Starkey
THE BOOKSHOP
Photo Courtesy Of New Line Cinema
UPSTART Free-spirit widow Florence Green (Emily Mortimer) opens a bookstore in a small conservative English coastal village and starts pushing novels by Ray Bradbury and Vladimir Nabokov, much to the chagrin of local residents, in The Bookshop.
What's it rated? PG
Where's it showing? The Palm
New
Writer-director Isabel Coixet helms this story based on Penelope Fitzgerald's novel about a small-town power struggle. Set in 1959 England in a conservative East Anglian coastal town, the story pits free-spirit widow Florence Green (Emily Mortimer) against local matriarch Violet Gamart (Patricia Clarkson), whose polite but ruthless ire is raised when Green opens a bookstore and starts pushing novels by Ray Bradbury and Vladimir Nabokov. Reclusive book-loving widower Edmund Brundish (Bill Nighy) takes up Green's banner in the face of local opposition. (113 min.)
—Glen Starkey
CRAZY RICH ASIANS
What's it rated? PG-13
What's it worth? Matinee
Where's it showing? Bay, Downtown Centre, Park, Stadium 10
Pick
Jon M. Chu directs this rom-com based on Kevin Kwan's best selling novel about native New Yorker and Chinese economics professor Rachel Chu (Constance Wu), who travels to Singapore to meet her boyfriend Nick Young's (Henry Golding) ridiculously wealthy family. Once there, Rachel realizes Nick's the most eligible bachelor in Asia, and all the single women are out to undermine her.
While it doesn't stray far from the usual rom-com antics, the glitz and gaudy world of Singapore's oldest and richest families adds just the right amount of zip and pop to this fun and fancy flick. (120 min.)
—Anna Starkey
DESTINATION WEDDING
Photo Courtesy Of Thefyzz
LOCAL LOCATION Disagreeable wedding guests Lindsay (Winona Ryder) and Frank (Keanu Reeves) fall for each other in Destination Wedding, which was filmed in SLO County.
What's it rated? R
Where's it showing? Thursday, Sept. 6, at Paso Robles' Park Cinemas (7:15 p.m., $40 at travelpaso.com); Friday, Sept. 7, in Downtown Centre (6 to 9 p.m.; $25 at eventbrite.com)
New
On Sept. 6, Dubost Vineyard & Winery and Park Cinemas will host a reception and screening, and on Sept. 7, Apple Farm and the Downtown Centre Cinemas will present a special reception and screening, of the locally filmed feature film, Destination Wedding, the story of two unhappy and disagreeable wedding guests, Lindsay (Winona Ryder) and Frank (Keanu Reeves), who fall for each other. The film plays in regular rotation in both theaters after the special event dates. (90 min.).
—Glen Starkey
GOD BLESS THE BROKEN ROAD
What's it rated? PG
Where's it showing? Downtown Centre, Park, Stadium 10
New
Co-writer and director Harold Cronk helms this faith-based drama about widowed young mother Amber Hill (Lindsay Pulsipher), whose soldier-husband died in Afghanistan. Can she find a way to raise her young daughter Bree (Makenzie Moss) and make her life worth living?
—Glen Starkey
THE HAPPYTIME MURDERS
What's it rated? R
What's it worth? Stream it
Where's it showing? Stadium 10
Brian Henson, son of Muppet Show creator Jim, directs this Muppet satire set in a world where humans and puppets coexist, though puppets are considered second-class citizens. When the cast of a popular 1980s puppet TV series is murdered one after another, disgraced former Los Angeles Police Department Detective Phil Philips (voiced by Bill Barretta), now a private eye, takes on the case. Soon he's forced to work with his old partner, LAPD Detective Connie Edwards (Melissa McCarthy), to find the killer.
It takes about five minutes for the novelty of puppets swearing, smoking, and generally acting just as terrible as human beings to wear off. The film's transgressive premise certainly has promise—after all, it raised the ire of Muppet fans who considered it insulting and irreverent—but instead of bucking expectations, The Happytime Murders plays right into the lowest of lowbrow common denominators. (91 min.)
—Glen Starkey
KIN
What's it rated? PG-13
What's it worth? Matinee
Where's it showing? Downtown Centre, Park, Stadium 10
Pick
In their feature length debut based on their short film Bag Man (2014), co-directors Jonathan and Josh Baker helm this sci-fi adventure about a teenager, Eli (Myles Truitt), who discovers an alien weapon, which he uses to protect himself and his recently released ex-con brother Jimmy (Jack Reynor) from a gang of vengeful criminals led by Taylor Balik (James Franco), federal agents, and a cadre of alien soldiers that want the weapon back.
Eli is a 14-year-old adopted son who's having trouble in school and often finds himself scavenging for metal to sell. However, one of Eli's many outings for metal leads to an unexpected discovery: a futuristic gun of unknown origins. What starts as a fun prop to pose with in front of the mirror soon gets some use when Eli's brother enters the picture.
Eli's brother, Jimmy (Jack Reynor), is freshly released from jail and needs to repay his debt to a dangerous criminal gang. His haphazard mission to acquire enough cash—$60,000, to be exact—goes awry. Desperate to both protect Eli's life and hide him from the truth, Jimmy takes Eli on a road trip to Tahoe.
Overall, Kin is a journey that may not be worth taking. You'll likely feel as if you're watching two separate movies mashed together; it borders on family drama and uneventful sci-fi. In one scene, the brothers' eventual road trip companion Milly (Zoë Kravitz) asks who exactly these brothers are, with their $60,000 and a space gun. It's a question I think most of the audience was asking throughout the film. We never get a clear answer.
A last-minute twist seems to set up Kin for a more structured sequel. Unfortunately, the film would have benefited a lot if the angle was introduced earlier on. If you are interested in genre-blending movies and don't mind waiting for a plot to develop into something interesting, Kin is a fine choice. If not, it may be better to opt out. (105 min.)
—Ashley Ladin
THE LITTLE STRANGER
What's it rated? G
What's it worth? Stream it
Where's it showing? The Palm (ends 9/6)
Lenny Abrahamson directs Lucinda Cox's horror-mystery script based on Sarah Waters' novel about Dr. Faraday (Domhnall Gleeson), who in 1948 is called to the crumbling Hundreds Hall, home of the Ayers family and where his mother once worked as a housemaid.
Upon arrival, Faraday finds something paranormal, causing occurrences that science or medicine can't explain. He also has a vivid memory of a beautiful summer day he spent at the estate as a child with his mother, who brought him to a fair the Ayers hosted. After that day in 1919, a series of tragic events began to occur, the first when Mrs. Ayers' (Charlotte Rampling) first daughter, Suki, died shortly after Faraday's first visit to the home as an 8-year-old.
Flash forward to the present summer in 1948, when the eldest Ayers son, Roderick (Will Poulter), begins his medical treatment with Faraday to help with the pain of a terrible leg injury he incurred in World War II. Roderick begins telling the doctor of an evil presence he feels in the home and even warns him of something terrible he believes will happen. Faraday, who ignores Roderick, begins making more frequent visits to the estate and catches the attention of Caroline (Ruth Wilson), Mrs. Ayers' second daughter.
Caroline, who has fatefully become the main caretaker of both her mother and brother, invites Faraday to attend a rare party that her mother decides to host for their neighbors. The night ends horrifically when suddenly one of the party guests' daughter is maliciously attacked by Caroline's dog. The dog's sudden bad behavior goes unexplained.
Faraday's attraction for Caroline begins to intensify and he asks her for her hand in marriage. Caroline agrees in hopes of finally being able to leave the crumbling estate; however, Faraday's infatuation with the estate grows throughout the film, and he insists they live there after they marry. You begin to wonder, why does Faraday want to live there so badly? Darkness ominously hovers throughout the film, as it moves slowly from one tragic incident to another.
Mrs. Ayers is the next to experience the unexplained. She quickly begins to lose touch with reality and experiences the unknown presence intensely. Roderick begs for Faraday to get Caroline out of the house after Mrs. Ayers experiences what he did—insanity is no longer an explanation for their odd behavior. Caroline eventually becomes a victim to the cursed house the night before Faraday decides to finally leave. The next morning, she is found at the bottom of the staircase. Did she jump? Or did something, or someone, push her?
The very last scene shows 8-year-old Faraday staring down at the fallen Caroline at the bottom of the stairwell. Was the evil presence him all along? Or did the ghost of Suki haunt the house all these years? There really is no real suspense until the ending, which then goes unexplained, leaving you questioning who or what is responsible for all of the tragedies. (111 min).
—Rachelle Ramirez
THE MEG
What's it rated? PG-13
What's it worth? Stream it
Where's it showing? Park, Stadium 10
Jon Turteltaub (Phenomenon, Instinct, National Treasure) directs Jason Statham as former Naval Captain Jonas Taylor, whose career and marriage were destroyed after he abandoned part of his crew during a failed exploration of the Mariana Trench in what he claimed was an attack by a 70-foot shark. Five years later, when a sub crew is stranded in what may be an attack by the supposedly long-extinct 70-foot Carcharodon Megalodon, Taylor is recruited to attempt a rescue.
A good shark movie should make you afraid to go in the ocean and play on your irrational fears. The Meg just makes me afraid to go back to the multiplex, at least until we get closer to Oscar season. (113 min.)
—Glen Starkey
MILE 22
What's it rated? R
What's it worth? Stream it
Where's it showing? Stadium 10
Peter Berg (Friday Night Lights, The Kingdom, Lone Survivor, Deepwater Horizon, Patriots Day) helms this action thriller about James Silva (Mark Wahlberg), an elite CIA operative tasked with extracting Li Noor (Indonesian action star Iko Uwais), an asset with vital information, through 22 miles of hostile territory.
Berg and Wahlberg have teamed successfully before. Lone Survivor was terrific, Patriots Day was emotionally potent, and Deepwater Horizon was solid entertainment. Hence, despite what sounded like a hackneyed plot, I had hope that this fourth collaboration would yield some better-than-average action. I was wrong. Mile 22 takes a tired, eternally rehashed storyline and tries to spruce itself up with a lead character whose backstory and apparent ADD supposedly makes him interesting. Instead, Silva is just an unlikeable asshole. Yes, this film is better than most straight-to-video fare, but only because it has better actors, director, and budget. Story-wise, Mile 22 is a clunker. (95 min.)
—Glen Starkey
MISSION: IMPOSSIBLE-FALLOUT
What's it rated? PG-13
What's it worth? Full Price
Where's it showing? Downtown Centre, Fair Oaks, Stadium 10
Pick
Writer-director Christopher McQuarrie (The Way of the Gun, Jack Reacher, Mission: Impossible—Rogue Nation) helms this action-packed sixth installment of the Mission: Impossible franchise, starring Tom Cruise as super spy Ethan Hunt. The new film ties together narratives and characters from earlier films, including IMF (Impossible Mission Force) team members Luther Stickell (Ving Rhames) and Benji Dunn (Simon Pegg), Hunt's Rogue Nation love interest and fellow spy Ilsa Faust (Rebecca Ferguson), and Hunt's ex-wife Julia Meade (Michelle Monaghan) from Mission: Impossible III.
In addition to a series of amazing action sequences the film manages to conjure up emotional elements as well, since Hunt must protect both Julia and Ilsa and prove to the powers-that-be, that saving both the one and the many is the real job of the IMF. It also culminates in the mother of all action finales. If you like this series, Fallout is a worthy successor. (147 min.)
—Glen Starkey
THE NUN
Photo Courtesy Of Green Films
HAIL MARY Sister Irene (Taissa Farmiga) is sent to investigate the suicide of another young nun and discovers a malevolent spirit, in The Nun.
What's it rated? R
Where's it showing? Downtown Centre, Park, Stadium 10, Sunset Drive-In
New
Corin Hardy (The Hallow) directs this horror thriller about a novice nun (Taissa Farmiga) and a priest (Demián Bichir) with a haunted past who are sent to Romania by the Vatican to investigate the suicide of a young nun, who may have been affected by a malevolent spirit. (96 min.)
—Glen Starkey
OPERATION FINALE
What's it rated? PG-13
Where's it showing? Downtown Centre, Park, Stadium 10
See Split Screen.
PEPPERMINT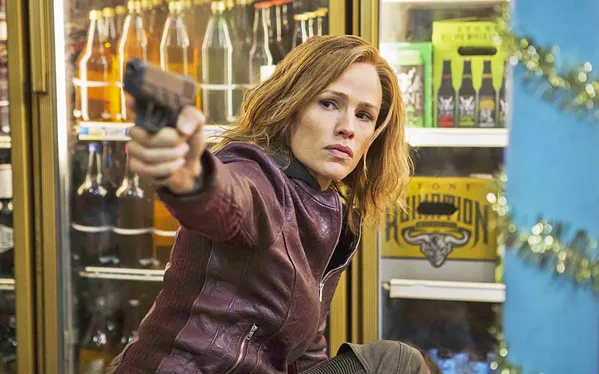 Photo Courtesy Of Lakeshore Entertainment
VIGILANTE After her husband and daughter are killed in a drive-by shooting, Riley North (Jennifer Garner) vows to get the justice she deserves, in Peppermint.
What's it rated? R
Where's it showing? Downtown Centre, Park, Stadium 10
New
Pierre Morel (District B13, Taken, The Gunman) directs Chad St. John's (London Has Fallen) action-thriller script about a young mother (Jennifer Garner) with nothing to lose, out to avenge the deaths of her husband and daughter who were killed in a drive-by shooting. (102 min.)
—Glen Starkey
PUZZLE
What's it rated? R
What's it worth? Full price
Where's it showing? The Palm
Pick
Marc Turtletaub (Gods Behaving Badly) directs this story about put upon suburban mom Agnes (Kelly Macdonald) who discovers a love for solving jigsaw puzzles, leading to personal fulfillment she couldn't have imagined. The film also stars Irrfan Khan as Robert, who becomes Agnes' puzzle partner.
What a lovely and heartbreaking film this is! This is really less about puzzling and more about a personal awakening.
Macdonald is wonderful as Agnes, a melancholy wife and mother who sleepwalks through her days in service to her family. We see her prepare for a party, host, ask her husband Louie (David Denman) if he's having a good time ... and then we realize the party is for Agnes' own birthday. She's a doormat, and her husband and kids—shy, miserable older son Ziggy (Bubba Weiler) and younger more confident son Gabe (Austin Abrams)—take her for granted.
In short, her life is an unfulfilling grind. She needs to learn to take care of herself. As the film opens, it's hard to tell the time period. It could very well be the 1950s judging from Agnes' dress and homemaker work ethic. It's not until she opens one of her gifts—an iPhone—that we realize it's present day. Another of the gifts she receives is a 1000-piece puzzle, and alone at home, she becomes consumed by it—her mathematical mind perfectly attuned to solving it quickly.
Even though she's a brief train ride from New York City, she hasn't been there in years. But in search of another puzzle, she goes to a puzzle shop and sees an ad posted by a champion puzzler looking for a partner. She answers the ad and meets Robert (a truly wonderful Khan), an eccentric but lonely inventor, whose one invention—something to do with magnets—has made him rich.
Their friendship opens Agnes' world and is the heart of the film. Robert also imparts his understanding of the world, its randomness and uncontrollability, and explains that his love for puzzles is the wonderful sense of control it allows him. When you complete one, "you know you've made all the right moves." This film is about Agnes making the right moves that will complete her life. (103 min.)
—Glen Starkey
SLENDER MAN
What's it rated? PG-13
What's it worth? Nothing
Where's it showing? Sunset Drive-In
Sylvain White (Stomp the Yard, The Losers) directs this horror story about a tall, thin creature (created by writer Victor Surge) that haunts and steals children. (93 min.) Δ
—Glen Starkey
New Times movie reviews were compiled by Senior Staff Writer Glen Starkey and others. You can contact him at gstarkey@newtimesslo.com.