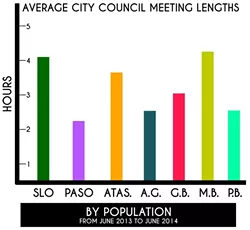 It's past midnight on a Tuesday. Across the county, most people are sound asleep. Even the bars are starting to empty. But there are a few places where people are still wide awake—or at least are trying to be. One such hotbed of late-night activity is the Veteran's Memorial Building in Morro Bay, where the bi-weekly City Council meeting is being held.
The council members are bleary-eyed and look like they'd rather be at home in their comfortable beds. Even the most dedicated citizens have left. But at this sleepy hour, vital public policy—which affects every citizen in the city—is being discussed and acted upon.
And it's not just Morro Bay. The cities of San Luis Obispo, Atascadero, and Pismo Beach have also had meetings go past midnight in the last year, and every city in the county regularly has meetings that continue past 10 or 11 p.m.
These are meetings that often take four, five, even six hours. To put that into perspective, it would take about four hours (which isn't too bad, as far as council meetings go) to do a back-to-back double feature of Star Wars: A New Hope and Star Wars: The Empire Strikes Back. And council meetings don't have the benefit of light saber duels and spaceship chases to keep the viewers' interest.
"It's definitely an issue, I believe," said Morro Bay Councilwoman Nancy Johnson.
From June 2013 through June 2014, Morro Bay City Council meetings ran four hours and 21 minutes, on average—the longest in the county.
According to Johnson, it's very common to lose most of the audience—comprised of people who came to the meeting specifically to make their voices heard and to get involved in public policy—when meetings stretch late into the night.
It's not just the citizens who are impacted by long meetings, according to Johnson. The decision makers themselves are affected as well.
"When you've been there that long, it just isn't possible to be on your top game," she said. "It's late and I'm tired and I've got stuff to do the next day."
Johnson believes that the primary reason for Morro Bay's lengthy meetings is the council's excessive discussions.
"They tend to repeat themselves," Johnson said. "They go on and on and on about things that they've already said."
While Morro Bay Mayor Jamie Irons agrees that council discussions can go on too long, he doesn't believe they're the main cause of the city's lengthy meetings. Irons said Morro Bay's abundant public comments add a lot of time to the proceedings, which is what he believes causes the city's meetings to run longer than others in the county.
"Having more people talk at a meeting isn't a bad thing," Irons said. "Are our meetings too long, or do the other cities just not have enough public input? It's all how you look at it."
Irons did admit, however, that most of the audience often leaves when meetings last longer than four or five hours.
While Morro Bay's meetings are the longest, on average, they aren't by much. The average San Luis Obispo council meeting is only three minutes shorter than Morro Bay's, and it's been trending longer in the past few months. Atascadero's meetings also tend to go late, with an average of about three hours and 42 minutes.
On the other end of the spectrum, there are cities like Arroyo Grande and Paso Robles. Paso had the shortest average meetings from June 2013 to June 2014: about two hours and 13 minutes. That's slightly more than half as long as Morro Bay's meetings.
What's Paso's secret? According to Paso Councilman Fred Strong and Mayor Duane Picanco, there's no one secret; there are a variety of factors that make the city's meetings the shortest in the county.
First and foremost, Strong credited a lot of Paso's efficiency to the council's dedicated staff.
"Our staff reports are very thorough," Strong said. "And that helps a lot."
Morro Bay's Irons noted the impact that the council's staff can have on the smoothness of the proceedings as well.
"I think a lot of it has to do with preparation of staff reports," Irons said. "Both staff and council being ready to go."
Strong also said that the Paso council tends to make a conscious effort to avoid extraneous discussion.
"We realize, if it's an item that's gonna be unanimous, we don't need to spend too much time talking about it," Strong said. "Once a decision is made, it's made."
Picanco pointed out that Paso has relatively few public comments at its council meetings, which may contribute to the shorter running lengths: "It isn't that I don't encourage people to comment. For whatever reason they choose not to speak."
Deep mutual respect and working with extremely experienced individuals also help things run smoothly and rapidly in Paso, according to Strong.
Other counties around the state have also wrestled with excessively long meetings. Such cities as Sacramento, Salinas, and Richmond have tried to deal with the problem by shortening citizens' allotted public comment time from three minutes to two minutes.
Berkley, for example, has a two-minute public comment time limit as well as a 10-person limit on any agenda item (SLO County's councils regularly have more than 10 speakers on hotly debated items).
Santa Barbara has tightened the comment time even more severely to just one minute per commenter.
Cal Poly political science professor Michael Latner said that while excessively long council meetings "could certainly warrant some concern," the problem of tired council members and audiences that leave before they can make their comments wouldn't actually change the way public policy is decided.
"Most council decisions—especially important decisions—are decided before there's any real comment," Latner said. "It's probably safe to say that, short of an unexpected outcry from the public that would delay a decision, it's not as though the comments often change the minds of elected officials."
According to Latner, the best (and most democratic) way to shorten council meetings would be to get citizens more involved in the planning process early on. That way citizens would have the chance to make their voices heard before city council meetings.
Citizen comments often come forward too late in the process to affect real policy, Latner said.
"A long meeting isn't necessarily a problem, but it certainly doesn't improve the democratic process," Latner said. "It's a waste of time for the most part."
Intern Cliff Mathieson can be reached via Managing Editor Ashley Schwellenbach at aschwellenbach@newtimesslo.com.