Attention-grabbing firework stands will start opening for business, in the coming days in parking lots across the state, as well as in the five SLO County communities that allow them.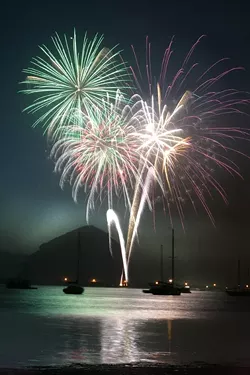 File Photo
NO BANG, PLENTY BUCKS : Fireman are selling Safe and Sane fireworks—the kind that don't rocket or explode—from roadside stands.
The brightly colored stands provide cash bonanzas for the church groups, youth sports leagues, and other nonprofit groups whose volunteers staff them, bringing in as much as $20,000 for a week's work.
While many firefighters view the Fourth of July stands with disdain—seeing them as one more possible cause of their next nightmare—not all firefighters have the same approach: Some firefighter groups make their own cash from firework sales.
In Oceano, the firefighters association operates its own stand. In San Miguel, a firefighter group has one of the two area permits. In Grover Beach the local firefighters association has traditionally run a stand, and by city rule they and the police officers association get the first option for the application before it goes to a lottery. A Grover firefighter representative contacted for this story, however, said the Grover firefighters association is not operating a stand this year.
Oceano Fire Captain Craig Angello said the practice has come under fire in Grover and Arroyo Grande, where firefighter associations formerly ran stands, but so far it hasn't been an issue there.
"That is our big fundraiser every year," he said
"It has the appearance of a conflict," retired County Fire Chief Dan Turner said of the firefighter group stand sales. "I know firefighter groups that have sold them find themselves constantly explaining why."
Turner calls the issue a "conundrum" but isn't a critic himself.
"If they're legal, as they are in California, the argument can be made that who better to sell them then those in the position to educate the user?"
San Miguel's Fire Chief, Roland Snow, said he doesn't see any irony in the local firefighter group operating a stand, noting that the local Community Services District authorizes the sales. He said the firefighter group uses the money raised for charitable works similar to those performed by other community groups that operate stands.
The only kind of fireworks legal for sale in the state are those called "Safe and Sane," which are often described as those that don't "go up or blow up."
Still, firefighters say even the legal fireworks can be problematic.
"Every year it's a problem and an issue," said Templeton's Fire Chief Greg O'Sullivan, "because of the amount of potential and real problems [fireworks] cause."
Templeton is one of the communities that allow the stands, but O'Sullivan isn't a fan of the decision, noting by way of explanation that he's obligated to enforce local rules.
While most problems come from illegal fireworks, he said, the legal ones make it harder to find and police the illegal ones.
Asked if he thinks firefighter groups should be profiting from firework sales, he paused and suggested a reporter ask that question of those groups that do the selling, but he offered, "You can probably tell by the way I answered that, my own feelings on the question."
Each of the five communities varies slightly in how they choose permits, and the requirements they place on the permit-holders. Some have lotteries, others use a rotating list, and others give certain groups—police, fire, or chamber groups, for example— automatic permits. Some say they don't place limits on the number of permits they'll allow, but note that it can be hard for groups to find parking lots and other spots in which to operate, so the number tends to be small.
The communities also vary in terms of who can run the stands. In Grover Beach, for example, permits are given only to Grover-based nonprofits. But Arroyo Grande does not have the same requirement.
Most of the groups rely largely on the help of the firework distributors, such as TNT Fireworks, whose representatives help groups with everything from obtaining sales tax permits to setting up credit card machines.
If firefighters have come under some scrutiny for profiting from fireworks sales, others may find irony in any of the groups that operate the stands. Youth, for example, are explicitly barred from buying fireworks, yet organizations supporting youth groups make up about a fifth of those operating stands locally. And church groups, who make up the largest number of local stands, must contend with the packaging on the materials; TNT stands are sometimes labeled as "Red Devil" fireworks and the names of the products sold, such as "Devil's Delight," often contain pitchfork-and-all demonic imagery.
Peggy Hoobery is running a stand in Grover Beach that will jointly benefit two nonprofit groups she heads: Five Cities Girls Softball and the Exploration Station.
She said she's been involved in the process in past years with Grover's Chamber of Commerce, but this will be her first time operating the stand.
She noted that girl softball players won't be working the tents—people younger than 18 aren't allowed—but she said the girls might be out holding signs to bring in customers.
She said the money will go toward new equipment for the softball players and new interactive science projects for the Exploration Station.
"For a week's work, the money you get, it's well worth it."
As of now, she said, there are no plans to talk to the girls about safe fireworks use, but she said she'd be open to such a project if firefighters came up with one.
---

Managing Editor Patrick Howe can be reached at phowe@newtimesslo.com