The Lake Tahoe fire was topping the morning's news as California State Fire Marshal Kate Dargan began a June 29 talk to discuss ways to save homes from wildfires. And by the next day, many who had come to hear her speak were busy battling a fire that erupted in the hills above Cal Poly.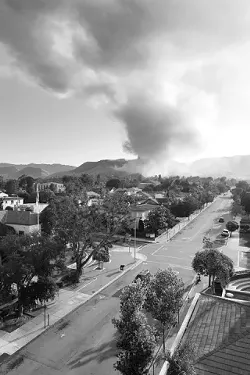 # But the roughly 50 firefighters, government leaders, and city planners who gathered at the SLO Government Center didn't need current events to be reminded of the importance of the effort. In 2003, the last major fire year for the state, more than 5,000 California homes were lost to wildfires.
Dargan's main message was that new state building codes, which will take effect in 2008 and apply to construction where wild lands meet urban areas, will be able to hugely reduce the number of homes that get lost to wildfires. She argued, essentially, that California can design its way out of massive amounts of future fire costs.
"Identifying hazards is an important part of planning for wildfire and reducing the loss of lives and property," Dargan said.
It's the sort of message that invites skepticism, but Dargan, dressed in a white suit and with the poise of a TV host, presented the facts in a way that wins crowds. She showed a real-time video of a forest fire raging past a fixed camera. Within three minutes, the conflagration had completely passed by.
Her point: A house doesn't have to be built to withstand an hour's worth of inferno, it simply has to survive a few minutes of actual flames and be constructed to prevent a blizzard of embers these are a threat for a much longer period from having a place to catch hold.
New building codes are critical, she said, because remote homes that encounter real wildfires aren't likely to be saved by firefighters the fires simply move too fast for enough firefighters to react.
In this case, design means demanding the use of ignition-resistant materials for decks, eaves, roof coverings, walls, exterior windows, and exterior vents.
Another key element is creating a zone of what firefighters call "defensible space" around buildings. In other words: clear brush.
Cheryl Journey, SLO County's chief building inspector, was one of those who left impressed with Dargan and the state's effort.
Journey said that the new state codes will only apply to new construction, but local communities will have the option of applying them to remodels as well.
Journey said the new codes aren't without problems, including a basic conflict between the way one would design a house to prevent mold plenty of attic vents and the way to design a house to stop fires no attic vents, to prevent burning embers from entering the house.
The solution may be a technological one: Vents that are open most of the time but shut automatically when they reach a certain temperature.
Dargan's aides said she chose San Luis Obispo as a place for the speech for a reason.
"All of San Luis Obispo County, basically, is a tinderbox," said Tina Rose, a spokeswoman for the California Department of Forestry and Fire Protection, which is now calling itself CAL Fire.
She emphasized her words by pointing to a new fire-hazard map of the county that showed, essentially, that about 90 percent of non-city areas are considered at high or very high risk for wildfires.
The map can be found at www.fire.ca.gov/wildland_zones.php. Soon, Rose said, the site will have a link that will allow homeowners to type in their own address and assess their risk from wildfire. When New Times last checked the link, however, it wasn't yet functioning.