PHOTO BY STEVE E. MILLER
BEER GRADE : Enjoy a plate of sushi-grade ahi, encrusted with panko, black pepper, and sesame seeds.
San Francisco has always been our favorite food town, and that's why Dan Hardesty and I return several times each year. I lived in the heart of the city for 10 years, and whenever I read a review of a great East Bay restaurant in the Chronicle, I'd cruise over the Bay Bridge to check it out. That was during the early and mid-'80s, when I was a teetotaler, yet one of my favorite eateries was the café at Acme Brewing Co. in Berkeley. Their exceptional, creative sandwiches were ideal for their fine ales, although I couldn't have appreciated that then. Now, however, I love a great draft on occasion, and my favorite is Firestone Walker at their pubs in Buellton and Paso Robles.
The original brewery and restaurant was built in Buellton, but they moved most of the brewing production to Paso Robles a few years later. Paso at first didn't have an eatery, but I'm happy to say that changed recently. Now they serve an excellent menu that pairs with their outstanding selection of handcrafted brews in a new restaurant and pub.
Brewmaster Matt Brynildson, a man of amazing talent who has piled up an array of awards for his handcrafted beers, admitted: "People don't think of a brewpub when they're going out to eat." I imagine that's true, and I've known pubs that didn't serve good food, but this is one of the exceptions. I've had excellent food and enjoyed good service each time I dined there. The first visit was right after the Taproom opened; everything was tasty and served in generous portions, but they had some kinks to work out. The Brooklyn calzone with mozzarella, spinach, ricotta, and garlic was tasty right out of the oven, but the marinara sauce was bland ($14). Beto's tacos with panko-crusted halibut, avocado, paprika-lime dressing on two flour tortillas, and a side of jicama slaw were very good (small $14/large $18), but I would've liked corn tortillas more.
PHOTO BY STEVE E. MILLER
BEER BRAISED : Braised in Walker's Reserve, these beef short ribs can be cut into by the flat side of a spoon.
Our next visit to the Taproom was far better. We feasted on well-made treats like the crisp-crusted portabella pizza with fresh goat cheese and basil ($14). An excellent crabcake of 95 percent lump crab meat was served crispy outside, moist and tender within, with a mini-salad and cilantro aioli ($12); it will be the first thing I order next visit. The panko-black pepper-sesame seed-crusted tuna made of sushi-grade yellowfin was delightful with a very good wasabi aioli and snow pea and red onion slaw ($22). Everything served was generous in portion and all quite satisfying with the delicious Firestone DBA.
I occasionally enjoy a good draft, but my favorite beverage will always be wine. That's why I applaud the Taproom for offering an excellent list of SLO and Santa Barbara County wines: From Paso Robles, there are choices like Cass, RN, Tablas Creek, Terry Hoage, and Thatcher; and from the south Central Coast come choices like Andrew Murray, Carlson, Curtis, and Storm. Of the 37 offerings, 19 were available by the glass, and most were reasonably priced at less than $10 per glass. The beer choices are quite varied as are the way they're offered: by the taste, half-pint, and imperial pint (20-oz.) from a selection of nitrogenated beer, proprietor's reserve series ales, vintage release ales, library ales, session ales, seasonal ales, and Taproom-only beers.
If you visit during the day, the free tour of the new brewery is a must. It's interesting to learn about the state-of-the-art brewhouse where you can view the brewing vessels and the mix of barrels used to age the handcrafted ales. It now features a three-story tower in front of the brewery, which serves as a visual icon with broad glass walls providing a window to watch the brewing process. Brynildson recalled: "Back in my university days when I made beer in my garage in Kalamazoo, Michigan, I dreamed of one day having a brewhouse like the ones I had seen while traveling through Europe on foreign study. That day has finally arrived."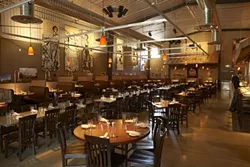 PHOTO BY STEVE E. MILLER
BEER SEATS : The new Firestone Walker Taproom is expansive enough to hold at least three full-sized beer delivery trucks (this wasn't tested, however).
During the Paso Robles Harvest Wine Weekend, I attended a special tasting at Hope Family Wines. The Artisan Wine, Beer, and Food Pairing featured Top Chef finalist Casey Thompson with winemaker Jason Diefenderfer, and brewmaster Matt Brynildson. An event held in the vineyard, it featured several tables where Thompson prepared a dish that would match well with wine and beer. The fun thing about it is finding a truly great match.
Although all of the pairings were delicious, this chef has a great palate, and two amazing pairings stood out for me. The pho with duck meatball, hoisin, chile paste, ginger, and Firestone Hefeweizen was paired with the Austin Hope 2011 Roussanne and the Hefeweizen itself. The wine was a nice match, but the beer in the pho and the ginger with that fruity Hefeweizen was outstanding. I could have stopped right there and asked for a larger beer glass and bowl, but another brilliant pairing was yet to come.
Even better was the succulent smoked baby back riblet with a cider apple glaze and green onion-jalapeño cornbread paired with Firestone Walker Oaktoberfest Märzen and Austin Hope 2010 Grenache. Again, either pairing would have pleased me, but the awesome Grenache was fabulously layered with flavors of ripe red and black fruit, minerals, and spice—a knockout. Admittedly, I went back for another riblet and splash of Grenache three times; it was that exceptional.
I encourage foodies to sign up for their newsletters and check them out online at hopefamilywines.com or firestonebeer.com to learn about upcoming tastings like these that go on throughout the year. After the unforgettable experiences I enjoyed at Hope Family Wines and Firestone's Taproom and brewery, I would cruise over the grade for another opportunity in a hot minute.

Contact Cuisine columnist Kathy Marcks Hardesty at khardesty@newtimesslo.com.