Before the photos of the chalky gray, once oak-covered hillsides went viral in early June, many county residents assumed there were laws protecting oak trees.
But there weren't. So the swift outrage unleashed on Justin Vineyards and Winery and its parent corporation The Wonderful Company over the clear-cutting and bulldozing of thousands of native trees—which neighbors surrounding the property near Willow Creek Road west of Paso Robles said took months to break down into firewood and haul away—was followed by a community-wide resolve saying this cannot happen again.
"What has happened here is an outrage," said San Luis Obispo County Supervisor Bruce Gibson on June 21, when the Board of Supervisors unanimously voted to consider dual urgency ordinances to protect native trees and to more tightly regulate agricultural reservoirs used for irrigation and frost protection. "It's the most appalling demonstration of corporate greed that I've seen in a long time."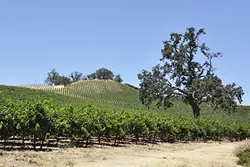 PHOTO BY CAMILLIA LANHAM
OAKS VS. VINES: The SLO County Supervisors passed an interim urgency ordinance to protect oak trees after Justin Vineyards and Winery clear-cut thousands of oak trees to make way for a vineyard.
On July 15 Gibson led the board to pass an interim native tree ordinance and suspend a program allowing reservoir construction to be reviewed and overseen by a resource conservation district instead of the county. The latter move followed scrutiny of the process after Justin's vineyard manager, Paul Kaselionis, and their contractors received approval for an application specifically to construct a large 21 acre-foot irrigation pond, but circumvented and violated county requirements for a grading permit. Regulators couldn't determine if bird and wildlife protections were violated, saying that if they were, any evidence was burned, chipped, or removed.
The fallout has many questioning the appropriateness of irrigation reservoirs, which require intensive groundwater pumping to fill and are at times blamed for causing neighboring well levels to drop.
As for the trees, if the company, their engineer Eric Gobler, or their contractor Andrew Brown General Engineering Inc. sought the appropriate grading permit, the tree clearance may have become a snag in its eventual approval.
Regardless, advocates for a tree ordinance say one's needed to sufficiently protect the oaks and the water supply, especially in the Adelaida area where the groundwater is held in ancient cracks and fissures, not a large basin like Paso's east side.
As of July 15, clear-cutting of native trees is forbidden; no more than three native trees may be removed on smaller properties or at existing agricultural operations; any larger-scale tree clearance will require authorization. The county must be informed of any removal of diseased trees or up to 5 percent of the tree canopy. Anything more will require a permit and environmental review. Proposals to clear more than 25 percent of the existing tree canopy will require an environmental impact report.
There are exemptions for emergency and safety precautions and fire or utility-hazard reductions. Lands under conservation easements with a management plan incorporating trees may also be exempt.
Those rules must be extended after 45 days, and the four-fifths vote necessary to approve an urgency ordinance was tenuous, as Supervisor Lynn Compton hesitantly supported the initial step while exclaiming that she'll expect a permanent ordinance to be less restrictive and more responsive to stakeholder input.
"My goal for today was to prevent the clear-cutting and deforestation that we saw take place on this property," she said, adding she doesn't want the regulatory pendulum to swing too far backward and create stringent laws that will have neighbor telling on neighbor in a "big brother" complaint-based code enforcement scheme.
Compton came on board after Gibson rebuffed attempts from Supervisor Debbie Arnold—the lone dissenter—to pitch significant changes to the ordinance, including the ability to remove up to 25 percent of the tree canopy without major oversight.
"Quite frankly I'm not interesting in half steps here, I'm not interested in putting up a paper wall against something that's not going to do the job," Gibson said. "I'm not interesting in fake legislation."
Residents and agriculturalists who think more government regulation isn't the answer have countered the early fervor from North County residents advocating for the ordinance.
"They were able to rape the land without penalty," said Templeton resident Bill Pelfrey. "How is this ordinance going to stop that from happening? How are you going to prevent a group like The Wonderful Company, that's actually a serial rapist? It's not. … The thing about this ordinance, does it do what you intend? Or is the cure here more dangerous than the disease?"
Some ranchers and private property rights advocates said responsible rangeland management can't be done with a "one size fits all approach" and more stakeholder input was needed. Those advocates included the influential SLO County Farm Bureau Federation, whose membership felt the process was rushed and had several pointed concerns, according to the board's vice president, Anna Negranti.
The Upper Salinas-Las Tablas Resource Conservation District, which initially signed off on Justin Vineyards' plans for a pond, opposed both ordinances, and said their group, agriculturists, and developers should be allowed more input.
The Agricultural Liaison Advisory Board (ALAB), which advises the supervisors on agricultural matters, voted 4-2 on July 11 to issue their support, though the 15-member body's support showed hesitation as some members declined to vote while others promptly left the meeting when the item came up. ALAB opposed an agricultural pond ordinance.
Supporters said that while most stakeholders may use the land responsibly, the protections are still necessary, especially after agriculturists aired similar opposition to a tree ordinance that ultimately failed 20 years ago.
"It's just sad that it's taken a tragedy as we witnessed recently in Paso Robles to get us to this point," said Neil Havlik, representing the California Wildlife Foundation (formerly known as the California Oak Foundation).
Mark Adams, the farmer and winemaker who initially posted the aerial photos on his Facebook page, said he didn't think the ordinance would impose severe hardships for those who are "truly good stewards of the land."
"It's naïve and dangerous to think that ours is a knee-jerk reaction to one bad apple. … We are exposed and vulnerable to widespread speculation by the highest bidder," Adams said. "We have an opportunity to look out for each other. The language may not be perfect but it can be tweaked. Please be brave and pass these protections and work with the agricultural and conservation organizations to perfect them."
The board will consider extending the urgency ordinances, and may consider further direction for permanent versions, on Aug. 16.
Staff Writer Jono Kinkade can be reached at jkinkade@newtimesslo.com.
-- Melody DeMeritt - former city council member, Morro Bay