Brian Stacy hasn't fished for half a year.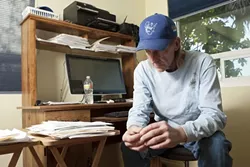 PHOTO BY STEVE E. MILLER
DROWNING IN PAPERWORK : Brian Stacy has been hounding Pacific Gas and Electric Company for months in an effort to get payments for fishermen who say they've been displaced by 2 1/2 years of low-energy seismic surveys. An anonymous supporter has helped with bills since he's got no time to fish.
He's got a small, commercial boat, the Marja, moored in Morro Bay and a garage packed full of rods, reels, buoys, and five-gallon buckets strung together with special lids that turn the things into traps for ugly sea creatures called hagfish or slime eels, a dish Koreans apparently go nuts over. Stacy has everything he needs in order to fish, including 20 years of experience at sea. What he doesn't have is time—not since he assumed negotiating duties on behalf of his fellow fishermen in the fight for what they believe is just compensation concerning the impacts Pacific Gas and Electric Company's seismic surveys would have on their industry.
Since the California Coastal Commission on Nov. 14 unanimously rejected PG&E's permit application to conduct high-energy surveys with air cannons blasting 260-decibel sound waves into the ocean floor, many concerned environmentalists, citizens, and fishermen have declared victory and put the battle behind them. Not Stacy. He's just getting started, waving the red flag over the low-energy seismic surveys (LESS) the utility company has been conducting off the Central Coast for the last two years. Stacy claims fishermen have been heavily impacted by LESS, but that they haven't been paid by PG&E, which commissioned the surveys, or Fugro Consultants, the subcontractor performing the work.
"They take it to a whole new level of stinky," Stacy said.
Throughout 2010, Stacy and other fishermen couldn't help but notice that a 100-foot tugboat called the Michael Uhl was patrolling the waters off of Point Buchon, roughly halfway between Morro Bay and Diablo Canyon. No one knew what the boat was doing, and no agreements had been discussed about what would happen if the vessel disrupted fishing opportunities, Stacy said.
When PG&E announced plans to conduct invasive, high-energy seismic surveys (HESS) in late 2011, Stacy volunteered to represent the near-shore fishermen in negotiations with the utility company.
According to PG&E, near-shore fishermen would be the most impacted by HESS, so Stacy was thrust to the forefront of the negotiations. That's when he started getting calls from fishermen complaining that Fugro was already ruining their catches.
After hours of research, calls to the State Lands Commission, and e-mails sent to PG&E officials, Stacy found that Fugro Consultants was using the Michael Uhl to perform LESS for PG&E under a 30-year-old permit program, which explained why no public discussions had been held on the matter.
The State Lands Commission established a Geophysical Survey Permit Program (GSPP) in 1984 to facilitate mapping of the ocean floor for earthquake faults and signs of mineral deposits with low-energy equipment using less than two kilojoules. The program didn't include surveys that use air cannons. At the time, California Environmental Quality Act requirements were met and a Mitigated Negative Declaration was drafted to require permit holders to notify affected parties 15 days before surveys begin and establish measures for the compensation of displaced fishermen.
Over the last three years, Fugro applied for several survey permits under GPSS, and they were generally granted as part of the approval of the State Land Commission's consent calendar, meaning there was no public discussion and no review of specific environmental impacts.
"I'd have to have a time machine to exercise my CEQA rights," Stacy said. "Figuring this out has been a full-time job with no pay and plenty of overtime."
In August 2011, the Oceanic Protection Council, a non-regulatory agency, gave the State Lands Commission $222,000 to update the GPSS in light of scientific studies that suggest LESS could produce up to 208 decibels and significantly impact fish behavior. The commission accepted the money and began the redrafting process, but it's not expected to be complete until mid 2013, according to project manager Sarah Flores. In the meantime, Fugro was granted another LESS permit, good through September 2013.
Several fishermen lamented the impacts of LESS to New Times. Pete Nelson said that two years ago, the Michael Uhl almost ran right over his gear. As soon as the boat passed by, the fish quit biting, he said, noting that local fishing has deteriorated ever since, that fish come up weak and lethargic and often die in the tank. Nelson's boat is too small to take on long-range trips, so he partnered with a friend in order to fish farther south—a move that takes more time and more fuel, which means less profit.
"It's basically been a nightmare," Nelson said. "I don't feel we've been treated fairly."
He filed a claim for compensation, but it was rejected.
Another fisherman, Joe Loiseau, estimated that his catch shrank by 30 to 40 percent every time he was within a few miles of the Michael Uhl. Like Nelson, Loiseau fishes from a 20-foot boat and only near shore, and when the fishing went bad, his options were limited. He filed a compensation claim with PG&E for $10,000 but received a rejection letter like everyone else. The company didn't give a reason.
"They don't want to pay us," Loiseau said. "It's a bad deal all around."
Jearl Strickland, PG&E's director of nuclear projects, said that PG&E reviewed the claims and compared them to Department of Fish and Game catch reports, which showed that more fish were caught during LESS than ever before.
"There really is no basis for a claim," he said.
Stacy itemized several points that he considers to be violations by Fugro of the GSPP, including the use of un-permitted equipment, failure to provide 15 days notice, and the lack of a good-faith effort to settle claims for damages. Stacy believes a flat $15,000 payment per boat would be low but fair compensation. He's pleaded to Barbara Boxer, John Laird, and Sam Blakeslee for help in the situation, but so far nothing has come from it. He plans to request a formal investigation from the Grand Jury.

Staff Writer Nick Powell can be reached at npowell@newtimesslo.com.