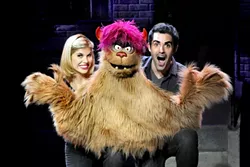 PHOTO COURTESY OF AVENUE Q
THE INTERNET IS FOR PORN : Trekkie Monster possesses an unfortunate addiction to pornography.
W
elcome to Avenue Q. You've probably heard of it, but in case you haven't, it's a world where everyone's a little bit racist, it's OK to be gay, the truth isn't always pretty or convenient, and a slutty pink puppet "can make you feel special when it sucks to be you." The inhabitants of Avenue Q have lessons to teach, though they're not quite as simple as C follows B, and one and two make three. And if you happen to be at the PAC on March 4 at 7 p.m. you just might be able to share in some of the life lessons.
The journey began when Robert Lopez and Jeff Marx attended a BMI Lehman Engle Musical Theater Workshop and agreed to collaborate. Together, they tried to answer the age-old question: Why were so few people their own age attending musicals? Their conclusion seemed to be two-fold: not enough puppets and not enough sex and obscenities. Their odd pairing has fared surprisingly well; after an off-Broadway opening in 2003, Avenue Q made its Broadway debut a mere two months later and received three Tony Awards in 2004.
Before kicking off a nearly 10-month tour that began last September, the actors were subjected to a grueling months-long interview process that pitted them against 2,000 other performers. The final audition was a two day-intensive puppet school workshop, pairing performer with puppet. The purpose of this, according to Brent DiRoma who won the roles of Princeton and Rod, was "making sure that you are taking the same emotional journey."
Jacqueline Grabois, who landed the roles of Kate Monster and Lucy the Slut, knew that she couldn't wait for puppet school if she wanted to land the roles.
"I went to FAO Schwartz and got myself a puppet and spent 10 days working with it," she explained.
To the uninitiated, the challenges of puppetry might sound exaggerated. But the performers of Avenue Q have a more difficult job than most. They're using muscles they don't normally use. They're on stage at the same time as their puppets, in full audience view, and must mirror their puppet's emotions while on stage.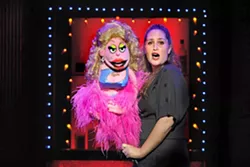 PHOTO COURTESY OF AVENUE Q
MAN'S BEST FRIEND : Lucy the Slut, manned by Jacqueline Grabois, bed hops through the fictional neighborhood of Avenue Q.
Fortunately, DiRoma related to his puppet, Princeton, the leading man of the ensemble. Princeton is the new kid on the Avenue Q
block, recently out of college, and desperately trying to answer the nearly impossible question: What the hell do you do with a BA in English?
"When I got this job I was just out of college. I know what it feels like to be searching and searching and searching," he admitted.
He might not relate quite so strongly to his secondary character Rod, a closeted Republican accountant with a poorly kept secret crush on his roommate Nicky. But the character's difficulty leads to one of the production's most popular songs "If You Were Gay," with lyrics along the lines of "If you were gay, that'd be OK. I mean, 'cause, hey, I'd like you anyway."
Grabois describes Kate Monster as "a wholesome girl looking to further her career." As it turns out, she's also a minority as a monster, and hopes to establish a special school specifically for fellow monsters. All of this leads into the song "Everyone's a Little Bit Racist" which is Grabois' favorite moment in the production.
"For me, it's when I feel the show starts. There's 'If You Were Gay' which is hilarious. But I'm not in that and I feel like the audience knows what they're in for with 'Everyone's a Little Bit Racist.'"
Then there's Lucy the Slut, a pink puppet with a plunging neckline, feather boa, and tousled blonde curls. She unashamedly throws a bit of a wrench in Kate Monster's relationship with Princeton. And has a lot to do with some raunchy puppet sex scenes that gave both DiRoma and Grabois a pang of embarrassment during earlier rehearsals.
"I couldn't stop laughing," admitted Grabois, when describing her first experience choreographing the sex scenes. "I couldn't learn it, because I was 69ing with puppets, which is pretty funny."
These days, Grabois gets a kick out of listening to the audience reaction.

STROLL BOLDLY DOWN: Avenue Q runs for one night only at Cal Poly's PAC on March 4 at 7 p.m. Tickets cost $56 to $68 and can be purchased by visiting pacslo.org. For more information about Avenue Q visit avenueq.com.
"I would never picture puppets saying the things they say," admitted DiRoma with a laugh. "I'm a little scarred by it." The actor first watched the show at the age of 15, accompanied by his grandmother. He recalls sinking into his seat when the puppets began to have sex onstage. The memory allowed him to share a chuckle with his grandmother when he told her he actually had a part in the show.
As for the audience, DiRoma insists that 85 percent of the time they're rock-star viewers, singing along, laughing, and clapping. Then there's the 15 percent comprised of elderly season subscribers who haven't done their homework about the show and sometimes create a ruckus as they walk out.
"But if you come to the show with an open mind and ready to have fun, you will," he's quick to add.
Arts Editor Ashley Schwellenbach knows a few Kates and Lucys. Send puppet tales to aschwellenbach@newtimesslo.com.