Flash floods overwhelmed a portion of Highway 166 with mud and water on Oct. 16, trapping approximately 100 vehicles in the area east of Santa Maria and shutting down the two-lane highway for three hours. California Highway Patrol told New Times that responders "assisted numerous disabled motorists" on the scene but that there were no rescues and no injuries.
"Nobody was stuck in mud; vehicles were just unable to pass due to the mud and water," said Dave Zaniboni, public information officer at the Santa Barbara County Fire Department.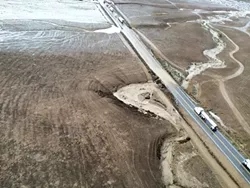 PHOTO COURTESY OF SBC FIRE DEPARTMENT
Torrential rain on Oct. 16 hit natural waterways and produced heavy runoff, spreading liquid earth across Highway 166 in an area between Cottonwood Canyon and Spanish Ranch.
The Santa Barbara County Fire and Sheriff's departments, CHP, Los Padres Forest Services, and Caltrans responded to the flooding. Zaniboni said there were fire engines and bulldozers on site, as well as a helicopter and water rescue crews. Once the rain eased, responders were able to clear out the mud and reopen the highway by 8 p.m.
The impact of the flooding was made worse by traffic on 166 that was diverted away from Interstate 5 and Highway 58. Flooding and mudslides closed those highways, too, as thunderstorms pummeled Southern California.
Highway 166 has a perilous history with flooding. Two CHP officers were killed in flash floods during the 1998 El Niño winter, when their patrol car was swept away by flooding at the Cuyama River. Highway 166 is named "CHP Officers Irvine and Stovall Memorial Highway" in their honor.
Officials are worried about the potential for a 2016 El Niño to cause similar damage.
"Absolutely [it's a concern]," CHP Officer Matt Kenny said.
Kenny and Zaniboni stressed that Santa Barbara County is doing "everything it can" to prepare for an El Niño, such as clearing out culverts and storm drains so storm water can be effectively discharged. But there is only so much that can be done to prepare, they said. Zaniboni and Kenny said the effects of rain are exacerbated by how the drought has changed land conditions.
"Everything is so dry out there, the minute water hits, it turns into mud," Kenny said of the area surrounding Highway 166.
Zaniboni warned residents to not risk driving through flooded roads in the event of heavy rains.
"Cars are not meant to drive through 2 feet of water," Zaniboni said. "You don't know what's underneath the water, and it doesn't take much to overwhelm the car."
With predictions for a heavy El Niño this winter, responders are expecting the worst.
"We're ready," Kenny said.