It's beer fest time, for better or for worse.
In anticipation of every festival season, the travel and lifestyle media begin regurgitating features about the growth of the craft brewing industry. The formula calls for the selection of a particular style or region gaining popularity. Everything always manages to look groundbreaking in this 7,000-year-old endeavor.
While effective at driving festival attendance, the Sunset crowd's narrative ignores the fact that the craft brewing industry crashed about 13 years ago. It came roaring back around 2008—but, more accurately, craft brewing never left. The industry just retreated to the homebrewer's kitchen from whence it came.
The craft brewing scene on the Central Coast fits this storyline superlatively. Roughly a dozen local commercial breweries and brewpubs went under during the previous decade. Then, between 2008 and 2013, the population of craft breweries in San Luis Obispo County swelled from four to 14.
Most of the newest local contributors honed their skills by brewing at home. Many are motivated to prevent corporate speculators from again commandeering the craft brewing movement, a development that contributed significantly to the previous industry crash.
"Some people were in it trying to make a quick buck, building up a product just to sell it off, like flipping breweries," Cambria Beer Company brewer Aaron Wharton said. "The ones who got disenfranchised with the beer scene were the ones who have jumped in."
Yet, as local beermongers celebrate the sudden cornucopia of craft options, the sheer number of startup breweries on the Central Coast begs the question of sustainability. Will local craft brewing crash again?
Secondary fermentation
Not to sound like Reading Rainbow host LeVar Burton, but your local library contains a wealth of freshly scribed accounts of the history of American craft brewing. These histories tend to differ on the causes of the crash.
Local brewer George Peterson launched Central Coast Brewing in San Luis Obispo in 1998 and watched as many of his contemporaries went under over time. He blames the crash on concerted corporate efforts to pry craft brewing from its market niche.
Between 1998 and 2003, several large liquor and beer producers rolled out a series of curiously popular malt beverages, such as Smirnoff Ice. These vigorously marketed concoctions contained 5 to 8 percent alcohol, about the same range as the recently re-popularized pale ale styles. Yet, the ability of the malt beverage producers to get the 58 cents per gallon beer tax applied to their product instead of the much higher spirits excise tax collided with the economies of scale to undercut craft brewing.

THE BEST OF CENTRAL COAST : Ranked (by Patrick Klemz) from more than 150 local beers using a point system taking into account taste, aroma, appearance, mouth feel, and value.

1. Parabola, Firestone-Walker
Best Russian imperial stout on the West Coast

2. Catch 23, Central Coast Brewing
Cascadian dark ale with just enough rye

3. Scottish Heavy, Dunbar Brewing
Scotch ale in the tradition of Belhaven

4. Bravo, Firestone-Walker
Imperial brown ale aged in bourbon barrels

5. Unikator, Einhorn Beer Co.
Germanic doppelbock—tame and bready

6. Hurricane Deck, Figueroa Mountain Floral and dangerous double IPA

7. Ole No. 23, Cambria Beer Co. Smoked porter with a rich malt profile

8. India Pale Ale, Tap It Never had an IPA?

9. Paradise Road, Figueroa Mountain Bohemian pilsner with interesting minerality

10 Bitter End, Creekside Barleywine as done by Creekside's mad scientists

11. Wookey Jack, Firestone-Walker Cascadian dark ale with citra and amarillo hops

12. Vespertine, Central Coast Brewing Dubbel dubbel dubbel

13. Comatose, Cambria Beer Co. Triple IPA with a hop overdose (125 IBU)

14. Double Brown, Dunbar Brewing English brown stuffed with malt

15. Belgian Pale, Creekside Traditional pale fermented with Belgian yeast


"They were going to kill beer," Peterson said. "And, for a while, they did."
Still, blame for the crash also belongs with the craft beer movement itself, then known as microbrewing. After peaking in the late 1990s, microbrewing began to suffer from a noticeable lack of diversity in the styles of beer offered because many of the "microbreweries" that enjoyed the most success ended up in the portfolios of corporations that expanded capacity at the expense of quality. Microbrewing eventually became such a misnomer that the term fell out of common use.
Whatever the causes of the crash, its effects reverberated locally. In 2000, Central Coast Brewing produced small batches of beer alongside the likes of Bonnema in Atascadero, Santa Maria Brewing in Nipomo, Dunbar in Los Osos, the old SLO Brew in Paso Robles, and Morro Bay Brewing. As of 2007, only Central Coast Brewing and Morro Bay Brewing remained open on the above list, and the latter went under in 2010.
But the local craft brewing recession ended even more quickly than it began. Dunbar eventually reopened in Santa Margarita in 2008. Einhorn Beer Company (opened 2008), Creekside (2009), the new SLO Brew (2011), and Tap It (2011) joined Central Coast Brewing in San Luis Obispo. Figueroa Mountain launched in Buellton (2010), along with Solvang Brewing (2010), Orcutt Brewing in Santa Maria (2007), Pismo Brewing (2011), and Manrock in Grover Beach (2012).
Yet the biggest boom occurred north of SLO with the establishment of four new breweries since the spring of 2012: Cambria Beer Company, Paso Robles Brewing, the Molly Pitcher in Atascadero, and BarrelHouse in Templeton. The largest of the brand-new production facilities started as a building project by construction contractors Jason Carvalho and Kevin Nickell. BarrelHouse opened on Feb. 23 after the founders spent months scouring North America for secondhand equipment.
"We thought about calling it Craigslist Brewing," Carvalho joked.
The difficulty Carvalho and Nickell encountered in finding used gear hardly seems surprising considering the number of breweries launching nationwide. According to data compiled by the Brewers Association national trade group, 409 new startup breweries reported opening during 2012. After subtracting out the year's closures, that figure represents an 18 percent gain in the number of domestic craft breweries. Most new facilities feature a three- to 20-barrel brewing capacity, a range that includes virtually every brewery to open on the Central Coast since 2007.
"It's staggering the number of startups reported," Firestone-Walker brewmaster Matt Brynildson remarked.
Bubbling brew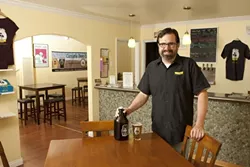 PHOTOS BY STEVE E. MILLER
NEW KIDS ON THE BLOCK : Aaron Wharton started Cambria Beer Co. last spring; it was one of five SLO County breweries to open over the past year.
From a consumer perspective, there can never be too much beer. Nevertheless, the appearance of five new craft brewers within a single year in a county home to just 270,000 people raises concerns about market support. Similar developments in craft brewing circles nationwide prompted a few trade journals to float the question of whether the craft brew rise is a craft brew bubble.
"It'll totally flop," Peterson said with a laugh. "It's a really low margin brewing at the level of some of these new breweries."
But the success of individual local breweries may depend on each one's ability to find a safe niche in the market ecosystem.
On the Central Coast, every brewer stares up at Firestone, the local regional brewery that grew from a pet project in 1996 to the 20th largest craft beer producer in the United States. In turn, Firestone's capacity pales in comparison to Sierra Nevada and the other leaders of a craft brewing industry that still takes home a meager 6 percent market share of domestic beer sales. Anheuser-Busch-InBev, by comparison, claims 47 percent of the market alone.
In the broad spectrum of commercial beer production, the discussion of a craft brewing bubble tends to focus on the regional breweries. Producers like Firestone keep pushing into new markets because if they don't, someone else will. However, limitations in the amount of space in distributors' trucks and retailers' shelves, combined with the costs of marketing in new regions, has caused some regional breweries to retreat from markets previously gained.
The expansion strategy depends on continued industry growth—the hallmark of a market bubble—but regional breweries continue to push, confident growth rates will sustain.
"Even if we gain a few more percentage points (from the 6 percent craft brewing market share), that's a huge amount of running room for a small brewery," Brynildson said. "For the first time in the history of beer, brewers from Europe are looking to the U.S. and following the trends that the craft brewing industry is setting, so I think there's quite a few years of growth yet."
The newest class of Central Coast brewers is made from people from all walks, but even those with limited business experience seem aware of the market saturation problem. Their response is safety in obscurity. Conventional wisdom suggests that every community can at least support one small, well-run brewhouse.
"Of course [the bubble's] always a concern, but if you're doing things right and making good beer, you're somewhat insulated," Wharton said.
Cambria Beer Company makes for a particularly interesting case since the town's 12-year-old building moratorium effectively prevents the inflow of young professionals often credited with driving craft beer demand. Nevertheless, Wharton reported a strong first winter.
"I get the old ladies coming in with the walkers and a growler in their hand," he said.
Across the mountains, community growth poses no problem for the brimming roster of North County brewers. Paso Robles Brewing Company founder Russ White began pouring house beers at his downtown location less than two months before Carvalho and Nickell opened BarrelHouse four miles to the south. He thinks there's another way to look at the issue of a crowded craft brewing scene in the booming wine region.
"The bubble's going to burst and nobody's going to think of opening another brewery in Paso," White joked.
'San Diego North'
In an industry where staying small makes for an effective defense mechanism, expanding presents a major problem. Wharton avoided the dilemma altogether by picking Cambria as a market. Even so, local officials grilled the brewer about the water needed to operate his tiny three-barrel brewhouse.
"They were going to call Firestone and ask what they use," Wharton said. "I was like, 'Wait a second.'"
Other brewers stepped in with more ambitious plans and, consequently, a more difficult path ahead. Most craft breweries start with just a few low-volume fermenters. Stepping up production capacity can cost a princely sum for a business with humble profit margins.
A few locals took the BarrelHouse approach and searched the market for secondhand equipment. Peterson scored Central Coast Brewing's shiny new stainless steel mash kettles and fermenters from a fire sale in Nicaragua. He then sold the brewery's old equipment to Manrock and Pismo Brewing, which also bought gear from the owners of Morro Bay Brewing not long after it closed.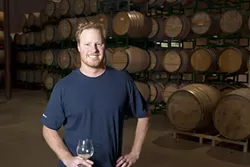 PHOTOS BY STEVE E. MILLER
"SOUR GUY": Firestone brewer Jim Crooks operates Barrelworks, the company's sour beer venture.
Of course, the old adage—it takes a large fortune to make a small fortune in the wine business—also applies to beer. San Luis Obispo's Tap It started in a distribution facility owned by founder John Gordon's successful pet food business. Armed with downtown nightlife cash flow, SLO Brew worked through the typical expansion problems only to run into a small alliance of neighbors looking to stop the brewery from growing.
The hope that the Central Coast can support multiple distributing breweries hinges on the region's tourism appeal. San Diego and the North Bay Area both feature dozens of breweries clustered around one strong regional producer: Stone and Lagunitas, respectively. The similarities to the Central Coast's situation look promising, but both of the above regions also boast exemplary brewing reputations.
"I think if we play this right, we could be San Diego North," Peterson said.
To a certain degree, the onus rests on Firestone. The Central Coast's anchor brewery aims to expand its reputation by capitalizing on the growing trend of inoculating beer with wild cultures and aging it in used wine barrels until it becomes mildly sour.
Firestone sour beer brewer Jim Crooks reported he had 450 cultured barrels going by the end of last year. Most commercial beers head to market in months, but sour brews typically age for years. The result is a rich-flavored brew low in pH and high in tannins.
"It's all about letting the bugs do what they're gonna do," Crooks said.
Despite the decadent payout, wild microbials behave a lot like wild animals. Crooks started the project that would become Barrelworks at the main Paso Robles brewery in 2006. Enticed by early experiments and scared that the wild cultures would contaminate Firestone's commercial beers, the company opened a new facility a safe 90 miles south in Buellton. Barrelworks produces only beers soured by wild microbials, most notably the enemy genus of vintners worldwide: brettanomyces.
"It's a scary situation for any production facility to house brett," Crooks explained. "I was doing it in the back in total secrecy for a few years."
Some of the barrels used by Barrelworks come from a famous Napa winery and cost $450 apiece, secondhand. Others are a bit cheaper. The risks associated with sour beer brewing and its high costs make the practice an industry status symbol. For the contractors-turned-brewers at BarrelHouse, the sour beer game isn't worth the buy in.
"We can't go up against Firestone with sour beers," Carvalho said. "That would be like someone buying a hammer and going against us in contracting."
Final sip …
Whether Central Coast craft brewing becomes known for sours or nothing in particular, the growth and proliferation of beer festivals and events bodes well for the local scene.
Despite complaints by some brewers and beer enthusiasts that the festivals tend to offer a redundant experience, growing attendance figures suggest that craft beer's market share will continue to expand. Moreover, the communities that support the most beer events tend to support the most breweries relative to population size.
The Central Coast festival season now features a handful of beer-centered events. The SLO Brewers Guild will join the fray July 12 and 13 when the group puts on the first intended-to-be-annual Seven Sisters Fest at El Chorro Regional Park. Meanwhile, organizers at the California Festival of Beers prepare for the 27th year of what remains the Central Coast's largest beer tasting event. The festival will take place Memorial Day weekend at the Madonna Inn Meadows. As always, proceeds will benefit the grief-counseling organization Hospice SLO.
The craft brew at the local beer fests promises to taste like beer should, though probably less so over the course of the day. All fine alcoholic beverages possess that inherent self-defeating purpose.
Here's to hoping the craft brewing industry avoids defeating itself again.
Staff Writer Patrick M. Klemz will go to the California Festival of Beers before making the annual realization that he hates crowds and lines. E-mail him at pklemz@newtimesslo.com, but not too loudly.