For a while, every few months it was the same story, then it slowed to every few years. Juan Granados' parents would pack him and his siblings into the truck with all their belongings and they would move to yet another new town in Texas, where his migrant farmworker parents would harvest cotton, plant onions, or tend the fields of whatever was in season. On the weekends and in the summer, Granados joined them.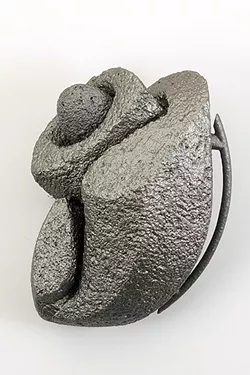 PHOTO COURTESY OF JUAN GRANADOS
FROM THE EARTH: Juan Granados' passion for the medium of ceramics (because of the malleable nature of clay) manifests in sculptures like Loma Con Codo.
"It's not a very happy life," Granados said, recounting how his parents' meager wages from working the fields once left them with just enough to split a burger, fries, and drink between the whole family. "But I got to see plants start from very little and grow. I saw bugs. I saw machinery, and a lot of those things are part of my work."
That fascination with the earth's ability to literally change form later inspired Granados to abandon his plan of being a pharmacist and become a sculptor instead, focusing on art while studying at Ohio State University. Today he is an internationally renowned artist and professor in Lubbock, Texas. That early interest with the function of both organic and mechanical can be seen in his exhibit Pump Series: Parte Dos, currently on display at the Harold J. Miossi Gallery at Cuesta College.
"I make forms that are about landscape and machinery," Granados said. "It's that double connotation of the pump serving as an organ and serving in the field as a machinery. Clay is a chameleon, and you can make it look like anything."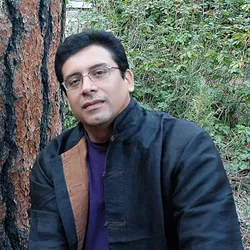 PHOTO COURTESY OF JUAN GRANADOS
IN FULL FORM: Juan Granados is an internationally recognized ceramic sculptor from Lubbock, Texas, where he teaches ceramics at Texas Tech University.
Granados' abstract, contemporary exhibit is made up of a series of drawings and ceramics all in a gray, lead color, which references the toxins he and his family were exposed to while working in the fields (he even lost a 20-year-old brother to cancer). It's his own life story that inspires Granados' work.
"I always tell my students, 'You're as unique as your thumbprint,'" he said. "If people can introspectively look at their life, that's how unique their artwork can be."
When people look at the drawings and sculptures in Pump Series: Parte Dos, Granados said everyone says the same thing: "They're human hearts!" In fact, your own heart beats a little quicker while looking at them, but the artist insists that the work isn't purely representational. It's deeper, more abstract than that.
"Hopefully, they might make connections, a collage in their own brain," Granados said. "I want them to play detective. I don't want to give them answers. I want them to question."
Draw forth
Pump Series: Parte Dos will show at the Harold J. Miossi Art Gallery at Cuesta College through Dec. 9. The gallery is open Monday through Friday from 11 a.m. to 4 p.m. and on the first and third Saturday of the month from noon to 4 p.m. Admission is free. For more information, call 546-3202 or visit cuesta.edu.
Ryah Cooley is pumped up at rcooley@newtimesslo.com