Richard Tuttle is frank about his work's inaccessibility.
"Among the interested public, one out of 10 gets my work," he says with a shrug in an opening scene of Richard Tuttle: Never Not an Artist, Chris Maybach's 2005 documentary on Tuttle's life and art. And watching Maybach's film—which screens Monday, Nov. 19, at the San Luis Obispo Museum of Art—it becomes clear that Tuttle's estimate is no exaggeration.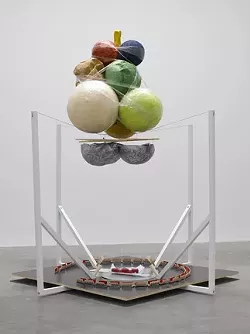 ALL ARTWORK © RICHARD TUTTLE; ALL PHOTOGRAPHY COURTESY OF THE PACE GALLERY AND THE ARTIST
SYSTEMS, III, 2011:
Since the early '60s, Tuttle's postminimalist work has been dismissed by baffled viewers and reviewed scathingly by critics, most infamously by former New York Times art critic Harold Kramer, who, in a 1975 review, wrote that "In Mr. Tuttle's work, less is unmistakably less. It is, indeed, remorselessly and irredeemably less. It establishes new standards of lessness." The exhibit in question was a retrospective at New York's Whitney Museum of American Art. The outcry of negativity it received resulted in the show's curator, Marcia Tucker, being fired (er, "asked to resign," as it's known in the land of euphemistic phrasing).
Facing such waves of confusion and dislike by the general public, many artists may never have recovered. But Tuttle is something else altogether, and so is his art, which often blurs the lines between sculpture, painting, installation, drawing, and just … debris. An artwork might be comprised of a short piece of rope nailed into a white wall, sections of plywood glued together and painted, or wire bent into elegant, almost calligraphic shapes, challenging the viewer with its near insubstantiality.
LETTERS (FROM THE TWENTY-SEVEN SERIES), 1967:
As Never Not an Artist shows, the ideas Tuttle put forth in his work often resonated powerfully throughout the art world. He drastically changed, for instance, the traditional view of sculpture, making three-dimensional works from flimsy materials like tissue paper, Styrofoam, or cardboard, rather than metal or stone. Tuttle also merged artistic disciplines: In his world, 3-D works could go on the wall, paintings didn't necessarily need to be done on flat, rectangular surfaces, and abstract drawings could be made with bits of string on the floor. De-categorization, it seemed, was central to Tuttle's way of creating art.
("Why can't someone simply make something?" the artist says by way of explanation.)
Never Not an Artist is short at 32 minutes, though it manages to pack in enough material to provide a basic understanding of Tuttle as an artist and as a person—which, going by the film's title, are the same thing. Due to its length, the film is presented as a double feature with Chaos & Order (director Pedro Zimmerman's exploration of the creative process through the eyes of several artists working in different media).

NEW STANDARDS OF LESSNESS: Richard Tuttle: Never Not an Artist screens Monday, Nov. 19, at the San Luis Obispo Museum of Art, 1010 Marsh St. downtown. The film is presented as a double feature with director Pedro Zimmerman's documentary Chaos & Order. It's free, but with a suggested donation ($5 for members; $7 for non-members). Screening starts at 7 p.m.
The film follows Tuttle from an exhibit of his work at SF MOMA, to his home in New Mexico—a setting that seems to explain his wiry toughness—to the site of a large-scale public artwork in Miami. Interviews with Tucker (the former Whitney Museum curator; now the owner of the New Museum), curators at SF MOMA and the Los Angeles MOCA, and some of Tuttle's eccentric collectors create a well-rounded view of the artist and his influence.
"The first time I saw his work, I absolutely didn't understand and thought it was rather bombastic," admits MOCA curator Connie Butler, "… [I] felt a little bit like I'd been made a fool of."
With his impermanent, often laughably humble materials, Tuttle's work also seemed to point out the thin boundary between art and non-art. A popular critique, Tucker recalls, was that Tuttle's art made one consider even the cracks in the wall with awe—the point being, perhaps, that looking at Tuttle's wire pieces or string drawings put the viewer in an addled state where anything might appear to be "art."
But this heightened awareness to the details of one's environment, Tucker continues, was in fact an intended part of the Tuttle experience. Indeed, after viewing his artwork, everyday shadows and lines invite contemplation. There is poignancy in everyday objects, poetry in the folds of a piece of tissue paper, beauty in the soft sheen of a piece of tape. Tuttle's work offers an exercise in looking.

Arts Editor Anna Weltner sees. Contact her at aweltner@newtimesslo.com.