To get an idea of how busy police were during this year's Mardi Gras in San Luis Obispo, one might look to Eric Cletsoway, the 46-year-old life-long resident of San Luis Obispo. On Saturday, February 25, while walking home from his parents' house at 6:50 p.m. to avoid Mardi Gras chaos, Cletsoway was tackled by two officers and hauled off to jail — for brandishing a recorder and trespassing over the railroad tracks, becoming the first of 14 arrestees that night.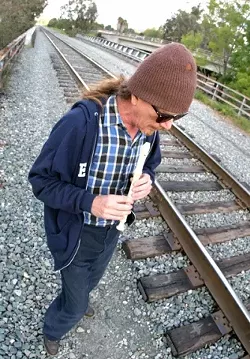 PHOTO BY CHRISTOPHER GARDNER
PUBLIC FLUTING : Eric Cletsoway recently walked the section of tracks where he was arrested for trespassing over Mardi Gras weekend. The flautist was injured by police during the arrest.
#
 Cletsoway says the police broke one of his ribs, but the injury most visible is a purple bruise on his inner arm the size of a hockey puck. When police saw him walking over the railroad bridge that crosses Highway 101 near California Boulevard, they apparently thought Cletsoway's white soprano recorder, which he was playing at the time, might be a weapon. There is a "no trespassing� sign posted before the bridge, but the bridge is commonly used by pedestrians to get across 101.
 Cletsoway walked over the bridge, working out a melody on his recorder as he stepped from tie to tie. When he was about to step from the tracks down a short embankment to the end of Johnson Street, less than a quarter-mile from his home, he heard some yelling muffled by the loud cacophony of Highway 101. "I thought it was some rednecks coming to beat me up,� he says. "I thought they were going to jump me.� He kept walking but was quickly tackled from behind. "I ended up on the ground and that's when the shock set in.�
 Two officers took him down, accusing him of resisting arrest. It was then that Cletsoway learned the officers thought his small white recorder was a weapon. Still the claim seems a bit far-fetched. "If I had my alto recorder maybe,� he says, "but I'd never hit anyone with that — it's worth $200.�
 Soon there were a dozen to 20 cops on the scene, says Cletsoway. The sober recorder player wasn't cited for being drunk in public, or resisting arrest. He was cited for violating penal code 3691 — trespassing. Nonetheless, Jon Law took him out to Kansas Avenue, where he was put in a cell and not released until 2:30 a.m. It's not clear if trespassing is normally a detainable offense, and calls to the San Luis Obispo Police Department were unanswered as of press time.
 "It was quite intense, I must say. It was just the result of over- zealous constabulary and there being too many of them,� he says. "I should have gone the long way around. In retrospect, I would have. I didn't think that at seven o'clock at night is when parties were going to get out of hand.� ∆
Staff Writer John Peabody can be reached at jpeabody@newtimesslo.com.