A love for nature and the great outdoors prompted Rachael Manuele, owner and founder of Eden Floral in SLO, to nurture a growing affinity for plants at a young age, one that would ultimately foreshadow her career as a fine art floral designer.
"While my friends spent their money on clothes, home décor, cars, and whatnot, I spent my money on plants," Manuele said. "I've always had a sense of awe, wonder, and deep appreciation of our natural world."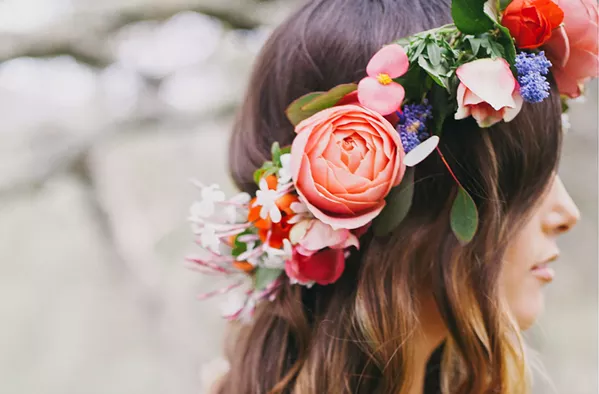 Photos Courtesy Of Alexandra Wallace
FIT FOR A QUEEN Eden Floral creates floral crowns, bouquets, and other botanical arrangements for various services and events, including bridal showers and weddings of course.
Born in Missouri, Manuele moved to California while still a child, but old enough to remember and miss the rolling green hills. She spent her youth and early adulthood admiring and foraging for the indigenous plant life that surrounded her.
In her early 20s, Manuele took up both gardening and hiking as hobbies and found herself combining the two passions through floral art, coming home from a hike with a sprig of mountain sage and plopping it into a jar with some lavender and roses from her garden.
"I was foraging long before I even knew what the word 'foraging' meant," Manuele said. "I would bring bouquets to friends made up of my latest hiking adventure and whatever was blooming in my garden."
Photos Courtesy Of Alexandra Wallace
GARDEN OF EDEN Rachael Manuele (pictured) turned her passion for nature into a career with the creation of her fine art floral design company, Eden Floral.
This era in Manuele's life rolled into friends asking her to design their flower arrangements for bridal showers and weddings. Before long, friends of those friends, who had attended the showers and weddings, were contacting Manuele to seek her services. It wasn't until she began getting inquiries from people she didn't know that Manuele decided to start an official floral design company. She wound up choosing a name synonymous with paradise.
"The name Eden translates my love of the natural world as it is. It's my tribute to this Earth and all that it gives to us," Manuele said. "The resilience of our Earth is an inspiration to me."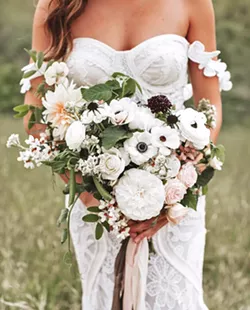 Photos Courtesy Of Alexandra Wallace
GENESIS Before starting Eden Floral, Rachael Manuele's friends, as well as friends of her friends, would ask her to design flower arrangements for their weddings.
Still a frequent hiker, Manuele prefers taking long hikes to find the perfect plant, whether it's an acacia, button sage, eucalyptus, or wild filler, to ordering it from a wholesaler for her business.
"It's very hard for me to justify getting something delivered from a big truck when it's something I can find in my own backyard," Manuele said. "And a lot of times, our local finds have so much more character anyway."
But what really makes it possible for Eden Floral to claim that 90 percent of the flowers it uses are grown in either SLO or Santa Barbara County, Manuele explained, is the company's ongoing collaborations with local farms.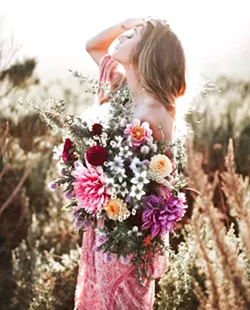 Photos Courtesy Of Alexandra Wallace
PLANT AHEAD Ninety percent of the flowers Eden Floral uses are grown in SLO and Santa Barbara County by local growers.
"Our arrangements would not be the same without the unique and beautiful blooms we gather from our local growers," Manuele said. "We owe these hardworking farmers all the gratitude we can muster. My philosophy is authenticity and a commitment to using locally foraged and grown goodies."
The collaborating growers include Farmermaid Flowers, Cory's Cottage Garden, Oak Park Flower Farm, Eufloria Flowers, Skyline Flower Growers, and Gracie Rose Farm.
"There are plenty of local greenhouse growers we use," Manuele continued. "But we also source from smaller farms and farmers we've met at local farmers markets."
Through these collaborations, as well as supplements from Manuele's own plot and hiking finds, Eden Floral creates bouquets, floral crowns, and other botanical arrangements for various services and events, including bridal showers and weddings. No matter what kind of arrangement it is though, the objective behind any of the company's creations remains the same—get people talking.
"We normally don't have a recipe when creating, but there's a general plan," Manuele said. "Our goal is to create conversation pieces, to give you and your guests something special and really meaningful." Δ
Calendar Editor Caleb Wiseblood can be reached at cwiseblood@newtimesslo.com.