Every Wednesday morning for the past decade, Shell Beach resident Steve Bennett starts up his Toyota 4-Runner and drives south to Nipomo. Though he's retired, Bennett is going to work. He has responsibilities as the "team leader" of Flower Power, a weekly service that a team of retired men created with the mission of delivering fresh flowers to residents in assisted living facilities and to hospice care patients throughout SLO County.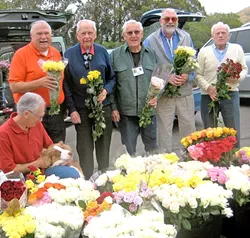 PHOTO COURTESY OF STEVE BENNETT
WEEKLY RITUAL: The Flower Power team members are (from left to right) Norm Mayer, Steve Bennett, Bob Wiese, Eugene Juel, Doug Schuur, and Leo Dumouchelle (absent member: Will Perry). Every Wednesday, Bennett picks up 1,400 surplus flowers from growers in Nipomo who donate them, which the men distribute to 25 assisted living or hospice centers in SLO County.
Bennett meets up with four flower growers in Nipomo who offer to donate their surplus flowers to the Flower Power cause: Koch, Euphoria, Holland America, and Skyline.
"When cut flowers are harvested, they either have to be sold or thrown away," Bennett said. "In our case, they give them to us. We primarily get roses, but we also get daises, lilies, carnations—whatever's coming in at their particular nursery that they're not selling. The nurseries are really, really good to us to do this. They're wonderful people."
On Thursdays, Bennett lugs the flowers, which can total up to 1,400 per week, to the Madonna Inn parking lot for a rendezvous with the remaining six members of the Flower Power team. There, the men evenly divide up that week's flowers.
"We try to provide at least one flower for each resident," Bennett said.
Flowers in tow, the men drive off in different directions to make their deliveries. The 25 nursing homes and hospice centers that receive the flowers are expecting them. After all, it's been a dependable service since 2001. In Bennett's decade-long tenure as team leader, he estimates that Flower Power has delivered more than 800,000 flowers to roughly 600 residents and 200 health care workers every week.
The flowers always bring smiles to the faces of the mostly elderly women who receive them, and they offer a fun and colorful activity for both residents and nurses.
"Every week, they have on their calendar that there's going to be flower arranging," Bennett said. "Then they take the different colors of the roses, or whatever the flowers are, and they sit down and put together flower arrangements."
PHOTO COURTESY OF STEVE BENNETT
BRIGHTENING DAYS: Nora, Elayne, Ruth and Phyllis (left to right), residents at Oakpark Manor in Arroyo Grande, joyfully arrange the flowers delivered to them by Flower Power.
Staff members at the nursing homes and hospice care centers can attest to the flowers' impact on their residents.
"They brighten up the day of the patients," said Steve Willey, volunteer manager for Wilshire Hospice. "We have patients who have Alzheimer's, for example, and they're not getting a lot of connections. They are really, really appreciative of the flowers. All the nurses who go out in the homes really look forward to them also because it is a nice gift to bring."
On the rare holiday that Flower Power is unable to deliver, Bennett always calls beforehand to let the recipients know.
"We do definitely miss them on those rare occasions," Willey said.
PHOTO COURTESY OF STEVE BENNETT
GIVE IT AWAY: Jose and Luis at Koch nursery in Nipomo load up a cart with roses for Steve Bennett and his Flower Power team. Koch and three other nurseries in Nipomo donate their surplus flowers to be delivered weekly.
Bennett and his colleagues feel deep fulfillment knowing the emotional connection that their service brings to people, many of whom are in the last stages of their lives.
"We just get a really good feeling that somebody is thinking of these people," Bennett said. "Many of them have very few visitors; a lot of them don't get friends or family very often. So this is a nice thing that they get, and they can get recognized. For us, it's just very gratifying to see the smiles and pleasure that these people get out of these flowers."
Fast Fact
In its latest partnership with Court Appointed Special Advocates, must! charities hits the $1 million mark for money invested in community projects. Founded in 2012, must! charities empowers local organizations to make strategic change that creates philanthropic transformation in the region.
Staff Writer Peter Johnson wrote this week's Strokes. Contact him at pjohnson@newtimesslo.com.