COURTESY OF KEITH MOSHER
SOMEWHERE TO BE:
Imagine a story told only through a person's feet or hands. Tales spun through books and paintings are second nature, but what about a five-minute dance routine? Forget everything you know about dance and sink your teeth into Orchesis, (a Greek word meaning the act or art of dance), Cal Poly's Dance Company and their upcoming dance concert, Continuum.
Twenty-six dancers, seventeen dances, ten student choreographers, five months of rehearsals, two guest choreographers all led by Diana Stanton: It's boldly unlike anything you have ever seen. This year brings many more student choreographers representing Cal Poly's dance minor program, as well as faculty and local artists who coalesce to transport dances to the stage.
Guest choreographer Mike Esperanza's Slang starts with a slap of 20-year-old dancer Darren Bridges' hands, the solitary male in a bevy of female dancers. He's been dancing for more than five years; this is his second year in Orchesis. He describes Slang as "a contemporary version of West Side Story." Bridges, a choreographer for Continuum as well, is obvious as the lion in a modern jungle—his "character" is revealed to have murdered somebody, and his gang doesn't know if he is going to turn on them or the other way around. Tension ensues.
The music starts out guttural and animalistic—a homemade mix on Esperanza's computer with Garageband software. Minimally costumed, barefoot dancers move about in primal, robotic, yoga-esque steps.
COURTESY OF SARA TOLLEFSON
THE ART OF DANCE:
The Orchesis concert doesn't intend to be modern, but after investigating what they want to accomplish in a performance it ends up looking contemporary, and not at all not formulaic. All genres of dance are welcomed.
Stanton, a ten-year veteran of Orchesis (pronounced ork-is-is) Dance Company, claims Continuum is a variety show, and can be interpreted in many different ways. Continuum, for her, is "the continuity, a line, a set of things when you put them near each other they look alike but in reality they are quite unique. From beginning to end it changes."
Orchesis is grounded in abstract ideas and stories, whether about beauty, deep emotion, or even mathematics, expressed in movement, according to Stanton. "The movement is telling the story, and the audience discovers a variety of dances, unlike in musical theater.
In the Spanos Theatre at Cal Poly's foreground, in a building that existed decades before there was a Performing Arts Center, dancer and choreographer Lisa Deyo commands one of her dancers:
"Don't wiggle, Michelle."
A few seconds later the women embark on Deyo's ballet number adorned in long, flowing skirts that seem to double as props. Filled with classical music and almost a medieval feel, you lose yourself in the softness of the dance steps; although it's classic ballet, they also have a modern and even Latin feel to them.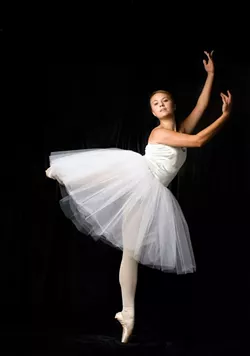 COURTESY OF SARA TOLLEFSON
PIN POINT:
Deyo's inspiration came from the music of a Federico Fellini movie E la nave va.
Other music from the number sounds like something you'd hear in a Mexican restaurant in 1950s Los Angeles. "That is Antonio Machin; he is like the Cuban Frank Sinatra," exclaimed Deyo, who's often asked to do a ballet piece to round out Orchesis.
Stanton has equal admiration for the second guest choreographer from Loyola Marymount, Chad Michael Hall. His performance, Riptide, lovingly incorporates his trademark physical style—dancers rolling and jumping in a tender performance about loss.
Hall's and Esperanza's are truly night and day performances but that is what Orchesis is all about: dances have different meanings, some have no meaning at all, other than the beauty of line and design. There will be a variety of aesthetic ideas: from the classically romantic ballerina in tutu and pointe shoes to dancers who run, crash, and form human heaps.
Kathleen Helm, a dancer since the age of three who won the Founders Award for best student choreography last year, is dancing in ten pieces, and choreographed Seven, a contemporary ballet piece inspired by the seven deadly sins. Seven dancers each represent one capital vice—lust, sloth, greed, and so on—dancing collaboratively and alone in a nine-minute piece.

SLANG & RIPTIDES: Continuum, Orchesis' annual dance performances take place Jan. 29-30 at 8 p.m. and Jan. 31 at 2 p.m.; and Feb. 4-6 at 8 p.m. in the Spanos Theatre at the PAC at Cal Poly In SLO. Tickets cost $10-$13. For more information call 756-2787 or visit pacslo.org.
"This year Orchesis is an exciting experience because of all the student choreographers, what they come up with and where they get their inspiration from," said Helm. And as for Esperanza and Hall? "It's amazing because they are both so talented and they bring something different to the Central Coast that hasn't necessarily been seen before."
The sets are minimal, which makes sense since guests shouldn't be swayed by anything but the legs, feet, arms and stirring of the dancers on stage. Ticket prices are kept rock bottom so students can experience the show.
"People love to dance and love to move, and people like to watch other people move. …the performers are sharing what the body can do and what the human mind can create."
Finally Stanton says, "It's more than what the dancer can do, but it's what they have to say, like writing a story."
Christy Heron can be reached dancing her ass off at cheron@newtimesslo.com.