John Moreland's lyrics can only be described as poetry, and he sings them like they're his last will and testament and you're standing next to his deathbed.
"I swore the days were over, courting empty dreams/ I worshiped at the altar of losing everything/ And the guard I held together is losing all its shape/ And in my head you look so gorgeous, it's keeping me awake," Moreland sings on "Break My Heart Sweetly," which he recently performed during his national TV debut earlier this month on The Late Show with Steven Colbert. "There's a scar on my soul, so let me down easy/ Break my heart sweetly, like you always do/ I guess I can't let go till you wreck me completely/ Break my heart sweetly, drape me in blue."
It was a breathtaking performance, emotion-drenched and spellbinding, and after it was over, it felt like a breakthrough. Moreland has been building momentum for years, but this was his first time on national television. New Times spoke to Moreland by phone. Was it just another gig, or did it feel momentous to him?
PHOTO COURTESY OF JOHN MORELAND
IN THE THROES: John Moreland plays a SLO Town show on Feb. 25, bringing his heart-wrenching and achingly beautiful songs to Tap-It Brewery.
"Kind of both in a way," Moreland said in his well-worn voice. "In some ways it was just another performance except you're only playing one song. When you're there, it's a small little theater and it feels like a regular show, but I also recognize that more people are hearing my music because of the show, so that's really cool."
The YouTube video of the performance already has about 80,000 views, and he's riding the appearance into a new national tour that started Feb. 18 in Dallas, takes him into Arizona, then California including a Numbskull and Good Medicine Presents show next Thursday, Feb. 25, at Tap-It Brewery in SLO Town (7:30 p.m.; 21-and-older; $13 presale at ticketfly.com or $15 at the door), before he heads up to Portland, Seattle, and then east across the U.S., ending in June at the Bonnaroo Music & Arts Festival in Tennessee.
This isn't Moreland's first time through our area—he's played Dunbar Brewery thanks to local promoter and musician Patrick Hayes—but after his TV appearance and the critical acclaim of his last couple of albums, he feels like he's on the brink of making it really big.
"I don't think I'm there yet," Moreland said humbly, "and maybe it will get to that point, but for now, I'm drawing more people than I ever have. The Austin show on this tour is the only one that's sold out so far."
He's come a long way for an Oklahoma punk rocker who in 2004 at age 19 discovered Steve Earle's The Revolution Starts Now and had a musical epiphany after hearing the song "Rich Man's War." In his bio, he describes how the song felt like "someone punched me in the chest." Now he's making songs that feel just as potent.
Did his time fronting punk bands in some way inform what he's doing now?
"I think for sure it informs my music, but I don't know that I've thought about it enough to be able to verbalize it. I guess the biggest way it helped me is getting my career going. In punk, everything is really DIY, and if I hadn't been in punk bands I wouldn't know how to screen my own T-shirts or put out my own records, which is really important when you're just getting going."
He's way past "just getting going" now. His newest album, High On Tulsa Heat, is Moreland's third after In the Throes (2013) and Earthbound Blues (2011), and his music has been described as everything from folk to roots music to blues to Americana.
"I usually try to avoid calling it anything. I don't know. If I do have to call it something, I say folk music, but that can be really limiting and I'd rather let the music speak for itself than try to come up with a name for it."
Like a lot of his musical heroes, his music is definitely lyrics-driven, with emotionally resonant and highly literate songs. I think Lucinda Williams might be his female counterpart in contemporary folk music. Who does he turn to when he needs inspiration?
"Yeah, I mean Lucinda Williams is one of those for me for sure. She's so simple but in the best way. I think Tom Petty is like that too—simple, straightforward. Something I always struggle with is having too many chords, too long of a chord progression, too many words, and I chip away at the stuff that's unnecessary until I'm left with something essential, and those two examples are really good at that."
PHOTO BY MARK LAMOREAUX
JAZZ MASTER : Jazz guitar great John Stowell plays a solo dinner show in the cellar at Novo on Feb. 21.
On "Hearts Too Heavy," Moreland sings, "Well these angels in my eardrums, they can't tell bad from good/ I've lived inside these melodies just to make sure I still could/ Then I cried all night even though I'm grown/ Said, honey hold me close, make it feel like home/ Cause your love's bright enough to burn all night/ Sometimes love is a losing fight// You try to keep going, but the ride won't steady/ You try to get high, but your heart's too heavy/ You got one thing on your mind// Now there's snake eyes on the sidewalk and fireworks overhead/ Won't you roll out that red carpet when we all wind up dead/ As smoke rings fade like a memory/ You're honest as a ghost, maybe twice as free/ You've got faith enough to lift this curse/ What if faith is just a false god's verse."
A lot of Moreland's songs seem to be about trying to figure things out, whether that be romantically, spiritually, or just how to navigate life's unpredictability. Does he have things figured out, or is he winging it?
"Oh, I'm totally winging it," Moreland laughs, "but I think that's what songwriting is all about—the impulse to write songs is because it's the best way I have to organize my thoughts, and even if I don't figure things out, I still have the songs."
More music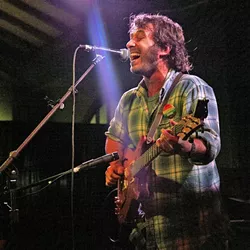 PHOTO COURTESY OF MIKE ANNUZZI
STRAIGHT OUTTA NEW JERSEY : Roots and blues artist Joe Kaplow plays Frog and Peach on Feb. 21.
Sometimes one washboard isn't enough! The Crustacea Jazz Band, which plays the song and dance music of 20th century America, will bring their upbeat double-washboard sounds to the SLO Farmers Market this Thursday, Feb. 18, at the corner of Osos and Higuera. If this sounds familiar, it's because they were originally scheduled to perform last December but were rained out. The last time I checked, there was a 55 percent chance for rain this Thursday, so who knows? Provided it doesn't rain, this sounds like a blast, and it starts around 6:30 p.m.
On Saturday, Feb. 20, the SLO First Presbyterian Church hosts world-class organist Katya Gotsdiner-McMahan as she teams up with Lindsey McLennan Burdick (soprano), Jessica Hoffman (oboe), Grace Seng (violin), Emily Lanzone (violin), Peter Jandula-Hudson (viola), and Jeanne Shumway (cello) for Lenten Reflections, featuring the works of Bach, Handel and Vivaldi (3 p.m.; all ages; suggestion donation $15).
Hospice of San Luis Obispo County hosts Mardi Gras Underground, a benefit with the Community Counseling Center, on Saturday, Feb. 20 (6 p.m.; $30 presale available hospiceslo.org/events or call 544-2266 or $35 at the door), at Park Place in Paso Robles. Expect live entertainment, a silent and live auction, and local cuisine. Tickets are $30 presale and $35 at the door.
Bluegrass act The Alabama Bow Ties from San Francisco play Castoro Cellars on Saturday, Feb. 20, (7 p.m.; all ages; $25) to benefit Parents for Joy, a group of parents and families of special-needs children in and around Atascadero, whose goal is to create a special-needs playground at Colony Park. If you can't attend, please consider making a charitable donation to their group: parentsforjoy.org. Call the venue at 238-0725 or Mike of the Santa Lucia Knights of Columbus at (661) 317-6048 for presale tickets.
PHOTO COURTESY OF JOE KAPLOW
MIKE AT THE MIC: Singer-songwriter Mike Annuzzi headlines Bang the Drum Brewery during the Songwriters at Play showcase on Feb. 22.
Jazz guitar great John Stowell will play a solo dinner show in the cellar at Novo this Sunday, Feb. 21 (6 p.m.; all ages; $15 presale tickets at 543-3986). This is a great chance to see one of the giants of jazz guitar in an intimate setting. Call right away. I'll be very surprised if this one doesn't sell out.
Joe Kaplow plays Frog and Peach this Sunday, Feb. 21, from 10 p.m. to midnight (21-and-older; free). Raised on a thoroughbred horse farm in rural New Jersey, his music is steeped in roots and blues, from the foot stomping romp of "Bookshop Blues" to the tender ballad "How Old is my Soul."
Songwriters at Play hosts Cal Poly grad and quasi-local singer-songwriter Mike Annuzzi, who'll headline the showcase at Bang the Drum Brewery on Monday, Feb. 22 (6:30 p.m.; all ages; free). Annuzzi has played more than 500 shows around the U.S. in the last three years, sharing the stage with the likes of Los Lonely Boys, Kenny Wayne Shepherd, O.A.R., and more.
On Wednesday, Feb. 24, Cal Poly Arts presents Australian musician, comedian, actor, writer, and director Tim Minchin "in a hilarious solo evening at the piano, combining razor-sharp stand-up comedy with sly, satirical songs" (7:30 p.m.; all ages; $20.80 to $36 at 756-4849 or online at www.calpolyarts.org) in the PAC-SLO.
Keep up with Glen Starkey via twitter at twitter.com/glenstarkey, friend him at facebook.com/glenstarkey, or contact him at gstarkey@newtimesslo.com.