We're several weeks into January and the typical resolutions of eating better and spending less money abound. That usually translates into eating out less and ignoring the siren songs of San Luis Obispo's many dining establishments.
PHOTO BY RYAH COOLEY
POKE GALORE: The ahi poke nachos, paired with Barrelhouse's mango IPA, were on point.
But good habits be damned, for January is also SLO County Restaurant Month, a magical time when restaurants from Paso Robles to Arroyo Grande offer three or four courses for the low, low price of $30 to $40.
On a crisp Friday night, Jan. 13, I walk into Milestone Tavern in SLO with my friends Lauren and Max. Lauren is visiting from out of town, so we want to get the weekend started off right. The gastropub, which has an open floor plan and metallic accents, is buzzing with the sound of laughter and beer glasses clinking. It just opened in the shopping center off of Foothill last year, and while I've grabbed a quick beer and a happy hour appetizer before (they have an expansive beer selection), this will be my first time eating a proper meal here. We're seated promptly in a booth off to one side.
PHOTO BY RYAH COOLEY
ROUND TWO: For my second course, I opted for the Milestone salad, with an arugula base heaped high with watermelon and feta cheese.
In addition to offering three courses for $30, the deal at Milestone also includes a draft beer or a glass of either of the house wines. The rotating beer menu is projected up on the wall and my eyes zero in on Barrelhouse Brewing's mango IPA. My friends both opt for the house red wine. The menu ranges from a handful of options each for starters, salad or soup, and main entrée. First for me is the ahi poke nachos, with sashimi grade ahi tuna, sweet ginger ponzu marinade, black sesame seeds, sriracha aioli, cucumber relish, and wonton chips. It's everything I wanted it to be and they definitely don't skimp on the poke. I also take a bite of my friend's wings with a sweet BBQ sauce. The chicken is moist and flavorful; I just wish the skin was a tad crispier.
Before I can really finish off my nachos, our friendly waitress is back with the second course. I opted for the Milestone salad, with arugula, watermelon, onion, feta cheese, sunflower seeds, charred lemon vinaigrette, and topped with a balsamic drizzle. It's light, refreshing and nary a shred of arugula is left on my plate by the end of the night. With each successive course, our group happily realizes that we're getting the tavern's normal full-sized portions. Given the great deal, we assumed the servings would be more bite sized.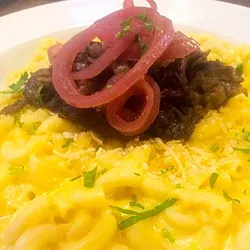 PHOTO BY RYAH COOLEY
SO CHEESY: The short rib mac n' cheese rounded out my meal at Milestone Tavern.
For the main course I went back and forth between ordering the steak frites and the short rib mac n' cheese, ultimately deciding I was in the mood for some cheesy, carby goodness. A generous plate piled high with braised, boneless short rib over cheddar jack mac n' cheese, parmesan crusted panko, and sweet hot pickled onion is deposited in front of me to end the three-course feast. A bite from my friends' burgers confirmed that their entrée options were solid. And now we're all pleasantly full from a good meal at a great price, with thoughts of rounding out the night with dessert from SLO Donut Co.
Ryah Cooley is finishing off a pint at rcooley@newtimesslo.com.