Let's do a little experiment. Grab your smartphone or laptop. Oh, and make sure your significant other is nowhere to be seen.
No, it's OK. I'll wait.
Ready? OK. Now, Google image search: "Food porn."
In an instant, you'll be basking in the blue-light glow of tight, glossy-skinned duck breasts, perfectly julienned carrots, and impossibly dewy berries coiffed with impeccably lit dollops of whipped cream. It's a slick, beguiling world where tweezers, Photoshop, and various spray bottles work together to get your taste buds quivering and your stomach growling. It's a neat trick, considering you're simply looking at—not consuming—that super symmetrical piece of sushi.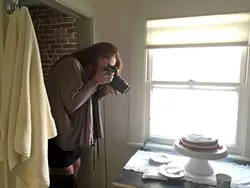 PHOTO COURTESY OF DINA MANDE
FOOD FASHIONS GALORE: Dina Mande is owner/founder/creative director at Juice Media in Paso Robles. She's also quite the food stylist with plenty of tricks up her sleeve.
Yes, unattainable beauty standards aren't just for celebrities and models anymore. Chances are, you've probably used the #foodporn hashtag yourself. Perhaps you snapped an Instagram photo of the meticulously engineered Jenga tower of mashed potatoes and onion straws dominating your plate at the last fancy dinner you had. Maybe you literally drooled on yourself during that new Papa John's commercial for Fritos Chili Pizza (your head said no, but your heart definitely said yes).
If the image conjures up a lurid food fantasy, if it makes your Facebook friends envious because they didn't get the chance to eat it, then you can be sure it falls under the realm of food porn. But how are the very best of these images crafted? Who is holding the proverbial spray bottle, misting that burger patty for a luminous radiance? Who is hard at work rearranging the pea-to-corn ratio for maximum visual impact?
Meet Dina Mande, a whirlwind of fiery red hair, jangly jewelry, and expensive camera lenses. The former L.A. entertainment industry pro is founder/owner of Paso Robles-based Juice Media, and is known locally for her "Paso Wine Man" video campaign, among other food and wine ad offerings. Throw a rock from any hilltop vineyard in Paso Robles, and you will likely hit her handiwork.
When I caught up with Mande most recently, she and her team were huddled around a piece of chocolate cake. With her camera so close to the dessert I feared it would smudge, Mande click-click-clicked away with gusto.
"I knew this shot was perfect—but it needed a glass of milk," Mande said, pointing to a frosty glass in the background. "But we don't really need to see the milk fully. It really just needed the suggestion of a glass of milk."
These are the thoughts of a food stylist who has just shot 20 of 40 recipe photos in a single week.
FILE PHOTO
DID YOU 'LIKE' YOUR MEAL?: Modern eaters aren't satisfied to simply chew their food anymore. Despite what you think of this snap-and-savor practice, many are sharing images of their most glorious feasts with the world. Food stylists, who create pretty plates with a vast bag of tricks, can take some credit for inspiring the multitude of food photo blogs and edible Instagram accounts flooding the Internet these days.
Head of Production Chelsea Schmitz hovered nearby, holding a curved piece of tinfoil over the tiny plate to better reflect the natural light streaming in from a nearby window.
As I soon found out, it took Mande and a team of five people—including local Chef Joanne DeGarimore—to get the job done right. The chef's expert cooking wafted through the apartment as we considered what it means to encapsulate food on film.
"Here we are huddling over one plate, and it's like the old joke, 'How many people does it take to screw in a light bulb?'" Mande said between shots. "Depending on what the dish is, it can take 30 minutes to an hour or more. Salad greens look best with window light, and to keep the leaves looking nice, we're using things like glycerin mixed with water then dabbed on with a little brush. This method also makes asparagus look really pretty."
Mande's "food stylist kit" is a real-life toolbox filled with three sizes of tweezers (one, used for placing aquarium plants, is slightly angled), spray bottles filled with olive oil and cooking sprays, whisks, a torch, and other useful utensils.
But it's not all about making food look good on its own. It must be "dressed" and "accessorized" just right.
On the day of my visit, the living room looked like it had been bombed by Martha Stewart Living. Green glass plates sourced from a local antique store mingled with polished silverware of every era and a mound of colorful linens. Bowls, trays, and serving utensils, cheese boards, salt and pepper shakers—all were strewn across the floor, ready for their moment in the sun. When I asked Mande which subject proves to be more high maintenance, food or people—there was no need for pause.
"This is so much harder," Mande said with a laugh. "We have been fussing over a crumb here or there, until the product looks absolutely beautiful. Then, there's that little droplet of oil we have to get on the plate or whatnot. For each single shoot, there's six to eight 'hero' shots. Sometimes we send out more than a dozen to the clients."

STYLE YOUR PLATE LIKE A PRO: For picture-worthy grub: Set your table, and have fun with it. Serving plates should be proportional to the size of your food (i.e. don't dwarf your steak with a giant platter). Choose a plate color that contrasts with your dish for a powerful punch. Mix and match vintage and modern silverware and flatware. Go for odd numbers: Plate three meatballs, instead of four—it tricks the eye into looking twice. Try multiple heights on one plate (tall mashed potatoes, low peas, mid-sized pork chop) for dimension. Mix up textures: A cloth napkin or lush garnish adds visual interest. Lastly, as pretty as your plate may be, it was made for eating! Don't forget to devour!
As the crew tackled dishes like sausage stew, butternut squash, and a cheerful edamame, corn, and avocado salad, one question was held above all others: How much light do we have left, and where is it headed?
In an interesting twist, a magical steak shot was captured in the apartment's gleaming bathroom. Mande knows that thinking on your toes is part of the gig. And that is exactly what the team did when they transformed a raw turkey into a glistening, browned bird thanks to a wash of Kitchen Bouquet Browning and Seasoning Sauce, and a bit of fire power.
"The turkey was frozen on the inside, thawed on the outer parts. Some we painted and some we torched," Chef DeGarimore said, adding that at one point, she found herself rubbing the sauce in by hand then using a hair dryer on full blast. The method, although strenuous, created a realistically browned effect.
"We went with a deeper red color by request, and there's a bit of superglue on the top to hold together a small tear in the skin," DeGarimore said. "I used T-pins to hold the legs together instead of twine, because twine would get burned by the blowtorch."
Thanksgiving cooks: Take a sigh of relief that you only have to make yours taste good.
Still, it's fascinating that with a bit of creativity and a willingness to get the shot, one woman and her band of cohorts were able to captivate both the eye and the salivary glands.
"People were stunned that it wasn't actually cooked," Mande said. "I'll tell you one thing: I look at food photos differently now."
Hayley Thomas is playing with her food at hthomas@newtimesslo.com.