Smashed up TVS, shards of glass, and bullets and shells aren't what anyone would expect on a camping trip. Yet for Atascadero based artist Richard Fusillo, it's an all too common sight when he and his buddies head out to spend some time in nature.
So to make a point about just how not cool that is, Fusillo and artist/camping buddy Taylor Owens decided to do the exact same thing, sort of. They took 20 or so TVs out to a friend's property in the See Canyon area, shot and smashed them up, and brought everything back to Studios on the Park in Paso Robles, where the piece, Range, is currently on display as part of the Leave No Trace exhibit (Fusillo and Owens cleaned everything up, of course). The TVs were further banged up with hammers in the window display at the studio, much to the confusion of passersby.
Photo Courtesy Of Richard Fussilo
OUTDOOR RECREATION Range, an eye-catching installation piece by Richard Fusillo and Taylor Owens, speaks to the issue of people leaving trash behind at open, natural spaces.
"It's an exaggerated piece about people bringing trash out, shooting it up, and leaving it there," Fusillo said. "Me and Taylor camp and we're outdoors enthusiasts, and when we go out and camp we see trash everywhere."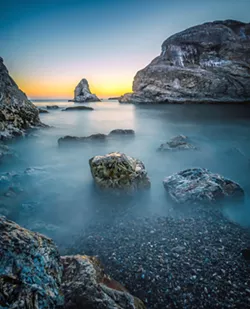 Photo Courtesy Of Casey Wieber
SHARED SPACES While San Luis Obispo photographer Casey Wieber occasionally likes to capture urban decay in nature with his photos, he prefers that we all leave natural spots in pristine condition, like this shot of Shell Beach.
While people often legally shoot TVs and the like on Bureau of Land Management Areas where Fusillo camps, he said they don't do it in a way that's thoughtful or considerate to the land or others.
Another one of Fusillo's pieces is a photo that features a nude woman crouched down in the sand, with zero footprints around her somehow.
"That's my statement on leaving no trace," Fusillo said. "Everyone looks at photos because they're pretty, but no one thinks about what it takes to keep those places looking that way."
SLO County based artist Casey Wieber (who's another camping buddy of Fusillo's) like to capture urban decay in nature, but prefers that these places across the county, whether in the rolling hills of Paso Robles or the waters of Shell Beach, be kept clean and free of trash.
"It's an ethos we live by," Wieber said. "The land is for all of us to enjoy and we should respect it. As a photographer I'm interested in the things people leave behind. It's so easy for people to leave these things that were once in use."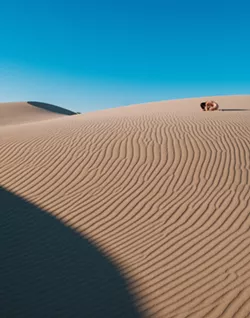 Photo Courtesy Of Richard Fussilo
ONE WITH NATURE A photo by Richard Fusillo shows a woman in nature surrounded by zero footprints. It sums up the artist's view on how we should treat the outdoors.
So Fusillo and Wieber hope the show will inspire people to stick to the basic rules of being a good steward of the land: If you pack it in, pack it out. If you see some trash someone left behind, pick it up.
"When you go out and enjoy nature, it's just kind of a practice in mindfulness," Wieber said. "Be aware that this is our home and it's also the home to many other species. We all share this world and we should be more mindful of our impact on it." Δ
Arts Editor Ryah Cooley will be the one at the trailhead with two over-excited pit bulls at rcooley@newtimesslo.com.