Despite what you've heard, the magic of Foremost Wine Company isn't in the chic, modern styling, state-of-the-art charcuterie bar or even the gleaming wine bottles lining the impressive foyer.
The real allure is hiding in plain sight.
At Foremost, it's about all that you can't see—namely, the thought, soil, and tedious science it took to get the food to your plate. It's in the tender PC Cattle Co. beef cheeks, rich-yolked local ranch eggs, and scarred-yet-crisp Avila apples. It's in every seed that didn't grow, and the ones that grew better than expected.
PHOTO BY KAORI FUNAHASHI
THE MOST: Foremost Wine Company, which opened in the SLO Creamery a little more than two months ago, pairs a vibrant rainbow of local produce and meats with both regional and global wine options.
No, you can't see the sun-dappled See Canyon farm where the crunchy red and yellow peppers were plucked by hand this very week. Nor can you see the pink Paso Robles-raised lamb that Executive Chef Julie Simon has so joyfully utilized from hoof to hide.
However, Simon believes that you can taste it. The proof is glowing in every bite, right down to the SLO-grown kale that came to her kitchen still flecked with dark, lusty earth.
Simon—along with owner Rob Murray and manager Johnny Kenny—reside in that same fertile soil.
Murray, who recently opened Tooth & Nail Wine Company in Paso Robles, is a down-in-the-dirt viticulturist with vineyards spanning from North County 
to Santa Maria.
Before opening the restaurant, the trio had to contend with pages of detailed planting charts and well-worn seed catalogues. Much of the menu served now was sown or raised months ago. The farming process is truly ongoing, and as a result, Foremost's ultra-seasonal menu changes completely every few days.
"We want to document our farming practices so we can be able to show the public everything—from the local farmer we used, to how the produce or animal was grown to how it is presented, and pair that with wines, both local and international," Kenny said. "We are always striving to be better, and to be honest."
In so many ways, Foremost is serving what nature is offering up. Yes, it may be a "back-to-the-land" idea as old as time (or at least the '60s), but it takes zealous commitment, and a scrappy DIY mentality, to pull off.
Chef Simon is leading that charge. Part of her sustainable mentality is the product of French roots. The other part springs from a desire to disprove the American notion that a cow is, indeed, comprised of many perfectly-cut, vacuumed-sealed steaks.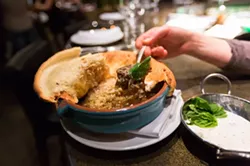 PHOTO BY KAORI FUNAHASHI
APART FROM THE FLOCK: Adelaida Springs Ranch lamb is paired with homemade naan and a cool yogurt sauce at Foremost Wine Company in downtown SLO. An array of local and global wines accompany each locally sourced plate at the new, farm-fresh haunt.
"There is so much effort, at a sustainability level, to grow and harvest an animal. We feel each animal should be used to its limits," Simon said. "That brings to the table food that many people haven't seen in San Luis Obispo. People are telling me, 'I never eat rabbit;' It's fun to bring these options on the menu. We want to be sustainable, and we want to encourage people to be more adventurous."
Thanks to Foremost's small-plate offerings, you can nosh on sensibly sized portions of those locally raised meats—beef sweet breads and tongues, oxtail, quail, rabbit, goat—without committing to a doggy bag. Communal and bar seating encourages patrons to share and discover seasonal textures and tastes.
Manager Johnny Kenny, who owns apple-studded See Canyon Fruit Ranch and the 3.5-acre organic garden where much of the restaurant's produce is grown and sourced, thinks of himself as an adventurous eater.
Still, he admitted that he had only tried beef cheeks just a few weeks ago (he highly recommends the flavorful cut, although there are no guarantees it will still be on the menu). The farmer is boot-deep into locovore eating, but you won't find a pretentious bone in his body. This is a man who calls his peppers his "babies."
"I try to grow crops that are hard to find," Kenny said, adding that Simon loves to work with his elusive Asian greens. "The stuff that we know other people grow really well, we will source from another local farm. Working to sustain the restaurant on a true farm-to-table basis is a huge goal and has really challenged me as a grower."
PHOTO BY KAORI FUNAHASHI
TRULY LOCAL: Foremost Wine Co. Executive Chef Julie Simon sources fresh, high-quality produce and meats from local farms and ranches as well as from restaurant manager Johnny Kenny's 3.5 acre organic garden in See Canyon.
A handful of rotating gourmet items are imported: octopus from Spain; cheeses from Holland, France, and Italy; as well as a bevy of extraordinary wines from around the world. But the lion's share of what you'll sink your teeth into is local—hailing from SLO County and the Santa Ynez Valley.
To the peanut gallery: This isn't about trendy, "farm-to-fork" swagger, although it sure sounds like it on paper.
Here's the difference between PR and practice: After a meal at Foremost, you are left with a packet of seeds to do with what you will. According to Kenny, it's a tactile invitation to deepen your relationship with the natural world, if you should choose to go down that rabbit hole.
"I want to get back to what 'farm-to-table' truly means," Kenny said. "Whether we are growing everything from seed and seeing it on someone's plate or using eggs from our farm, with chickens that are fed garden leftovers, we want to be as organic as possible."
This goal is a moving target, according to Simon.
"We know it will not happen overnight, getting to 100 percent," she said. "But we want to talk the talk and walk the walk. We are constantly moving, growing, and evolving."
Call it naiveté, or optimism, or both. Just know that there are no toxic chemicals, gurgling trucks, or genetically modified organisms around these parts. Needless to say, "Sysco" is a very bad word.
DINE WITH THE SEASONS: Foremost Wine Company, located at the SLO Creamery at 570 Higuera St., is open Tuesday through Sunday for lunch 11:30 a.m. to 2:30 p.m. and for dinner from 5 to 10 p.m. In between lunch and dinner, stop by for their Burrata Bar small plates and a glass of wine. No reservations are required (unless you're a large group), but you are welcome to give the restaurant a ring at 439-3410 if you have any burning questions. Don't forget to check out the restaurant's "wine shop" as you walk in, and be sure to say "hi" to super chill Wine Director Robin Puricelli, who is dying to find you something delicious to drink.
What you will find: A "flavor bar" of mason jars filled with different scents and spices to help patrons put their finger on slippery wine lingo; fresh ham, prosciutto, and salamis being sliced and diced sushi bar style (you can watch while you eat); and Kenny actually making the rounds 
in the front of the house, as a good manager should.
Feel free to tap him on the shoulder 
and ask freely, "Where is this from?" 
This is the question the farmer forever longs to answer.
"'Fresh and easy' isn't a grocery store; it's about taking local Chanterelle mushrooms, sautéing them, and eating them," Kenny said. "When you see something sprout as a seed in a little green house, watch it mature in the garden, see it fruit, harvest it, and then give it to someone with Chef Julie's caliber—who does something so special with it—it's almost like watching a 
child grow."
That satisfaction, and only that, can make the hard work melt away. It is a lot of effort, but the folks at Foremost are no strangers to rolling up their sleeves and scraping chicken droppings off their heels.
For Simon, she couldn't do it any other way. When the chef opens up a bag of scallops—shining shells still intact—she still gets goosebumps. When she breaks down a locally raised pig, her head swims with possibilities that lie far beyond basic chops.
Natural has become the new normal, shifting the baseline for what it means to truly serve local. In this brave new world, each piece of the food chain matters, and that's what matters most to Simon.
"We feel we are doing the right thing and being true to ourselves," she said. "When you pour your soul into something, at the end of the day, you can truly say that you are living up to what you preach. That is the biggest reward of all."
Hayley Thomas is scraping 
her own chicken poop off her heels 
at hthomas@newtimesslo.com.